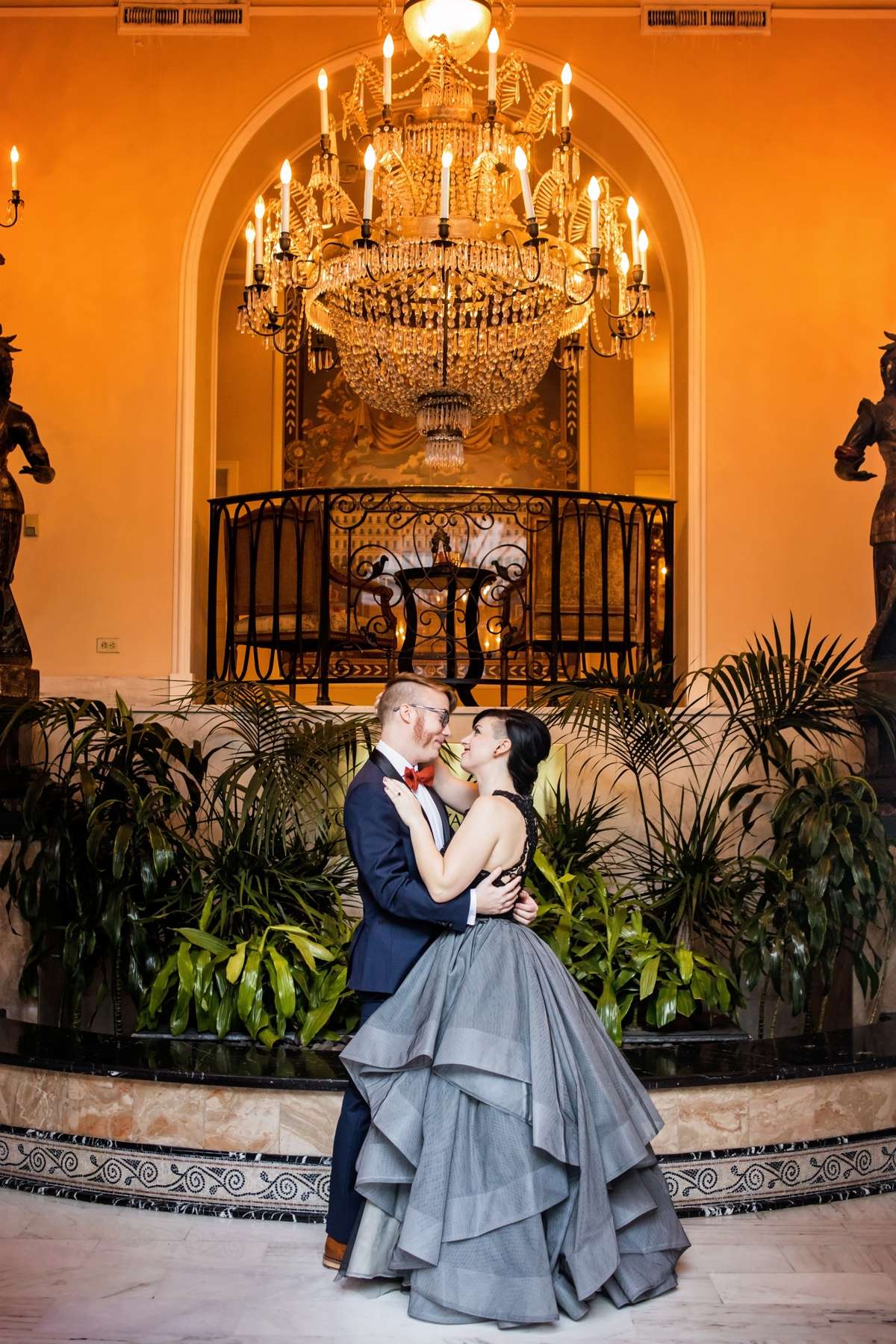 Stephanie and Ryan's description of their wedding is arguably my favourite of all time, and it reads like this: "A mash-up of video games, 80s soft rock, and Star Wars. Classy on the surface with layers of ridiculous undertones." Absolute brilliance.
As was having their officiants dress as Hall and Oates and stay in character all day, they also incorporated a local tradition into their day known as a 'second line'. This is where a New Orleans brass band parades is the group of people who follow behind the 'main line' of official players and just dance and enjoy the music. Which in this case was the theme to Star Wars and everyone had a lightsaber and a decorated umbrella. I repeat – brilliance.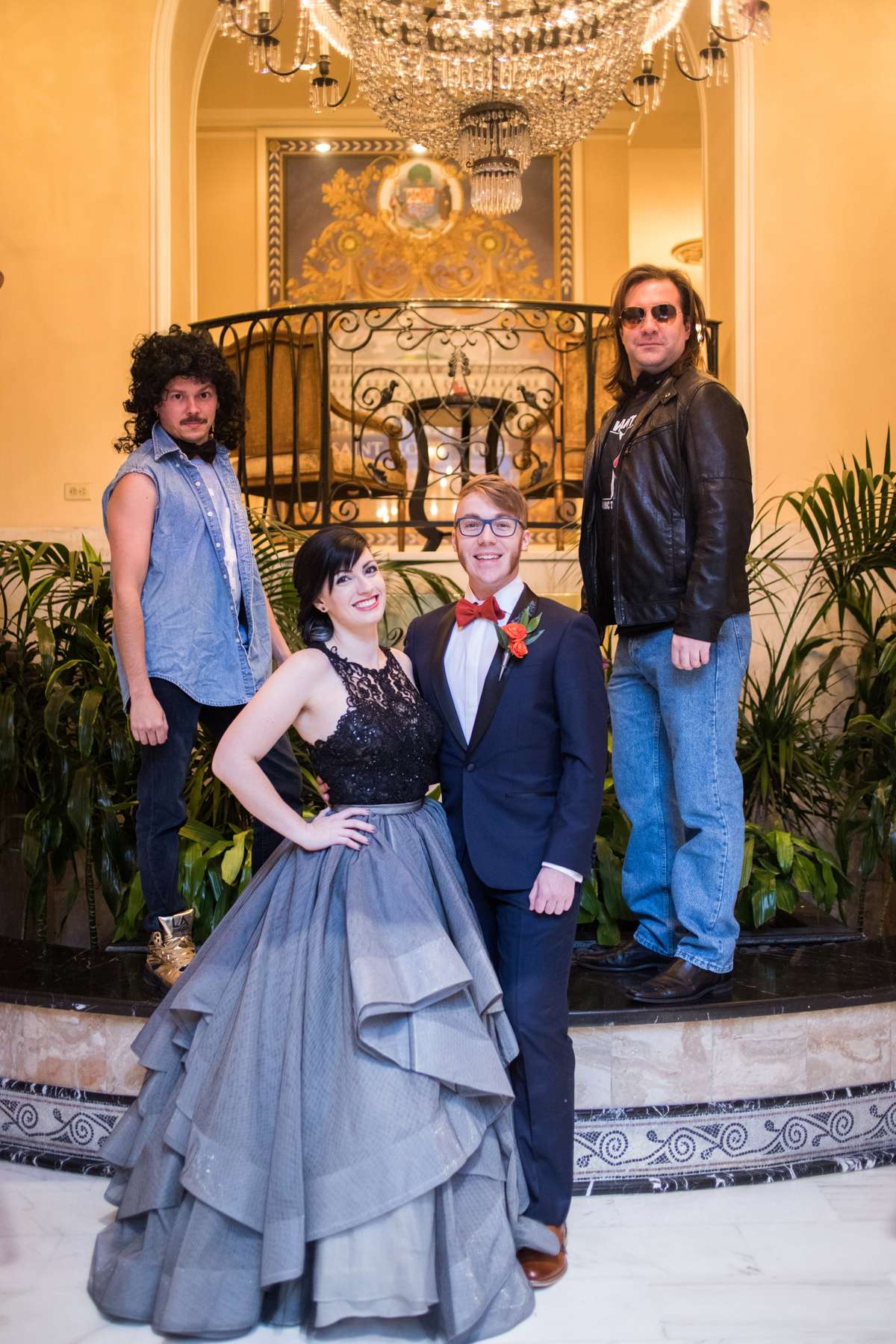 What was the inspiration behind this awesome hybrid? Stephanie said, "Honestly, just Ryan and me and our mutual weirdness. We really love being strange and making people laugh, so we just took all the traditional things and then did it our own way." Stephanie planned the entire thing herself, "with a dash of the husband's input, of course! I had a day-of coordinator, Joy from Bridal 911, who helped keep everything on time and organised."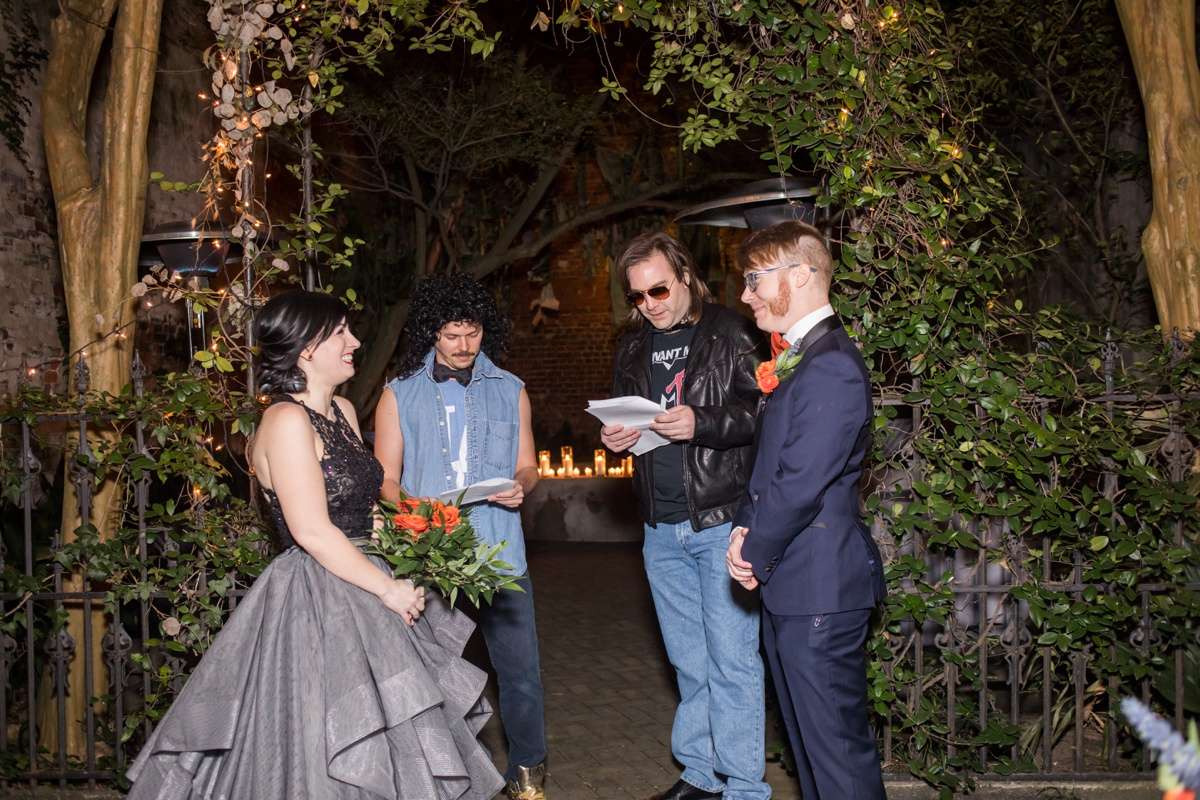 "Our January ceremony was held at The Pharmacy Museum New Orleans, which was actually owned by America's first licensed pharmacist, and also where the voodoo priestess would obtain her herbs for spells and potions, which they have on display. We married in a gorgeous old brick courtyard filled with twinkle lights and trees. We had silly programmes that said, 'So you have to sit through another wedding…'. Our officiants (best friend Rhett Ward and Ryan's cousin Peter Zuppardo II) were dressed as popular 80s band Hall and Oates. They did the whole script with a mixture of lyrics and jokes. Ryan and I wrote our own vows to each other. It was beautiful, goofy, and perfect for us."
The bride wore separates: the 'Brody' and 'Stevie' by Martina Liana in black from MaeMe boutique, with a last-minute find – a fur shawl by A New Day from Target. "My shoes were plain old Converse, which I hand-painted. I wore rose gold gauges I got from a local shop called Diamondeyez." Ryan's tuxedo was from a local shop called Italy Direct, which he wore with an orange linen tie and braces from Durian & the Lyon on Etsy. The couple didn't have bridesmaids or groomsmen. "We had way too many mutual friends and didn't want anyone to spend money on a new outfit or have to choose sides for our wedding."
Their reception was decorated with 60 plastic lightsabers purchased from Flashy Blinky Lights, and caterers, Palate, also took care of all their lighting and furniture rentals. Guests enjoyed two large towers of macarons supplied by Sucré, silliness in the photo booth by Boogie Booth, and music from Kinfolk Brass Band, who played for the second line, and Ryan's cousin and professional DJ Matthew 'Zupparty' Zuppardo kept the party going (the party that started strong with the couple doing the robot to Mr. Roboto as their first dance).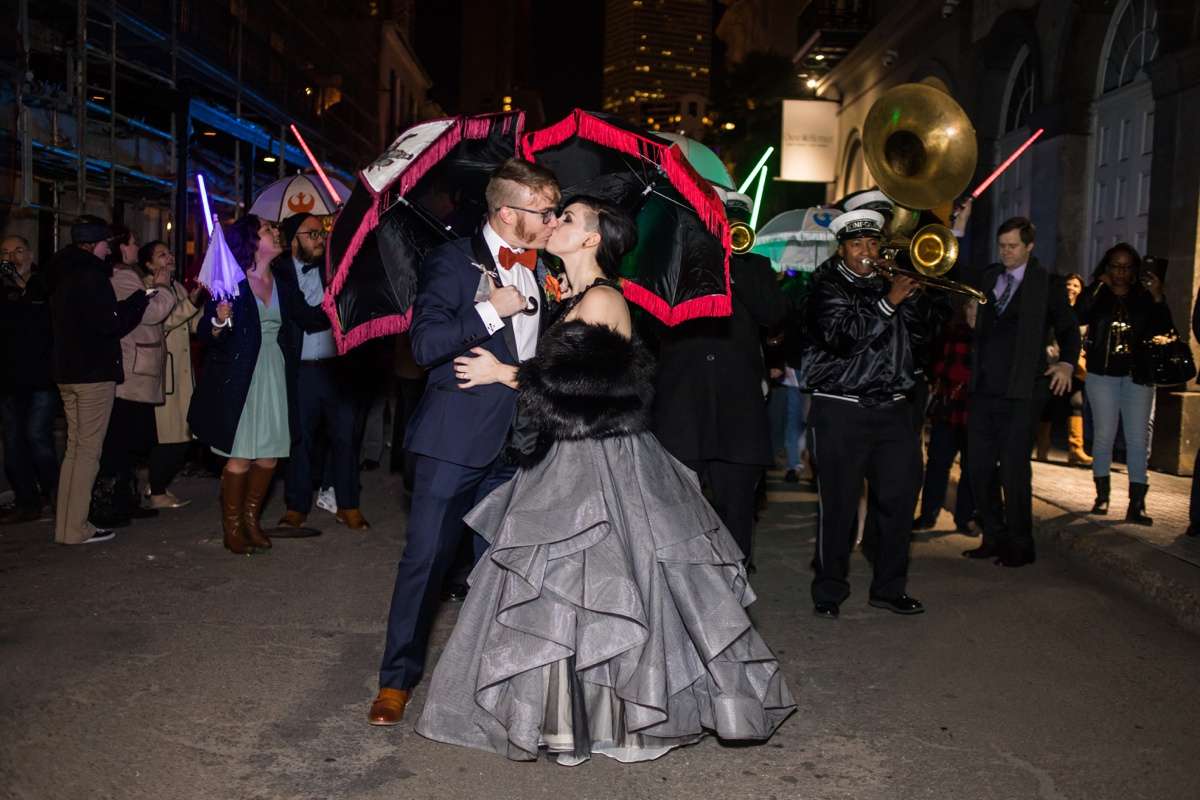 Stephanie had some amusing stories to tell. Their photographer, Laura from Bella Voi Photography, sent her husband-to-be the lookout for hotel security while Stephanie and one of her officiants hopped up on the very expensive looking piano for some photos!  "Also, later in the week, after our wedding, one of my co-workers came over to me to tell me she saw the most amazing second line parade. She exclaimed I would have loved it because it was Star Wars themed. I laughed and asked her if it was on January 6th – she said it was – and I explained that that was my wedding! It was a good laugh."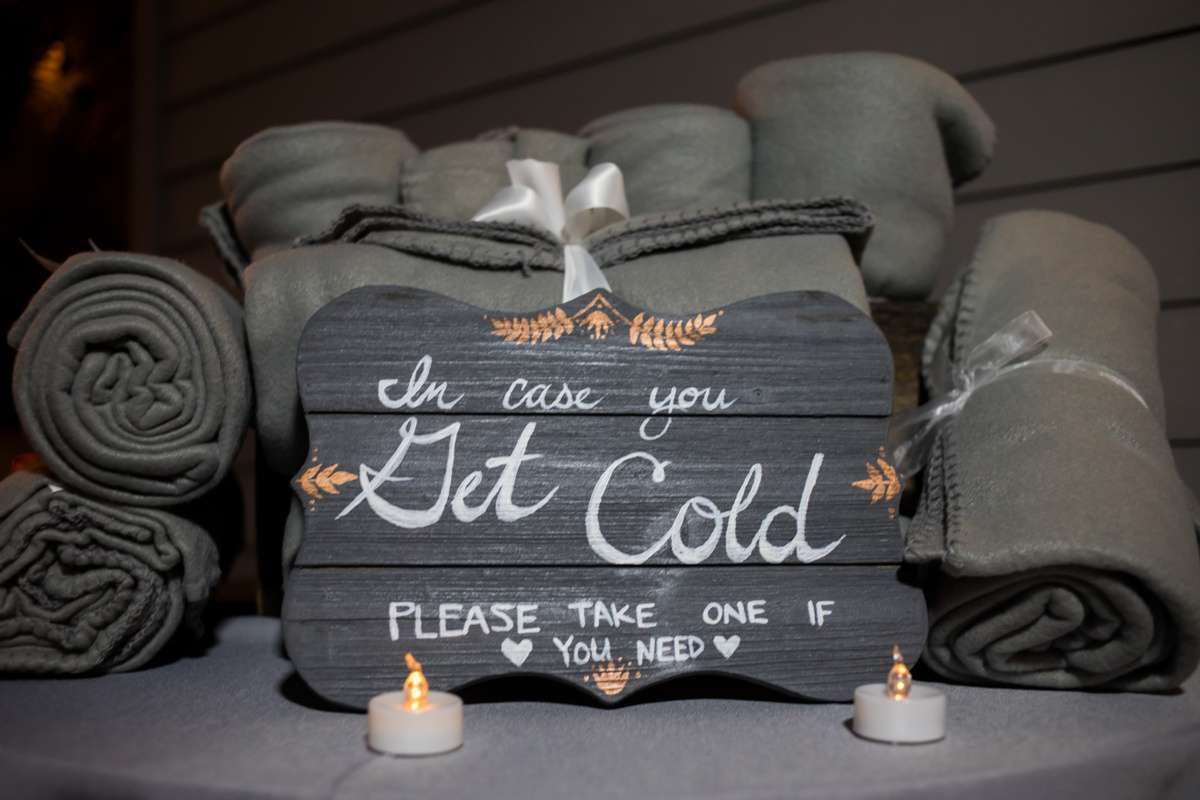 What was the biggest expense in their $22,000 budget? "The freaking catering," said Stephanie. "It was because we really wanted super delicious food, which of course is going to cost you. But I know people always have a blast if they love the food and drinks – and we definitely wanted everyone to have a blast with us."
Stephanie took on a good deal of DIY, including the flowers, which really saved them money. "I didn't have any flowers or leaves in my centrepieces or décor, aside from the natural ones already present, and all the boutonnieres, corsages, and my bouquet were silk flowers and fake leaves that I bought from JOANN Fabric and Craft Stores and put together myself. I made the 'Reserved' seating signs, the signs for people to take a blanket, our gift collection box, and I also decorated all 50 of our second line umbrellas. I extra decorated and hand-painted ten bigger umbrellas as presents for us as well as our friends and relatives who'd helped with the wedding. I created all our save the dates, invitations and timelines, and had these printed cheaply, and I'll be doing the thank you cards as well soon."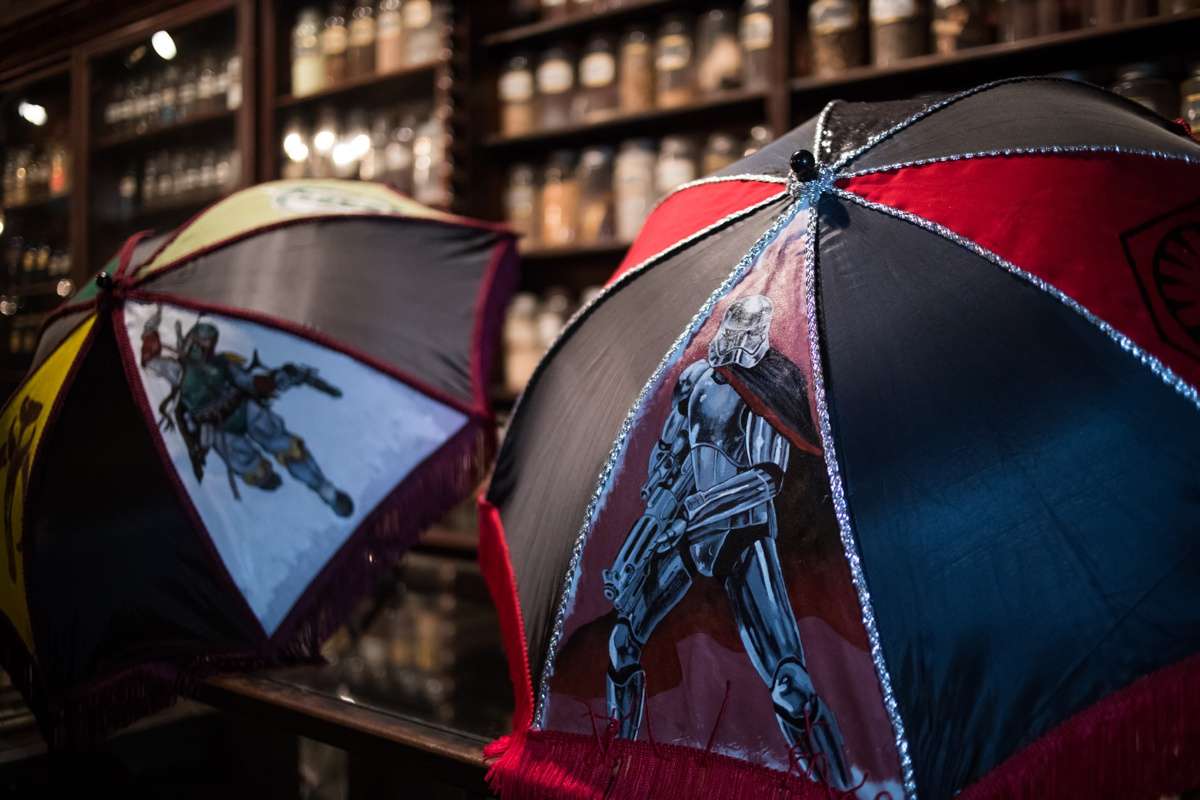 Ryan's favourite part of the wedding was their first look. Stephanie said, "He had been enduring me showing everyone pictures of my dress for an entire year, while he was never allowed to see. He was so excited to finally see it and me! Mine was when Ryan first stepped outside the building into our second line parade. I had been keeping the second line theme a secret for months. I had carefully decorated all the umbrellas in secret, planned for everyone to gather outside with their lightsabers turned on, and had the band learn A New Hope. They started playing the minute Ryan stepped outside, and he immediately turned to me with the most excited expression on his face. He adores Star Wars, so it was the greatest surprise to give my husband on our wedding day."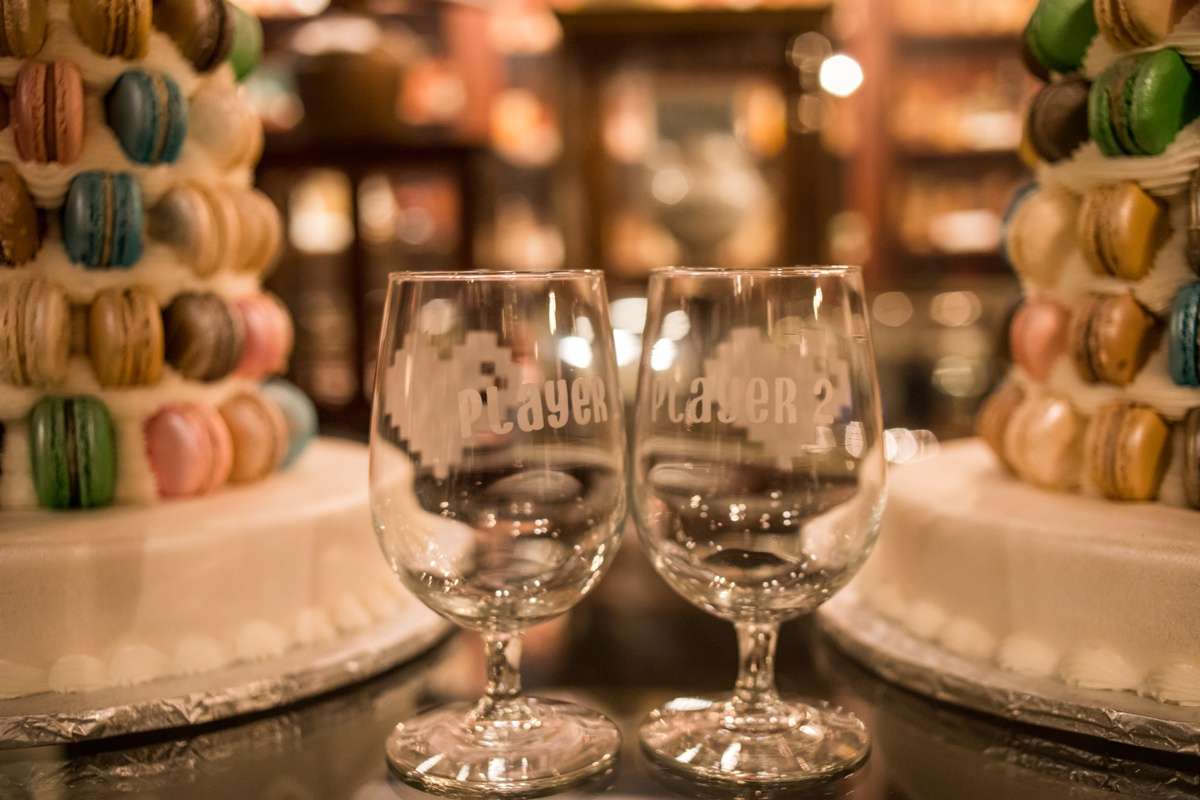 Guest list trouble was the one thing Stephanie and Ryan wish they'd known about planning a wedding beforehand. "Your parents, as much as you love them, are going to add about 50 extra people to your guest list that you barely know. Also, you'll forget some people and remember them later, adding like 20 more people to your original list."
The best thing about planning their wedding, for Stephanie, was "Watching it all unfold successfully. Hearing all our guests and vendors gush about how much fun they had and how unique it was. That is the greatest part of planning any event for me – giving all those people a night to truly remember. I just love hosting events and parties."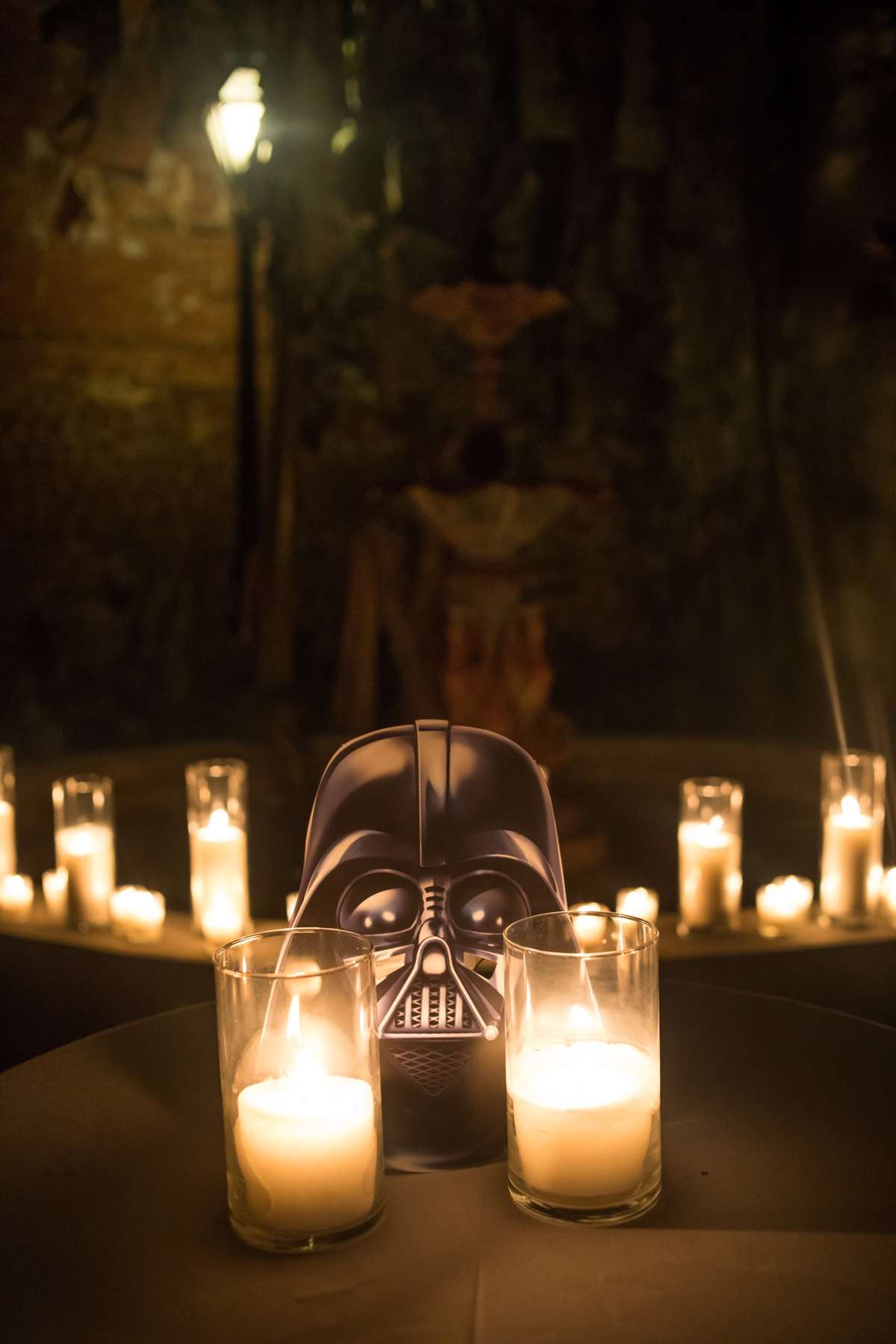 The worst thing was, "Trying to keep our cool a month before the wedding while balancing a million plates. We all have regular life duties that take up so much time as it is. Then taking on wedding planning is like adding a second job. So any stress from either direction just gets compounded. There you are two weeks away from the day, trying to finalise 30 things, and suddenly trying to figure out how many chairs you need to rent turns into rocket science. So you want to rip out your hair – but you can't because it needs to be in an updo soon."
"In retrospect, the only thing we would have done differently would have been to get a videographer. We very much regret not having one. I didn't heed the warnings of my friends who said it was a great investment. I really wish we had flipped some things around and put money towards this. At least for the second line portion. Everything else was perfect."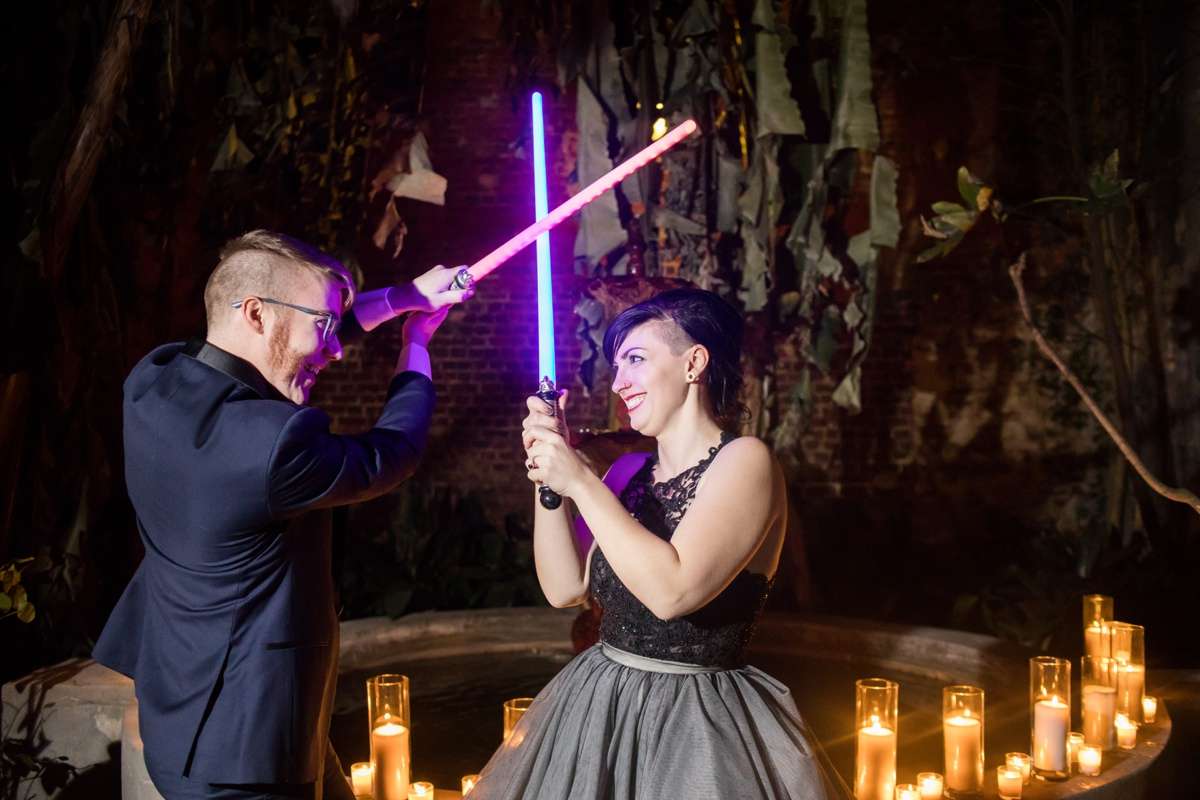 The newlyweds' advice for you future brides and grooms contains some great stuff that was passed on to them before their big day and really worked. "Make sure to have your caterer set aside a private table in a SEPARATE room that will be loaded with food and booze for you to wolf down between ceremony and reception. Everyone complains they never got to have their own wedding food, or a moment to themselves, so they starve. It was a brilliant suggestion from our caterer and I highly recommend it. And make sure you take a moment to just step back and breathe it all in. Take in the moment to appreciate the event, the love of your life, and the amazingness of it all. It goes by so quickly. This advice was given to me beforehand, and I truly appreciate it. Also, make the wedding YOURS. If you have a bizarre idea people sniff at – do it anyway. When it comes down to it, everyone else will enjoy the free party no matter what. And finally, have your honeymoon at least a week after your wedding. You're going to need to rest up so you can actually enjoy the vacation."