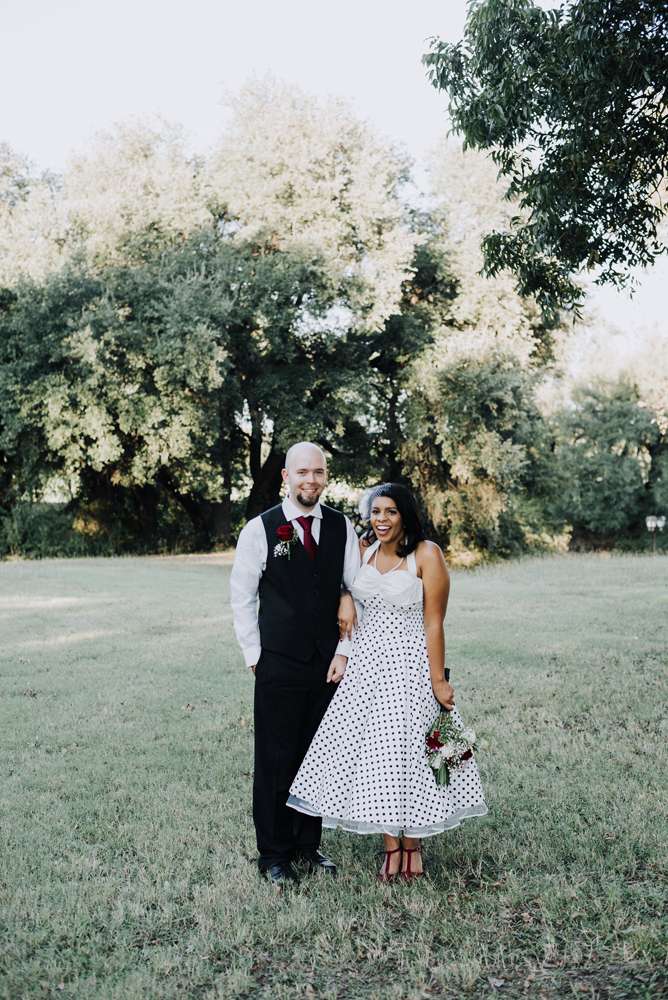 Emily and Ricky's polka-dotted monochrome meets Friday 13th wedding was a long-awaited event. They'd been engaged for six of the nine years they've been together! Traditions, particularly the money-suck ones, were shown the door as these two felt the pressure of the financial side of things and so did it their own way by only including details that truly meant something to them. The budget was just under $10,000 and there were some clever ways they had up their sleeves to stick to it!
The bride said of the theme, "Honestly, it's a mixture of having a ton of different inspirations plus not really knowing how to plan a wedding at all! I originally wanted to have a more goth-inspired wedding and a black dress. I saw pinup model Cherry Dollface's vintage black and white fishtail wedding dress and asked her where she got it. It was Whirling Turban and as soon as I saw the 'Pristine' dress in polka dots, I knew I had to have it. Thus the polka dot theme was born."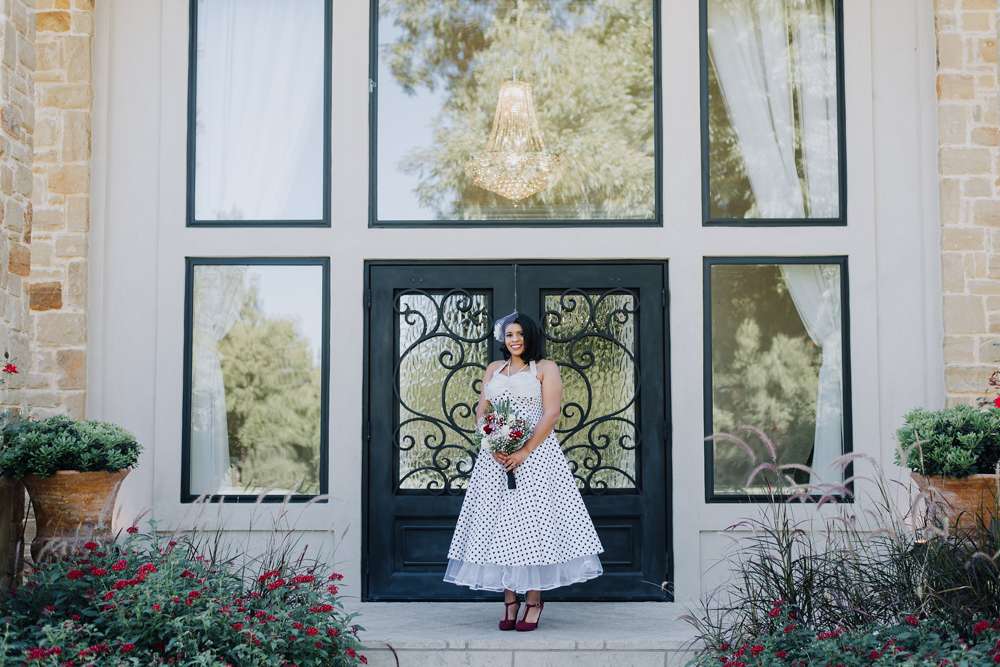 They originally wanted to have the wedding actually on Halloween because it's their favourite holiday, but they thought it would be took cold then to have an outdoor wedding. "As soon the venue said the only early October date that fit our criteria was Friday 13th, Ricky looked at me excited and said, 'That's when we're getting married!' and so the pumpkin and subtle autumn themes came to be. The black and white theme has always kind of been a thing for us for some slightly obvious reasons (*cough cough* we're an interracial couple *cough cough*). We've always been aware of how different we are compared to the vast majority of the couples in Texas, and we wanted to celebrate that as well."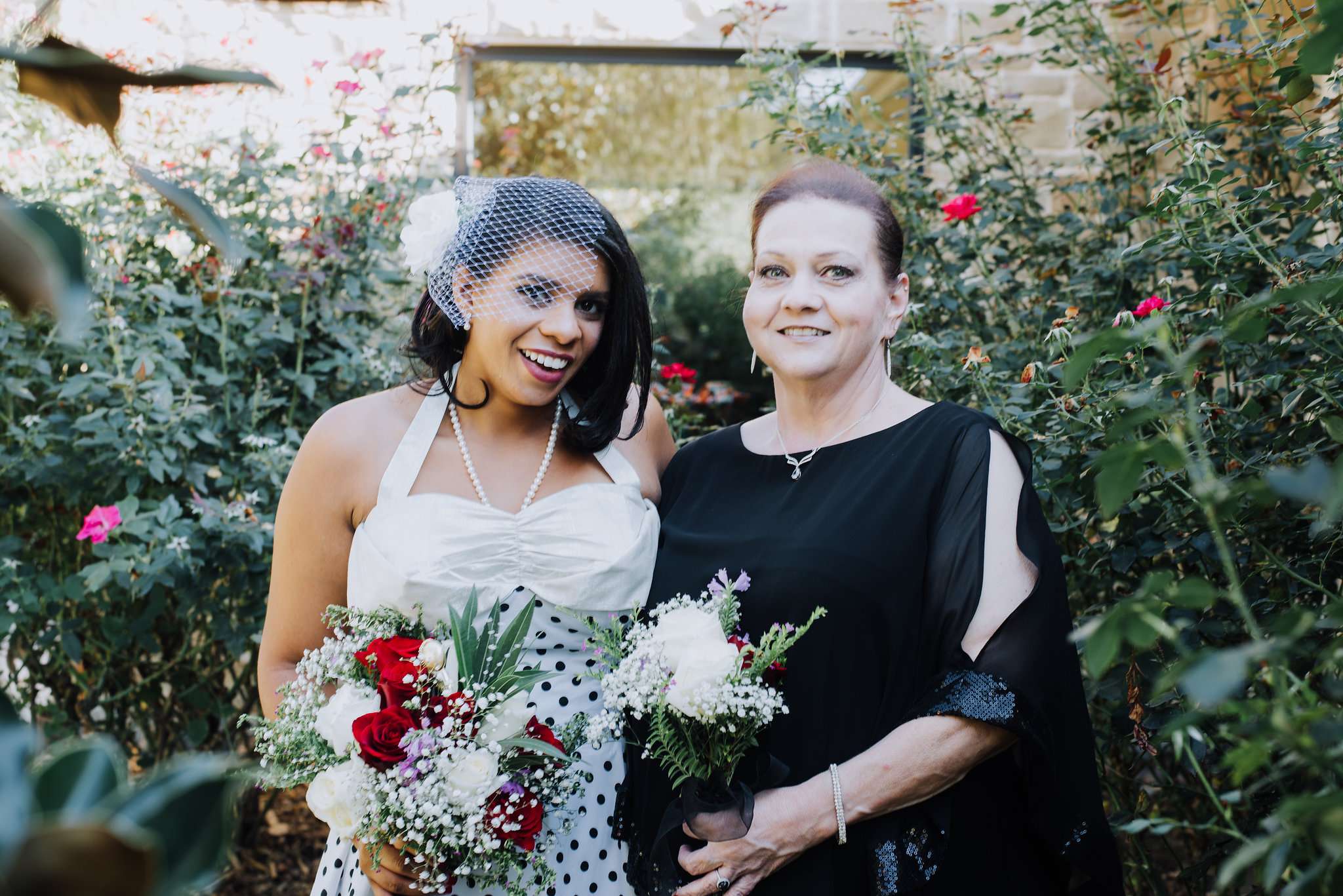 Both ceremony and reception were held at The Orchard in Azle, Texas. Emily said, "The ceremony was more perfect than I could've ever imagined it being, especially because it felt like we'd just thrown it together. We got married outside underneath a fully draped pergola. We chose to recognise my late grandmother, who helped raise me, with a poem at the very beginning of the ceremony. She passed away just months before I met Ricky. I had always wanted to have both her and my mum walk me down the aisle, so it was very important to me that she was a part of this day. Although we didn't write our own vows, and Ricky and I aren't super religious, we had vows that were simultaneously spiritual and civil to be respectful of our family members that are very Christian, and of our diverse group of friends from many different faiths and backgrounds."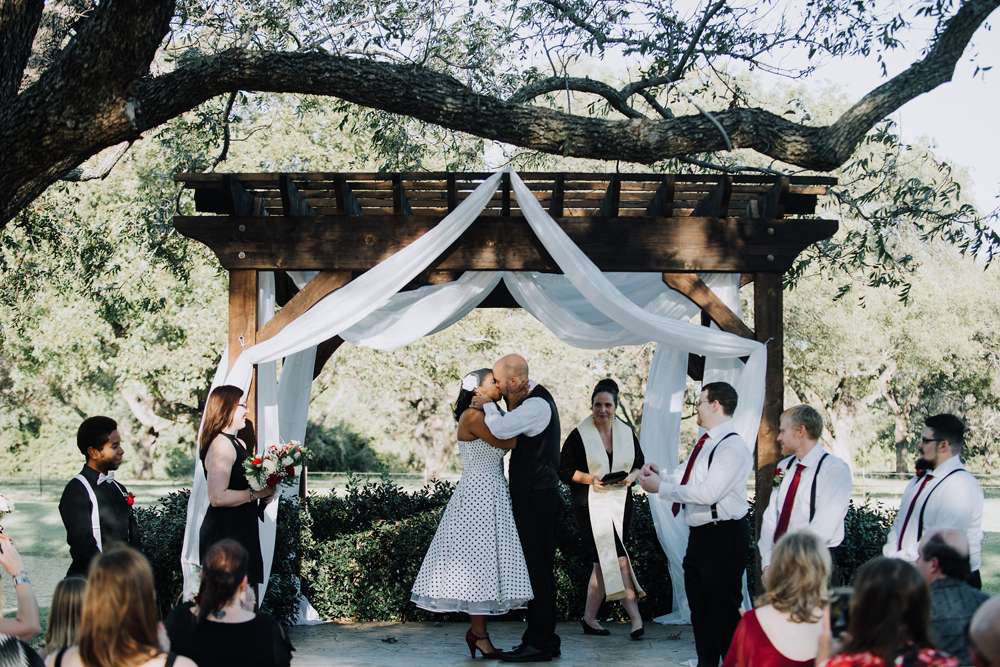 Emily's stunning polka dot custom two-piece gown was teamed with vintage-inspired burgundy T-strap heels from Modcloth. "The brooch in my bouquet, which was later pinned to my dress, was my late grandmother's. My vintage-inspired white rose hair flower with birdcage netted veil I made myself the night before the wedding. I'm very into pin-up and started making my own hair flowers when I couldn't find any that were affordable for me. I hardly ever leave the house without a flower or bow in, so I wanted my hair flower to be special, one of a kind, and to hold significance to me."
Ricky and his groomsmen's attire was by Men's Wearhouse, and the bridesmaids and bridesman picked their own outfits from wherever they could get the best deal or wore an outfit they already owned. "My bridesman wore an outfit he already owned, and we found him a white bow tie with black polka dots to match my wedding dress so he would be set apart from Ricky's groomsmen."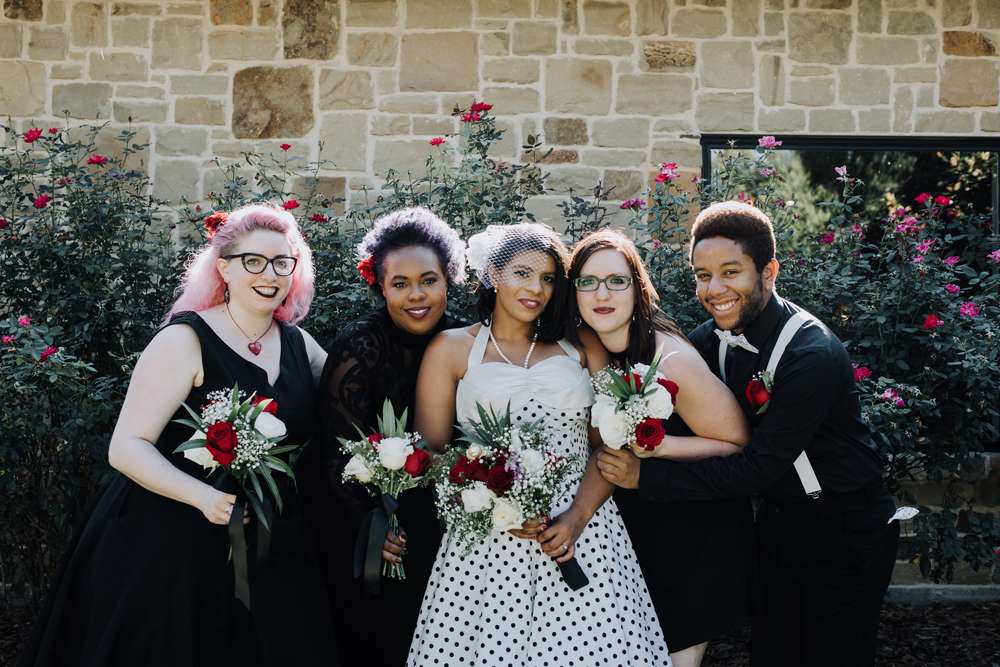 "To continue the autumnal, Halloween/Friday 13th and black and white theme at our reception, we used black and white polka dot and striped pumpkins from JOANN Fabrics as part of our tablescape. We used plastic black pumpkins as our 'guest book' because that was something we knew we would display in our home (more than likely all year round because we're weird like that), instead of a traditional guest book that we would probably never open again. For favours, we had a huge black Halloween punch bowl full of Halloween candy (including ring pops, get it?!) and provided treat bags so guests could 'treat yo'self'." Even their rings echoed the theme as Emily's ring is made up of black and white diamonds and Ricky's is black. Emily added, "I had it inscribed with the quote 'Always' – Harry Potter fans of the world unite!."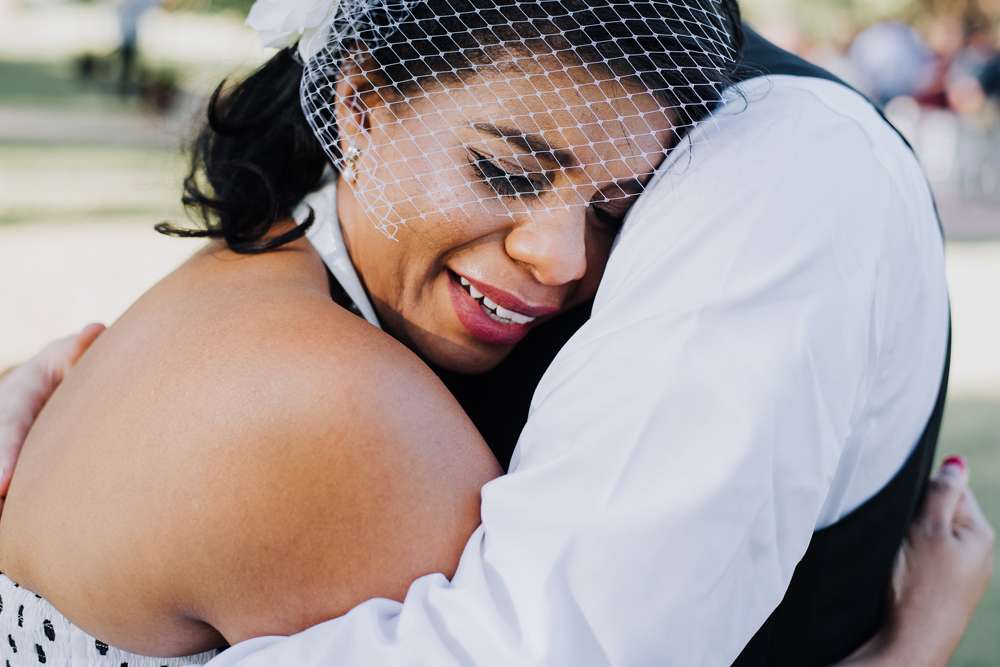 The chocolate and vanilla three-tier cake was made by a former coworker of the bride's mother, who decorated it with polka dots to match the theme. "Our cake topper was a black acrylic silhouette of Jack and Sally from The Nightmare Before Christmas with their famous quote 'simply meant to be'."
The biggest expense was definitely the venue, but it was well worth it said Emily. "Even though I decorate for a living, I wanted an outdoor venue with a beautiful view so I wouldn't have to spend extra money and time on flowers and other décor. In Texas, outdoor venues always tend to cost more, especially the closer you get to Dallas Fort Worth."  But as they got married on a Friday, the rate was quite a bit cheaper.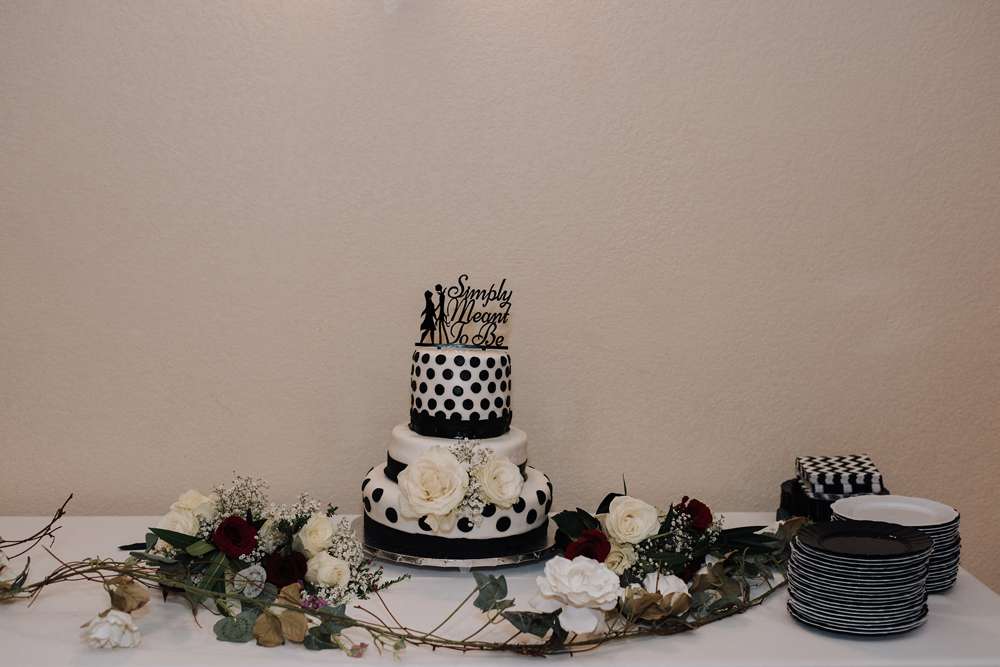 They saved money by scrapping booze at the reception as it would have led to further expenses like hiring a security guard and a bartender. Also Emily had enquired about her dress so far in advance of the wedding (years!) that she'd locked it in at the lower price. The flowers also reined in some of the costs. "One of my mum's former co-workers, Cynthia, did the flower arrangements for the wedding party and flower girl's basket for only the cost of the flowers. It only cost about $100 and I'm eternally grateful."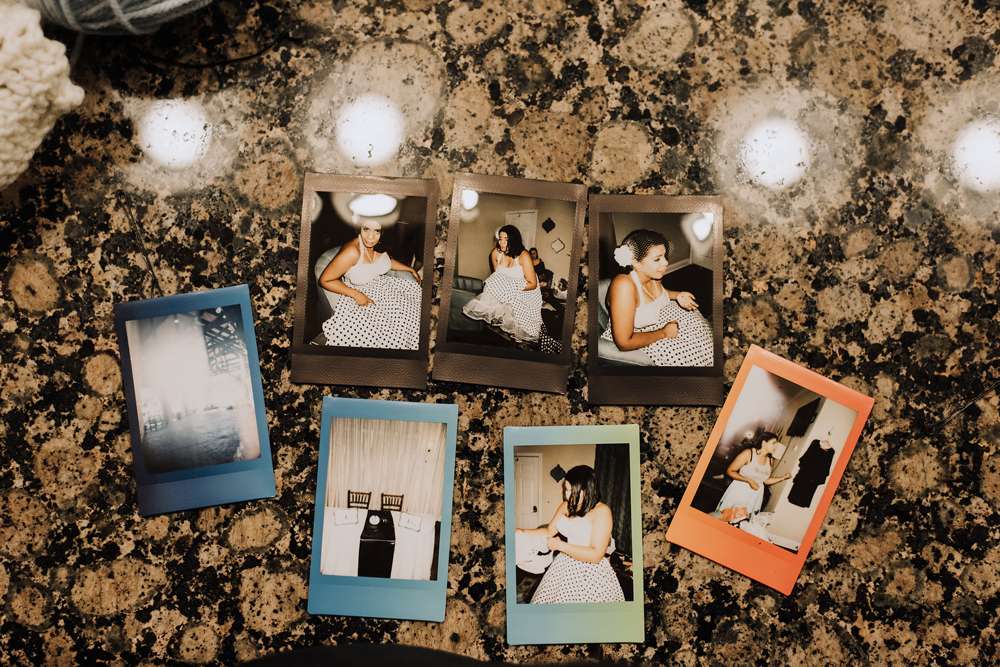 The worst thing about planning was constantly wondering whether or not they were going to be able to afford the wedding even in a basic form, said Emily. "There were many times while we were researching vendors and venues that we contemplated eloping because the cost of a wedding seemed so high. We thought it would be impossible for us to attain the wedding we wanted for the budget we had. Luckily, we took a step back, looked at the big picture and realised we wanted to have and share this experience with those we love. I'm an only child and I wanted my mum, who's a single parent, to experience the joy of her daughter marrying the love of her life, and we wanted to make sure our family and friends knew that we love them. The best thing was the payoff of getting to see it all come together way better than expected."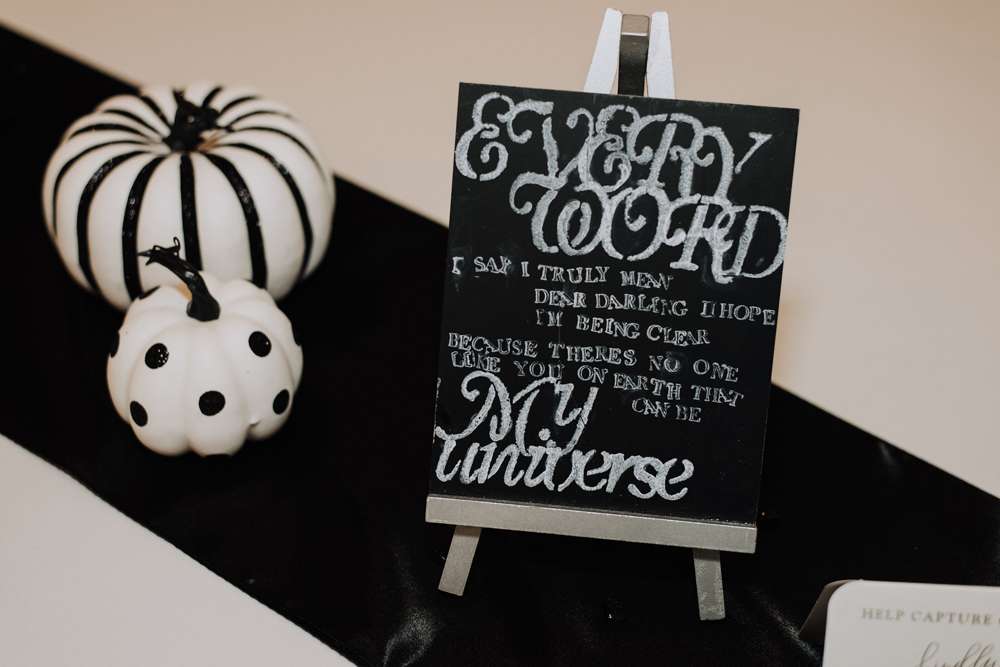 "The most meaningful memory that I will always cherish from that day," said Emily, "is when the ceremony started and my mum was standing with me in our waiting room. She kept peeking out the door. When it was time for Ricky and our officiant to start walking down the aisle, my mum told me to come look with her. At first I was hesitant because I was afraid he was going to somehow see me in all my polka-dotted glory, but eventually I caved and she said, 'Look Em, there's your husband.' I immediately burst into tears. I had been fine up until that moment. I had been so focused on making sure everything was set up and making sure that my mum didn't stress out too much that it didn't hit me until I saw him. We had waited so long for this day and the reality that I was finally going to be his wife set in. As cheesy as it sounds, I was finally getting to say what was in my heart in front of all my family and friends. I had found my person. It was one of the most beautiful, reflective and perfect moments I've ever experienced with my mum."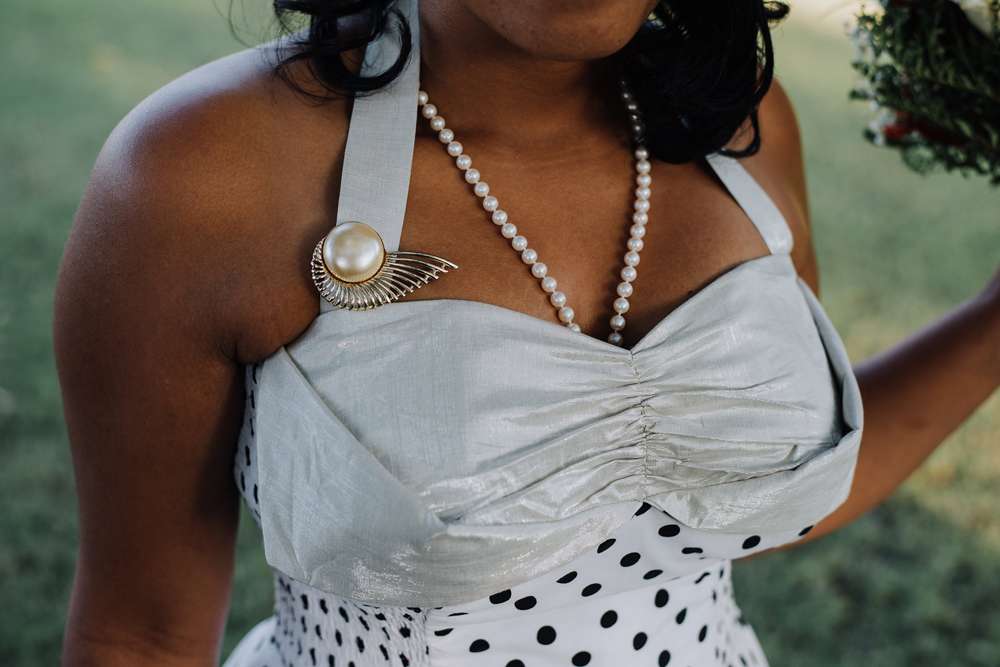 Emily had this advice for you as you plan your own wedding. "For most people in the world who aren't born wealthy, financially there's probably never going to be a perfect time to get married. So when you get engaged, make sure you actually give yourself time to sit down, research your options for everything, and always ask questions about packages, deals, discounts, specials… everything. That way you can compare options based on how much bang you get for your buck. Definitely don't sweat the small stuff, and don't be afraid to go against society's views of what a wedding should be or should look like. If there are some minute details that don't go according to plan, or that you can't afford, don't stress over it. If you are able to, surround yourself with supportive, reliable people who are willing to help out or lend their talents. All of this will help keep the stress of planning to a minimum, keep the overall cost of the wedding down (especially in America), and will help keep your focus on your love rather than money or having the perfect ceremony. And always do what makes you both happy! It is both of y'all's big day."