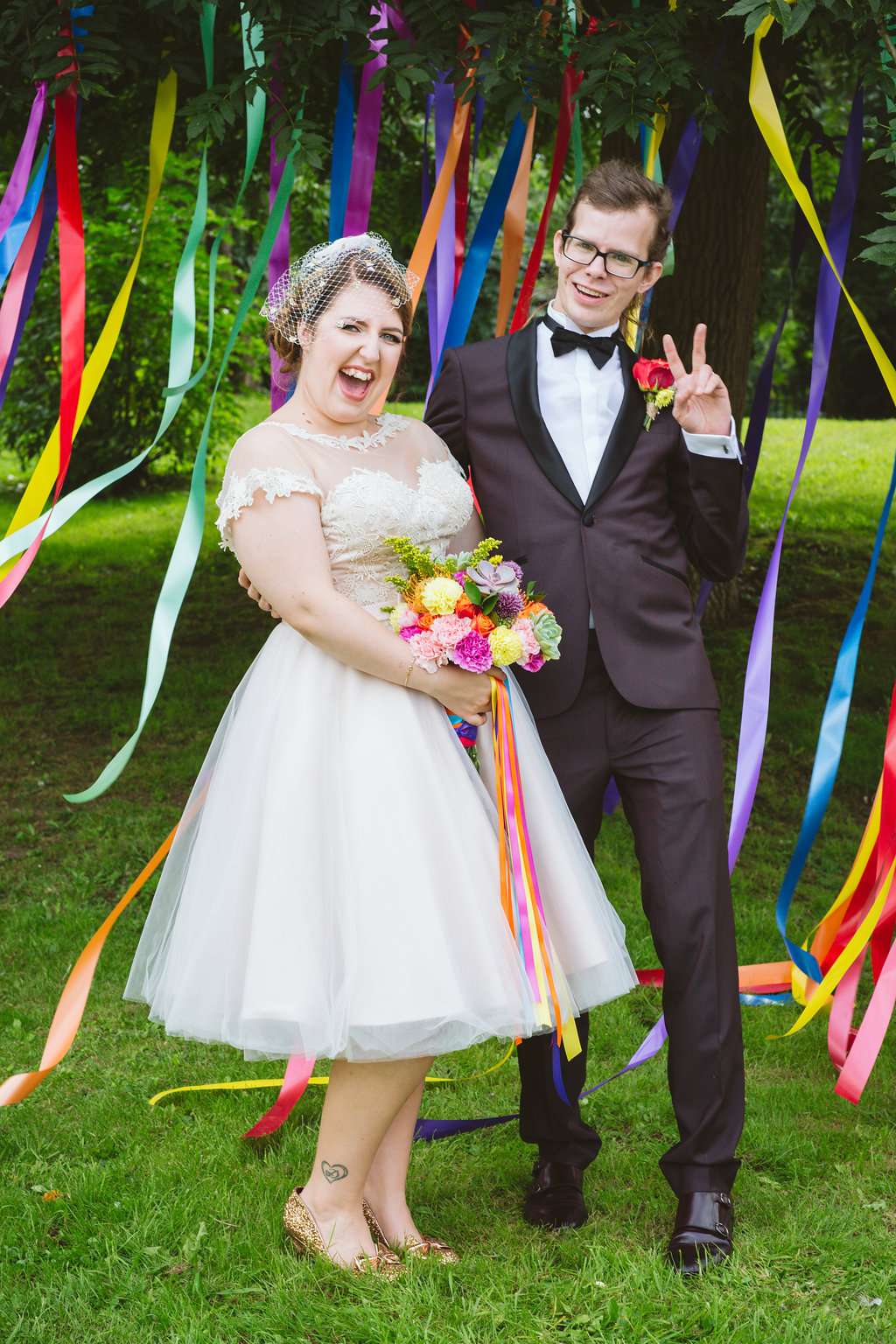 When a couple cites the movie Up and Mexican fiesta vibes as inspirations for the feel of their wedding, you just know colour is going to be around in a big way!
Louise and Ross met in their local pub one Christmas Eve, and Louise thought he looked like the musician Ben Folds. Ross pursued the romance, however Louise said, "I well and truly friend-zoned him until around a year later when I realised I loved him more than a friend."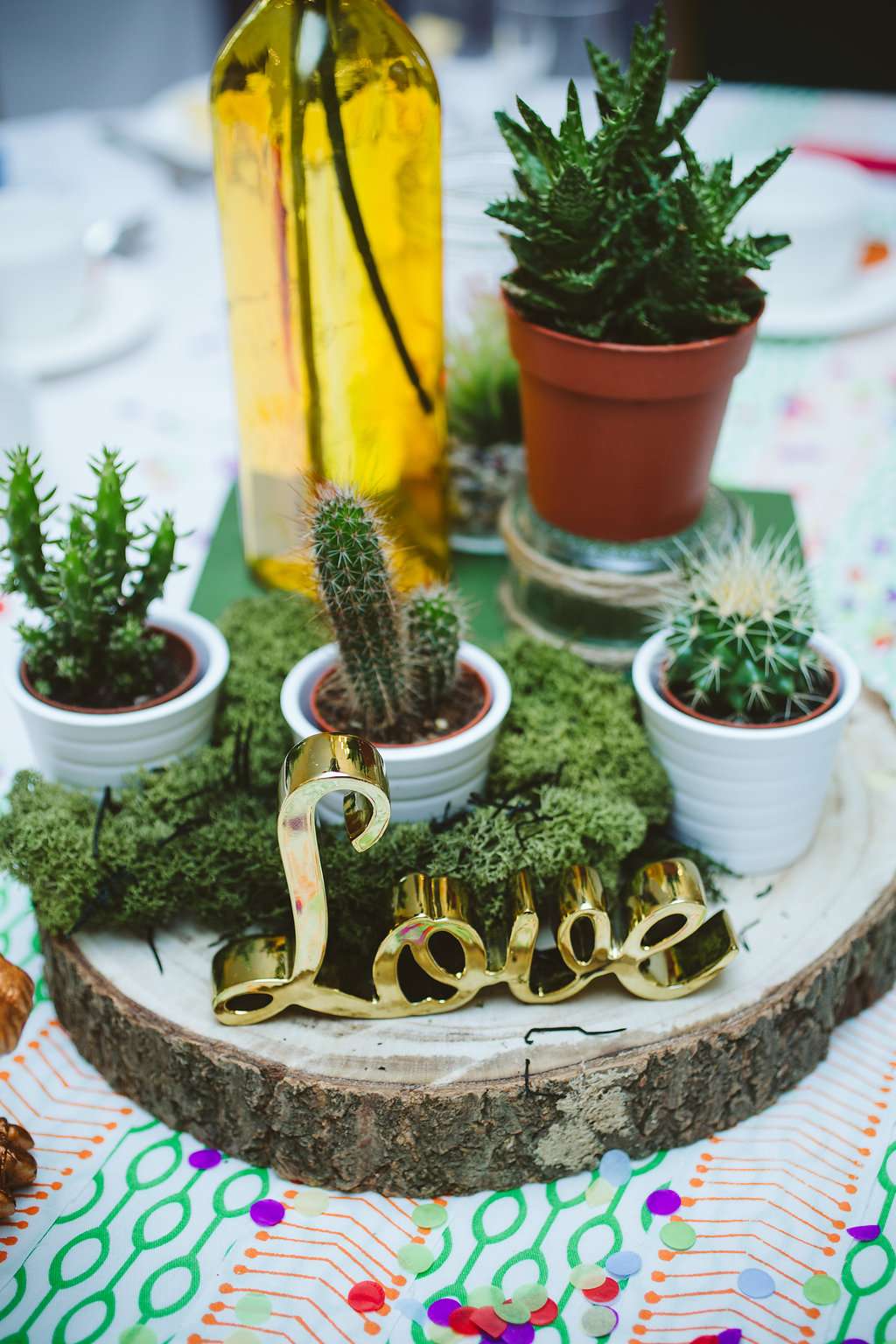 Their summer wedding was at The Cloisters in Letchworth. Describing how they came up with the theme, Louise said, "We stressed for months over this one until we watched the film Up, with all the balloons in bright colours, and it occurred to us that the colours matched our bright bubbly personalities. The penny really dropped when we ate a Mexican inspired dinner and decided that a Mexican fiesta was the perfect idea for our big love day: Our love of Mexican food, a really good party and how the colours reflect us as individuals and as a couple! We got a lot of inspiration from Rock n Roll Bride and Pinterest, and the rest was using our imagination!"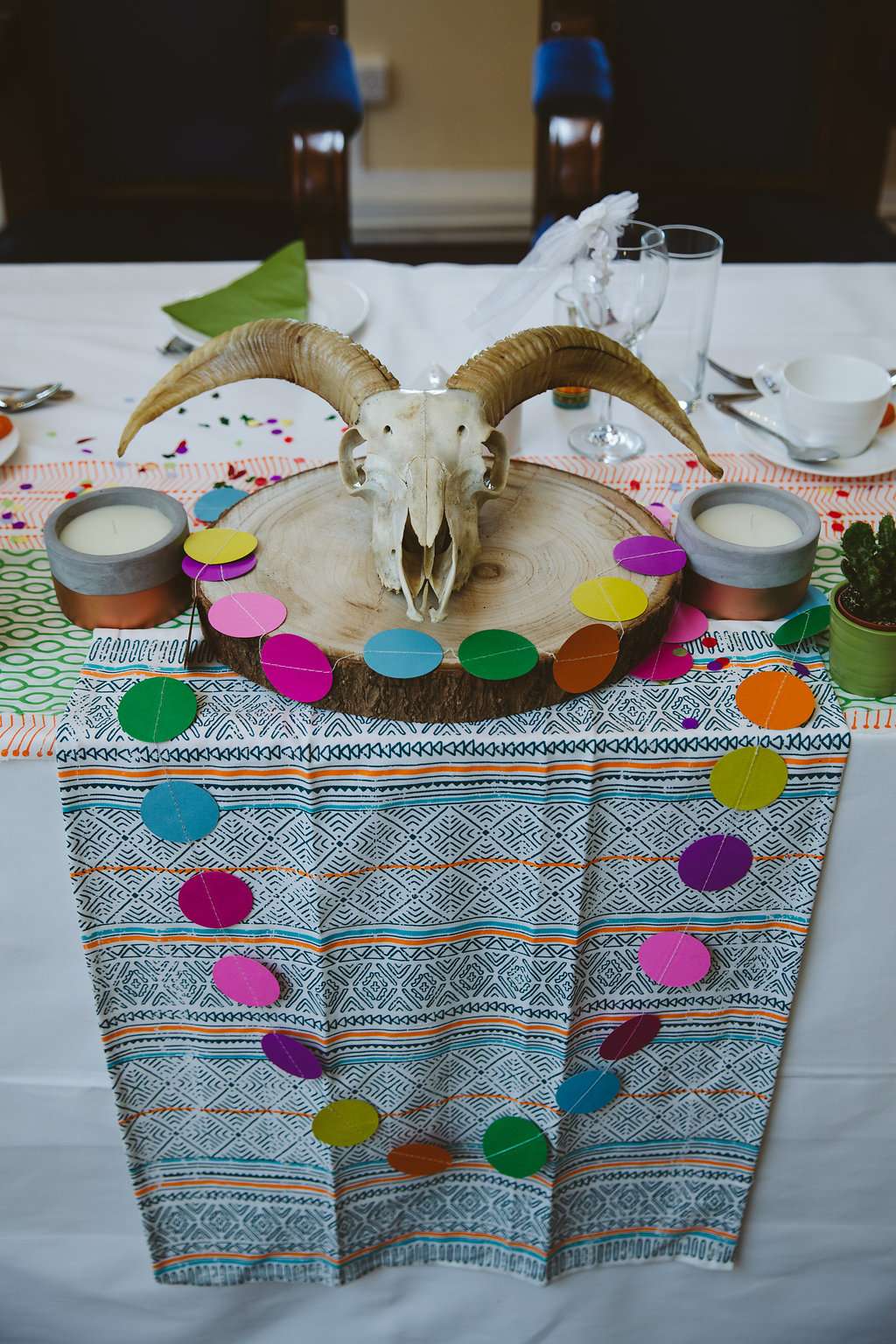 They had their wedding on a Wednesday, but the bride said, "Everyone partied like it was a Saturday! We chose this day as it was the anniversary of our getting together, and it was also the wedding anniversary of my dad and step-mum." She loved the history of the venue, too, adding that, "The Temple room had a dark wooden floor, wooden domed ceilings, and a frickin' black and white carpet in the middle. Also, it used to be a college for psychology, which then turned into a Masonic lodge – mental!" Definitely the place to add rainbows of colour!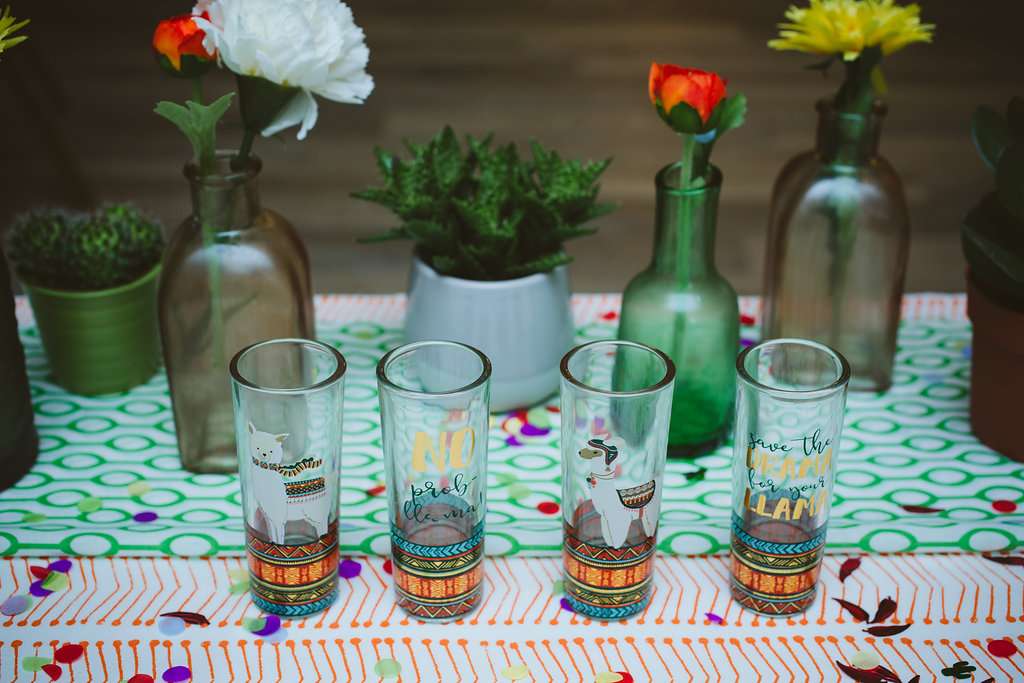 Louise wore the Lily dress by House of Mooshki, customised by Pam Hughes at Clifford Burr Bridal in Ware, with gold glitter Irregular Choice, purchased in the sale for just £48. Her headpiece was Crown and Glory's 'Lovesick' glitter birdcage, colour-matched to her shoes. The couple's outfits also helped them stick to the £6,000 budget. "My dress was half price because there was a rip in the sleeve, which worked perfectly for me as I HATED the sleeves, yay! Ross not being fussy and falling in love with an own-brand suit in the sale also helped!"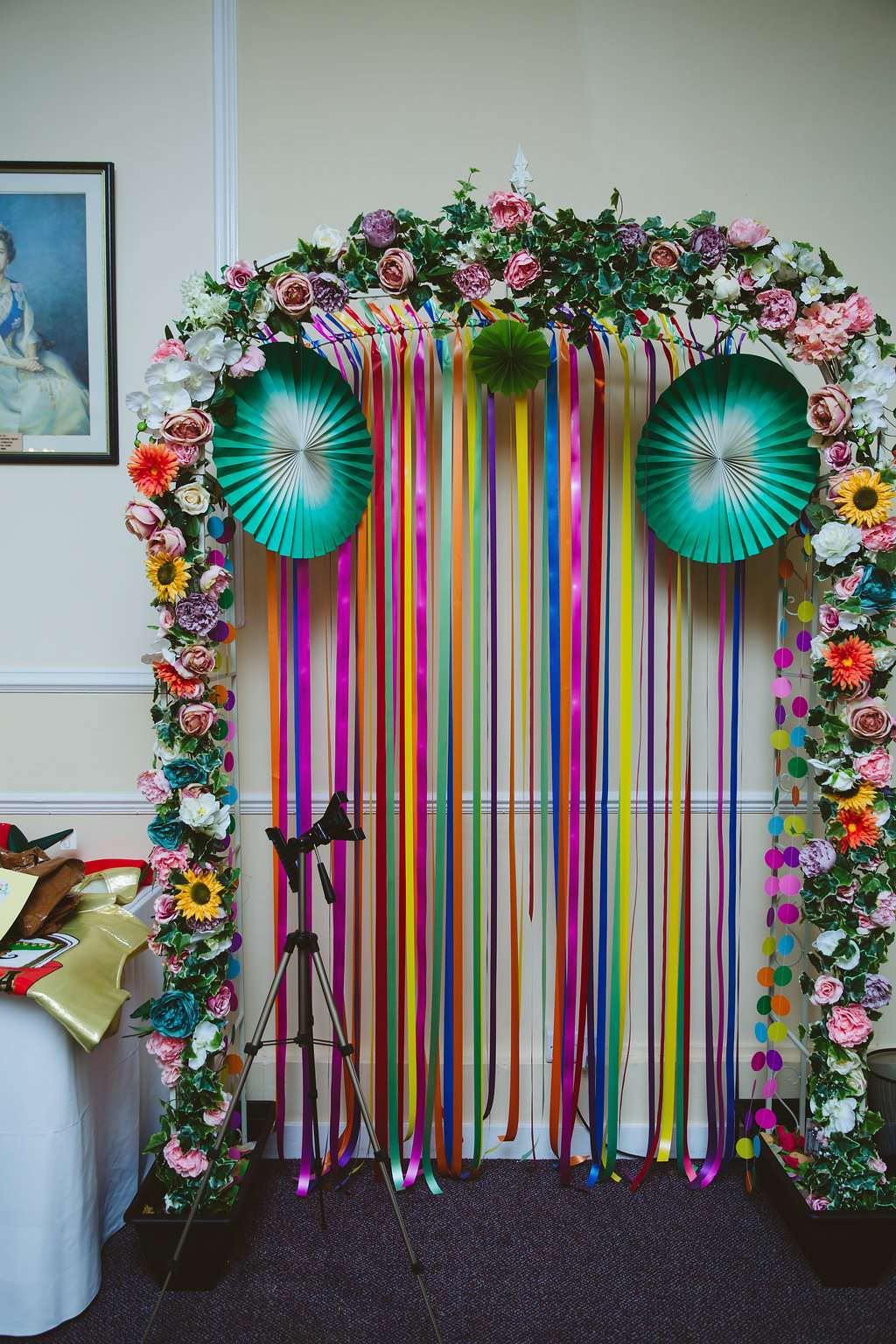 The bride said of the ceremony itself, "We were late, owing to my loving cousin not being ready (I'm usually always the late one!). Ross almost sweated his body weight in nerves, and the photos reflect this! The registrar told me many times how late I was and that they would cut the readings from the ceremony, which caused me to shake from my toes upwards. Once I got down the aisle and held hands with Ross, it was all worth it, and we laughed our way through the ceremony together, leaving to Signed, Sealed, Delivered, and ready to p.a.r.t.a.y!"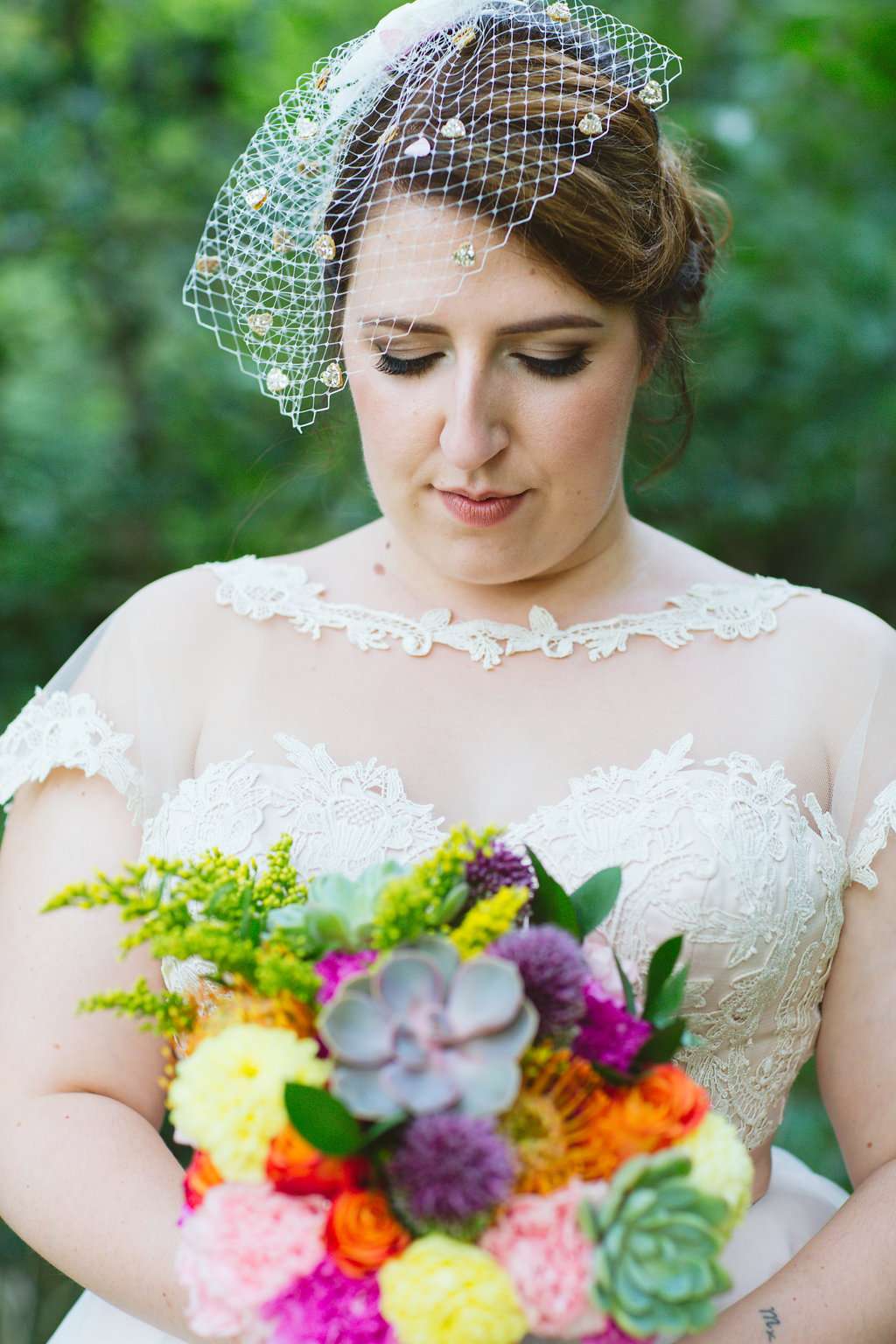 At the reception, piñata hung from ribbon-covered trees, and the bride said that, "Ross turned into a savage, bursting past the children and ripping the head off and then posing." Other notable moments included, "Small children in tequila fancy dress – hilarious! And also a member of The Walking Dead was at our wedding… NBD!"
Ross said that, "The biggest expense was our photographer, Sharon Cooper. We didn't mind as Louise is really into photography and capturing memories. Sharon made us feel so at ease during our engagement shoot that we couldn't wait to have her shoot our wedding and meet some of our crazy family!"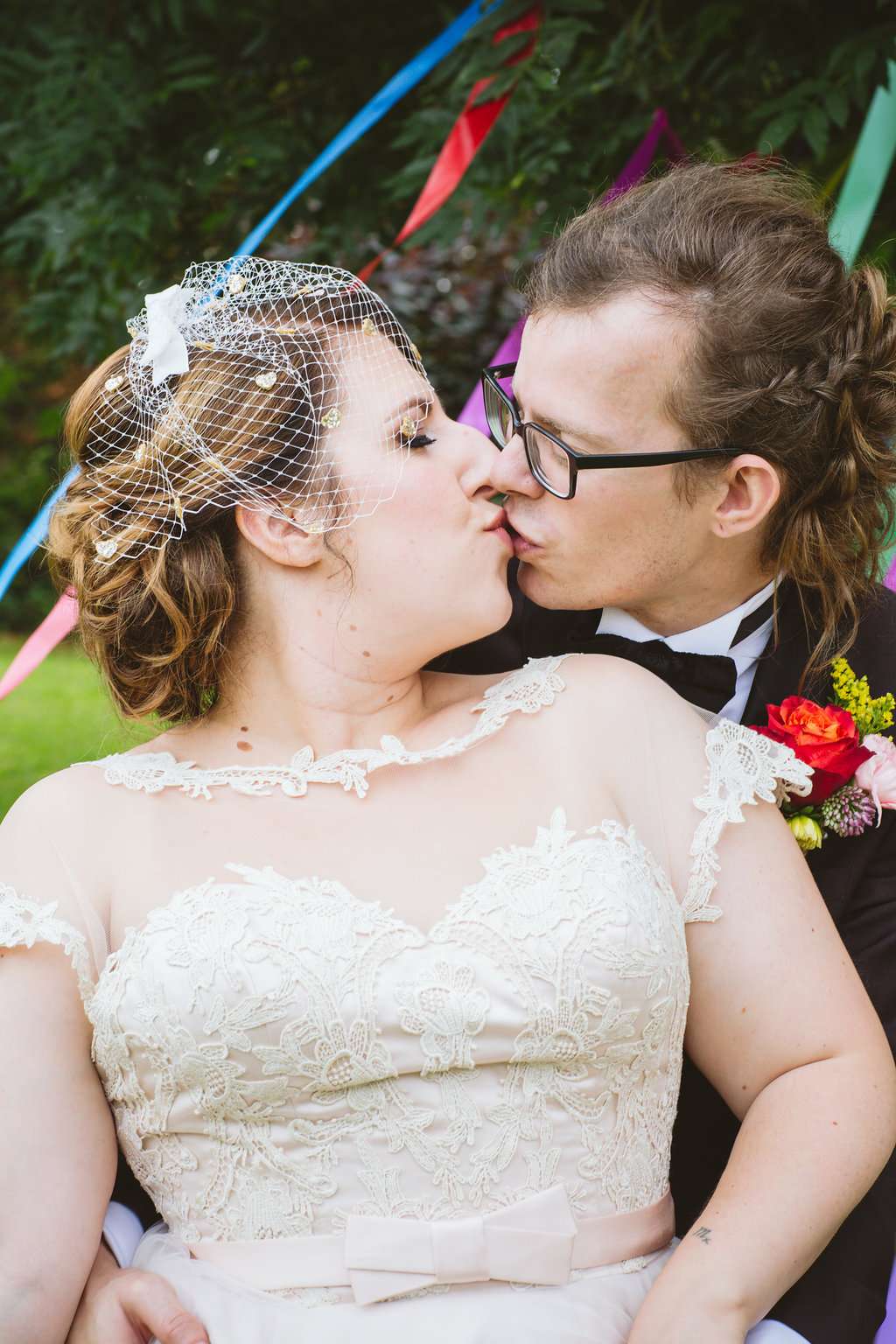 The couple saved money by winning their wedding stationery in a competition run by Rose Designs. Also, their friend Lewis created a website for them for guests to view the menu and RSVP, which they said not only saved money but also the environment. They also had some of their family helping with the baking of all the sweet food, "The cake was baked by grandma Mary and decorated by our fair hands plus our helpers, aunties Helen and Jessica. Cupcakes were baked and decorated by my other aunty, Catherine," said Louise.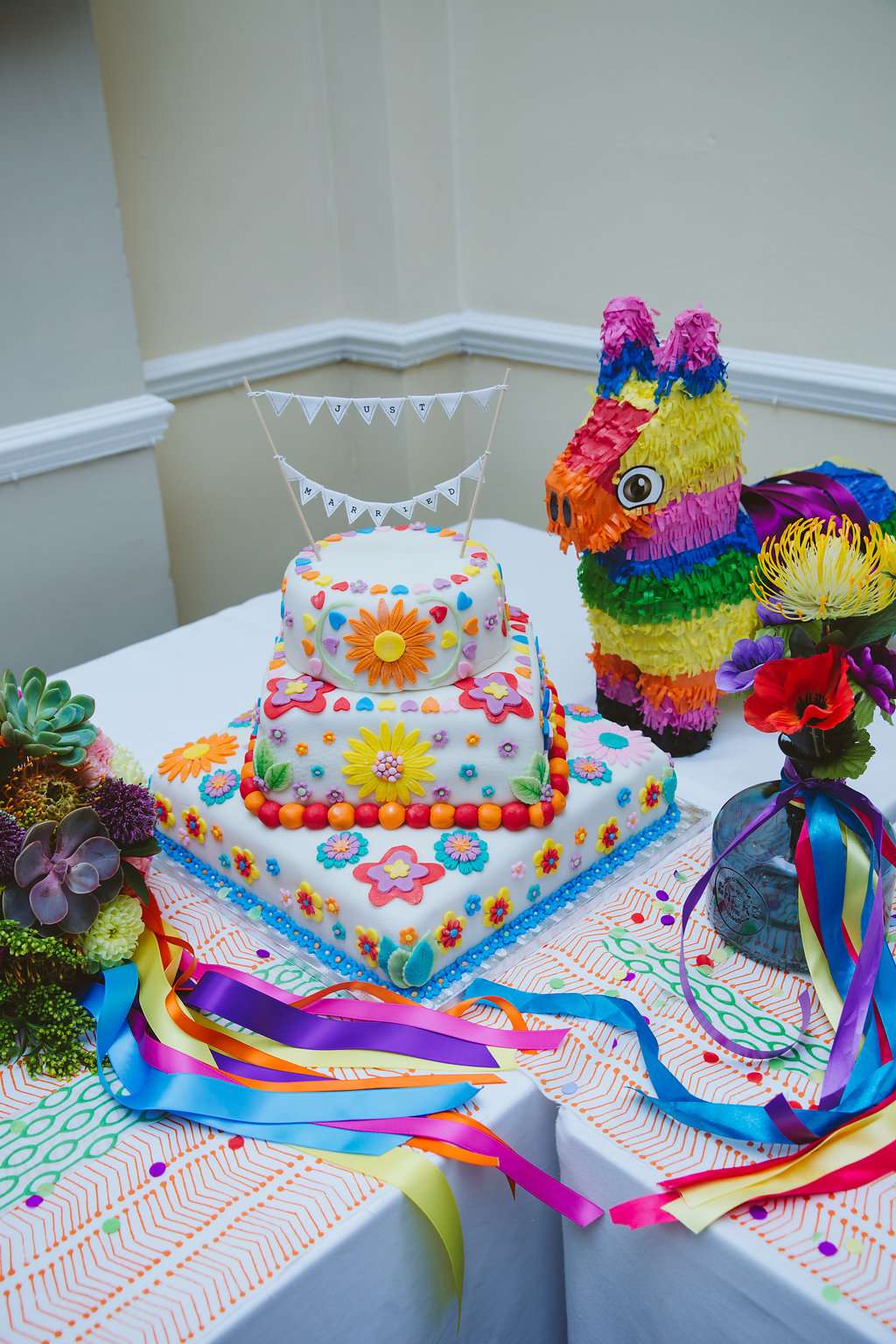 The bride's uncle ran the photo booth, which was thriftily an iPad and a photo booth app! "Uncle Matt printed an image from our wedding website for the backdrop, and my dad brought a wireless printer, and it was a major hit all night. No paper or ink ran out, luckily!" The photo booth stayed on theme with lots of Mexican beads, moustaches and sombreros as props. Musical entertainment came in the form of their Spotify playlist, manned by the multi-talented Uncle Matt, who rigged the place with lights and speakers from their church.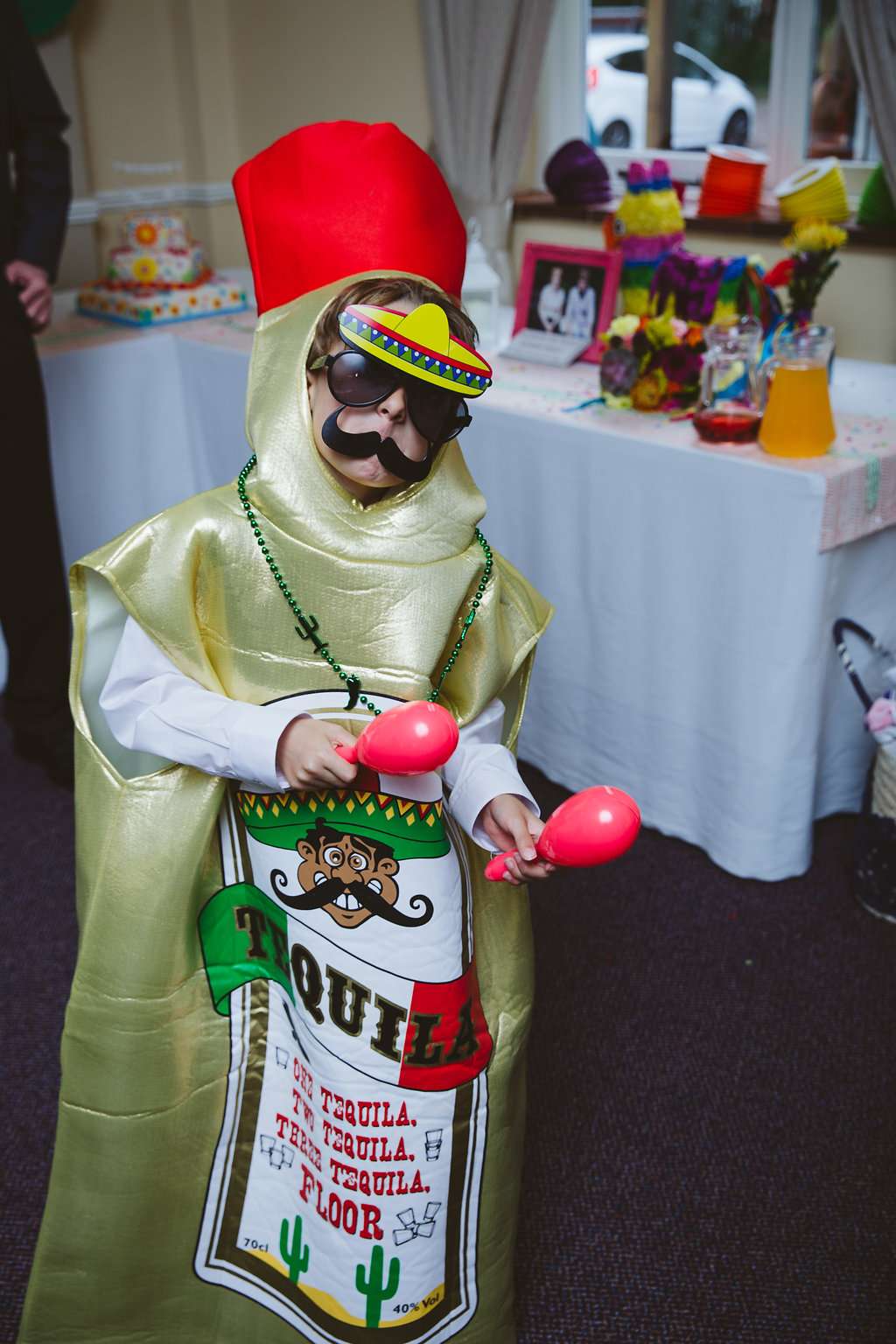 The bride's favourite DIY project was, "The mini maracas! We had many wedding favour ideas, like cacti for everyone, matchstick boxes filled with sweets, etc., but nothing stood out more than personalised maracas! We ordered decal paper and hand-transferred each, finishing them off with a glitter spray, the words 'Robinson Wedding' and the date for everyone to keep as a happy memory of our wedding day."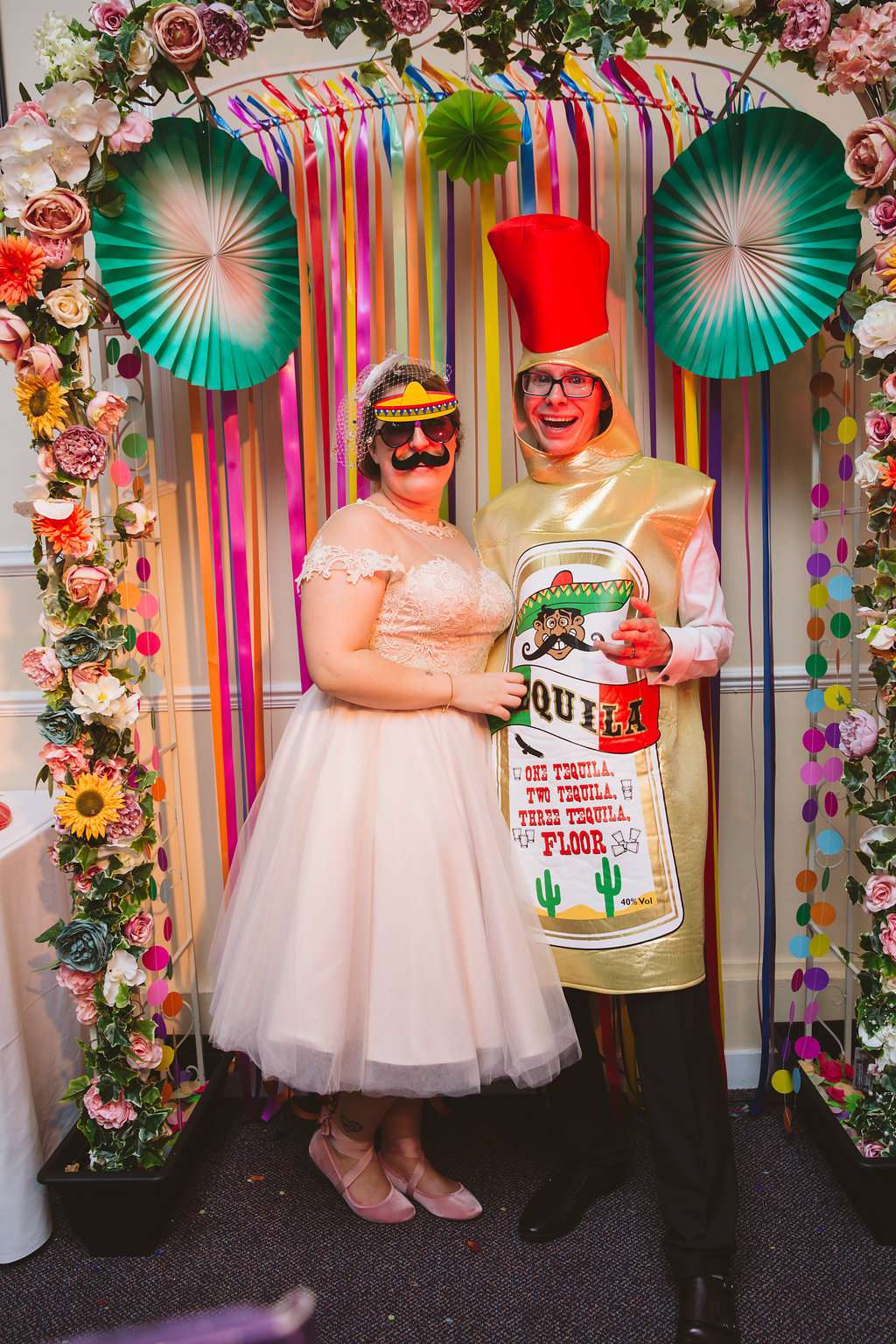 Louise and Ross had this to say to future brides and grooms: "Take the time to step back from the planning and enjoy the moment. Don't get caught up in everyone else's crazy, and remember the real reason you are planning this day."