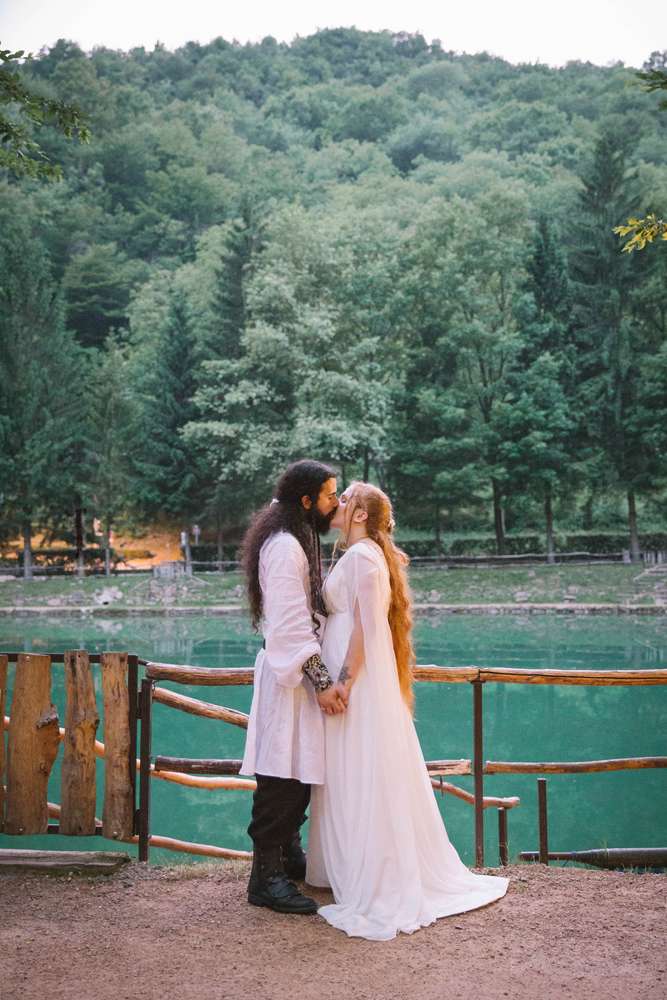 Being literature lovers and self-confessed huge nerds, the second they decided to get married Veronica and Marco knew the wedding theme would be Lord of The Rings.
Doing most things themselves meant that the budget for their Italian wedding was kept to just €4000. "We only had six months to plan and actually make everything, and we did it all by ourselves!" explained Veronica. "The theme itself was particular, and quite difficult to accomplish without being kitsch or exaggerated, but we think we achieved it."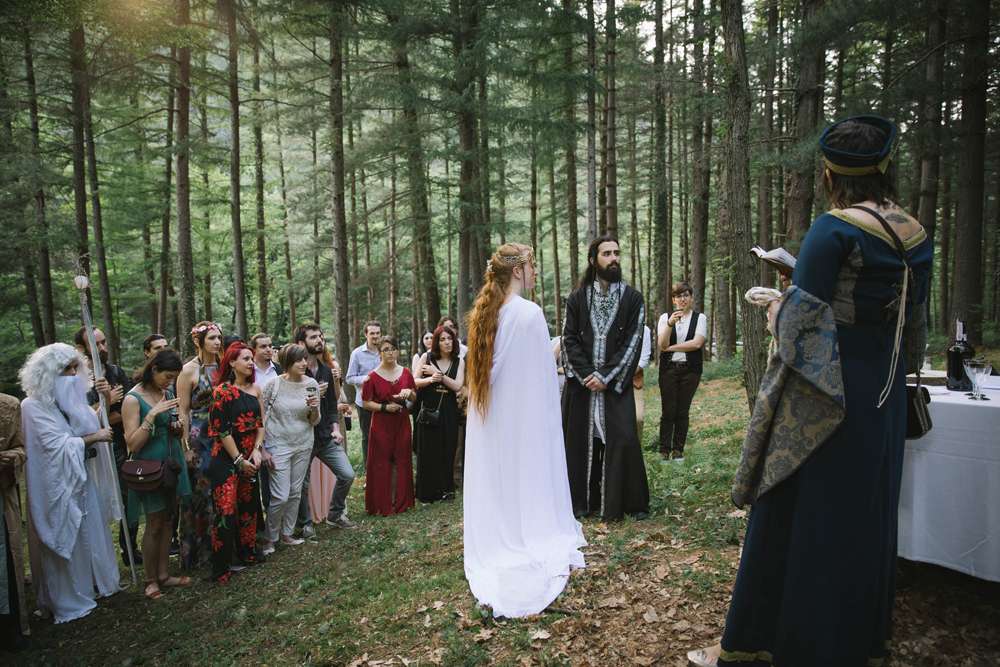 The ceremony itself was a non-religious version of the pagan ritual of handfasting. The bride said, "We did some research, searched for a lot of different versions of the cermony, then pulled them together, choosing our favourite parts and writing new ones. The outcome was so heartfelt and personal it still brings tears to our eyes when we read it. We made the guests participate by toasting to us together and even answering a couple questions. Greta and Dario, two of our long time best friends, each had a speech for and about us."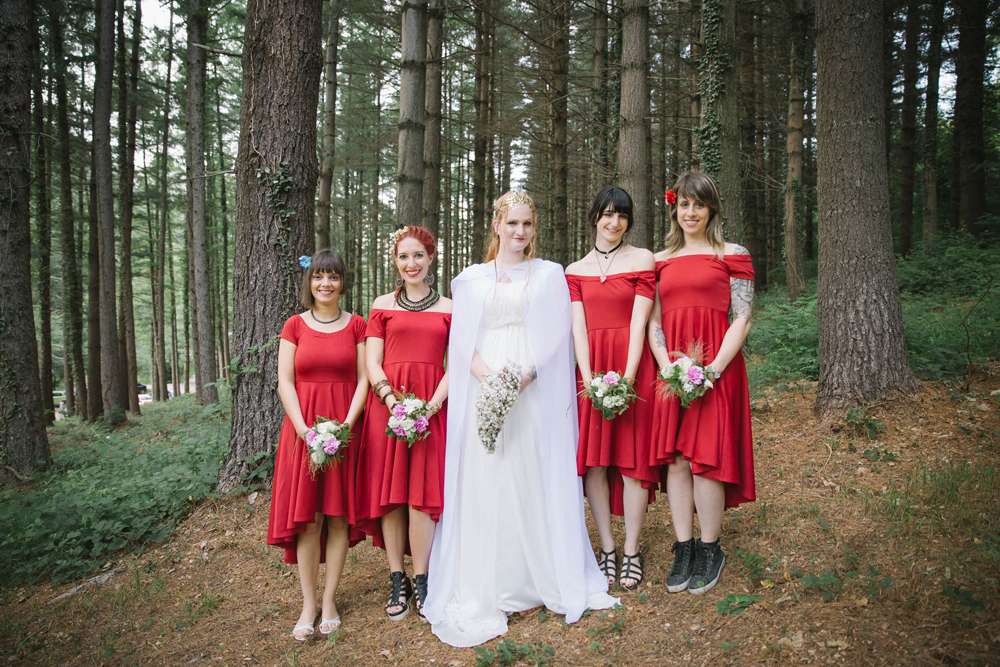 The couple even incorporated their two dogs, Lilli and Zelda, into proceedings! "They were meant to bring us the wedding rings dressed up as hobbits, with cloaks and everything", she said, "but we then opted for 'rescuing the rings from the Balrogs.' So we and all the guests reached them at the dining spot where they were waiting for us with the rings and we took them! It was a funny and sweet moment."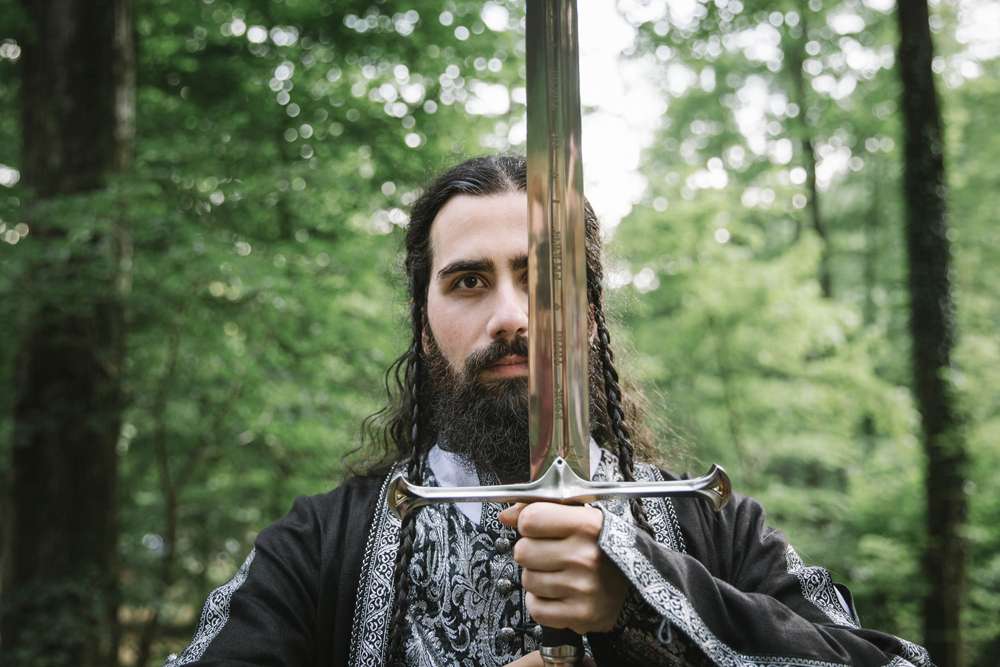 Veronica then went on to add, "Another fun fact is… I broke my wrist two weeks before the wedding while running with our dogs! The doctor decided not to put it in a plaster cast, but in an orthopaedic removable support, so that I could take it off and it wasn't visible in the photos."
Handfasting with a broken wrist?! This bride is officially a trooper.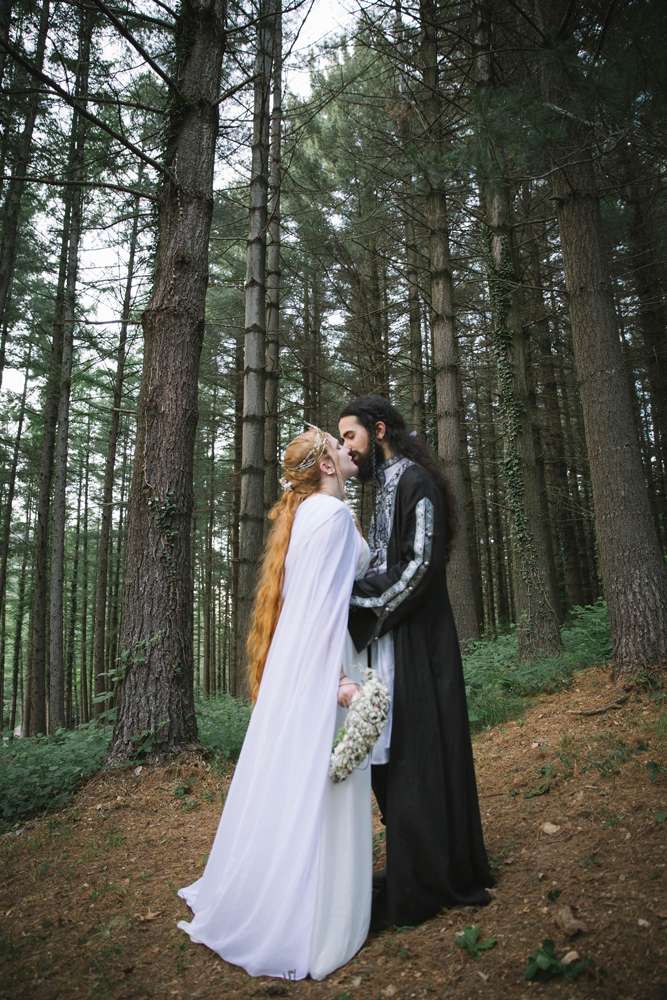 Pretty much everything about their day was DIY. "That was the funniest part", said the bride, "and the thing we're most proud of. I did a lot of online research for the basic ideas and Marco, who is a drawer and painter, made the perfect team mate! We also did the wedding invitations, by hand, together. I also wrote each thanking parchment for the favours by hand and braided the 10-metre 5-string handfasting cord."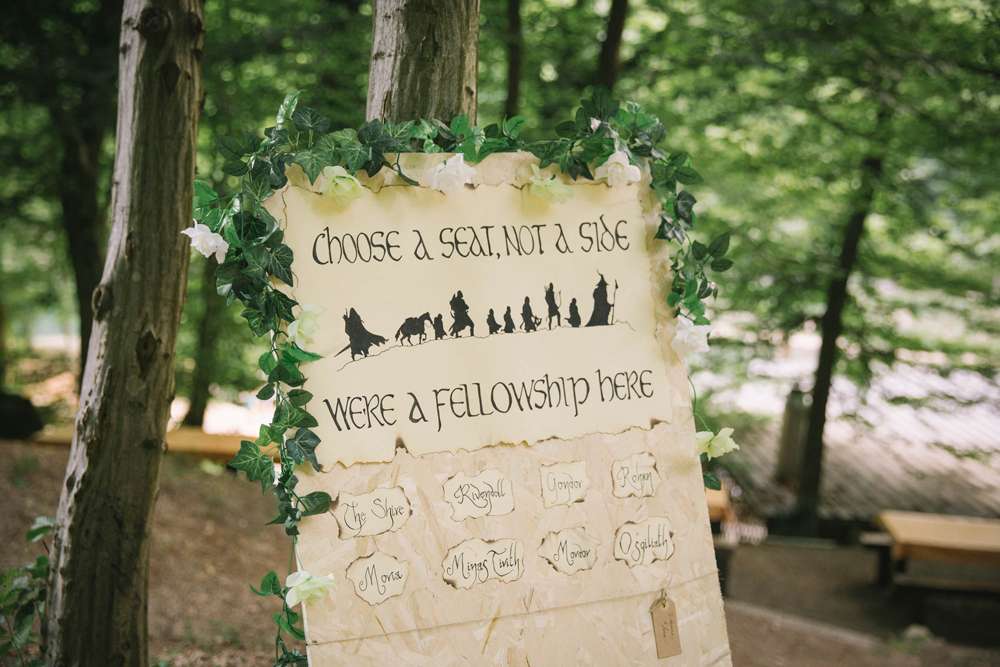 The venue was Locanda Laghetto Fonteviva in Induno Olona (about 40 miles north of Milan) and as it already had lamps and lots of light strings the couple didn't feel like it needed much else. "We just placed some lanterns on the tables with scented pot-pourri and various decorations (coloured sand, micro fake gems, decorative stones and rocks and such) inside, and a simple LED tealight in each of them."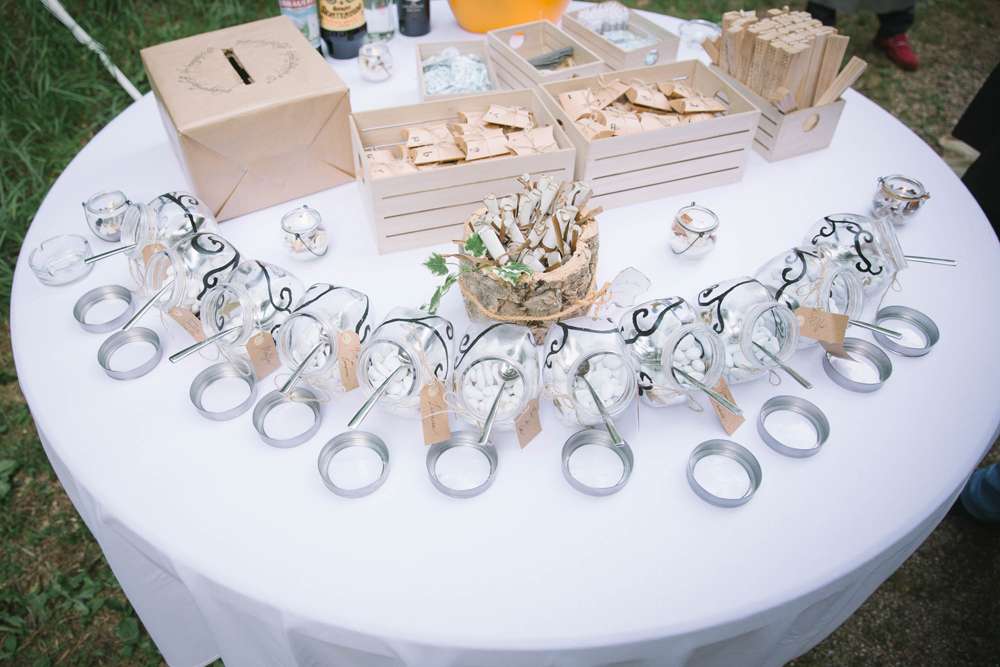 The biggest expense was the food. "Our biggest expense was obviously the catering, even if it was a big buffet instead of a dinner. The only other truly big expense was the photographer. We knew that, other than our regal selves (LOL!) the only thing that will last out of our wedding would be the pictures. We already knew Romina, as she shot a boudoir set of me two years ago (it was a gift to myself, to boost my always-low self-esteem) and a vampire-themed shoot of me and my brother last year. We are in love with her style and her amazingly natural talent for capturing the perfect moment in the most perfect way. She's an artist, and we wanted her at all costs! She lives around 450km from us, so we knew we had to take into consideration the travel expenses in addition to her fee; but we would want no one else, and she stayed with us three days straight. We're extremely happy to have made that choice."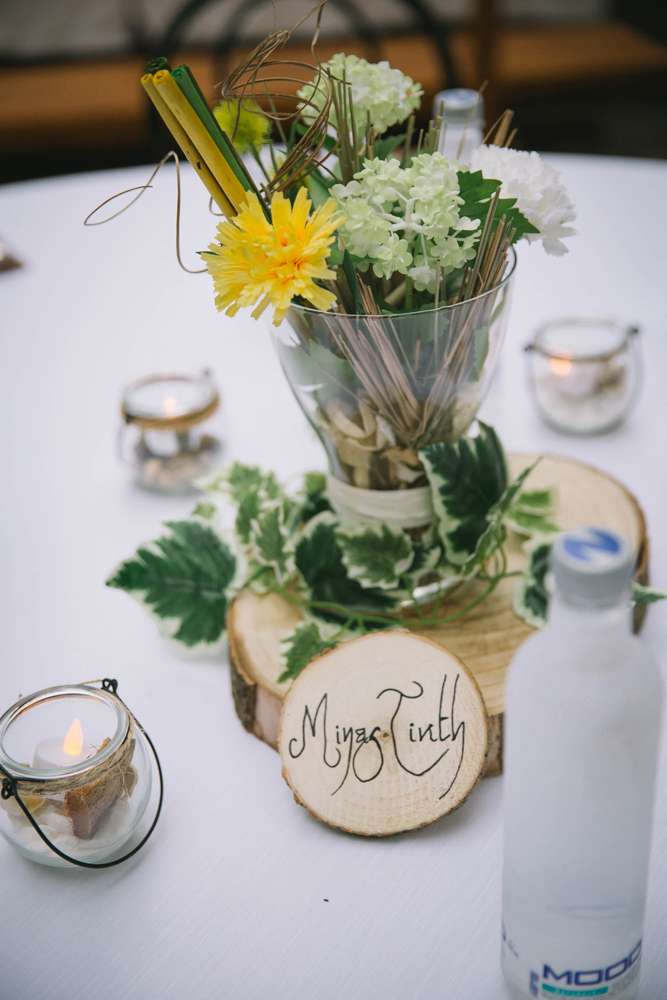 According to the bride the best thing about planning was preparing all the decorations and small details and their favourite moment of the day was the ceremony. "Doing it ourselves was really gratifying! The ceremony was so intimate it surely was one of the best parts, but we also loved when we all gathered together on the small hill to take the group photo, as an actual, big family."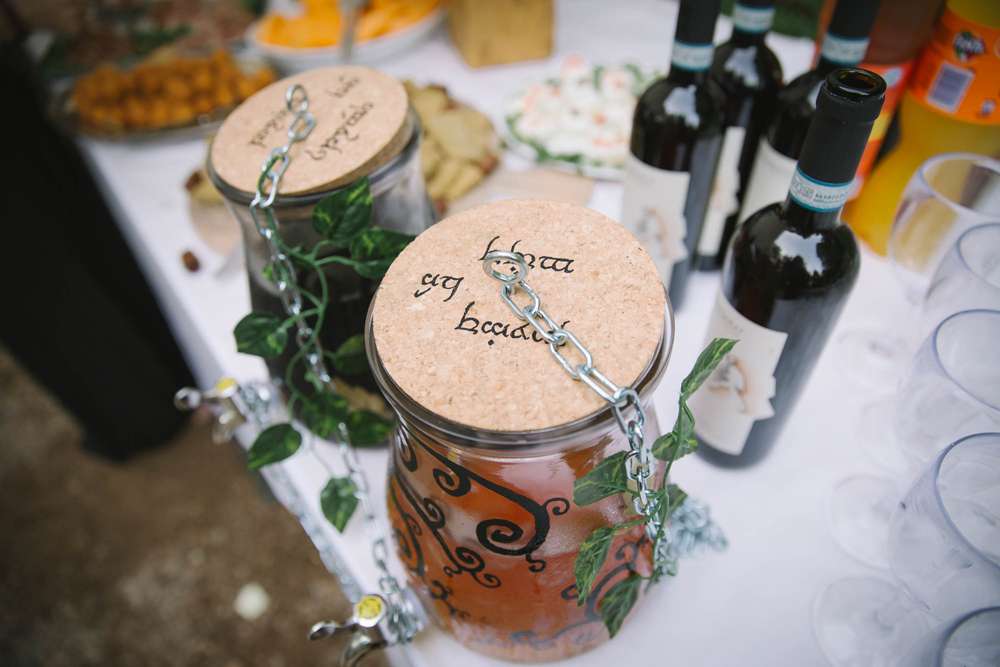 Thinking of anything they would have done differently, the bride reflected, "We would definitely write a list of decorations prior to buying all the materials; we had some ideas (like decorated candles and painted mason jars), but it the end we didn't realise them, even though we had already bought them."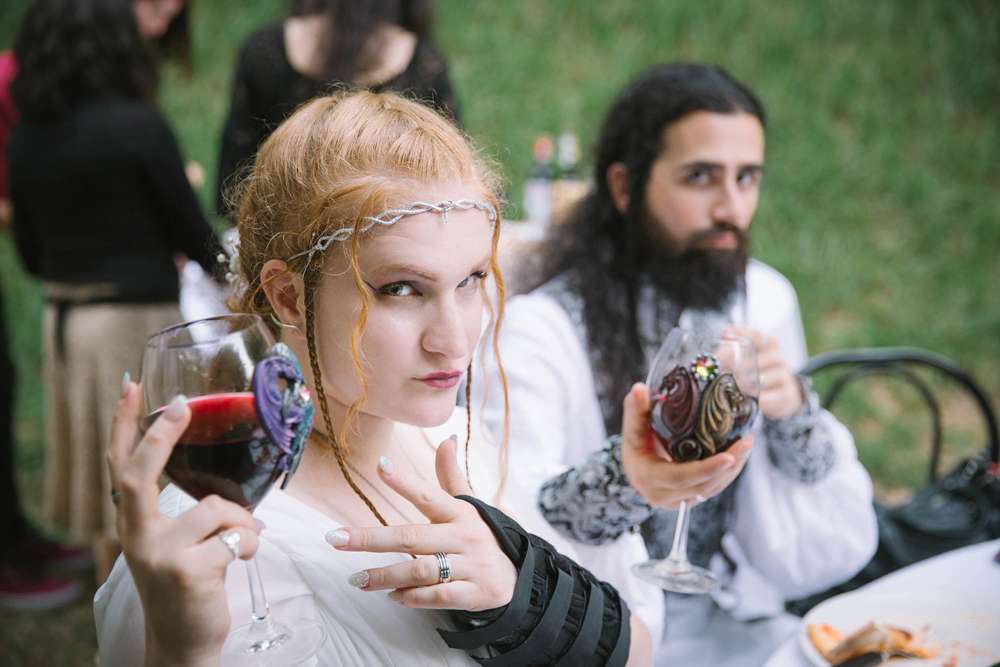 "Our advice for future brides and grooms would be to work together. Talk about what you want your day to be like, but, most of all, remember that only what you two want is important. Don't waste time and energy trying to please other people: it's your day! If your guests love you as you think, they will appreciate and support all of your choices, nevertheless."