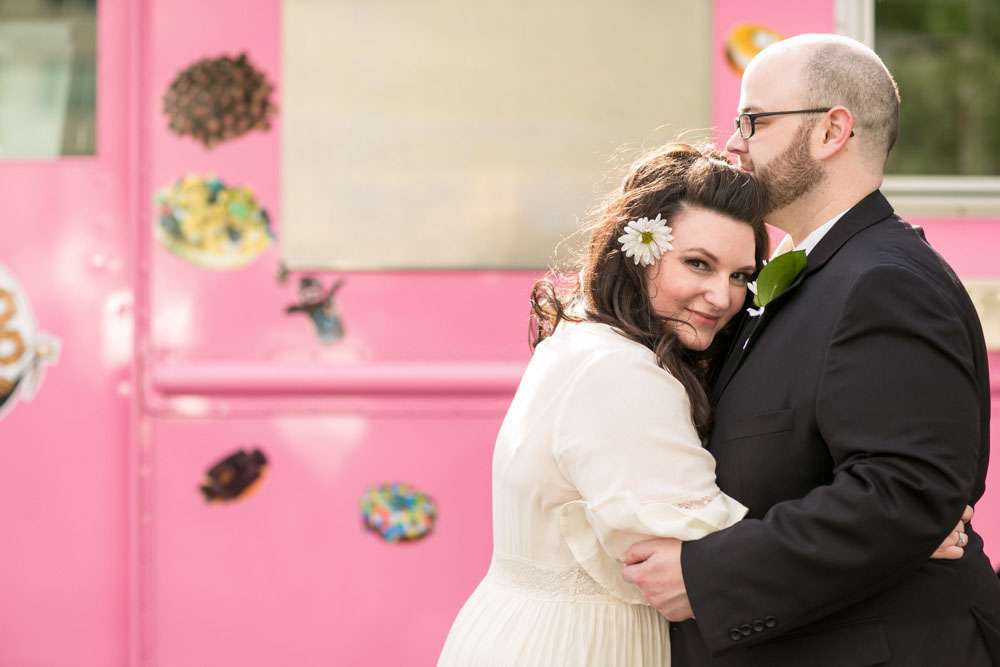 Mike and Ashley spent just $1200 on their amazing wedding. To do this, they forgot about anything traditional, instead opting to say 'I do' at their favourite place in their hometown of Portland – Voodoo Doughnut! Cat Daddy, the owner, even officiated the ceremony!
Of course they had doughnuts instead of a wedding cake. They had a large one with 'forever' on it, and even ones shaped like a bride and groom. "Our wedding was a celebration of us", wrote Ashley. "We added as much personal detail as possible. I wore jewellery from both my grandmothers, our dog Lola was there and Mike wore a special slap bracelet I had bought him the year before that said WINNER. Our flowers were also so much more special because they were a handmade gift to us from a close family friend, and we were lucky to get married in a special place in our favorite city."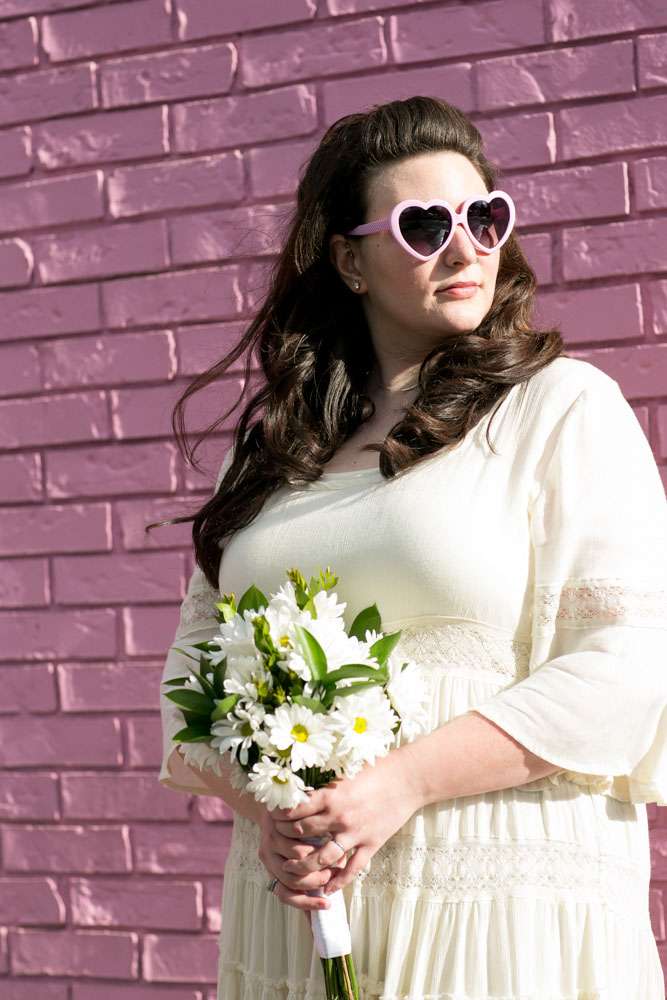 "We chose Voodoo Doughnuts as our wedding location because when we first met and fell in love, we would go there every Sunday night at midnight and have a date", she continued. "The location was another part of our wedding telling our story, and if it seems quirky or alternative, it's probably because we are!"
"We had originally planned a larger, more traditional ceremony, but that ended up not working out", she continued. "Once we decided to shift gears to a small ceremony, we ended up planning our wedding in about a month, and we kept it secret from most people (the morning we got married, less than 20 people knew it was happening). An hour before the ceremony, we sent a message to our close friends letting them know what we were doing, and a few hours after we put on Facebook that we'd eloped. The outpouring of love and support we received from people was the perfect cherry on top to an amazing day."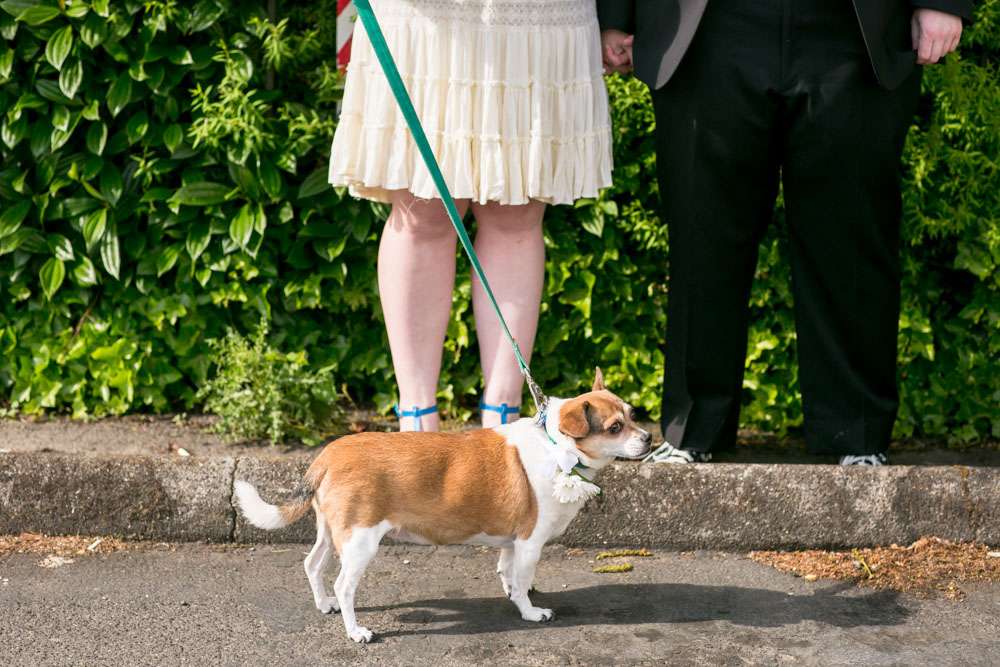 "Part of the beauty of our wedding was how organically it all came together. We weren't sticking to any kind or rigid plan or schedule, and we hadn't met any of our vendors until the day of the ceremony – they luckily all seemed to instantly 'get' us and perfectly meshed with our vibe. For instance, five minutes before the ceremony we mentioned to Sara, the Voodoo 'wedding planner', that we used to go to Voodoo on dates. She told Cat Daddy, who incorporated the story into the ceremony. In fact, he perfectly rolled with our dog's excited barking during the ceremony, and declared us husband and wife 'by the power of Lola'!"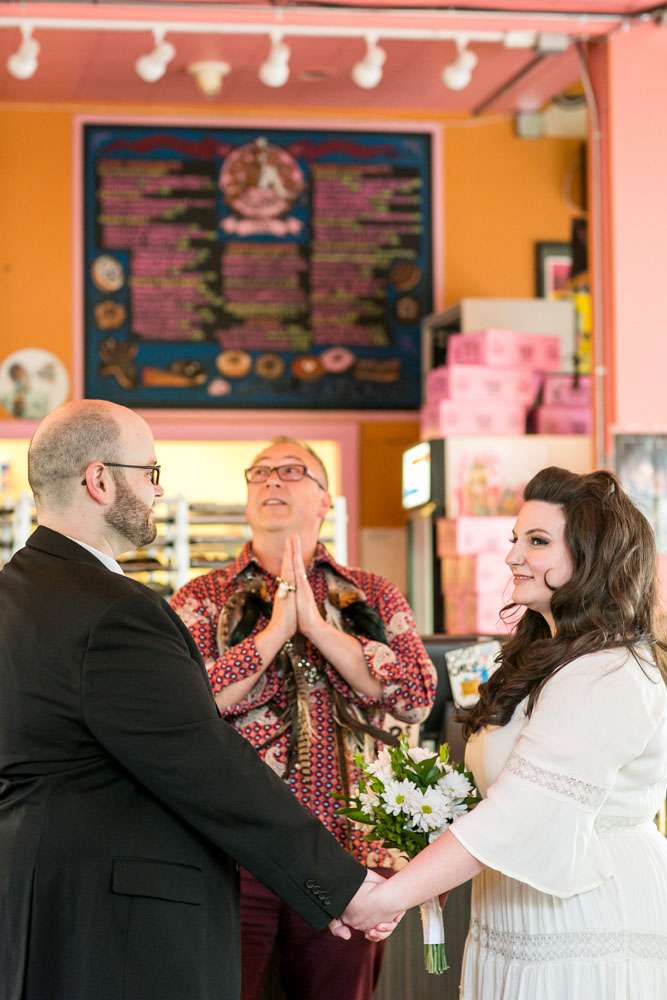 The couple did everything on a pretty tight budget. Ashley's dress was from Free People and they didn't have any invitations, entertainment or catering to drive up the expenses. However they did invest in their photos.
"Photography was our biggest single expense by far. Though our budget was small, a photographer friend of ours advised us that good photos were the thing worth splurging on. She was right – they were! We cherish our wedding photos and appreciate how much they capture the day – and us! – especially since they ended up playing such a crucial role in how we shared our wedding with people."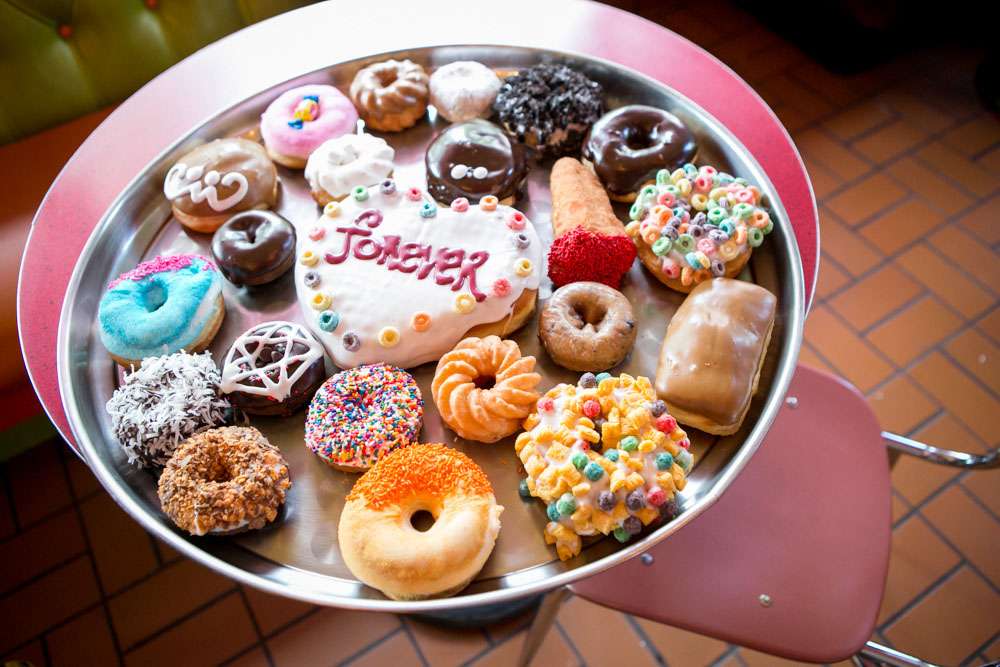 "We got absolutely everything we wanted on our wedding day", she concluded. "It didn't have a lot of glitz, but it was big on heart and we felt super fortunate that everything worked out as beautifully as it did."