Regular Rock n Roll Bride magazine columnist, Alex Smith, is here to talk wedding shoes for men… And why the right shade of brown isn't always that easy to find.
It took me almost a year to get my wedding suit to the point where I was completely happy with it, but I hadn't even begun to think about shoes. You may not know this, but shoes have rules! No black with blue, no brown with black (unless it's tan) no orange with anything… What goes with what even comes down to what shade of the colour something is. You will find yourself standing in a store shopping for a pair of brown shoes, holding a pair of brown shoes and saying to yourself "I want brown shoes, just not this brown, and also not that brown." Of course, the answer to finding shoes that match perfectly with your suit is to have them custom made, but if I had thousands of pounds to spend on my feet, I'd be travelling everywhere by engine powered rollerblades like any other sane individual.
However before you start thinking that your feet are too expensive to maintain and start hacking your leg off at the ankle, may I introduce you to Undandy.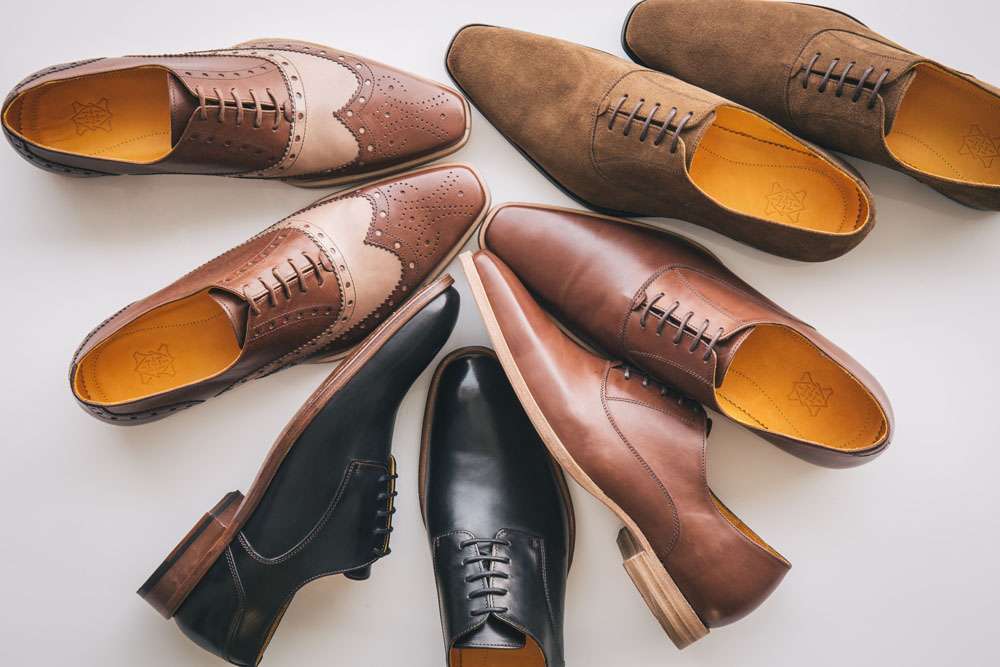 Undandy specialise in custom made, handcrafted dress shoes for the 'sartorially inclined modern gentleman,' I'll pause here while you google the world 'sartorially.' Done? OK great. I think I've made it pretty clear that your shoes are important on your wedding day. Some of you may be saying "Well Alex, my partner and I are actually getting married on a beach in Guinea so I won't be wearing shoes." You're an adult, put some shoes on, plus you don't want sand between your toes for the reception. The least forgivable thing to be thinking at this point is "Oh, I don't need to get new shoes for the wedding, I've got my 'smart shoes'." If you look through your shoe cupboard, or rack dependent on how you live your life, and you see a pair and think "those are my smart shoes," please go ahead and burn those shoes, I can picture them and they're disgusting.
I find when I go shopping for shoes for a specific outfit, for example if I already own the suit, I am always settling with shoes that are 'just about right,' or 'ish the right shade,' well let me tell you, your wedding day is not the day to feel like you've settled, trust me!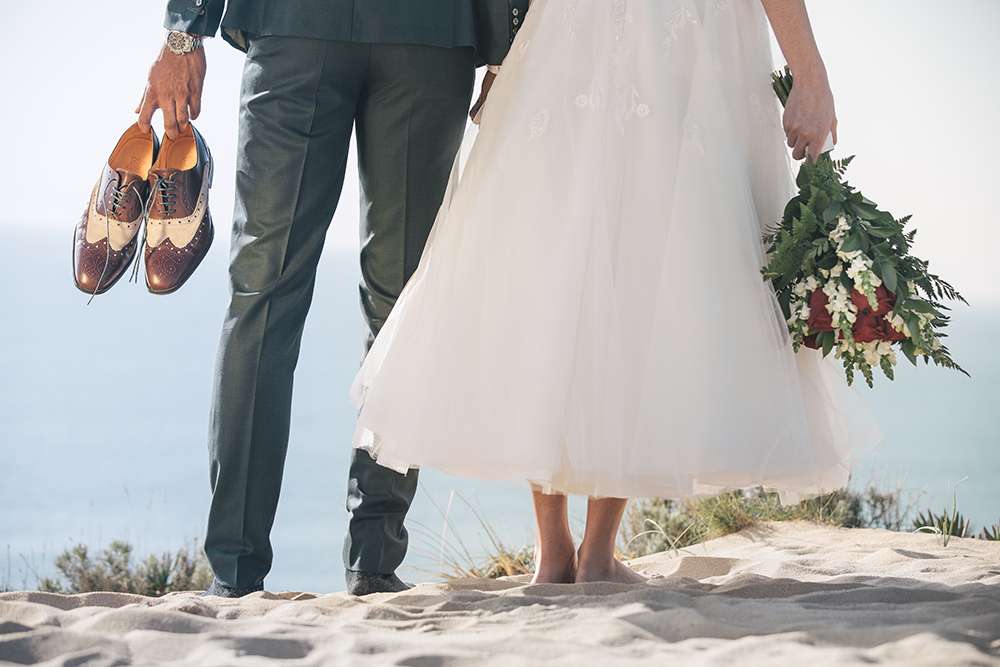 Undandy have an incredible 3D design tool on their website where you can personalise exactly the shoe or boot that your heart most desires. You want a bright blue suede and red patent leather loafer with yellow stitching? Then Undandy have got your back. I have spent hours on the tool, it is super easy to use and I have designed about 30 pairs of shoes and added them all to my 'watch list.' I've decided that I'm going to take up being a nudist and spend all my money on custom shoes instead. I'll be the person in a prison holding cells with by far the most stylish feet.
Okay, so let me take you through how it works:
1. Pick if you want a shoe or a boot.
Shoe styles: Oxford, Derby, MonkStrap or Loafer
Boot styles: Standard, Chukka or Chelsea Boot.
2. Select the 'last,' which is the tip of the shoe.
Styles: Puff Toe, Bold Claw Toe and Round Toe.
3. Decorate: Whole cut, cap toe, half brogue or full brogue look.
4. Choose the material. Each section of the shoe can be in a different colour and material if you want.
Material: Leather (Patent and Standard), Suede and Canvas
5. Finish off with picking the colour of the laces and the stitching!
6. For an extra flourish, you can engrave the sole of the shoe. You could go romantic with your initials as a couple, or the date of the ceremony or send subtle messages to the people you didn't want to invite, maybe kick up a heel during the ceremony to reveal. "Get lost Auntie Carol!"
If personalising your shoes entirely seems like too much of a feat for you then Undandy also offer a ready-to-wear collection. The collection is a real mixture of handmade shoes that are fairly uniform in design all the way through to a pair of brogues that are blue, green, brown and white with red laces and stitching.
Undandy is only online, which is a bit of a concern when it comes to shoes because I know my shoe size varies between style and shop. However, they have a really strong attitude towards customer service and if you aren't totally happy with the final purchase then they will arrange for the shoes to be collected, returned, and refunded or exchanged all for free.
Whilst Undandy was only founded in 2015 the two guys who started it are adamant in utilising the skills of dedicated third generation artisans from Portugal's footwear capital Sao Joao de Madeira, they also only use the finest quality French leather and suede. Rafic Daud, the co-founder, believes this to be the bedrock of the brand. "We are proud to be supporting the community in Portugal that has hundreds of years of accumulated knowledge and heritage of working leathers, of tanneries, of craftsmanship", he says. "Each pair of Undandy shoes are handcrafted and made with love that truly translates into the final product."
In the UK, a shoemaker using the finest quality materials making the shoes by hand would, I think, probably charge over £2.5k, Undandy prices range from just £124 to £188, so you can save the remaining money, and buy 14 more pairs. Or I dunno, responsibly save it for a deposit on a house or something. Although who needs a bigger house if you don't have 15 pairs of amazing shoes to keep in it?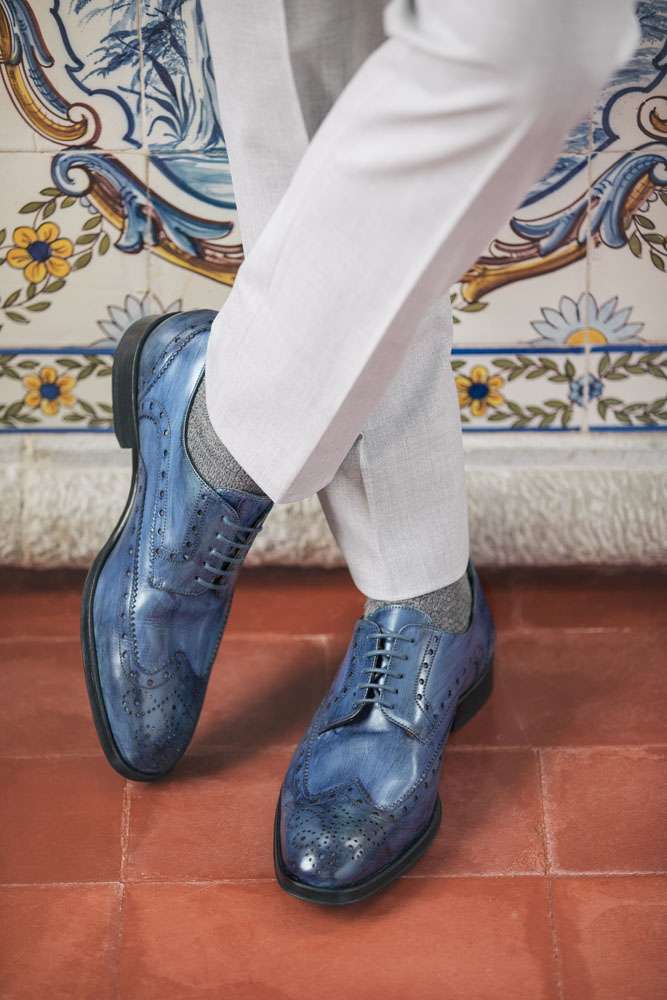 It doesn't matter if you're the groom, usher, father of bride or groom, or even just a guest who wants to create a totally unique shoe that looks perfect with your outfit, Undandy shoes are the absolute tits. Sorry saying tits when they use words like sartorial feels wrong, they are the absolute mammary glands.
If you wear a pair of Undandy's to a wedding, there is a 100% chance that people will go "Oh I love your shoes, where are they from?" and then you get to have the unwavering enjoyment of not only accepting the compliment but also then getting to say (as loudly as possible) "Oh these? Yeah I custom designed them right down to the stitching." At which point the person will respond 'Wow, no way.' At that point just flip up your heel and unveil the bottom of the shoe, and on the sole engraved, it just reads 'Yes way!' At that point, turn around and walk out of the wedding, regardless of what time it is, even if you're the groom, you have won that wedding!
About the Author 
Alex Smith is a comedian based in London. You can catch him performing all around the UK. Dates and info can be found at alexsmithcomedy.com. You'll also find him in every issue of Rock n Roll Bride magazine as a regular contributor, writing articles and telling jokes from the groom's point of view.