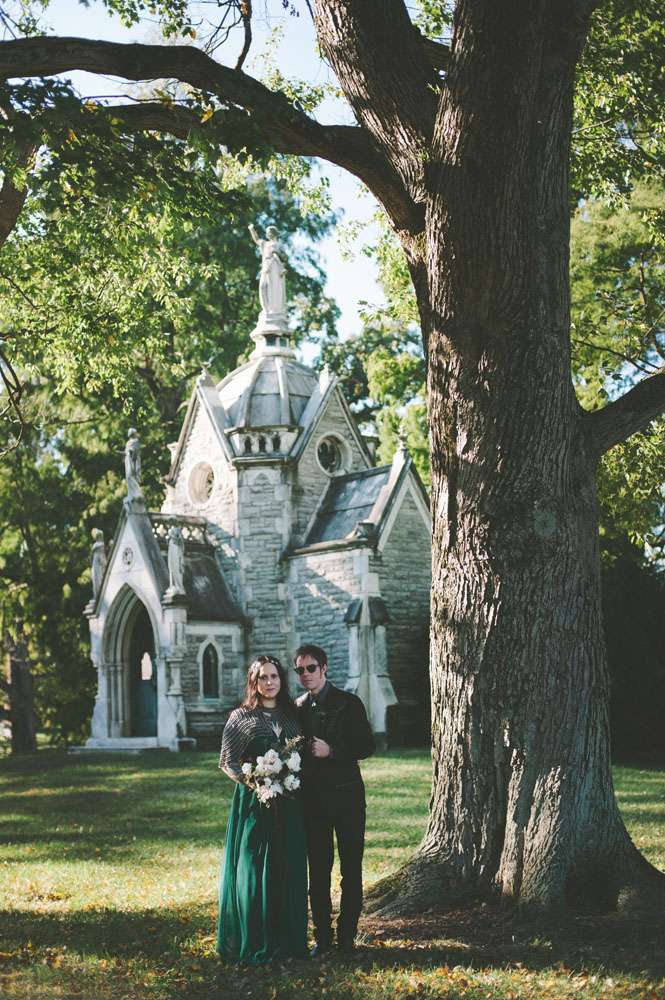 Katherine and Andrew wanted their ceremony to be intimate but their reception to be a big party with musicians that they love playing all night. They were inspired by Rock n Roll, cemeteries and gothic architecture. The ceremony was held at an iconic cemetery near where they live.
"Neither of us had any interest in the conventions and constraints of a traditional wedding. We just wanted to be ourselves, have a short meaningful ceremony and a big party afterwards with lots of friends", said the bride. "Our ceremony was very intimate, with only a handful of family and friends present, and was conducted by our dear friend Bryan."
"For my bouquet I had always wanted white anemones with black centres. Amy, our florist, went to pick up the order the day before the wedding, only to be told that all the anemone crop had been wiped out by a hurricane! She had to make a decision on the spot, and came up with a beautiful substitute for my dream flowers; black calla lillies, white ranunculus and orchids. It created the same black and white gothic bouquet I'd always wanted. Amy is amazing at what she does!"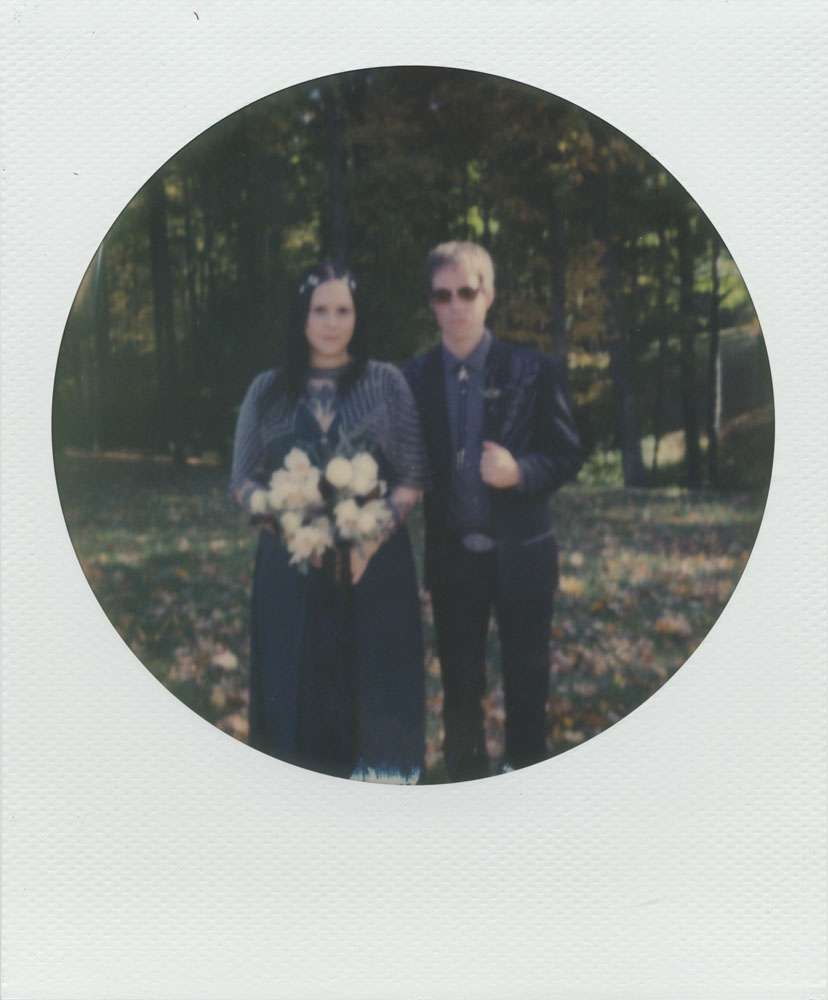 The reception was held at The Lodge in Dayton, Kentucky. "Our biggest expenses were the musicians, the sound guy and our venue. But we saved money on my dress. It was so cheap and I made it interesting by wearing an amazing vintage cape from the 1930s. We also saved by reigning in the idea of having a tiered wedding cake made entirely of cheese!"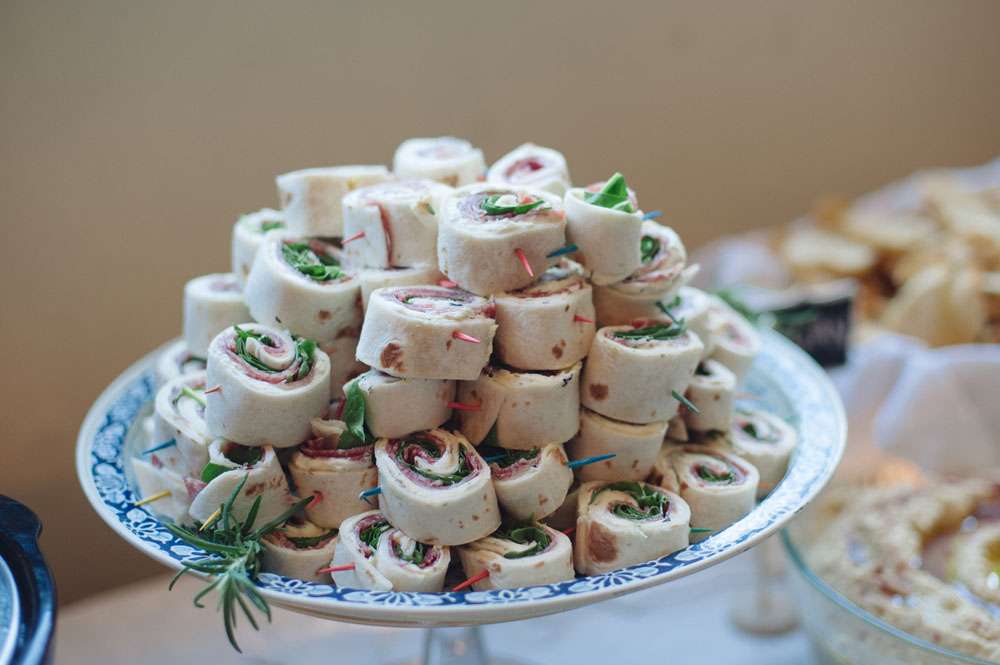 "The best thing about planning our wedding was the anticipation of such an exciting day!" she remembered. "We were so sad when our party was over. It had been the most amazing day and we didn't want it to end! However, the worst thing about planning our wedding was that it took up so much time! We were both really busy in the months leading up to the wedding and there was so much to do… it felt like we didn't have a moment to relax!"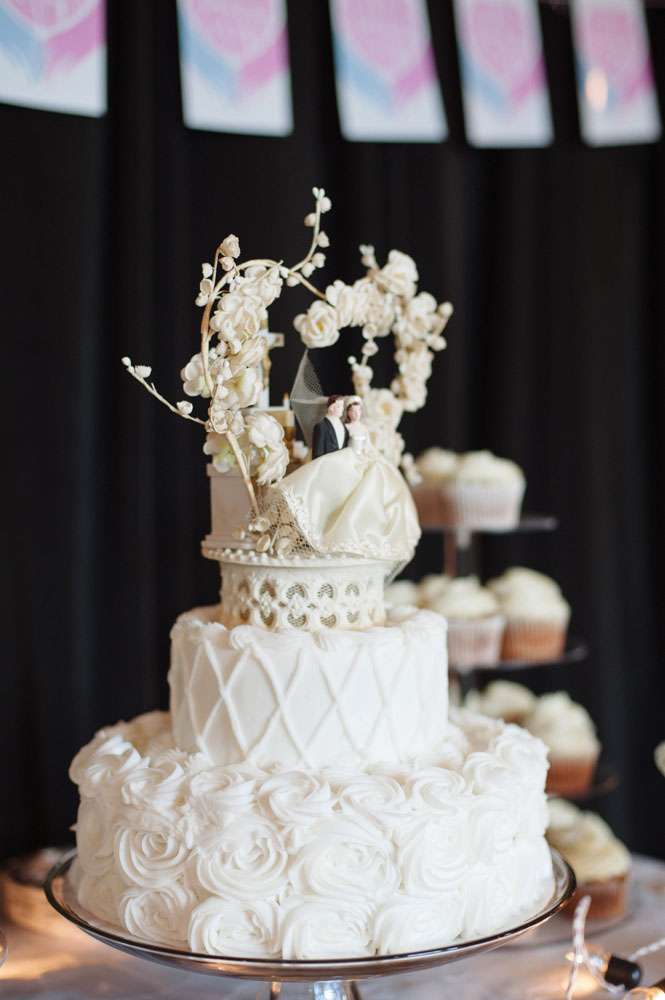 "In retrospect we wish we'd had more time available to plan and more money to spend but those weren't factors we could have changed. We also wish we'd had photos taken with our three dogs (they are our family and we felt we didn't include them as we would have liked) and with specific friends at the party. As the bride I was torn between wanting to be in the moment and enjoy every second, and trying to capture moments I loved and wanted to remember. Our advice to future bride's and grooms is to enjoy every moment, it goes so fast!