Sorry, this product is now sold out!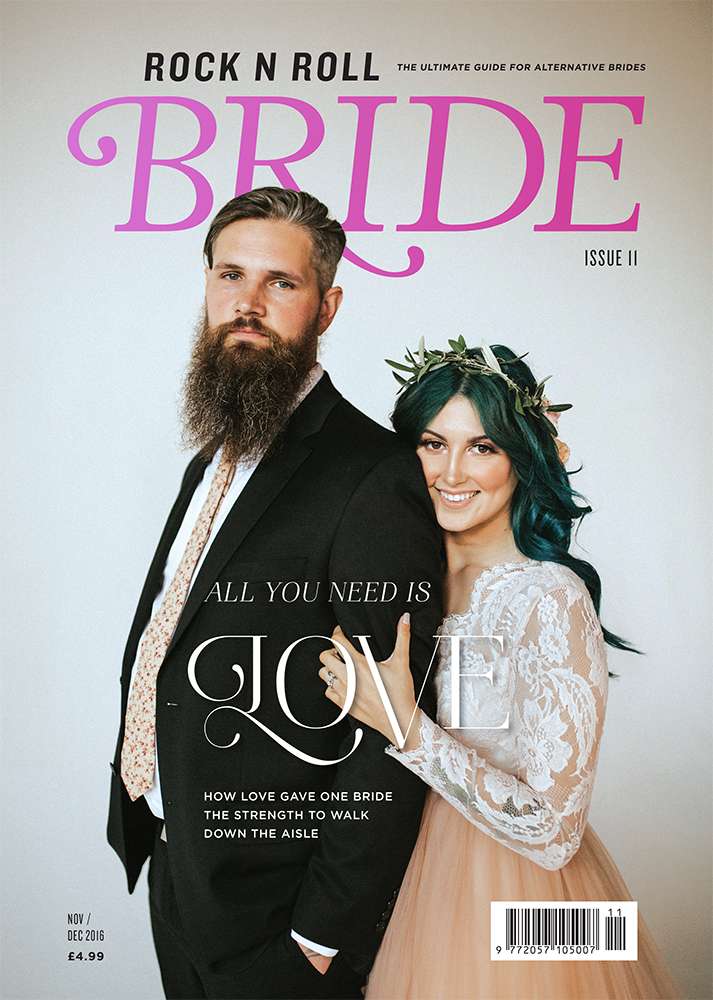 A little while ago I was staring at a shelf of wedding magazines in a shop and it felt like all the covers were actually SHOUTING at me. "100 wedding dresses you are NOT going to want to miss!", "Flower ideas for every conceivable wedding style!" "Buy this magazine and we will SOLVE ALL YOUR PROBLEMS!" It just felt very exhausting!
So we've gone in a completely different direction with the cover design of issue 11. It's cleaner and more editorial in style. We've stripped it right back to focus on our beautiful real couple and just one key message. I really hope you love it as much as I do.
It's also available for pre-order TODAY and I promise it'll be the best £4.99 you spend all month.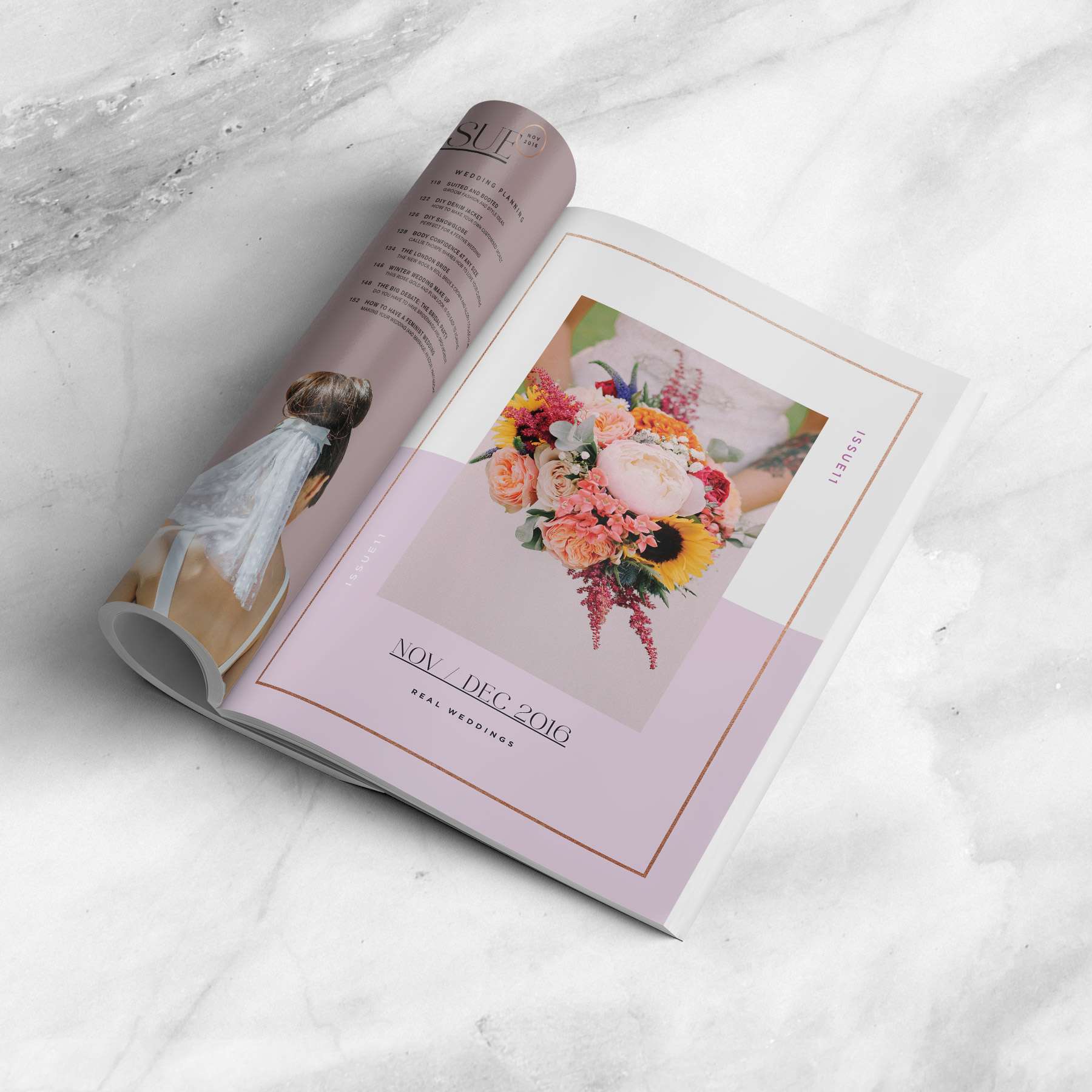 Our cover stars are the utterly gorgeous and totally inspirational Jaquie and Andy, photographed by Love Stories by Halie and Alec. Not only do I adore the style of their Atlanta wedding (and Jaquie's epic Elizabeth Dye dress!) but their story is so special too. The bride has been recovering from a spinal cord injury that paralysed her from the chest down and doctors actually told her there was no chance of her walking ever again. But, against all odds, and after a year of hard work in physical therapy and at the gym in the run up to the wedding, she was actually able to walk down the aisle!! I teared up reading their story and I'm so honoured that they're on our cover.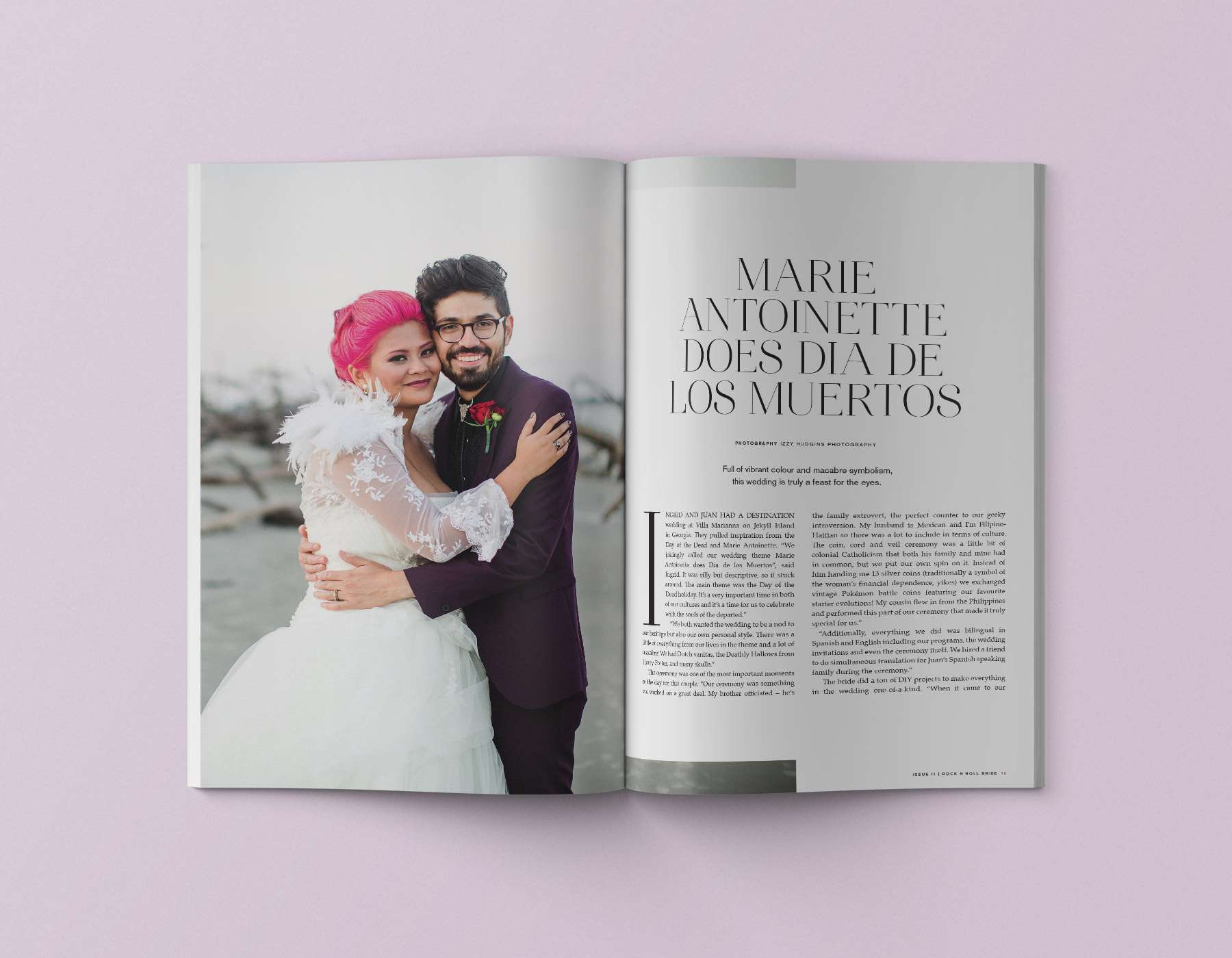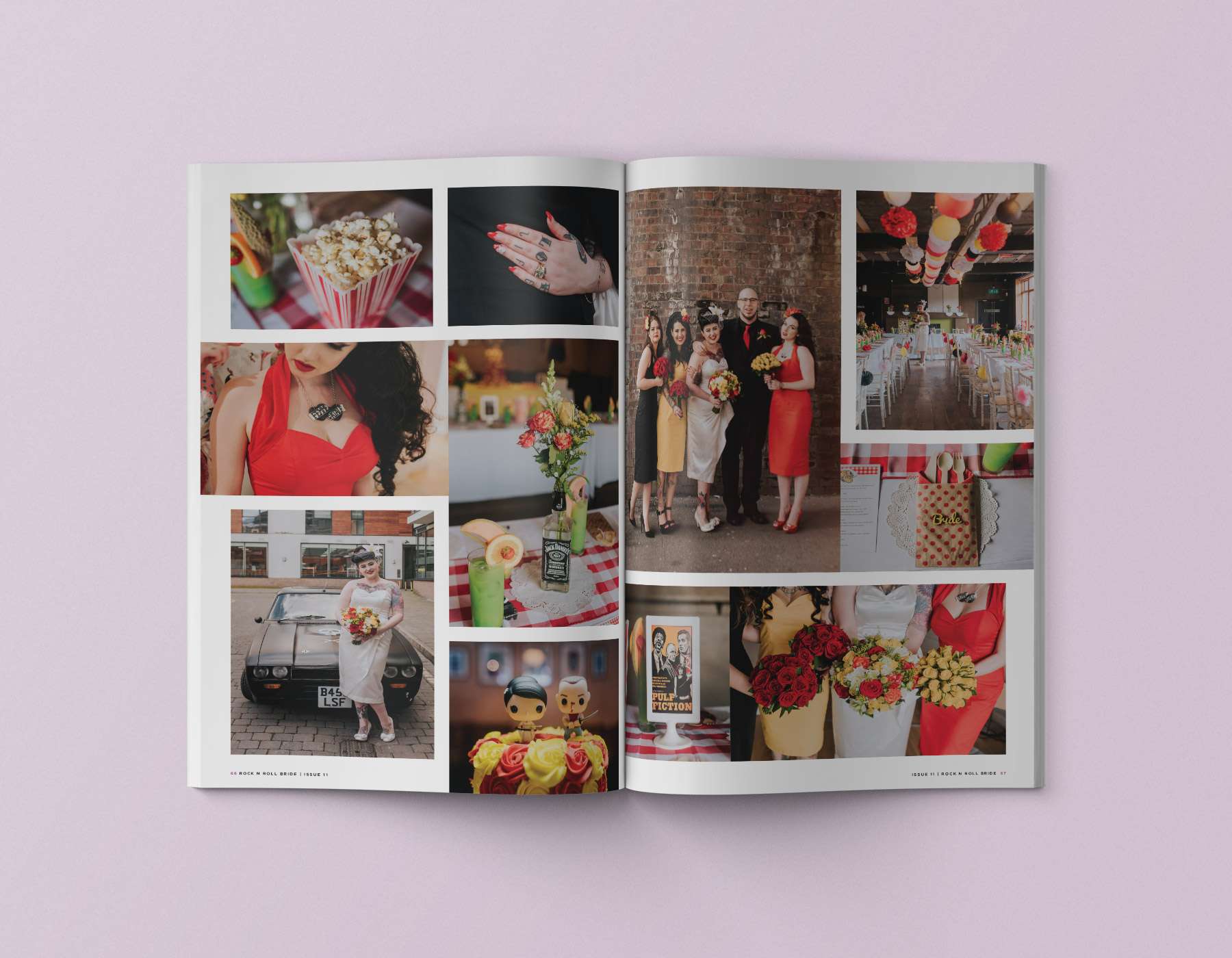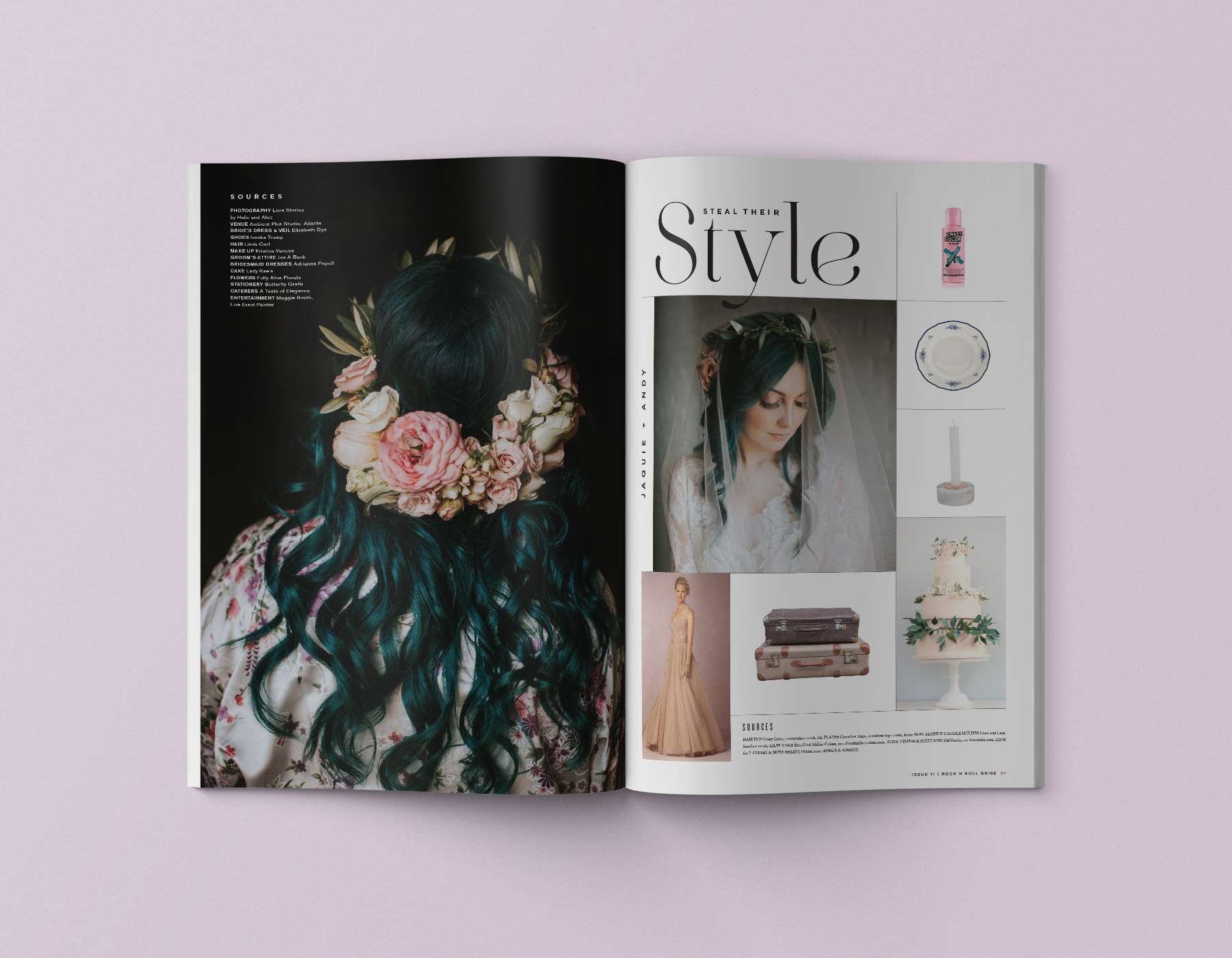 OK so what else is going on inside issue 11? Well, as usual, we've featured 11 gorgeous weddings which are sure to give you bucket loads of inspiration for your own big day. We've got a Marie Antoinette meets Dia de los Muertos wedding, another inspired by Tarantino, one where the couple (and their guests) head-banged all night long, and another where the bride embellished her own lilac dress!
We've also upped the ante with our fashion editorial to showcase the brand new Rock n Roll Bride x Crown and Glory! We'll be officially launching the collection online on November 1st and I can not wait for you guys to see what Sophie and I have been designing this time around (if you came to any of the National Wedding Shows, or if you follow me on Instagram you will have already seen a bit of a sneak peek!)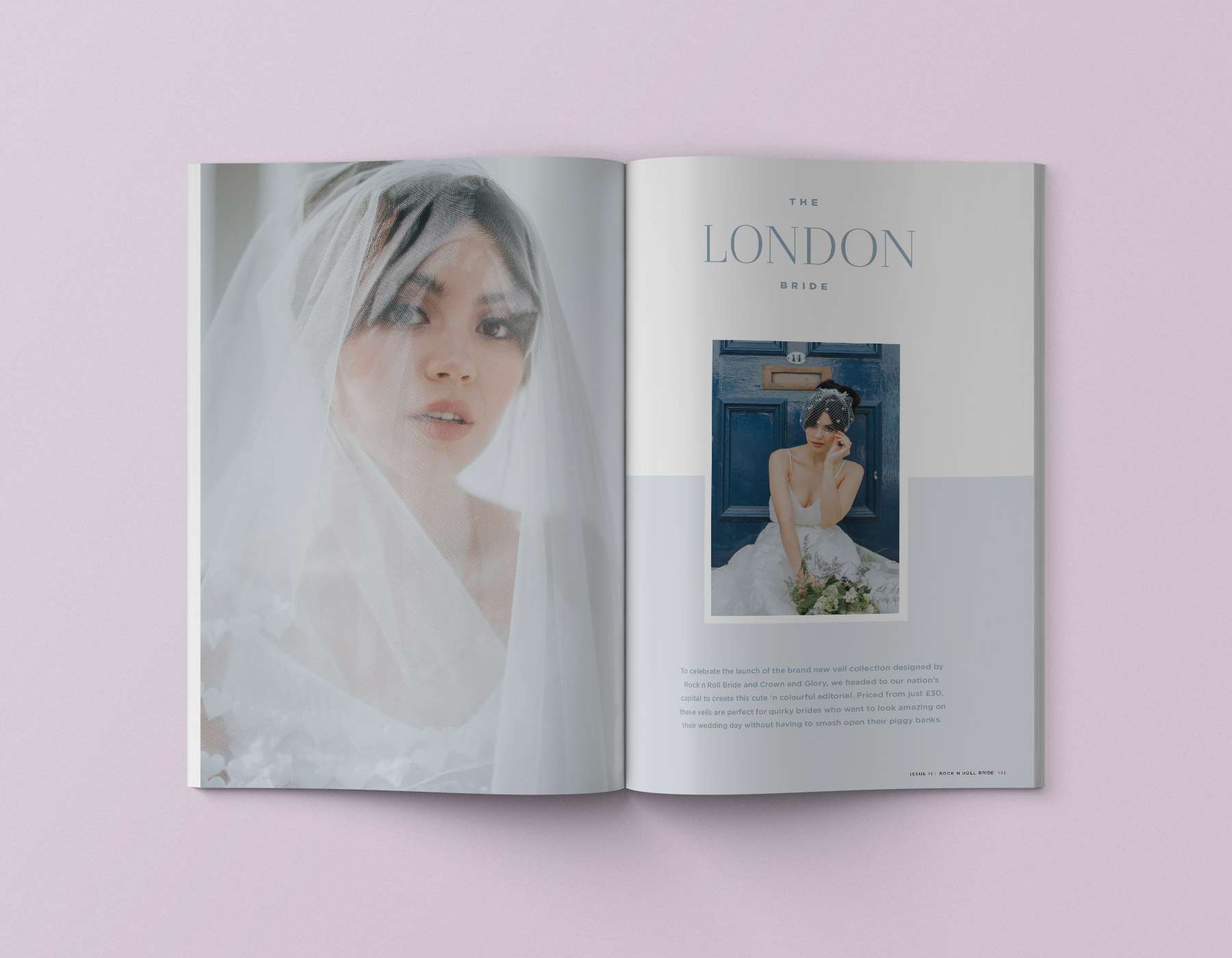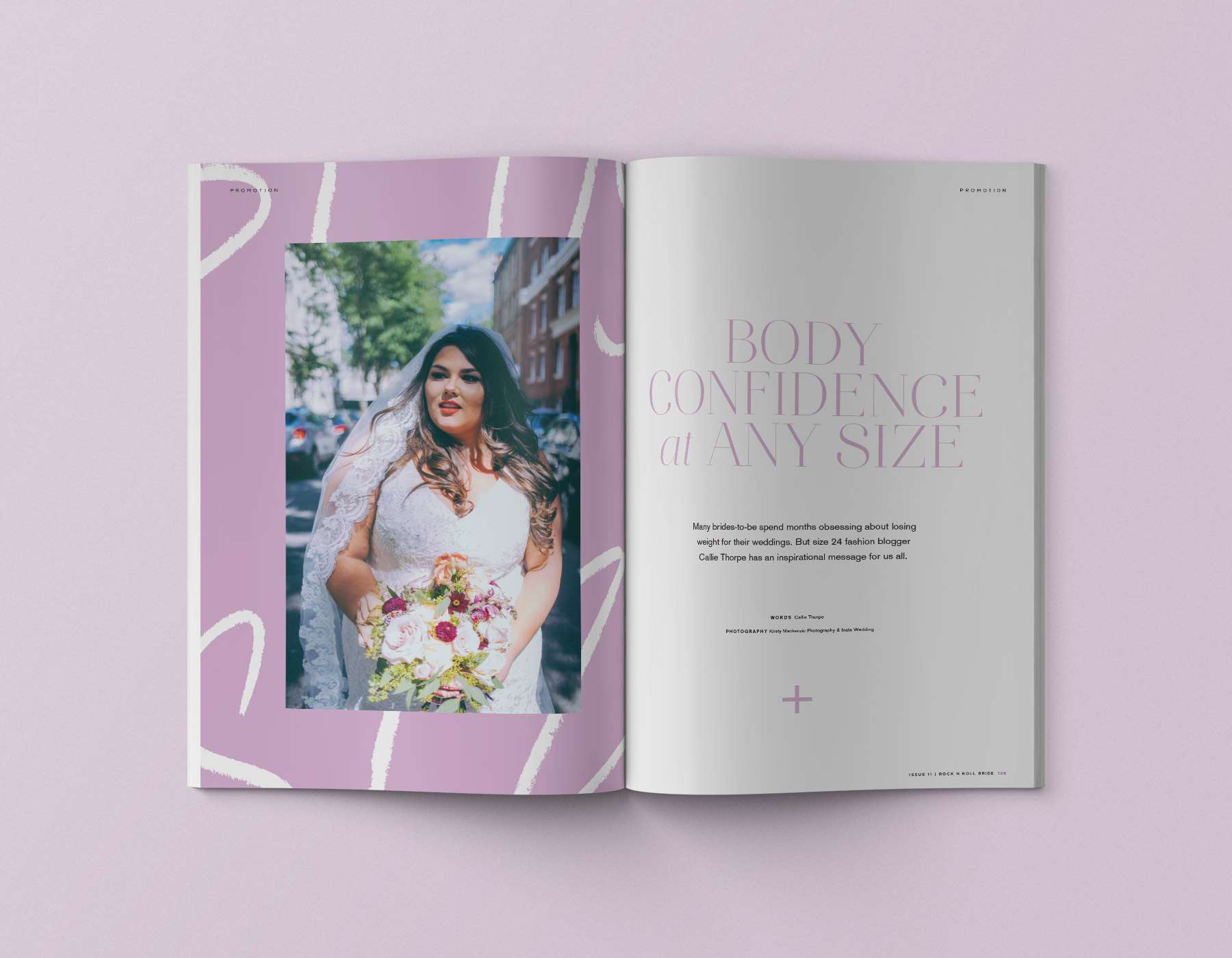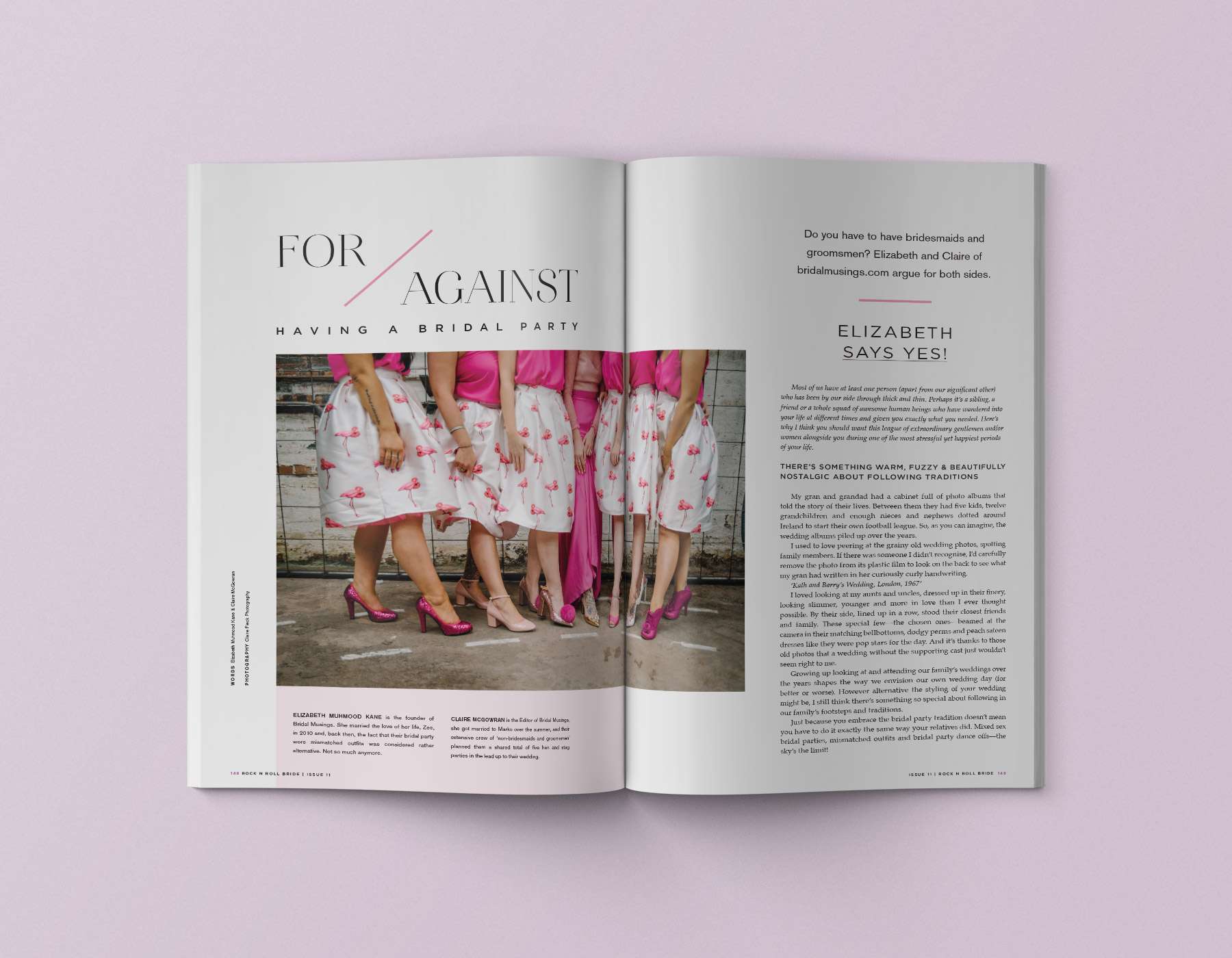 Big love to our contributors this issue too! Comedian Alex Smith has written about men's wedding fashion, Zoe London has created us a super cute make up tutorial, Elizabeth and Claire of Bridal Musings have written a for and against argument for having a bridal party and babing plus sized fashion blogger Callie Thorpe has shared her story about falling in love with her curves and finding her dream wedding dress! Finally we have some adorable DIY projects from Sophie King and Jess and Emily from Bespoke Bride.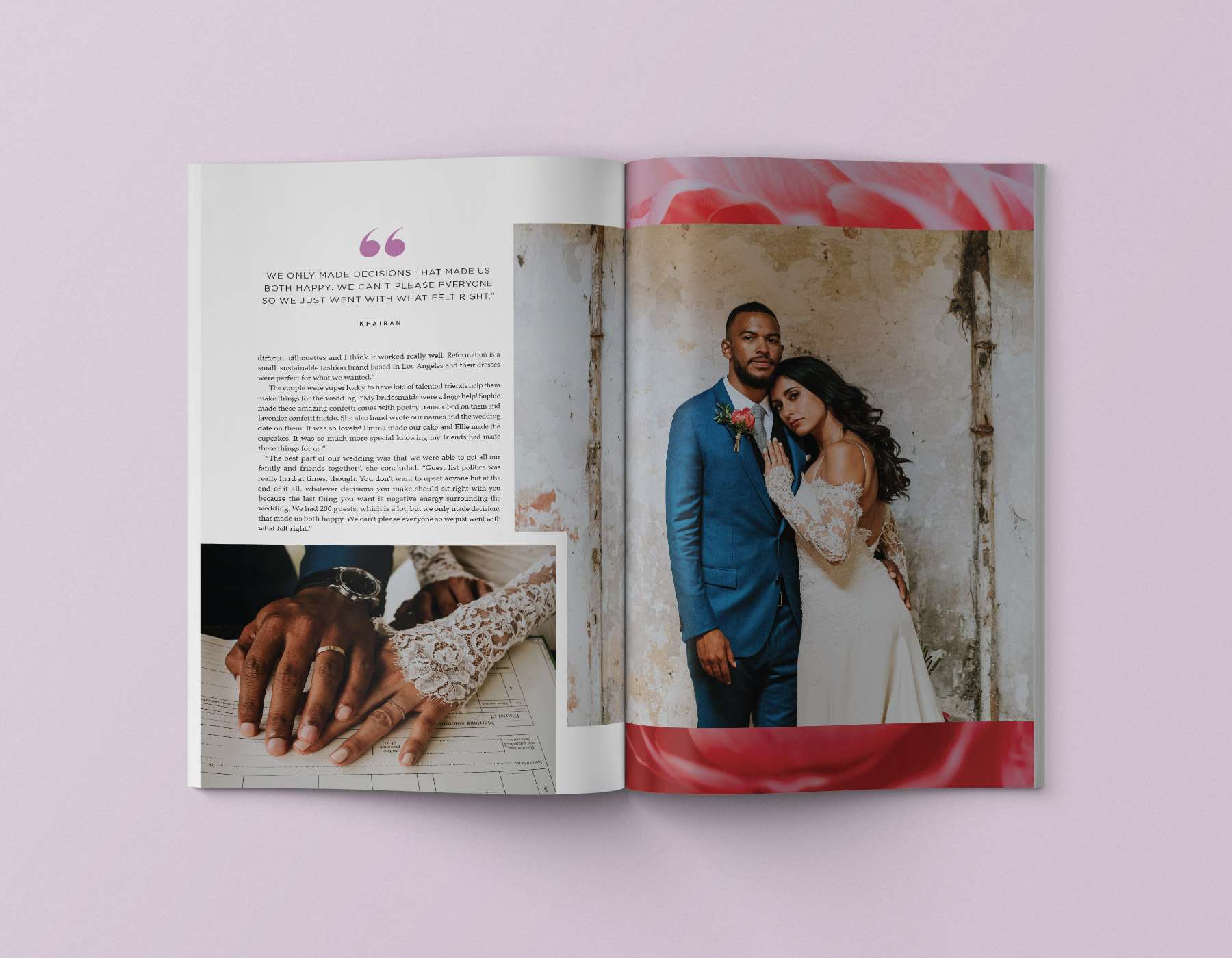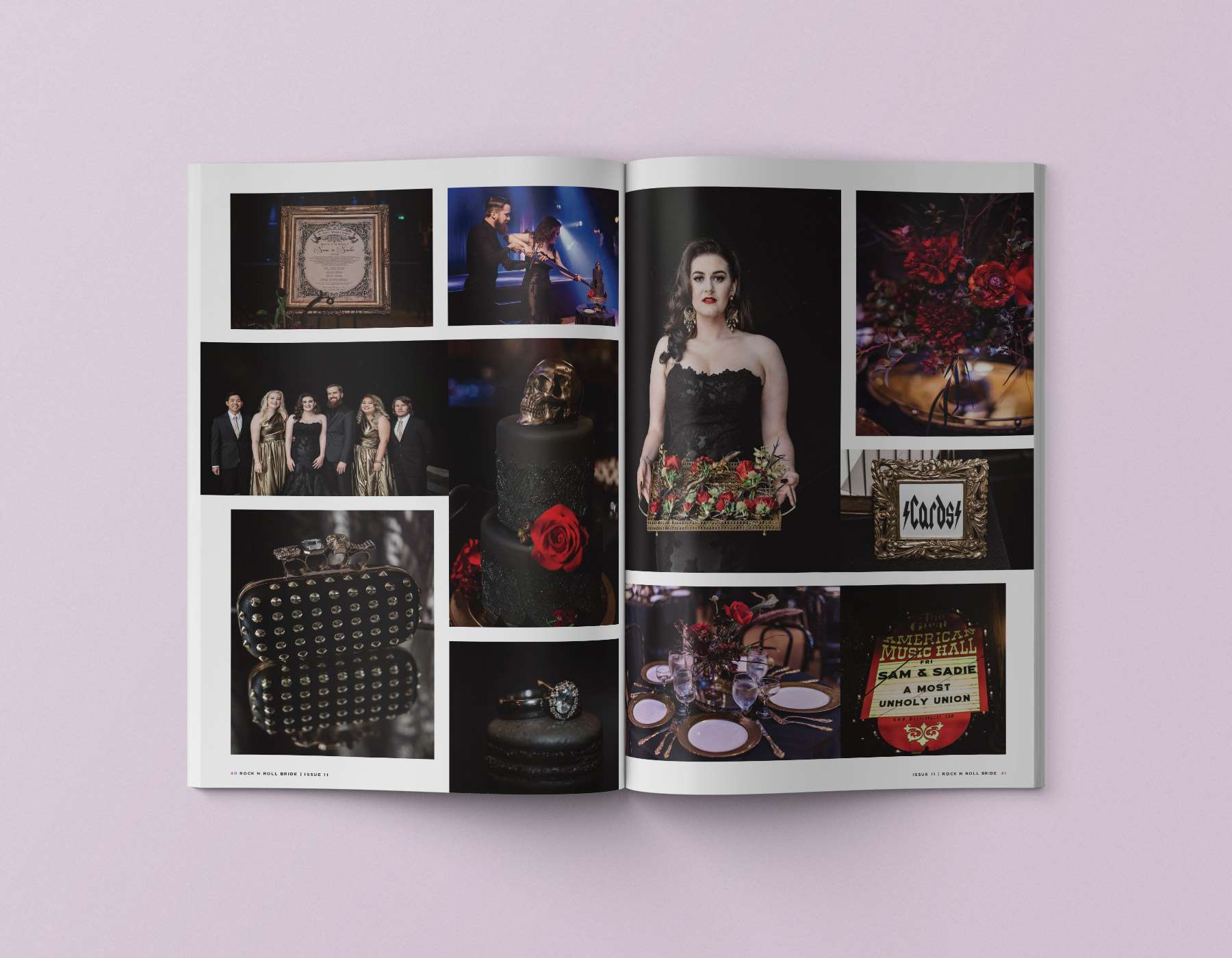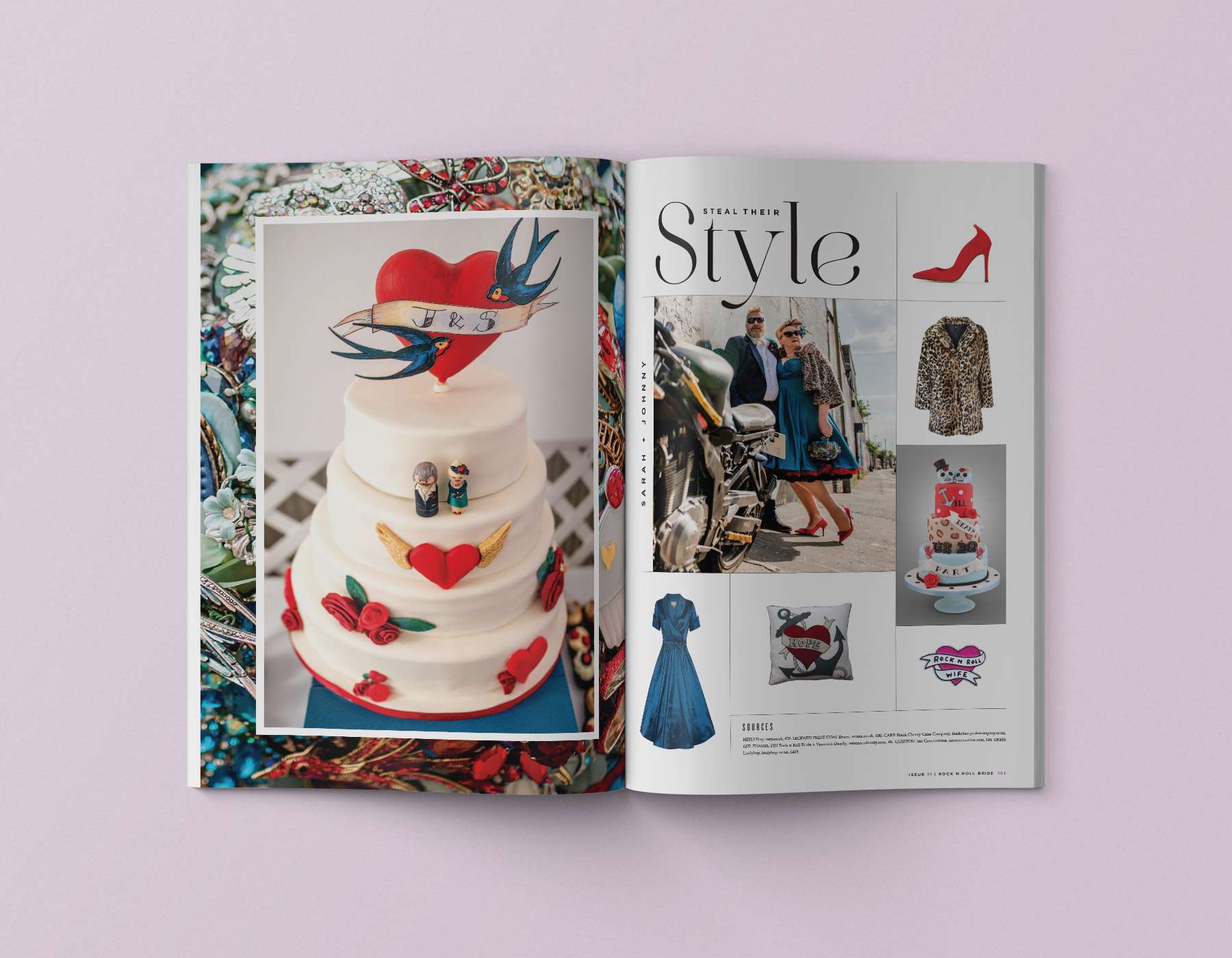 PHEW! Yep, this issue is a BLINDER and you are not going to want to miss it!
Regular readers will know the drill – you can pick up a copy from WHSmiths, Sainsburys or selected local newsagents from November 9th (and if yours doesn't stock it you can always ask them to order it in for you), or you can lay around in your jammies and get yours delivered to your own front door by ordering issue 11 directly from us.
So stop what you're doing and subscribe below so you never miss an issue!

Sorry, this product is now sold out!