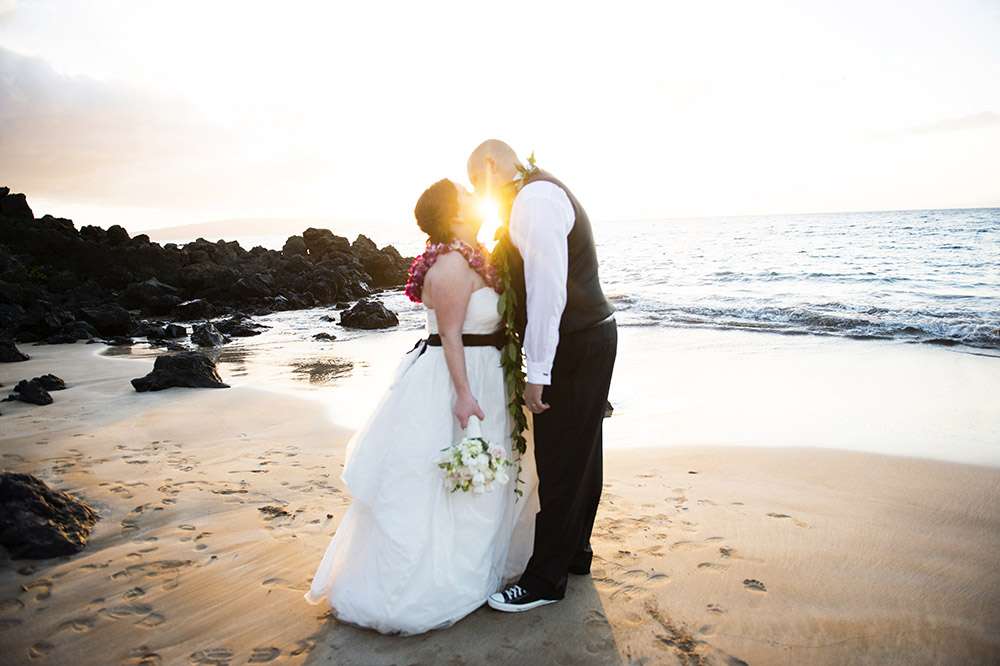 With just $6500 to spend, Monica & Jason knew they wanted a small wedding. So instead of the going down the traditional route, they flew themselves and their daughter to Maui for an intimate beach wedding. "We didn't have an actual budget in mind", Monica began. "My parents gifted us $5000 to put towards our wedding and we spent a bit ourselves too. In total the wedding was around $6500, which doesn't include our rings. What it did include was everything needed for the wedding plus return airfare from Vancouver BC for three of us, lodging in Maui and car rental. Our thoughts behind what we were going to spend was this: we wanted to have what made us happy within reason."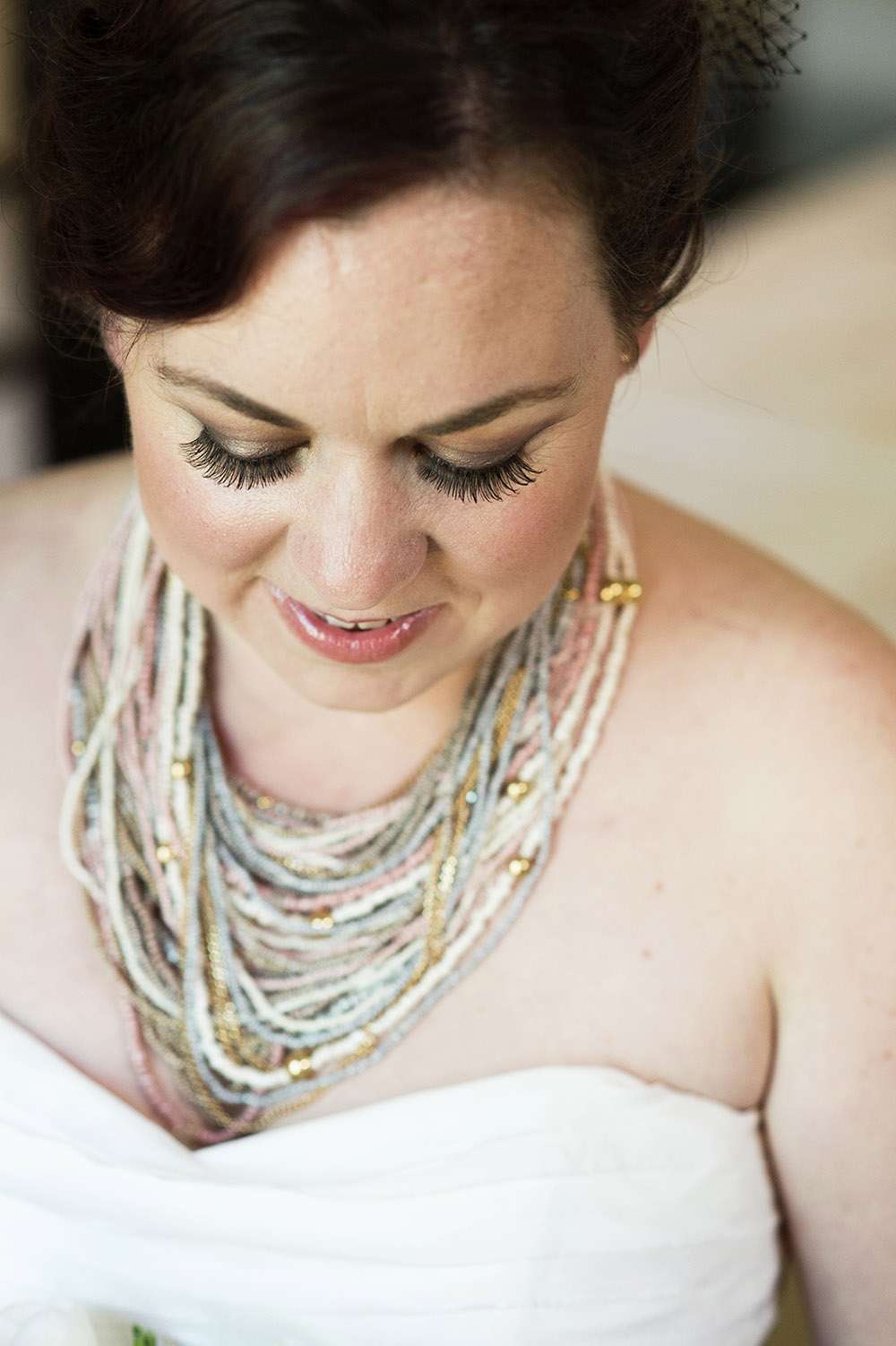 They were married right on the beach by a local celebrant and they didn't have an official reception. "We did however have a wonderful dinner at Humuhumunukunukuapua'a restaurant", Monica explained. "This was a recommendation from our make up artist the morning of the wedding. It was a lovely dinner."
"Our wedding was a secret! An elopement of sorts. Jason and I had been together for 13 years when we got married, and our daughter is 10. We knew we wanted to make things official but it just never happened. We started to consider making it happen sooner rather then later after my dad beat cancer. My parents had booked a trip to Maui and I asked Jason if he wanted to go with them and get married on the beach while we were there, to which he agreed."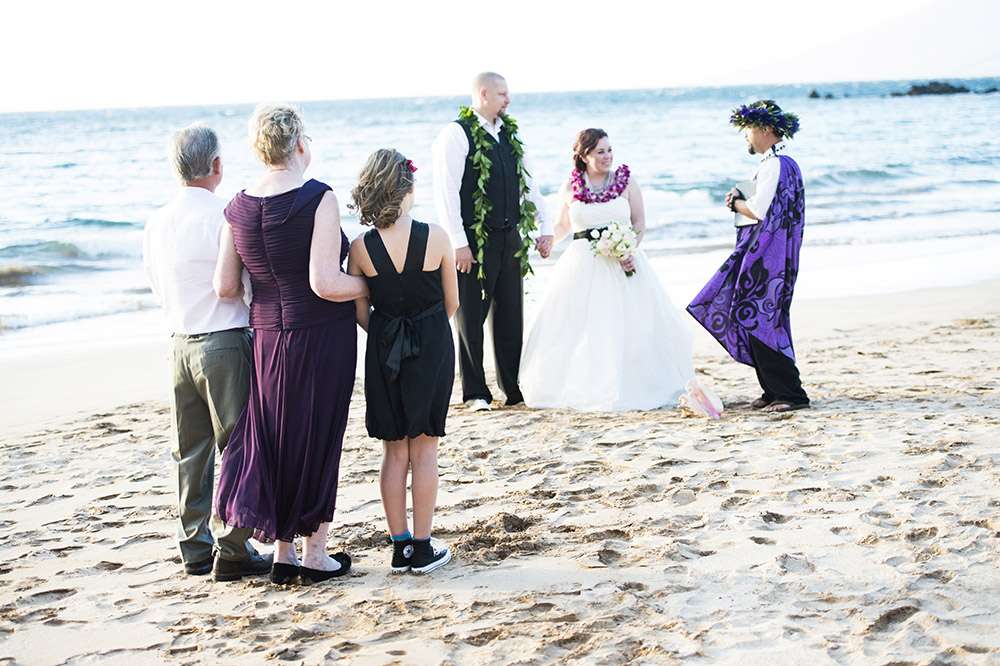 "We had decided to keep it a secret from the rest of our families and friends in order to avoid anyone trying to come with us or have a party. So it was just going to be Jason and me, our daughter, and my parents. People knew we were going to Maui, but not that we were getting married. We ended up sending some photos to our families a day or so after the wedding, which is how they found out. This worked out great since for the few months before the wedding we weren't stressed out at all. Even the day of the wedding was stress free. I had no idea where we were going to eat the night of the wedding but I didn't care… I figured we would find something, and we did. Our main goal was to enjoy ourselves and have it be a celebration of our little family. Mission accomplished, we often talk about how the day felt more like 'a really fun day' rather then a formality."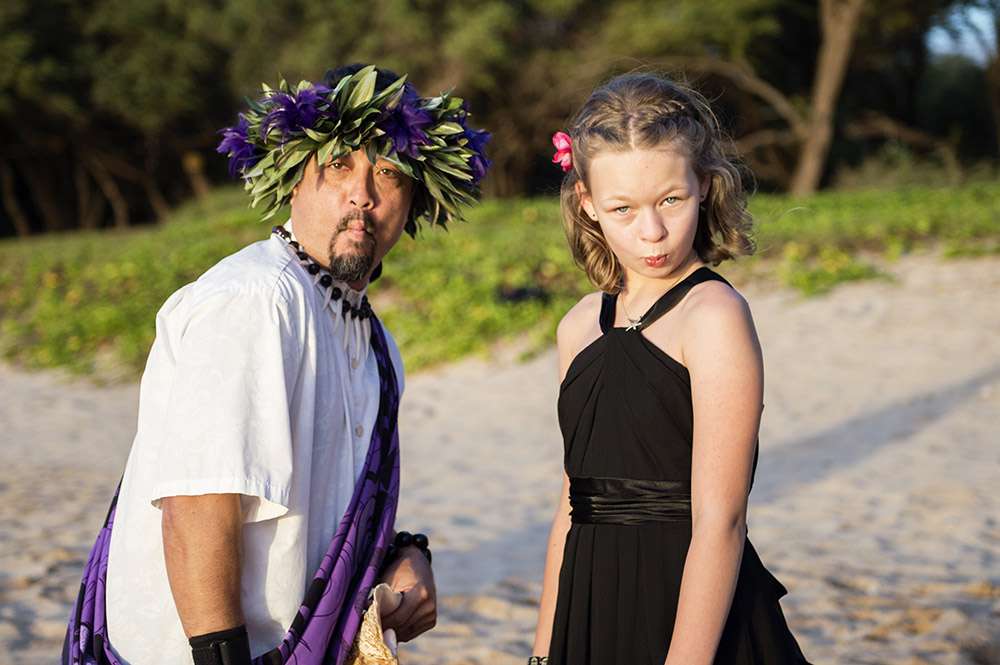 Despite the meagre budget Monica did splash on a Vera Wang gown and Kate Spade shoes. Who says a small budget means everything has to be scrimped on!? By making sensible choices and saving so much by not having guests or a reception, Monica was able to wear the wedding dress of her dreams. "Since I can remember I have had a love affair with Vera Wang's wedding dresses.  I told myself long before I had met Jason that I would get married in a Vera dress!" she laughed.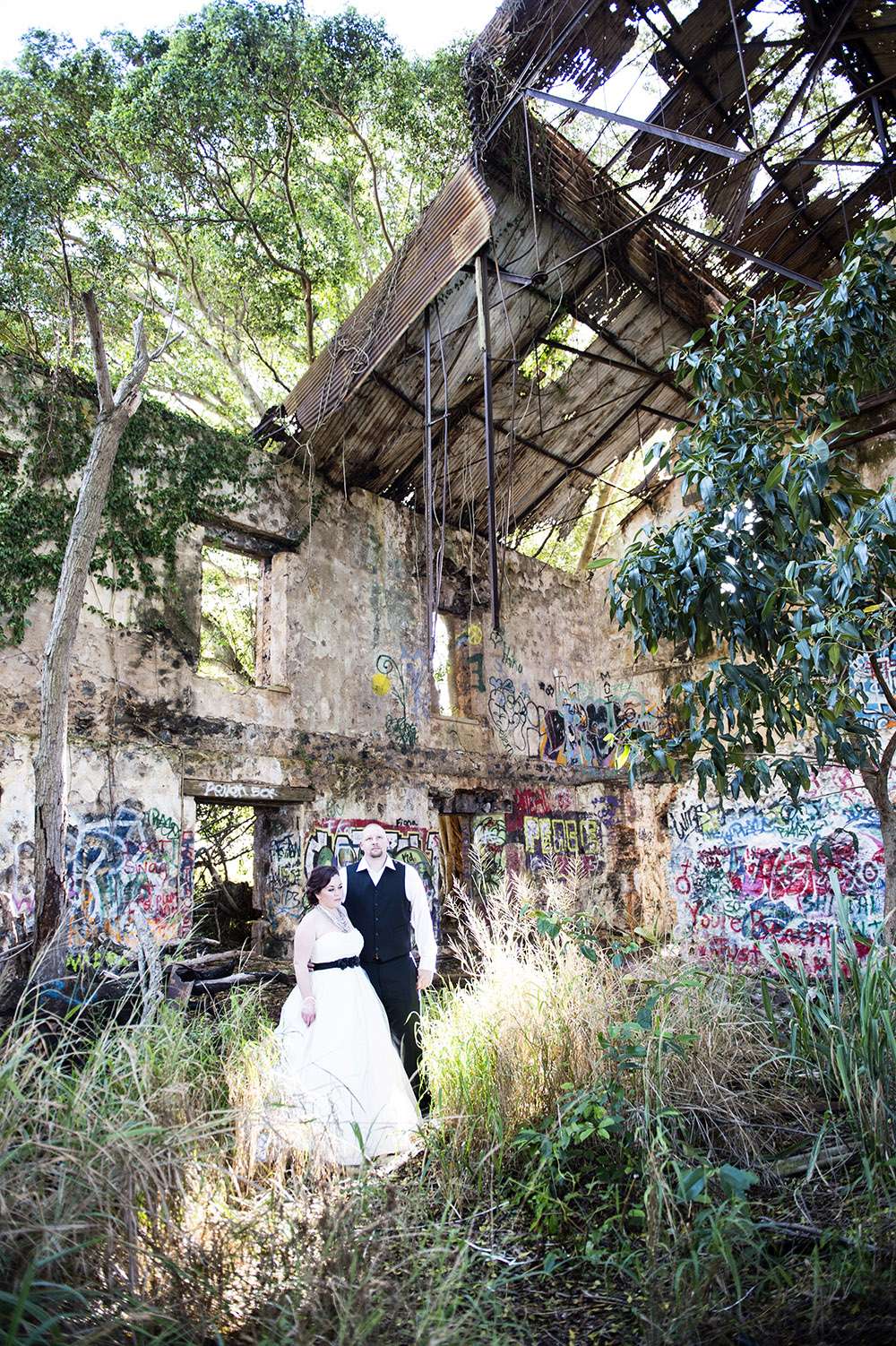 "Our favourite thing about our wedding was that it was just so 'us'", Monica concluded. "Our photographer was such a good match for us and we had so much fun with Trish which helped us to feel like we could be our kooky selves. We laughed. A lot. We were able to enjoy every moment from that day because we didn't feel pressure to make sure everything went smoothly or that everyone was happy and enjoying themselves. We're so glad we got married this way… without the fuss of most typical weddings. Were some family members upset? You betcha, but we didn't let it bother us. We wouldn't change anything about our wedding, even though some things weren't perfect. Sure our flight was cancelled and we arrived in Maui 22 hours late, and I had some strange bugs crawling up my dress from the photo locations but in both cases we literally brushed them off and kept laughing."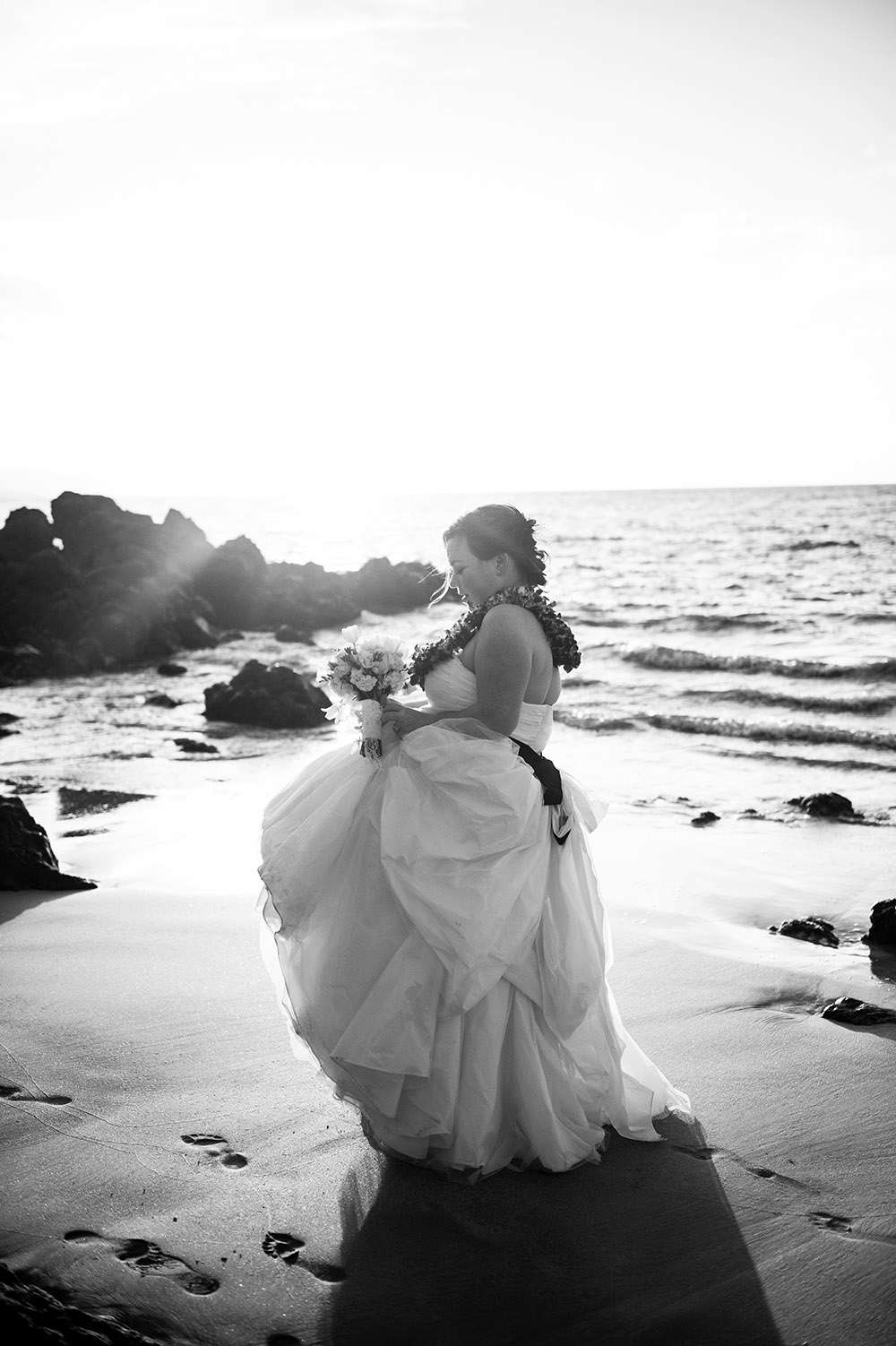 Amazing! Thank you to Monica & Jason for sharing their inspiring day.