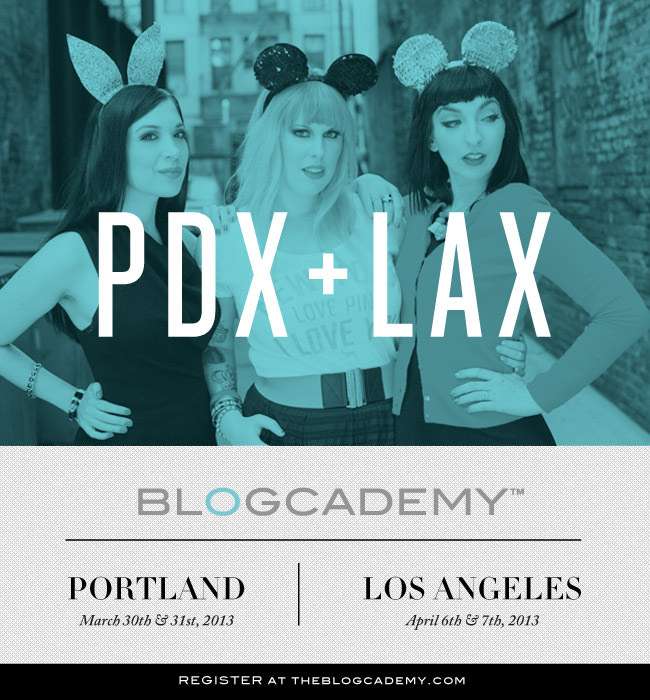 I am SO EXCITED about 2013, like SO SERIOUSLY EXCITED (can't you tell!?) and I'm starting 2013 as I mean to go on with new date announcements for The Blogcademy. Now I know we haven't even done our London workshops yet but, basically, we just couldn't wait any longer…
At the end of March we're heading to Shauna's home town (I think many of you will have guessed that one!) of Portland, Oregon and the week after we're zipping down to LA. In fact we'll be in LA for my birthday which I'm also rather enthused about. I'm going to demand the girls take me to In-N-Out Burger for it!
As usual, we have just 30 spaces available for each date – and yes, yet again we're running an early bird special for the first 48 hours (after that it will be $750) and a scholarship for both. You can enter this as before – posting your creative links on our facebook page. You have one month from today and don't forget to make a note in your post of which location you'd like to attend!
So hop to it people, we'd LOVE to see you there. To register for either date, simply pop over to the register page on The Blogcademy website and sign yourself up.
2013 – BRING IT ON
PS If you'd like to come to the London event, we do still have a couple of spaces left (five to be precise) for our second date on 23rd & 24th January!