Getting married on December 1st, Katie & Nicholas had a rustic winter themed wedding. The day was held at Karnes Stables in Florida. "According to our guests, our wedding felt like 'Twilight' meets 'Pinterest' which I am NOT offended by at all!" laughed the bride. "I wanted our day to feel magical and very comfortable and I think through the months of planning and creating, we achieved what we wanted perfectly. The hard work and creativity did not go unnoticed by our guests."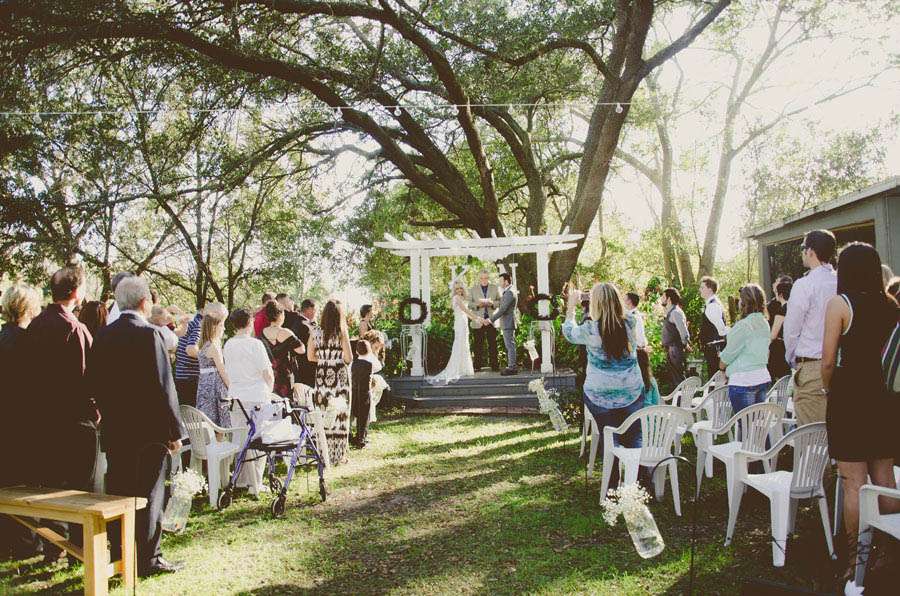 "We've always been very creative and didn't want a normal clichéd or traditional wedding. Pinterest was a huge inspiration but we didn't want to copy what everyone else had done. So we just brainstormed a lot on ideas how to make it feel like 'us'. We hunted down every item at the Salvation Army and second hand stores and turned other people's trash into our treasures!"
"The seating chart was made of an old window pane that we found at a junkyard and painted with chalkboard paint (which was super easy to do). My vintage brooch bouquet was a lot of work. We thrifted most of the brooches and used a Styrofoam ball to wire them all in. It took A LOT of brooches though so if you're thinking of making one start looking for them right away!"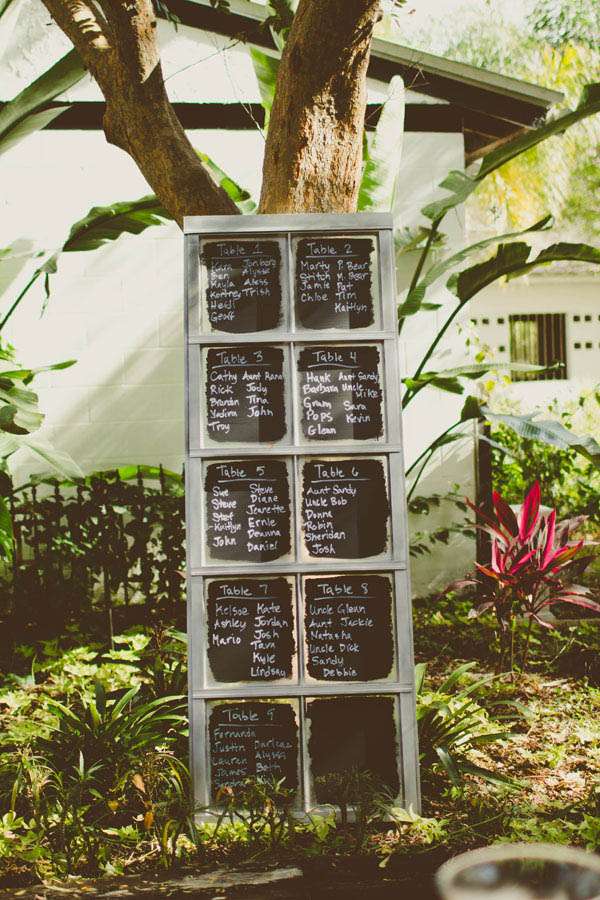 Katie wore an elegant wedding dress from Allure Bridal. She went barefoot for the ceremony but bought some sparkly flats for walking around in. "My favourite thing about our wedding – besides my DRESS! – was the fact that my husband, mom and I put so much blood, sweat and tears (literally) into it all. We thrifted most of the items and my mom made my bouquet, the boutonnieres and the girls 'flowers' herself. The boutonnieres were made for each groomsmen with charms that matched their interests, so they were completely customized for each man."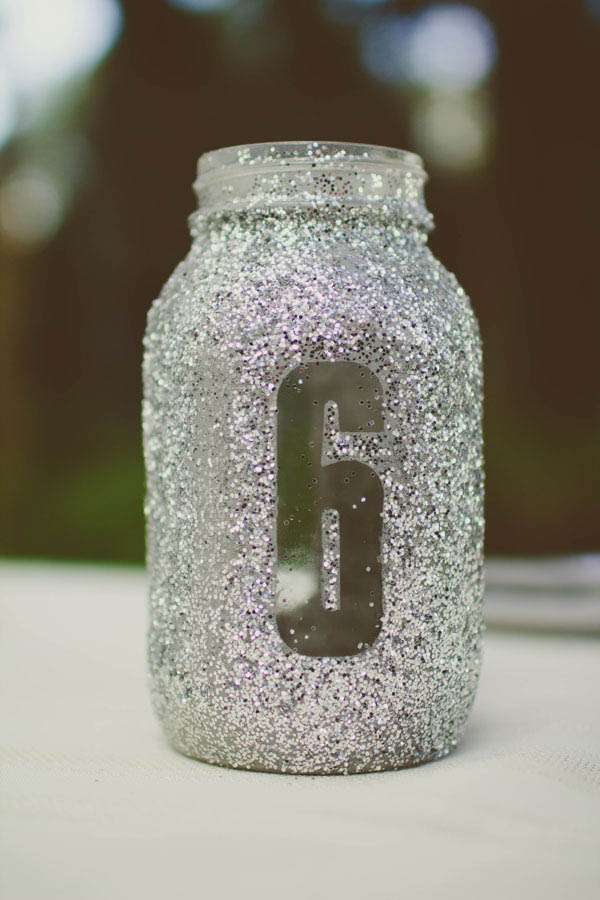 "I wouldn't change a thing about our wedding", Katie concluded. "It was also pointless worrying about things going wrong as, in the end, our wedding day went off without a hitch. Anything that we were worrying about before completely vanished in the morning."
"Your wedding day is an amazing day", she advises. "Don't feel pressured or defeated by the challenges of DIY. The fact and the feeling that you get from being so involved in creating this memory makes your wedding day ten times more special. Looking back on some of the difficulties and challenges we faced, we still wouldn't of had it any other way."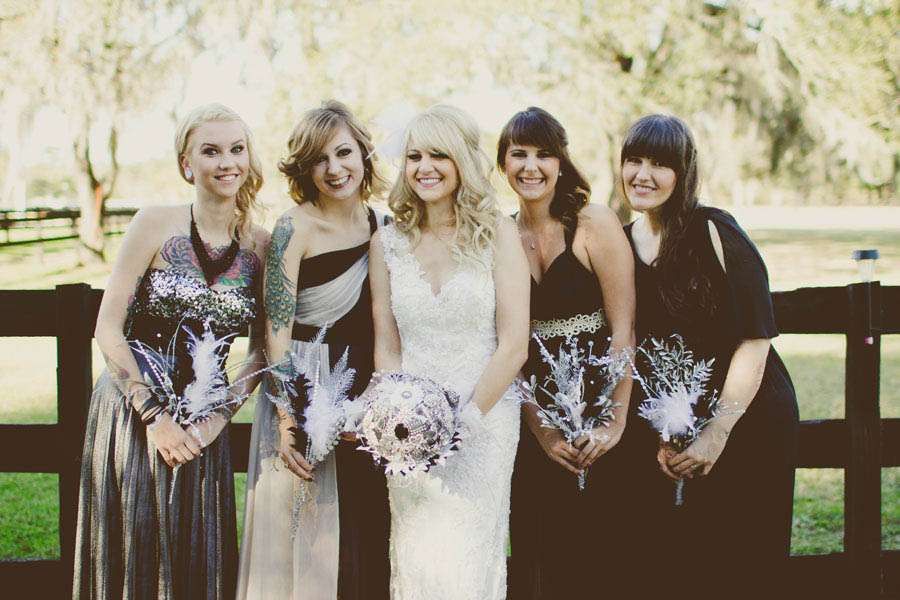 Utterly stunning. Thank you to Katie & Nicholas for sharing their day with us and to Stacy Paul Photography for the pictures.
Supporting Cast
Photography Credit: Stacy Paul Photography
Venue:  Karnes Stables, Florida
Bride's Dress: Allure Bridal
Bride's Headpiece: DIY
Groom's Outfit: Zara
Bridesmaid's Dresses: Various – Macy's, JCPenny, local boutique and TJ Maxx
Cake: Ashley Barber
DJ: Reko DJ Rekon Rivera
Caterers: Top Shelf Catering
Wedding Coordinator:Ann Conlin
Photo Booth: Foto Box Live 
This is the last real wedding blog post of 2012 – can you believe Christmas week is nearly here!?! This is just a little note to let you all know I'm going to (attempt) to give myself the full week off next week but I will be posting a couple of round up posts including my all time favourite weddings of 2012 on Wednesday 26th and Friday 28th. So if you get sick of turkey and your rellies start to drive you mad, pop back and have a lookie. See you in 2013. I love you all!