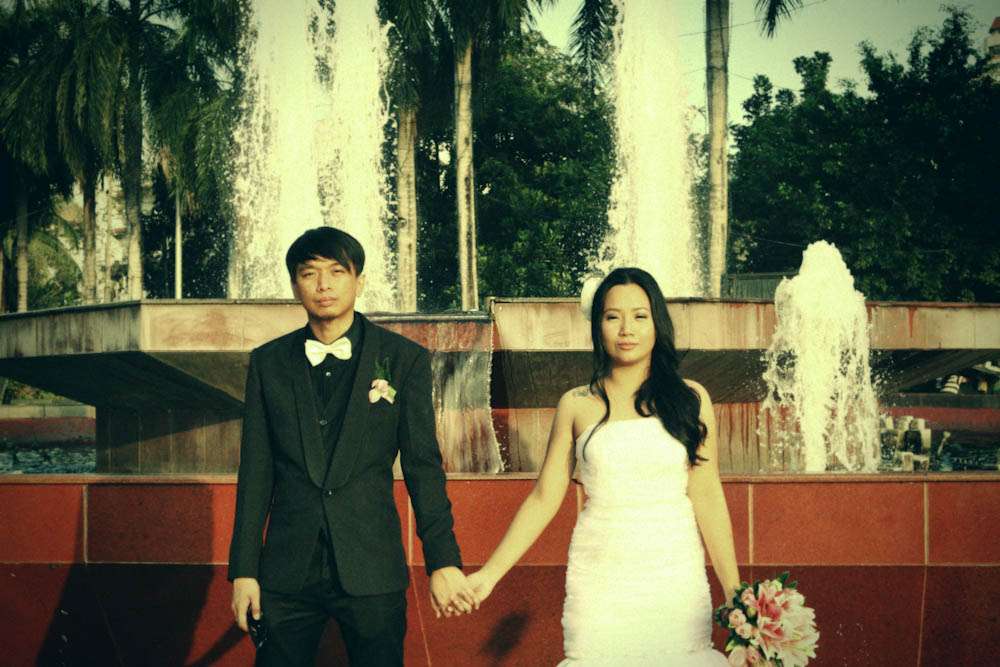 Are any of you considering getting tattoos to commemorate your marriage? Well Rob & Kit not only did it, but they had their wedding photographer, John Nicolay, come along to take photographs of the event. Oh it's like all my favourite things rolled into one – I LOVE this idea.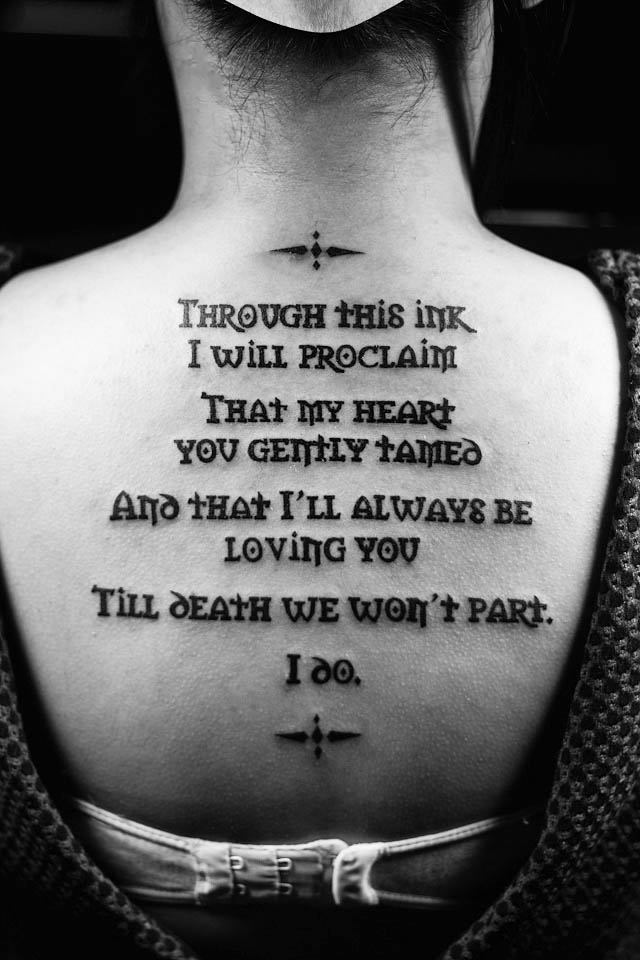 The couple's relationship and wedding plans were anything but standard – they actually had two weddings! – as Rob explained, "We met in September 2007 as office mates but we never really spoke to each other. Our first conversation lasted for 30 seconds and we only spoke a total of 5 words combined. I simply complimented the comic book that she was reading. Then in December I finally confessed my feelings for her but she told me she didn't want to be in a relationship. Gutted. But I was persistent. I wrote a poem for her daily for the next 4 months. In March 2008 she finally cracked and agreed to be my girlfriend but quickly after she had to leave the country to work in Qatar. We maintained a long distance relationship 5000 miles apart by writing each other daily emails. We'd make the subjects 'Day x of 365' – counting down the days until we'd next see each other. With Kit's help, in February 2009 I landed a job in Qatar too. I proposed to her the moment I saw her in the airport. We married in June 2009 in The Philippine embassy, a civil wedding. Then in February 2010 we decided to get our matching tattoos. We had them on our shoulders and we wrote each other's name. We also decided to get married again, and this time to have church wedding, the following year.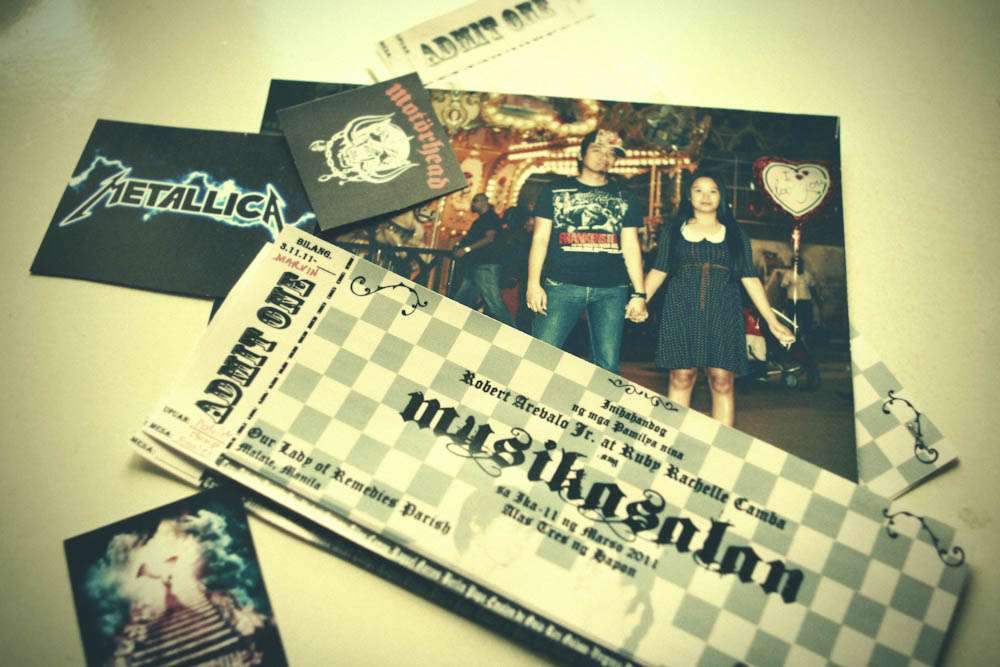 Phew what a story… and two weddings? Best thing ever! The church wedding was held in March at Our Lady of Remedies Parish, Manila followed by a reception at Casa Manila Patio, Manila.
"We have both dreamt about this kind of wedding since we were kids", Rob began. "Growing up, my idea of an awesome wedding was one with a band (I should be a part of it) and a mosh pit… so that's exactly what we did! Kit sings pretty well and her song selections are very diverse (she can sing songs from Bonnie Tyler to Paramore to Debbie Gibson and to Shirley Manson!) I am a frustrated photographer, videographer and writer. On our wedding day, she became my vocalist and I was the author of the poem that she had tattooed on her back."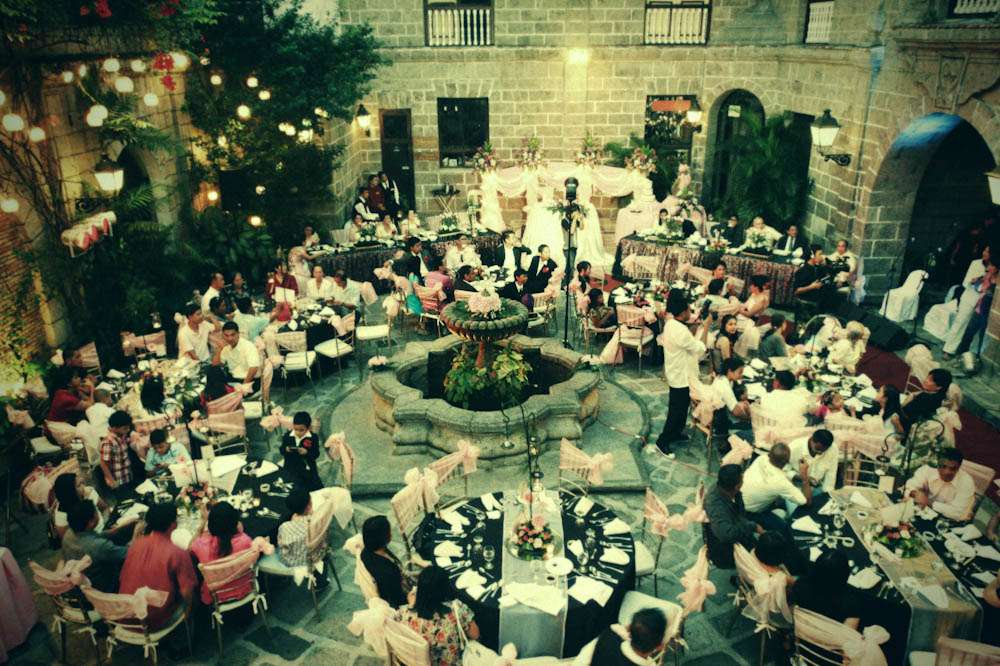 "I believe that what makes us Rock n Roll is that even if we had gotten married at just 18 years old, it would still have had the same exact set up – music inspired. A concert. Sneakers. Tattoos. Pink & Black. Gerberas and tulips. Tiffany Chairs. The ideas we had we're things that fit with our personalities. Our music theme made us Rock n Roll in the truest sense of the word. Rock is about non-conformity, being one's kick-ass self, and having freedom of expression. Our ceremony encompassed all of that. We also named our wedding 'Musikasalan' which means 'a music-filled wedding'. We made the name up from a combination of two Filipino words: musika (music) and kasalan (wedding)."
Awesome. I love these guys and I'm so in awe of their story! Thank you Rob & Kit for sharing your wedding with us today.
Supporting Cast:
Photography Credit: John Nicolay Photography
Video Credit: Phoeben Teocson Cinema
Ceremony Venue: Our Lady of Remedies Parish, Manila
Reception Venue: Casa Manila Patio, Manila
Bride's Dress: Rosy's Bridal Center, Baclaran
Bride's Shoes: Ohrelle
Groom's Outfit: Zara
Flowers: Freesia Flower Shop
Hair & Make Up: Toni Rodriguez Make Up Artistry
Caterers: Hizon's Catering Services
Tattoo Artist: Racquel Natividad