I've known wedding photographer Adam Bronkhorst of Viva Wedding Photography for a few years now and I have to say that he and his work makes me incredibly happy. Why? Well…
♥ He's a master of flash, meaning even the darkest of weddings will be shot in the best way. He loves to experiment with different lighting techniques to produce some really unique imagery.
♥ His style is unapologetically upbeat and modern.
♥ He's published two books – Lo-fi Photo Fun! & Sn-app Shots – and I'm in one of them!
♥ He's just rebranded and his website now looks equally as awesome as his photography.
♥ He is obsessed with photo booths and styles each and every one uniquely for every wedding. My recent favourties have been pirate, superhero and Jubilee themed!
♥ He always has a lovely smiley face and is passionate about his clients, his friends and being the very best artist he can be.
♥ He likes to party just as much as I do…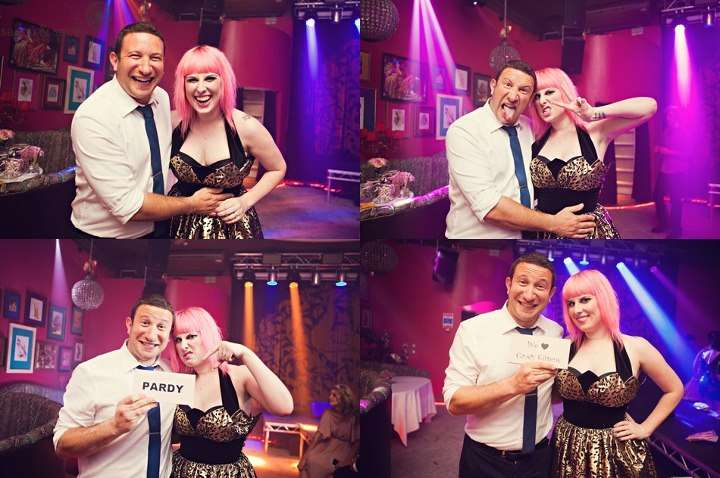 Photography Credit: Sacco & Sacco Photography
Not yet convinced? Well here comes the science bit…
Adam is based in Brighton but travels the length and breath of the country to shoot awesome weddings. He started shooting weddings in 2005 and, quite frankly, hasn't looked back!
"My passion is photography and taking photos of people so I guess that's my specialty", he explains. "I've got a degree in Fine Art and have been taking photos for over 20 years with my first wedding shot back in 2005 on an early DSLR. I've written books on photography, which have been published all over the world, I teach other photographers and have shot commercial work for lots of big name clients."
"I really like to have fun with my wedding photography and try to bring a sense of quirkiness to the images that having a creative background brings. So I love shooting weddings which are a little bit unusual and a little bit out of the ordinary. I love getting stuck into a wedding and having fun with the guest and capturing images that reflect that. I want my photos to look like you were part of the wedding and not just watching it from a distance. I'm always getting bride and grooms saying, how I didn't just capture their day perfectly, but I helped make the day what it was, and that's just the best compliment for me."
"I wouldn't really describe myself as a wedding photographer", he continues. "I can't stand the image of the traditional wedding photographer. All those formal shots and holding the day up and bossing people about. Blerghhhh. Not for me, weddings are fun and about love and two people not about all of that other fuss. That's what I want to capture and show with my photos."
For more information on Adam and to see more of his work be sure to check out his swankypants new website. Adam can be contacted via email on info@vivaweddingphotography.com or by calling 07879 401 333.
All Photography Credit (except where stated): Viva Wedding Photography