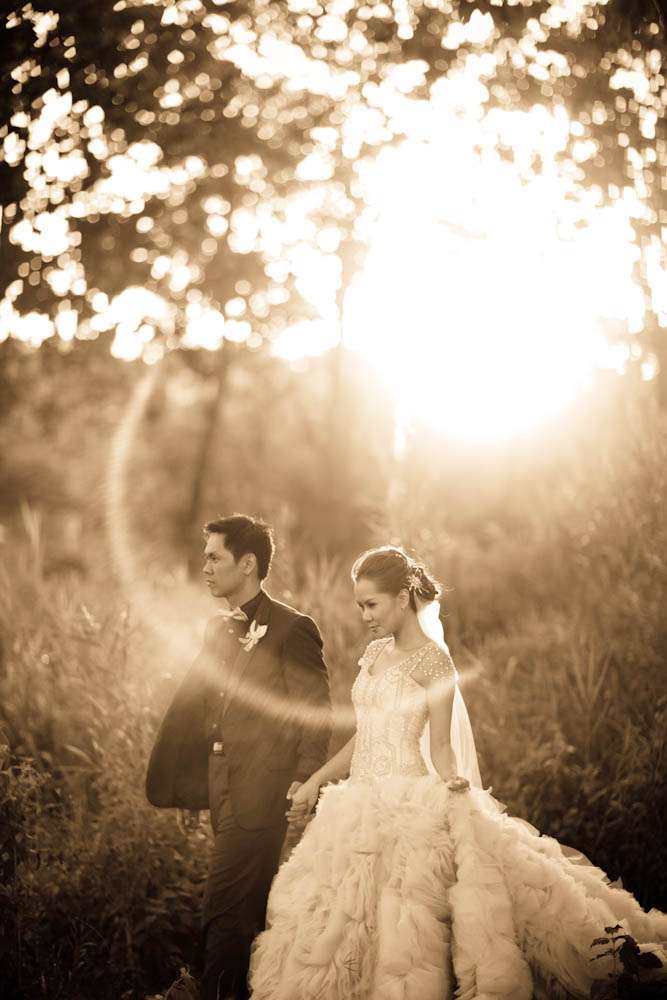 I'm often blown away by the creativity and genius of my readers' weddings… but there are really only very few that stop me in my tracks. The fact that my blog attracts so many international readers blows my mind at the best of times, but when they're there, in my inbox, saying to me "You featuring my wedding would make my day! And my week! and my month! Haha!" Yeah… you really have to stop and think, "whoa, this is kinda a big deal."
So that's exactly what happened when newlywed Marie and I emailed last week. Her wedding images were zipped to me all the way from The Philippines and I literally couldn't wait to share them with you all.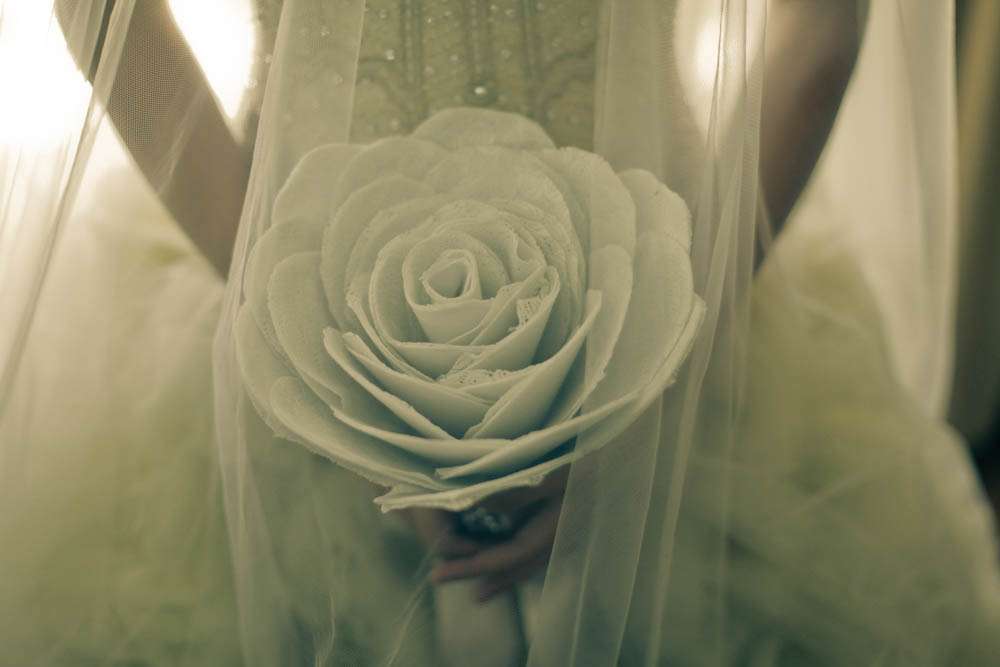 "I spent a year and a half researching and planning our wedding", Marie wrote. "I saw so many beautiful weddings, but none of them were completely representative of us a couple. I knew what we wanted, and especially what Nico wanted. He wanted something simple and clean and so that's where our ideas started from."
"When I found this amazing photo on a wedding blog (I can't remember which one) I knew I had finally found our theme", she continued. "Paper and 'white on white' was what we wanted. In fact we called our theme 'paper surreal' because I love paper. We had a quirky wedding. It was my dream to have a wedding as close to nature as possible so we had a lot of the day outside. Having natural light photographs was really important to us."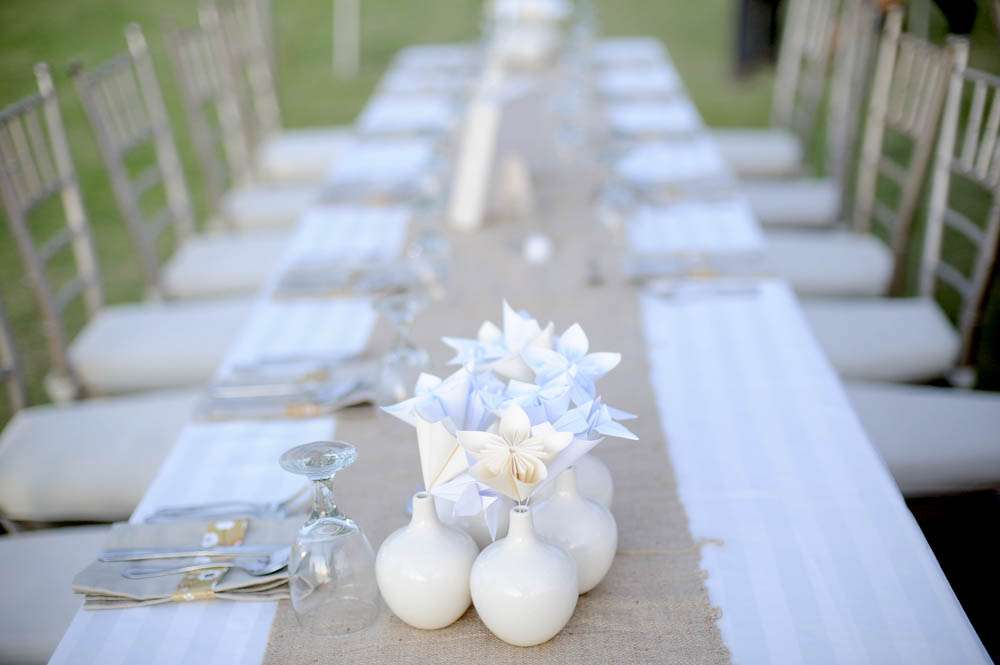 "I wanted this Ikea Maskros lamp to be the centerpiece of my reception. We ended up buying 2 of them and hung them from the roof of the venue. Our reception concept actually stemmed from that simple lamp. I thought that if we had been in hotel, then it would have had chandeliers on the ceilings so we did the same thing with our lamps. We chose a transparent tent for our reception as we felt it would best showcase the lamp's beauty, especially at night, as well as making us feel closer to nature."
"Then came the idea of paper decorations on the table. We had paper flowers instead of real flowers, a paper backdrop for the stage and paper boxes with beautiful words on them."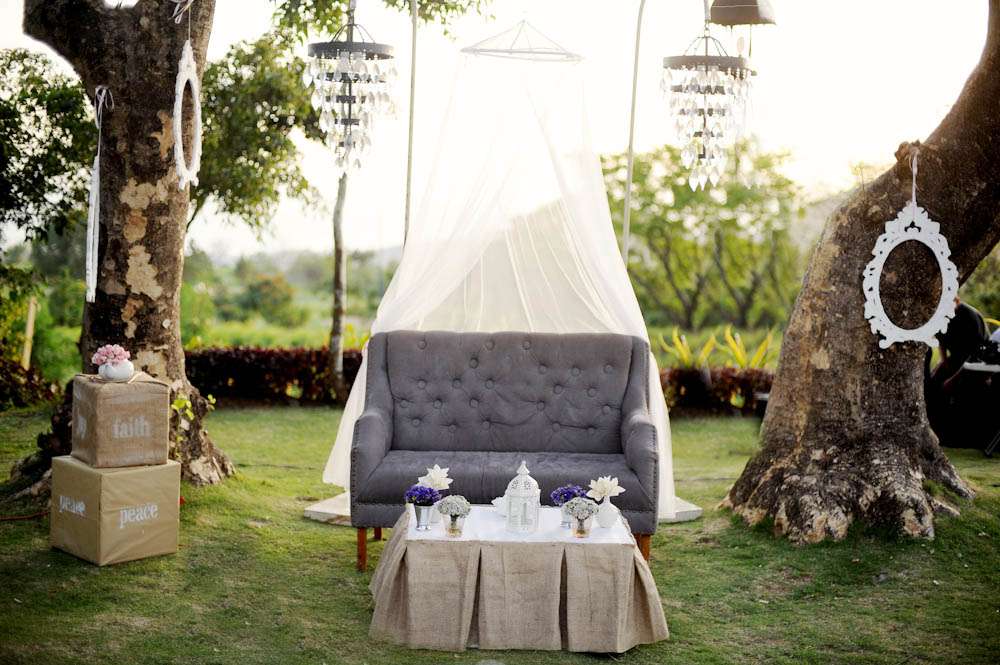 But I know what you're all wondering – what about Marie's amazing dress! Well, it was custom designed and made for her by dressmaker Cecilio Abad. Marie was inspired by details on some Jenny Packham and Monique Lhuillier gowns, but none of them were exactly what she wanted. Using these ideas and combining them meant she ended up with a one-of-a-kind wedding gown that was perfect for her.
"The most important thing for our wedding was that it was unique", concluded the bride. "It was elegant but not extravagant, laid back but with effort to the details. The entire reception was my favourite part of the day. It's quite difficult to choose just one moment that made it so special."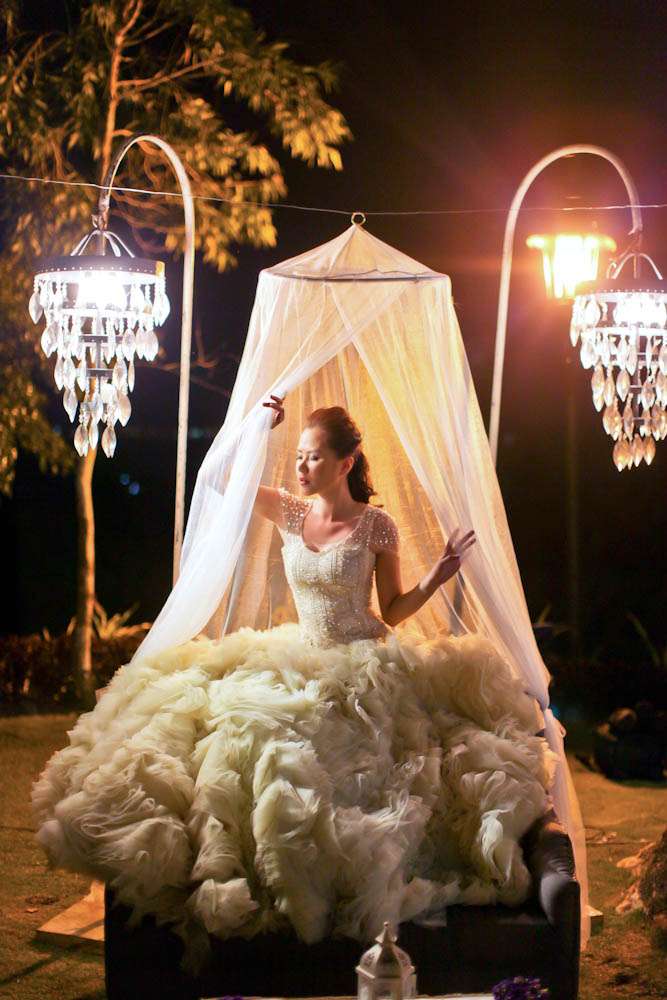 They also had a gorgeous ceremony video made. Watch it (but make sure you have some tissues… so sweet!)
Just gorrrrgeous! Huge love and thanks to Nico & Marie for sharing their stunning day with us.
Supporting Cast:
Photography Credit: Pat Dy Photography
Contributing Photographer: Jaja Samaniego
Video Credit: Phoeben Teocson
Wedding Planner: Perfect 10 Weddings
Ceremony Venue: St. John the Baptist, Taytay
Reception Venue: Thunderbird Resorts, Rizal
Bride's Dress: Cecilio Abad
Bride's Shoes: SM Trinoma
Groom's Outfit: Onesimus
Bridesmaid's Dresses: Cecilio Abad
Bridesmaid's Accessories:
Cake: Cake Concepts
Reception Styling/Props & Bride's Paper Flower Bouquet: Vatel Manila
Hair & Make Up: Pong Niu
Photo Booth: Shutterbox Photobooth
Stationery: DIY (Bride's sister)
Caterers: K by Cunanan Catering
Marquee: Likha Events
Transport: Fly To Manila