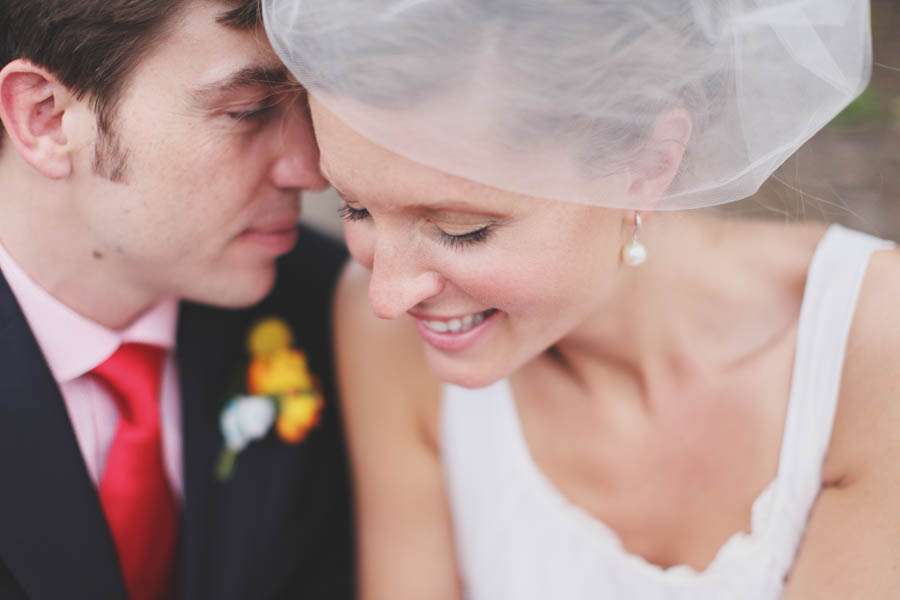 The cute countryside retreat of The Barn at Timberlake Farms was the perfect venue for laid back Elaine & Drew. They started their day with a traditional Greek Orthodox ceremony and ended with a dance contest!
"We wanted to be comfortable, and we wanted our guest to be comfortable too", wrote Elaine. "We tried to do that while still honoring the importance of the day, and the formal nature of the ceremony being performed in the Greek Church. Our aim was to create a picnic-feel, but with tables and chairs. And we weren't afraid to cut the traditional wedding elements like tossing the bouquet or renting a limo. Instead, we held a very serious dance contest complete with engraved trophies. And, we got a free car wash on the way to the reception!"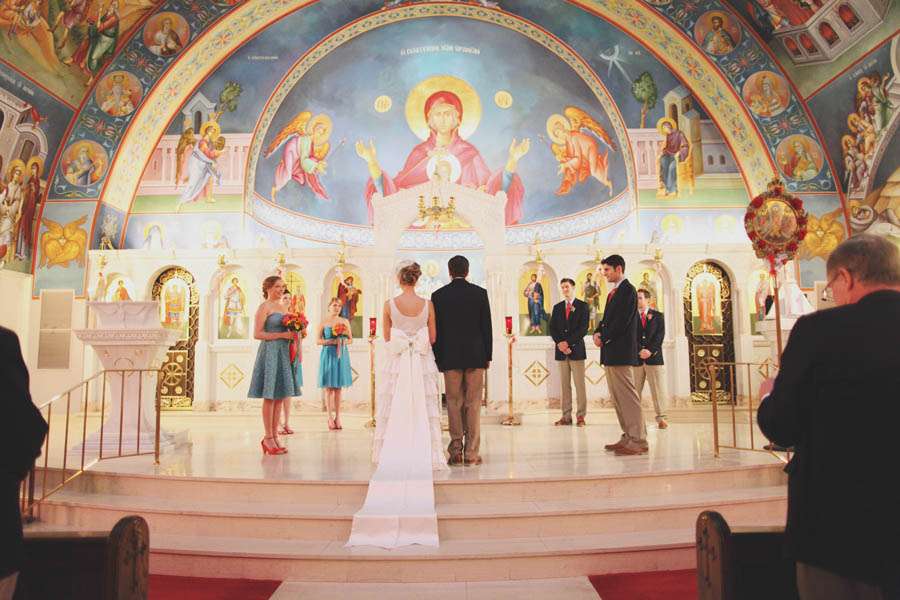 To give the wedding a personal touch, the couple and their family DIY'ed as much as they could. "My Mom and Dad helped make the miniature picnic basket favors", the bride continued. "Inside each was full of kufeta, or Greek jordan almonds. For a while, the dining room table was piled high with these little guys – it looked like an elf workshop. The wedding programs came equipped with a vintage hanky, each one different. My Mother-in-law found hundreds of them at a yard sale in Illinois for next to nothing. I had wanted to construct a quilt for our "guestbook" wedding quilt but I ran out of time. However it turned out to be a blessing in disguise as I think the vintage squares, which people wrote personal notes on, worked out better!"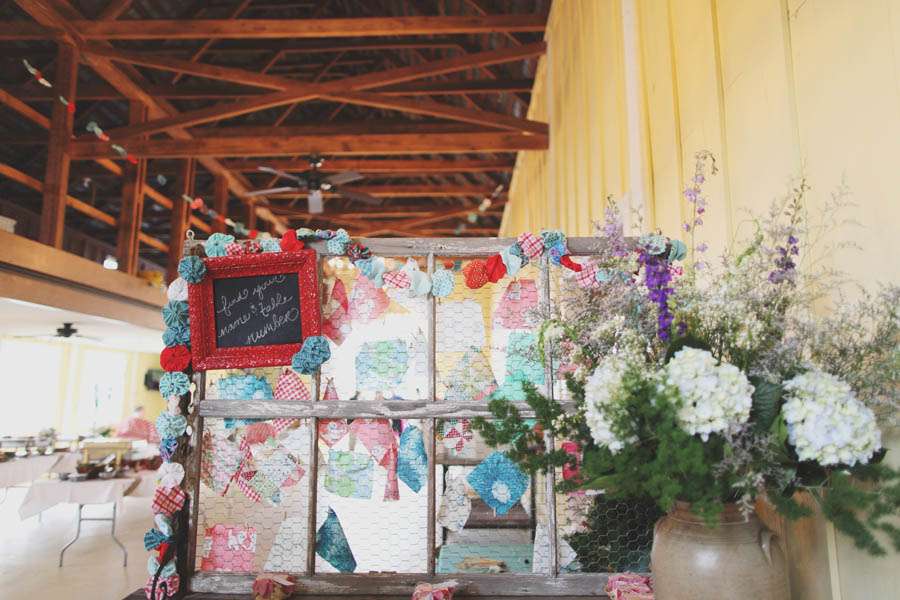 "We also made fabric yo-yo's! Those darn little fabric circles with the gathered middles. With the help of family and friends, we made over 1200. We even had a yo-yo making party. Sort of like a quilting bee. In the end, we had enough for garland in the barn, welcome bag decorations, boutonnieres, wall hangings, they were everywhere…"
"When I saw our cake it felt like the wind got knocked out of me. My dear friend Elizabeth even made patterned fondant for added yo-yo detail. The topper has been passed down for generations, used by Drew's grandparents, parents, aunts and uncles…"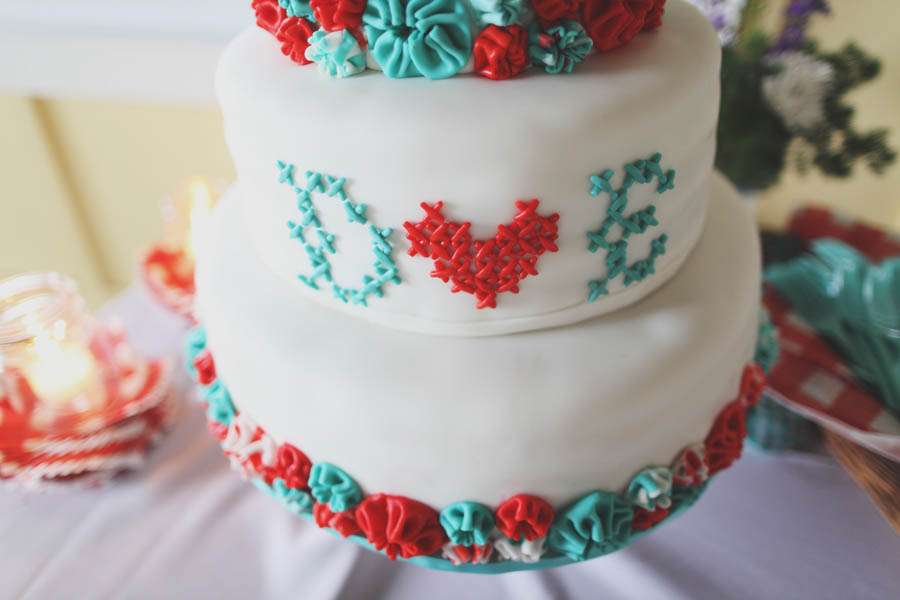 The bride wore a vintage wedding dress to which she added a homemade sash, a gorgeous Twigs & Honey veil and quirky Irregular Choice shoes. "The base of my dress was from my MOH's childhood dress up clothes. There wasn't a piece of this wedding that wasn't touched by her unparalleled imagination. Her and her mom helped to make the sash and bow."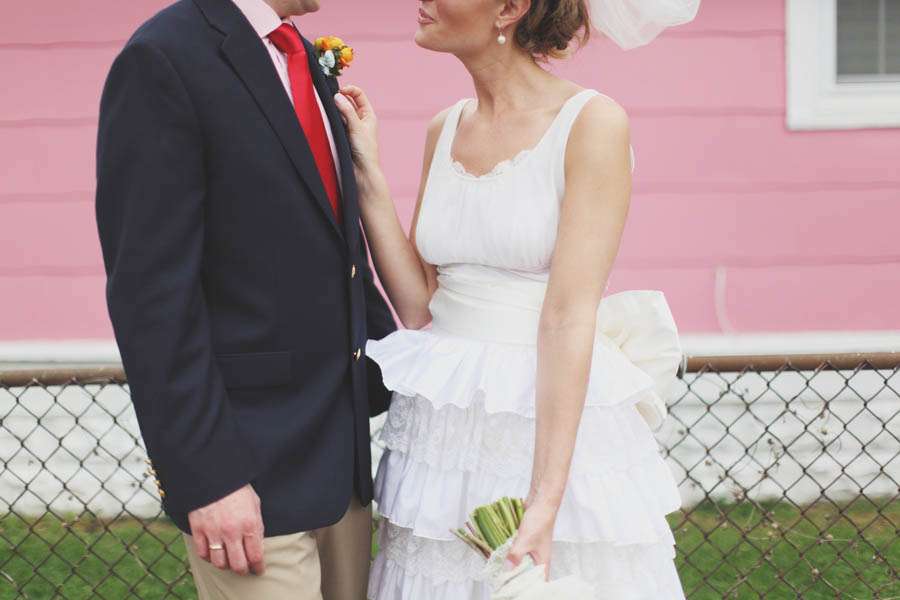 Gorgeous! Thank you to Elaine & Drew and photographer Amber for sharing this laid back wedding with us today.
Supporting Cast:
Photography Credit: Live It Out Photography
Ceremony Venue: St. Constantine and Helen Greek Orthodox Church
Reception Venue: The Barn at Timberlake Farms
Bride's Dress: Vintage
Bride's Shoes: Irregular Choice
Bride's Headpiece: Twigs & Honey
Bride's Jewellery: Faye Daniel Designs
Groom's Outfit: Ralph Lauren
Bridesmaid's Dresses: Various – Donna Morgan and vintage
Cake: Elizabeth Frederick of Domestic Betty's Baking Co.
Flowers: Cache Fleur
Hair: Kelli Wanveer
Make Up: Megan Trinidad
DJ: Nicole Patten
Stationery: Megan Trinidad
Caterers: Catering by the Bay