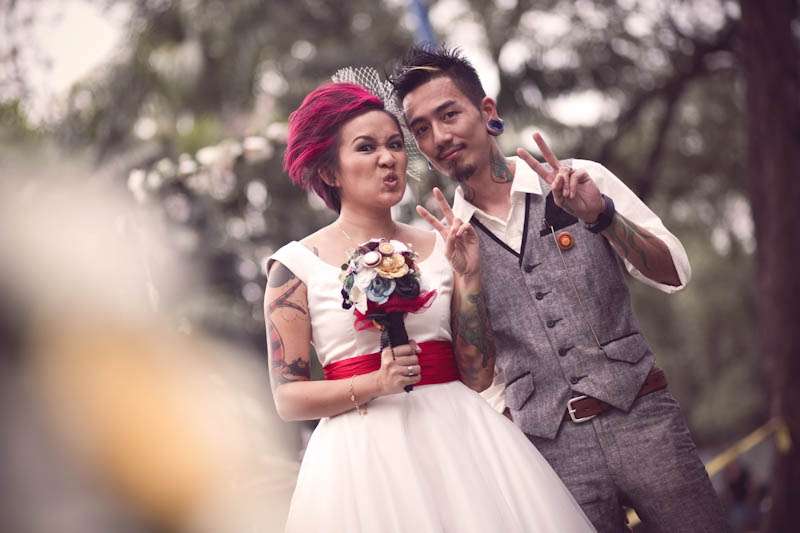 Some of you may recognise Julian & Carolyn as I featured their 'registration of marriage ceremony', a Malaysian tradition, way back in December 2010! Well since then, the couple have been planning the rest of their wedding celebration – an outdoor party held at Kiara Jungle Park in Kuala Lumpur.
"For the ceremony itself, we wanted a really cute/funny entrance," Carolyn began. "Our first ideas was to have a few of our friends ride in with their Harley's and then my Dad & I would zip right in with a Vespa and cute 'beep, beep'! Unfortunately (well, fortunately on hindsight) the Vespa we borrowed was giving us some problems, so we didn't go on with the plan… but my friends still came with 4 white Harley's and so I hopped onto to the back and that was my grand entrance!"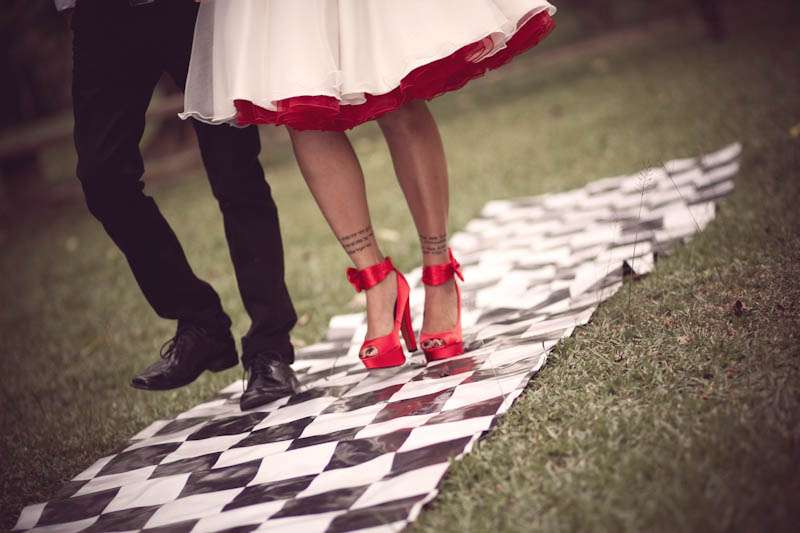 "We tried to DIY and upcycle as much as we could for our wedding. For example the napkin holders were made out of toilet roll cores, cut-up and then covered with vintage curtain material that my late grandmother used. We collected hundreds of tin cans & placed tea lights inside them to light up the walk way. My Mom also helped decorate an arch for us to use during our exchange of vows. In fact, my Mom did too many things to mention!! Last but not least, are the bouquets. All the bouquets were made by my very talented husband, Julian!"
"Our wedding favours were items from our childhood with an 80s theme," she continued. "There was gum, wafer slices, jelly cones, little bubble blowing thingys… Everyone loved them! We also brought in our collection (and a friends) of vintage furniture to create a mini living room in the park for people to have their photo in as well as relax in! We got our friends to help take photos with instant cameras and got them to pin it up around the area."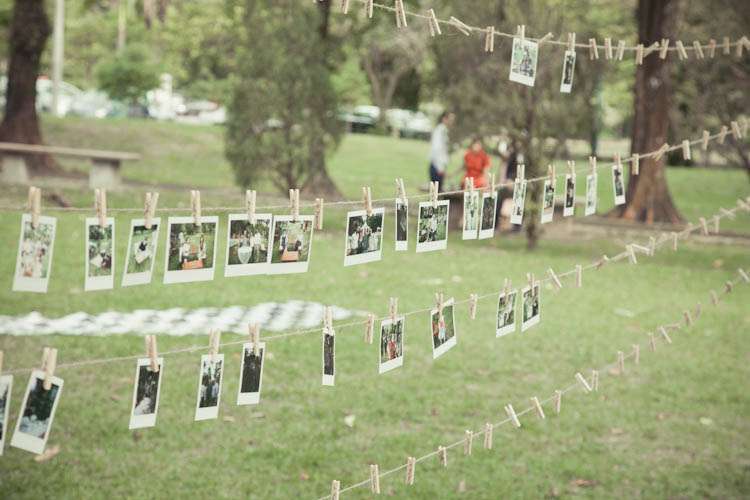 "The last and biggest surprise for the wedding is our wedding video," the bride concluded. "You see in Malaysia, it seems to be a trend to compile pictures of the wedding couple from childhood, through to meeting each other and so forth. Julian and I have always felt that it was cheesy and we wanted to do something different. We finally decided on a thank you video instead, to be shared during the reception. I remember saying to Julian that I want the people in the video to be really touched, and so we shot the video ourselves and did make a few people tear. Mission accomplished!
Aww and look how cute it is…! I can see why people cried can't you? Absolutely LOVE this idea.
Thank you to Julian & Carolyn for sharing your beautiful story with us again today!
Supporting Cast:
Photography Credit: Fotofarm
Venue: Kiara Jungle Park
Bride's Dress: Custom
Bride's Shoes: Debenhams
Bride's Headpiece: Handmade by Ming Wong
Groom's Outfit: Custom
Bridesmaid's Dresses: Marry Merry
Cake: DIY
Flowers: DIY
Caterers: Chef On Wheels