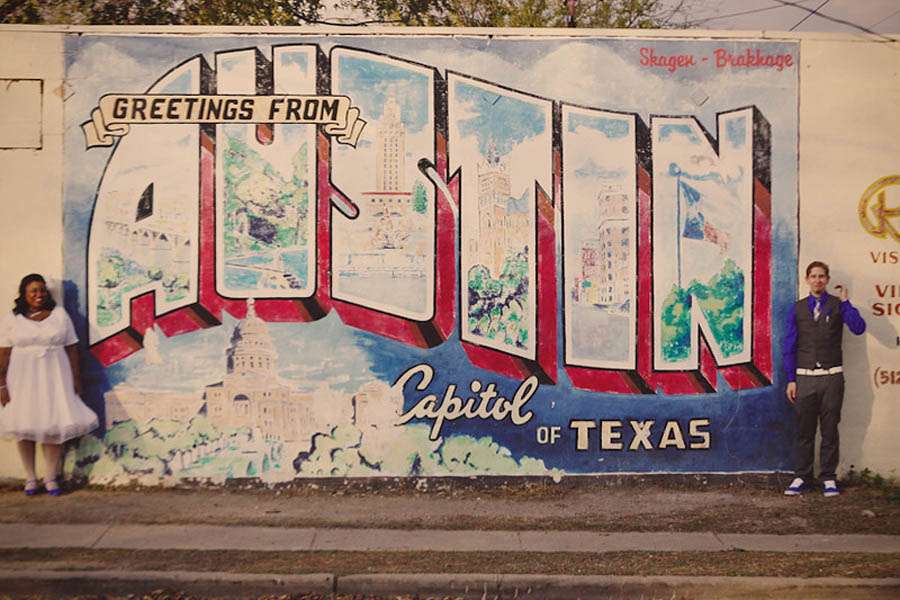 I. die.
No seriously. How beautiful is this bride? VERY! Dear Erica you make my job easy.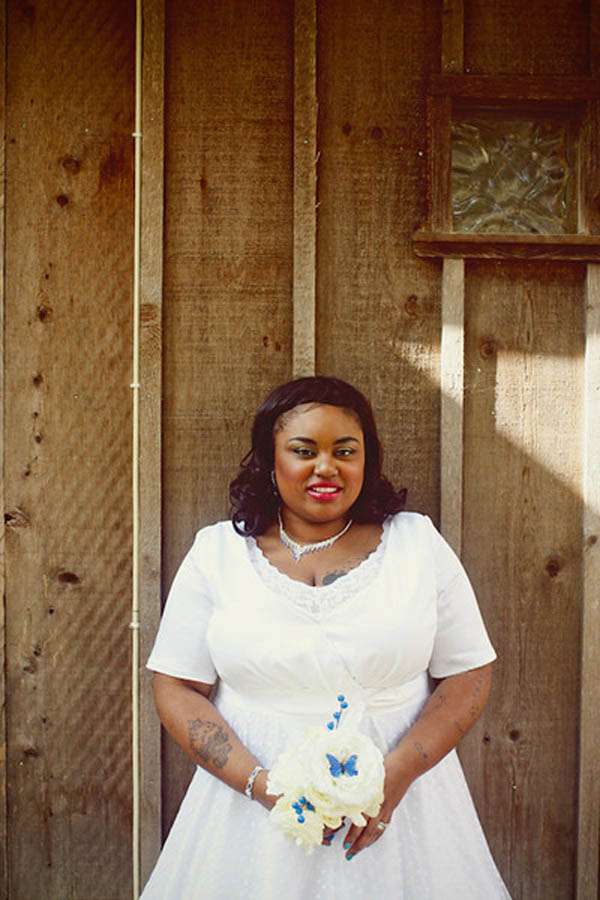 Erica married Rick last November in Austin, Texas. After an outdoor ceremony at Chapel Dulcinea, the newlyweds headed to the surrounding areas for a portrait session with their wedding photographer Rachel Sumner. "When we started planning our wedding we knew right away we wanted something very small and intimate," Erica told me. "As soon as my husband scouted the location everything else fell into place. My dressmaker Anslee Connell on Savannahred was so amazing to work with she basically took all the garble out of my head and created my dream dress. She specalises is 'curvy couture' and what she created was perfect for me. I'm thinking about dying it hot pink and wearing it for our 1 year anniversary!"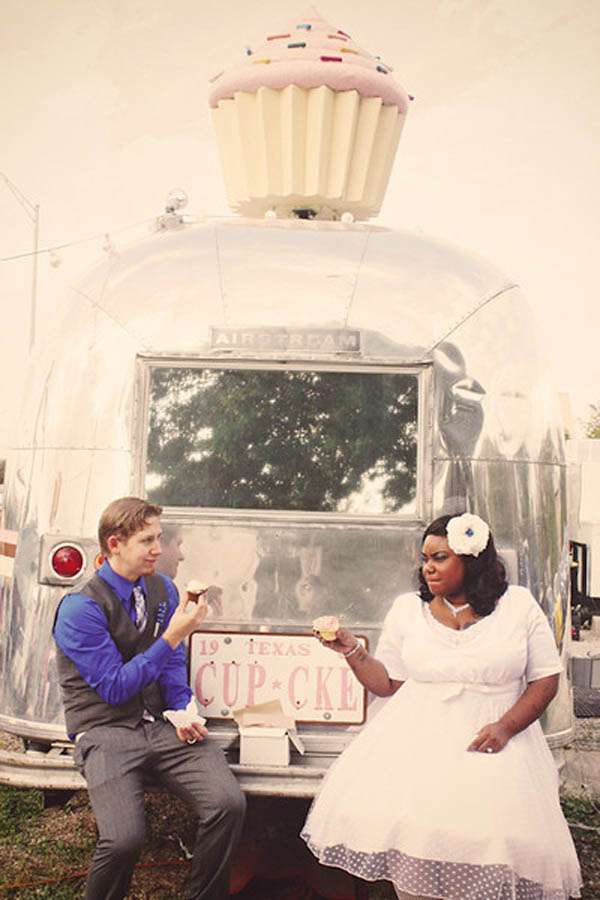 "I think the most interesting thing about our wedding was how we came across our wonderful photographer," the bride continued. "We had met with some local photographers, but didn't feel a spark with anyone. Quality photos were number one on our list and so we decided to put an ad out on Craigslist. Rachel our photographer responded and as soon as I saw her photos I fell head over heels. She was our perfect match… but she lived in Seattle. Amazingly she was willing to come out to Austin and shoot our photos and I am so glad we scored her."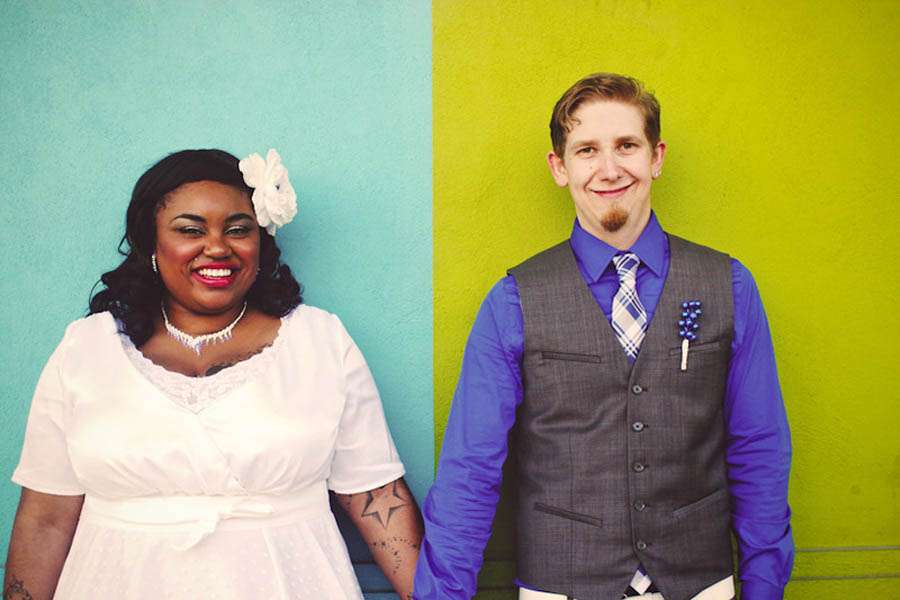 The reception was held at The Treehouse Grill and was a very simple affair. The couple didn't go mad for wedding details or 'stuff', they just focused on having a great meal and party with their loved ones.  "We didn't have a ton of elements to our wedding but I knew I wanted glitter shoes and decided to give it a go myself. It was a HUGE mess and the shoes were HORRIBLY uncomfortable (as you will notice in a few in my pics) but they sparkled and that's all that mattered! Our wedding was Rock and Roll, because it was very small and simple but a great reflection of us as a couple."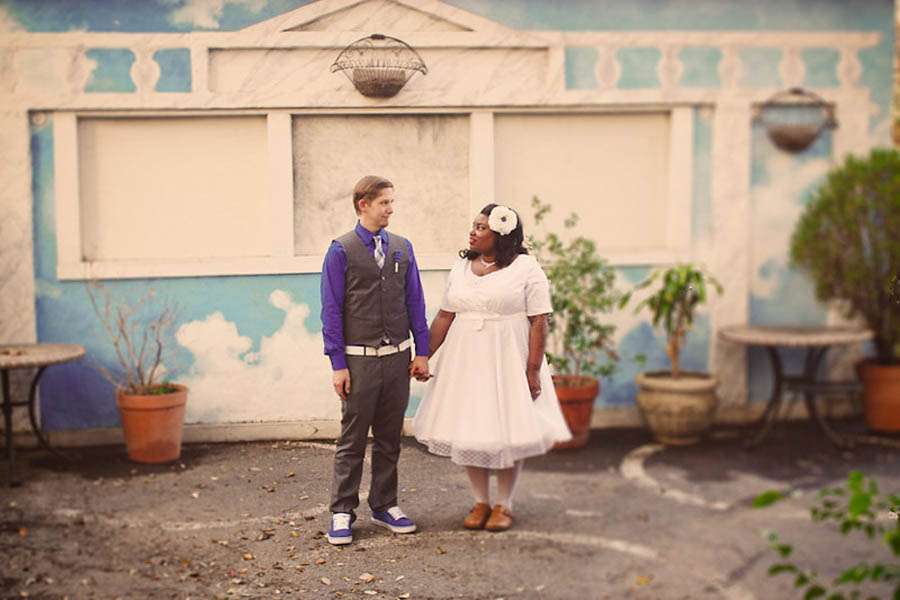 GORGEOUS! Thank you to Erica & Rick for sharing their wonderful wedding with us today.
Supporting Cast:
Photography Credit: Rachel Sumner
Ceremony Venue:Chapel Dulcinea, Austin
Reception Venue: The Treehouse Grill, Austin
Bride's Dress: Savannahred
Bride's Shoes: eBay + DIY
Groom's Suit: Express
Cupcakes: Hey Cupcake! trailer in Austin, Texas