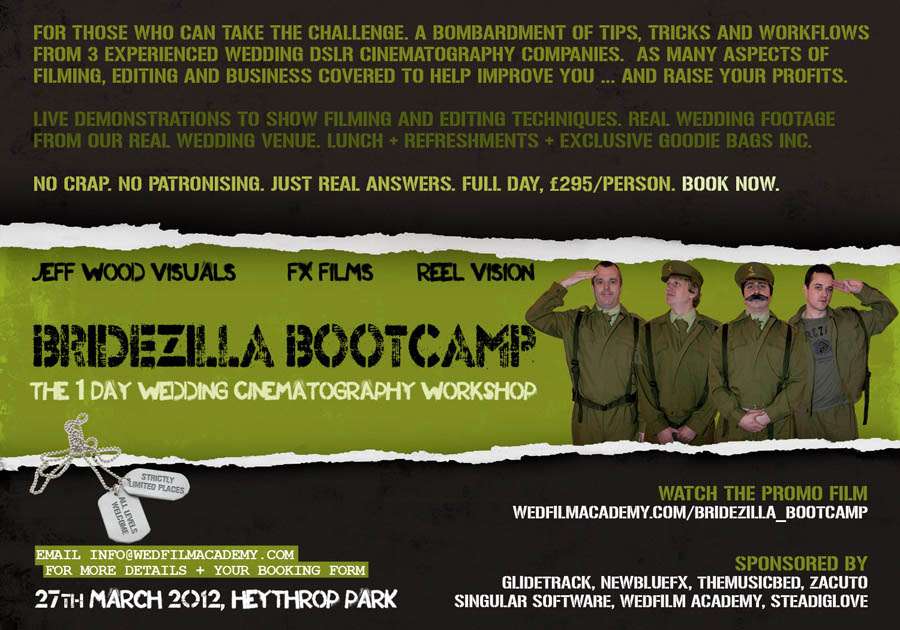 Today's post had a dual purpose. Firstly to announce that my good friend (and filmmaker extraordinaire!) Richard of FX Films and WedFilm Academy is teaming up with the guys at Reel Vision and Jeff Wood Visuals to put on a day long workshop for aspiring wedding filmmakers. On 27th March, they'll be descending on a beautiful Haythrop Park in Oxfordshire to put budding videographers through their paces at Bridezilla Bootcamp! Watch the video below for the full drill and what you can expect from the day…
The full day workshop is just £295 per person. For more info and to book your place simply click here.
Secondly, I've been tasked with finding them a real couple to model for their video shoot portion of the day. Wouldn't it be awesome to send them a kick ass Rock n Roll couple? I think so! You'll need to be available on the 27th March and be able to get yourself to Oxford, and in return you'll have a seriously fun day as well as receiving a copy of a beautiful video of the two of you to keep (which, by the way, I'll probably feature on Rock n Roll Bride too if I'm allowed). If you're already married but didn't have a wedding film made, I think this would be an awesome excuse to dress up in your wedding outfits again and get a free video!
If you're interested in playing model for the day, drop Richard an email at info@wedfilmacademy.com.