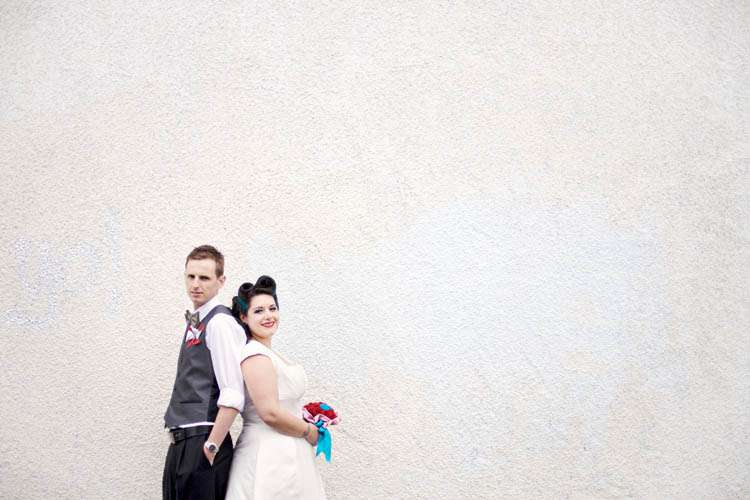 Marcie & Rich's Nerdy DIY wedding was inspired by the things they love. The couple love to hang out at home with cat and dog playing video or board games and reading so the wedding theme kind of stemmed from these ideas.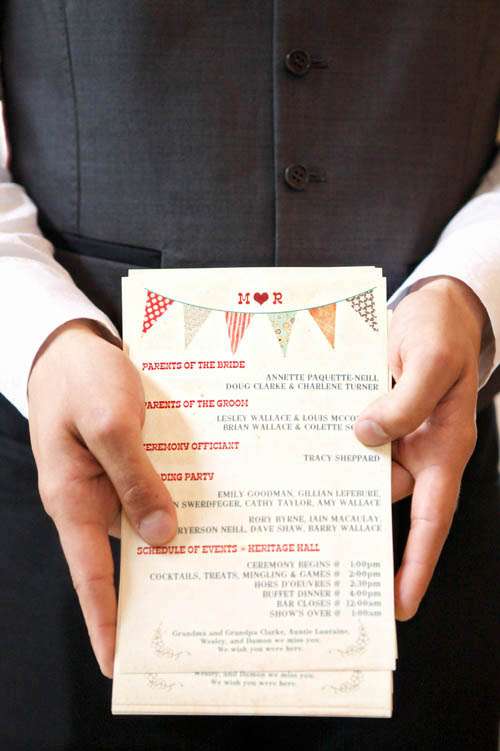 "I think our inspiration for doing things the way we did was that we didn't want the same old same old", Marcie told me. "We've both been to tons of weddings where the details were essentially the same but for a few differences. People tend to do the long church ceremony with the long gown that you would never want to wear again and make a bunch of stuff for the guests that they will never use or even want just because you saw that tiny beer stein in a craft store and thought it was perfect cause you like beer. We wanted people to have fun all the way through, including ourselves! We would much rather have a swinging party and get married in the middle of it than the other way around."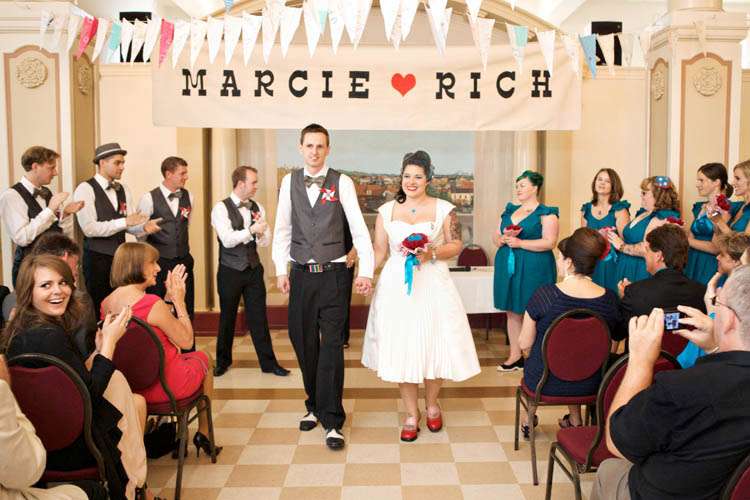 "Our 'theme' was loosely based on a 1940's style Carnival. I love the time period and we both wanted a theme that would allow us to have games for our guests and fun retro style clothing and accessories."
The wedding took place at Heritage Hall, Vancouver British Columbia, Canada. "The Hall is this great building that used to be many things in the past and is now a rentable hall," the bride continued. "Loads of crafty-type fairs happen here and that is how I came to hear of it in the first place. It has a huge clock tower and is located in Mount Pleasant which is a funky area filled with small locally owned shops. The look of the building and the area made a perfect place to rent. Didn't hurt that it was far more reasonably priced than any 'wedding hall rental' places in Vancouver and we were allowed to do things our own way."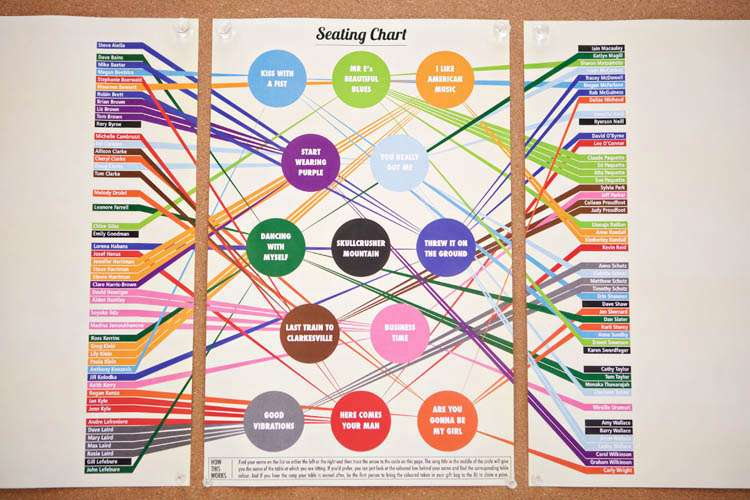 Marie wore a dress by Peppermint Pretty, shoes by Fluevog and a headpiece that she made herself. Both she and her bridesmaids also wore jewellery by Wicked Minky. "I wanted a tea length dress because I have never understood why people buy these amazing shoes only to cover them up with a huge long dress. I was also very keen to get something that was a bit retro. I have been in love with 1940's, 50's and 60's styles since I was little and a dress without a crinoline was not an option! I also wanted something that I could cut a rug in and not trip and fall on my face. When I dance, I go all out so the fewer restrictions the better! I fell in love with this dress straight off the bat. Erin Coleman was amazing and made something that fit me perfectly and all I did was send in my measurements. I did not want to go into a bridal shop at all and I didn't. Most have a posh vibe that I don't appreciate and they never seem to have anything that isn't all along the same line of design. I find it both intimidating and boring."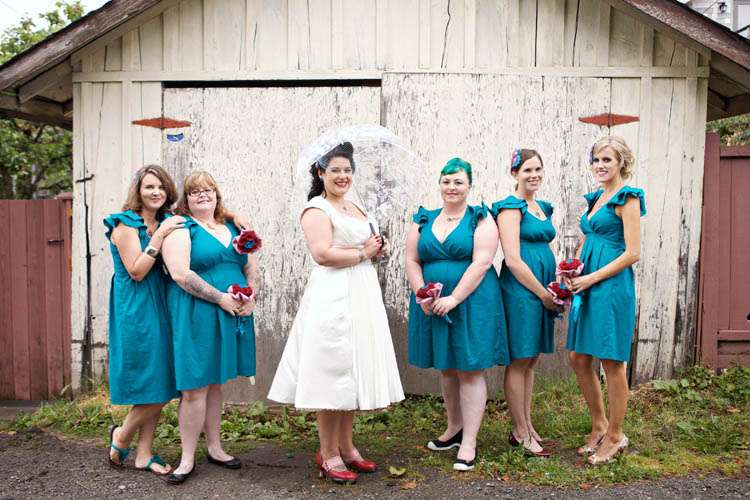 Many of the other wedding details were DIY including the bride and her bridesmaid's bouquets, the 'popcorn' cupcakes (made by Marcie's cousin Allison who owns a bakery), all the stationery and the majority of the reception decor and props.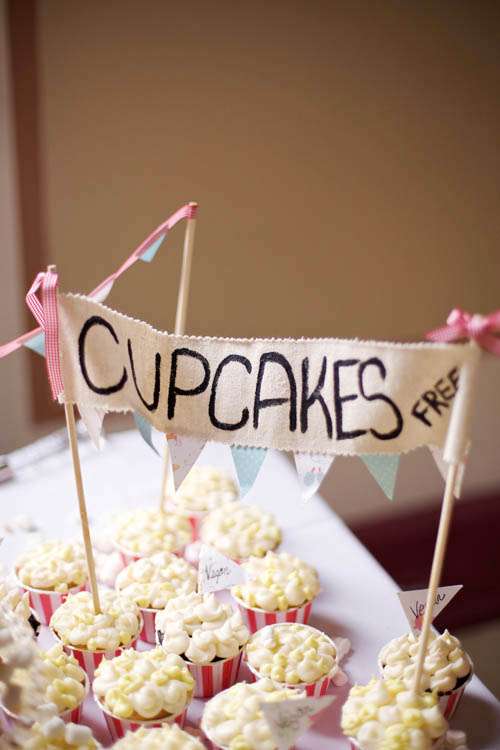 "We made all the bunting hanging around the reception out of old thrift store sheets cut up and strung together, as well as the centrepieces. These were thrift store vases filled with tons of gum balls to hold up the Whirly Pops, handmade pin wheels, felt moustaches on sticks made by Maro Designs, and flags to name the table. We went with song names and made a game out of people winning a drink token if they were the first one to come up to the DJ when their table song was played."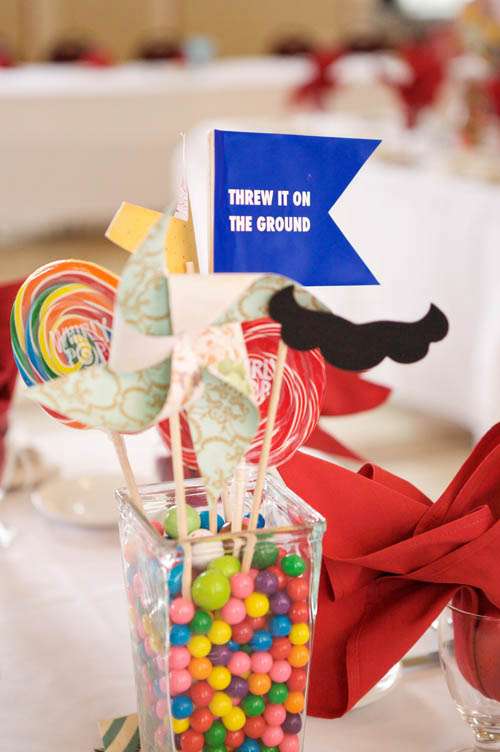 Thank you so much to Marcie & Rich for sharing their incredible wedding with us today!
Supporting Cast:
Photography Credit: Gucio Photography
Venue: Heritage Hall, Vancouver British Columbia, Canada
Bride's Dress:  Peppermint Pretty
Bride's Shoes: Fluevog
Bride's Headpiece: DIY
Bride's Jewellery: Wicked Minky
Rings: Era Designs
Bride's Bouquet: DIY
Groom's Outfit: Kari Bergrud kari@postcreative.ca
Bridesmaid's Dresses: Amanda Archer (Love Bird Dress)
Bridesmaid's Accessories: Wicked Minky
Hair & Make Up: East Vanity Parlour
Cake: Allison Clarke, London, Ontario
Cake Topper: Melabo
Flowers: DIY
Stationery: DIY
Caterers: The Dutchman's Caterers
Weding Day Painting: Kelly Haigh