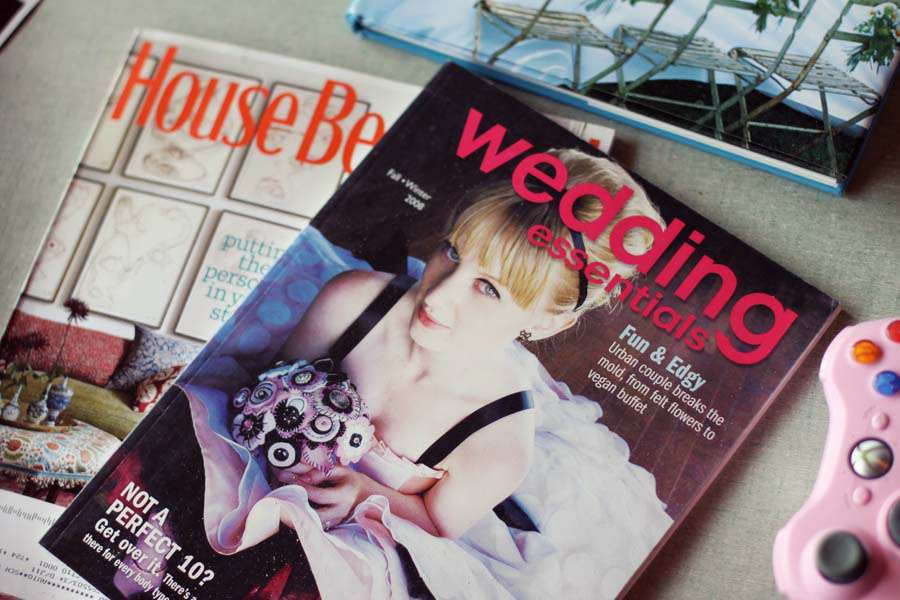 photo by me
So I've been home from my American Adventure™ for a couple of weeks and after finally catching up with my 800+ emails and writing the magazine articles that were due like, the day after we got back…oh plus helping to organise and attending the amazing Feather Love Photography workshop in London (phew) I can finally sit myself down and try to begin to process the experience I had on the other side of the pond.
Quite simply my mind is blown. I'm not sure any of my write-up posts are going to make a whole lot of sense actually. You know when you have such an incredible experience (like getting married I guess!) it's sometimes really hard to turn everything whirring around your head into a conscious stream information when telling people the story?! Therefore I apologise for any future rambly blog posts on this subject!
So, the whole reason I was in The States was down to the incredible Megan Hunt AKA Princess Lasertron. She emailed me a few months back and asked if I'd like to come visit her in Omaha for their fashion week…but also if I'd like to walk the catwalk to model her latest party dress collection…oh and if I could wear a dress that she wanted to design specifically for me and the readers of this blog! No pressure then.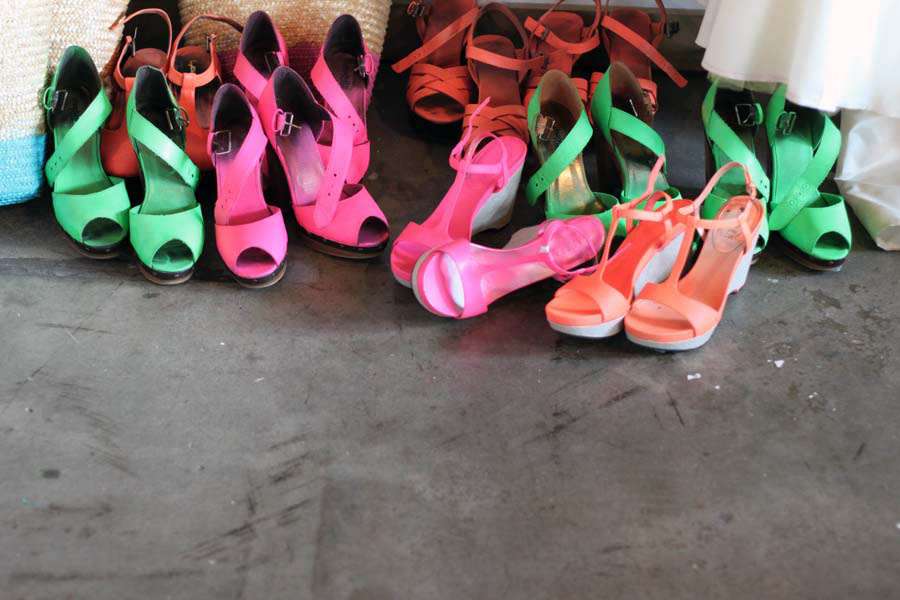 the models' shoes. photo by me
I've loved Megan and her work ever since I first discovered her on a wedding forum we were both members of. We both got married around the same time and I definitely had/have a girl/wedding crush on her. As our plane was about to touch down in Omaha I turned to Gareth and squealed "Oh shit…what am I doing?! What if she doesn't like meeeee?" I need not have worried though. We were greeted off the plane with a beautiful handmade (pink and glittery!) "Welcome Kat & Gareth!" sign plus a whole round of giant hugs, and my inner tension was immediately irradiated.
Our first evening in Omaha was spent eating sushi, drinking cocktails and watching that night's fashion show. We were jet lagged and overwhelmed but it was amazing. People were coming up to us all night to say how excited they were that we were there, and even though I was bloody tired I didn't want the night to end. We flopped into our amazingly comfortable bed at The Magnolia Hotel about midnight (erm…8am UK time!) and I realised I'd forgotten all about being nervous about what was in store over the next few days.
The Fashion Show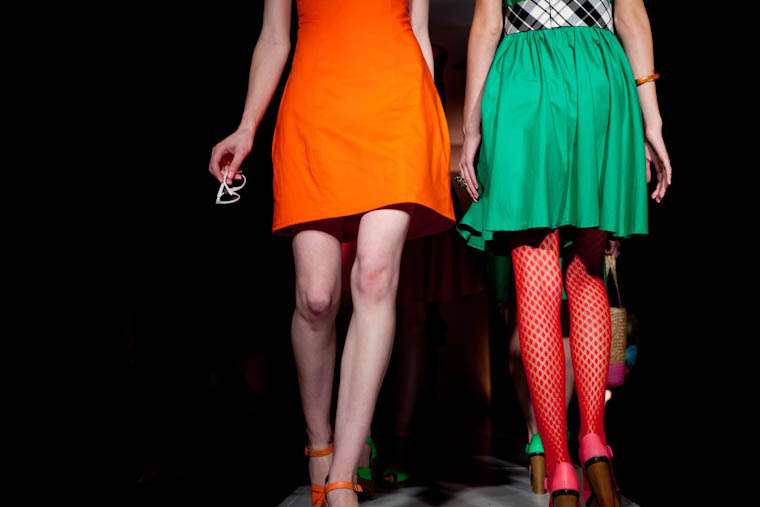 This was my second catwalk experience but was by no means less terrifying than the first. Not only was I in a country 3000 miles away from my own but I was there to represent the work of a designer that I've adored for like… forever. The usual notions of "OMG what if I fall' were of still there but this time they were joined by their buddies "What if all the 'real' models hate me," "What if I'm a big fat disappointment to Megan who's invited me all the way out here" and " What if the dress doesn't fit?!"
OK so luckily I didn't have to worry. The models were all lovely and normal (well except the fact that I felt like a midget who should eat less pies next to them) Megan and I got on like an actual house on fire and the dress was perfect. No, more than perfect! I fell in love as soon as I saw it.
The day went past in a beautifully colourful blur. We spent the day getting pimped and preened, rehearsing and gossiping about American television. The Princess Lasertron show was the last of the night so we spent a long time stood behind the scenes, listening to the whoops and cheers of the audience in response to the other collections. Then, at about 9.30pm, it was finally our turn.
I was at the end of the line of models (the grand finale as Megan called me!) and as 'Gucci Gucci' blasted out into the audience I sauntered (…ish thank God Megan gave me comfortable wedges – which she'd spray painted in neon colours – to wear) down the runway to a roaring applause and approximately a million flash bulbs going off.
Oh yes…and there is a video! Enjoy…
Credit: Mike Machian
And here are a few photos of me doing my thang, taken by various photographers (there was a sea of them at the end of the catwalk!) throughout the night. Remember the blog post I wrote about 'How to Pose'? well all the rules are being broken here…I was so nervous! Coupled with the fact that most photographers were shooting from a low angle, below the catwalk, and it's 'oh hello double chins and chubby thighs!'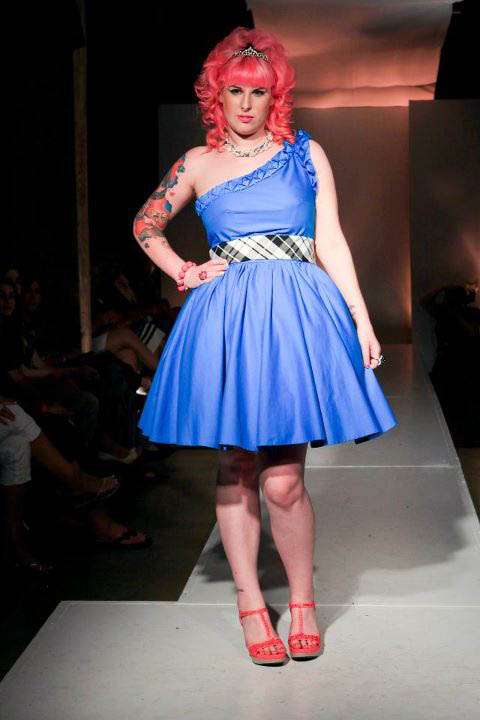 Allure Photographic Studio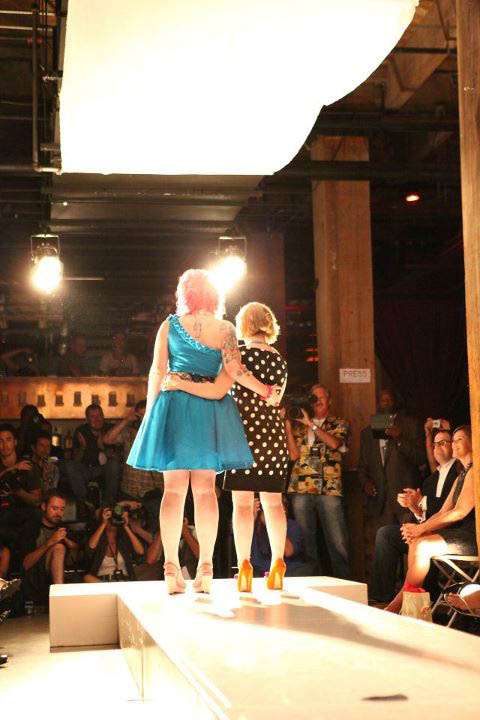 Allure Photographic Studio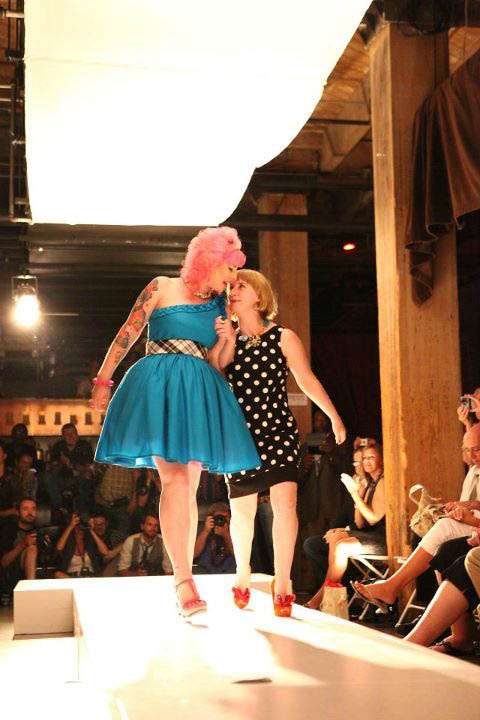 Allure Photographic Studio
Aww we love each other!
Much needed drink and giggle at the Nebraska AIDS Project benefit with Mondo Guerra at The Max club afterwards…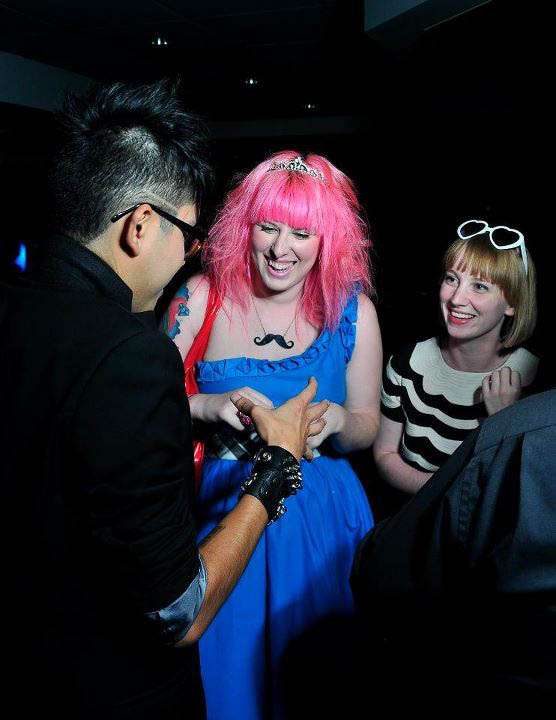 Dillon Gitano
But of course it wasn't all about me (!) The Princess Lasertron Fall 2011 line features 11 pretty party dresses. Each model rocked her own beautiful namesake dress (I just love that Megan named each dress after the girl that modeled it) down the catwalk.
Check them out! It's hard to pick a favourite huh?
Rebecca – $423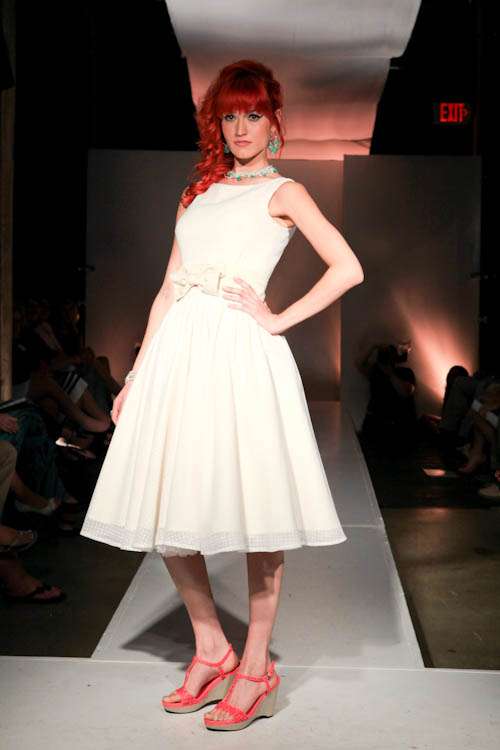 Allure Photographic Studio
Jess – $374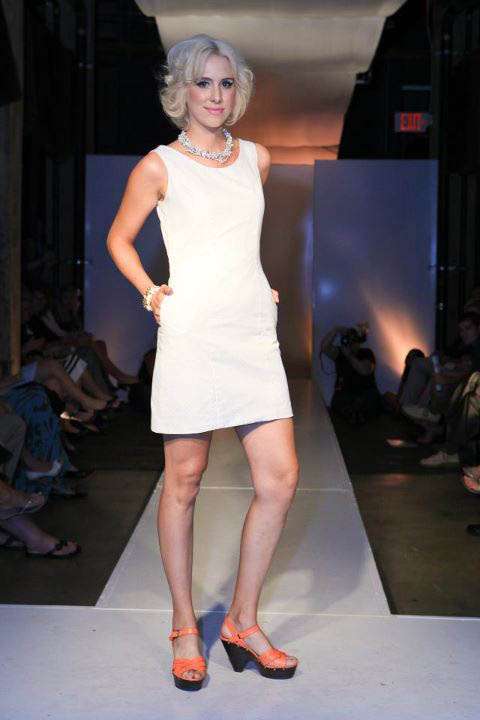 Allure Photographic Studio
VuVu Romper – $391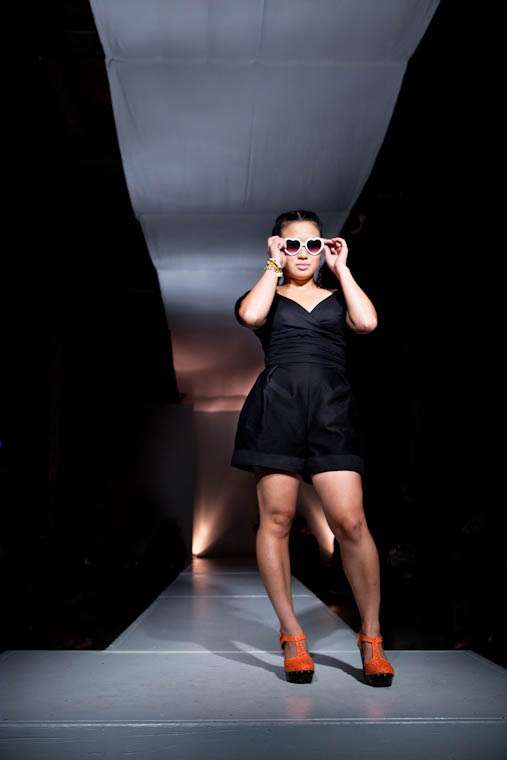 DP Muller Photography
Tatianna – $485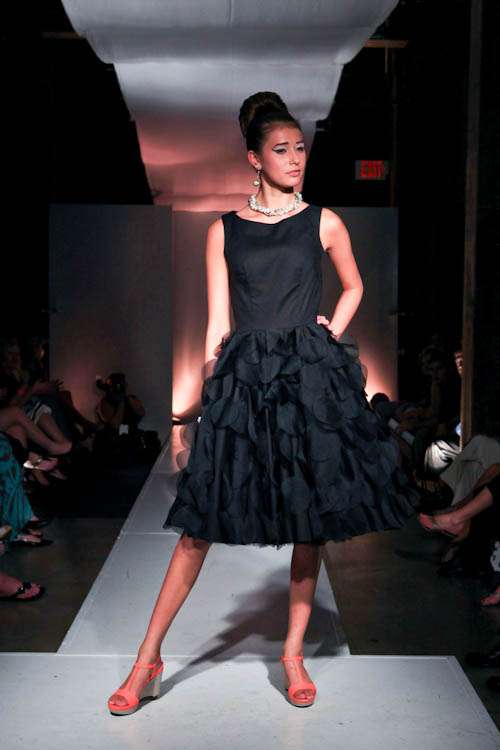 Allure Photographic Studio
Gwyneth – $355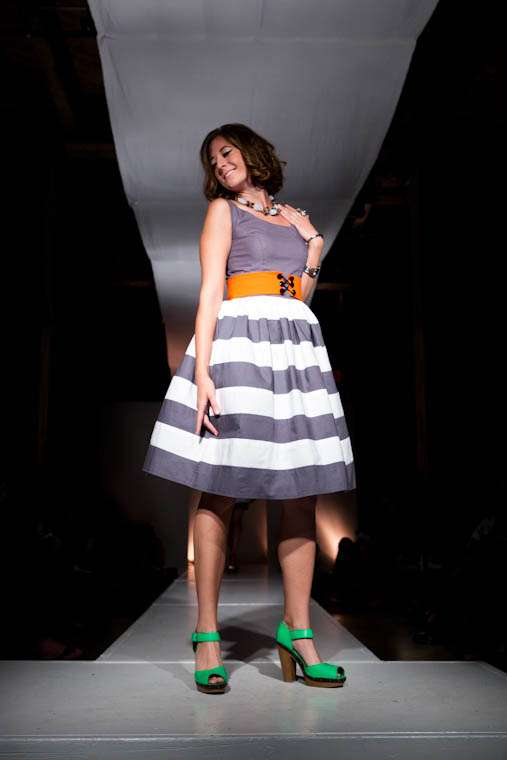 DP Muller Photography
Caitlin – $352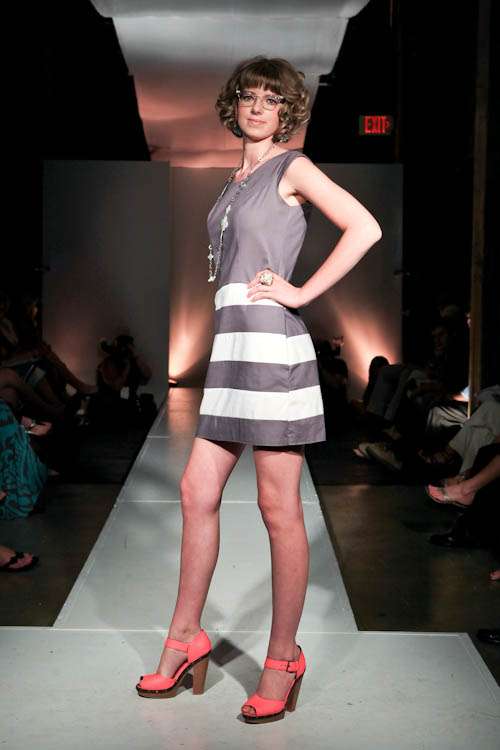 Allure Photographic Studio
Nicolette – $385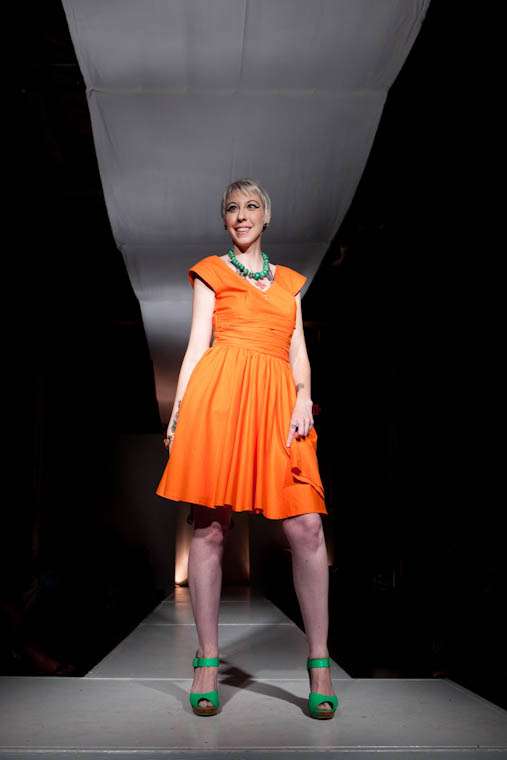 DP Muller Photography
Andrea – $325
Allure Photographic Studio
Nicole – $362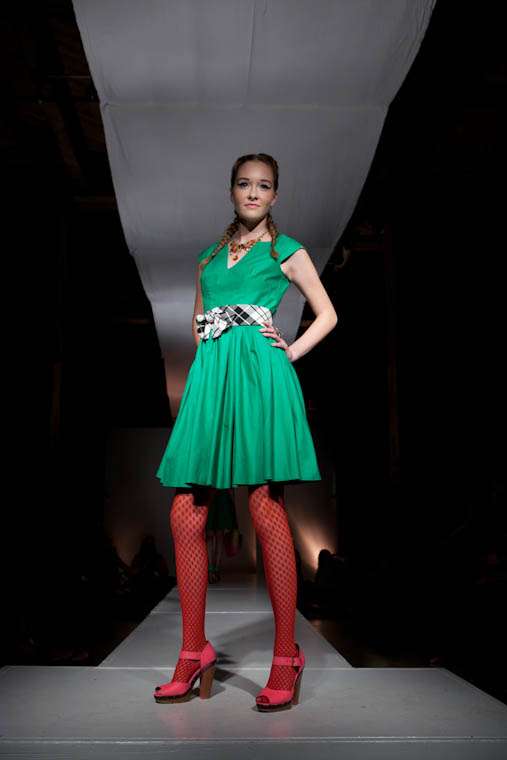 DP Muller Photography
Sarah – $362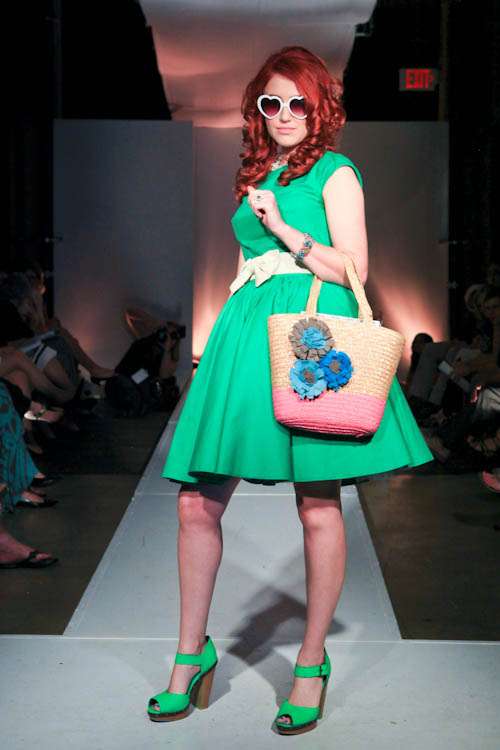 Allure Photographic Studio
Buy The Dresses
The limited edition Rock n Roll Bride dress (as well as all the other dresses in the collection) can be purchased from Princess Lasertron's dedicated dress website. Prices start from just $325 (the Rock n Roll Bride dress is $442) and the petticoats and belts are available to buy separately. Megan can make any dress in any size, colour or fabric. We went for 100% cotton in bright blue for mine with a pink petticoat (which I wore as a skirt on The Morning Blend!) but I'd love to see some of you rocking these dresses in your own choice of colours. I think the Rock n Roll Bride dress would look amazing in black, white, yellow, green…well in all the colours of the rainbow really!
Oh and did I mention that every Princess Lasertron dress in her 2011 Fall line comes with pockets?! I haven't met one bride yet who doesn't love the idea of pockets in her wedding dress. Genius.
Megan says of the Rock n Roll Bride dress, "This one-shoulder design made in an electric blue cotton is perfect for any Rock n Roll Bride. Wear it with one of our optional crinolines for a fuller skirt. We love the origami-like pleat across the top of the bodice and over the shoulder to add a little extra badassery. Ask us about additional colors and fabrics."
For further infomation on all the dresses in the range be sure to check out the Princess Lasertron dress website and feel free to drop Megan an email for further info or to ask any questions info@princesslasertron.com.
Free Princess Lasertron Posie Bouquet For All Rock n Roll Bride Readers!
Oh yes you did read that right! I did say that Megan designed the Rock n Roll Bride dress with me and my readers in mind didn't I?! Well for any Rock n Roll Bride reader that purchases the limited edition Rock n Roll Bride dress, she would like to include a posie bouquet (like this one), in your choice of colours for FREE! The value of this bouquet is a whopping $150.
To qualify, simply quote 'totes cray cray' when you order your dress (you can do this at the checkout or in any emails you send to Megan) and she will get back to you to arrange it all! How bloomin' generous is that!? I'm actually quite jealous…
♥  ♥  ♥
Come back tomorrow to hear all about part two of this roller coaster few days – including more on my TV appearance and the epic promotional photo shoot!