After a well earned and strong coffee to settle our post-TV nerves, it was onto the next order of the day. A photo shoot! Told you I was busy didn't I…?
The Photo Shoot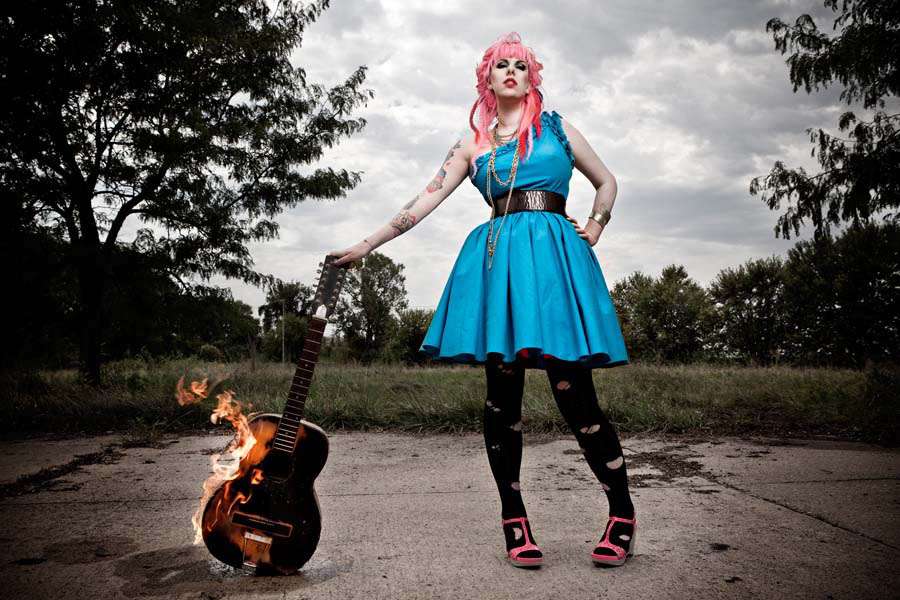 Megan had also arranged for me to do a photo shoot with local online magazine Esoteric Velvet (they also interviewed me which you can read here) to showcase her amazing dress. So after the TV slot we were whisked to Tru Salon & Spa where I was transformed into a cyber punk-esque goddess, complete with multi coloured dreadlock extensions, make up by a drag queen (I loved it – that dude knew how to do eye make up let me tell you!) and ripped up tights.
We then drove to what I can only describe as a deserted and slightly smelly field on the side of the freeway, complete with biting flies and a stagnant swamp. Oh the glamour huh!? I jest I jest.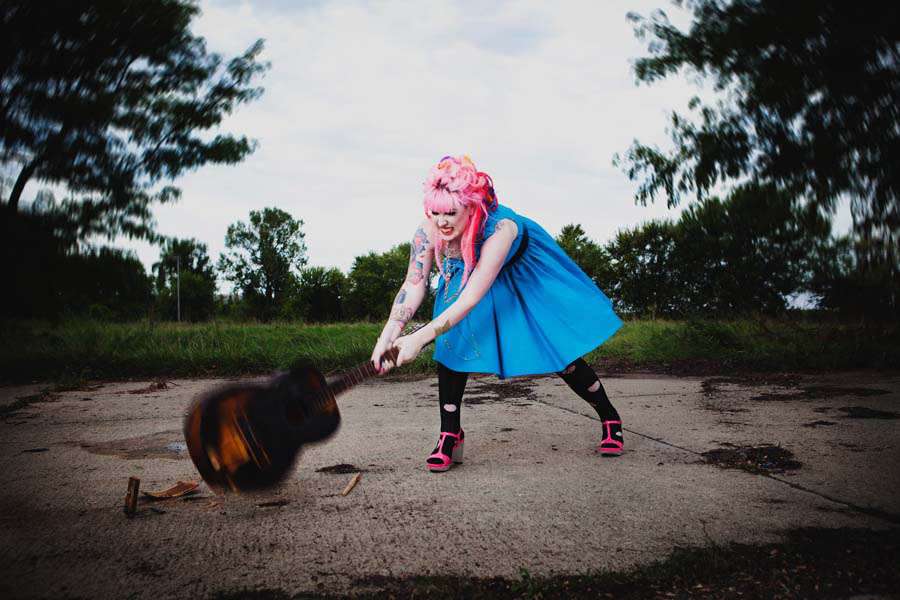 The shoot was awesome and the team filled me with inspiration. I got to set fire to a guitar (well they did, I just posed and tried to concentrate on whether the heat I was feeling was coming from the blaring sun or the fire by my fingers) then release some pent up aggression and smash it up.
The shoot was super fun and the results are pretty damn wicked non? I'm in AMERICA baby!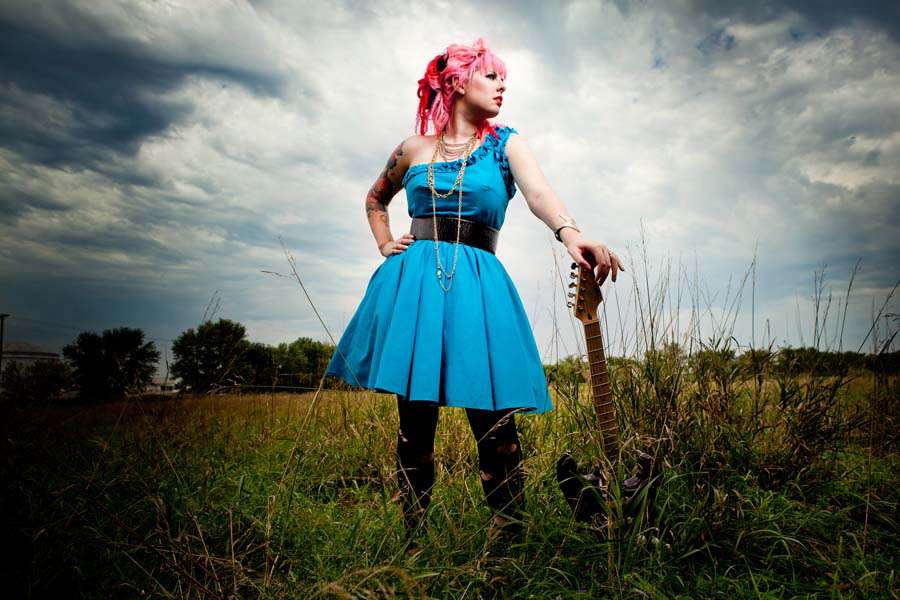 Big love to the team that put it all together!
Photography: DP Muller Photography
Dress: Princess Lasertron
Hair & Make Up: Tru Salon & Spa, Omaha
Styling:  Meghann Schense of www.esotericvelvet.com
And yet more behind the scenes type stuff taken by Gareth. This boy is good.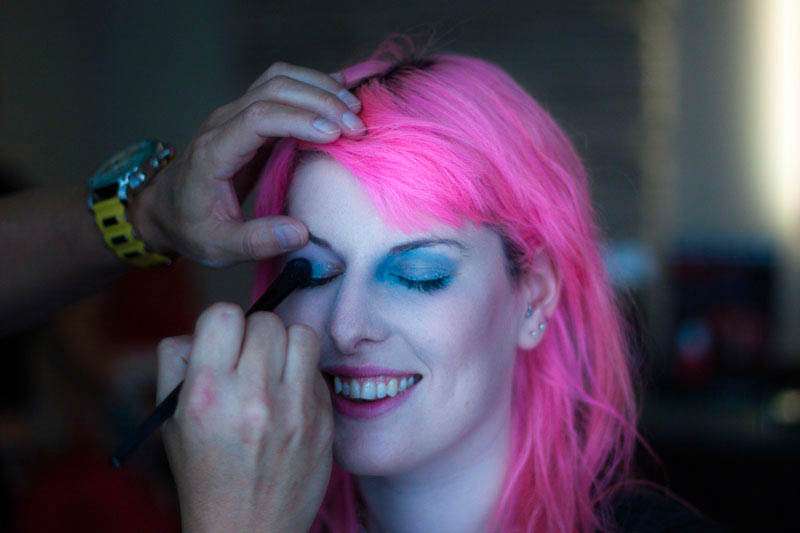 Ha! Looking a little scary, pale and vampire-like with the deep red lippy. Gareth liked it though!
Red dreadlock extensions!
Razoring the tights. I simultaneously got bitten by a fly (seriously, biting flies, what's that about?!) and thought she'd cut me. Ha!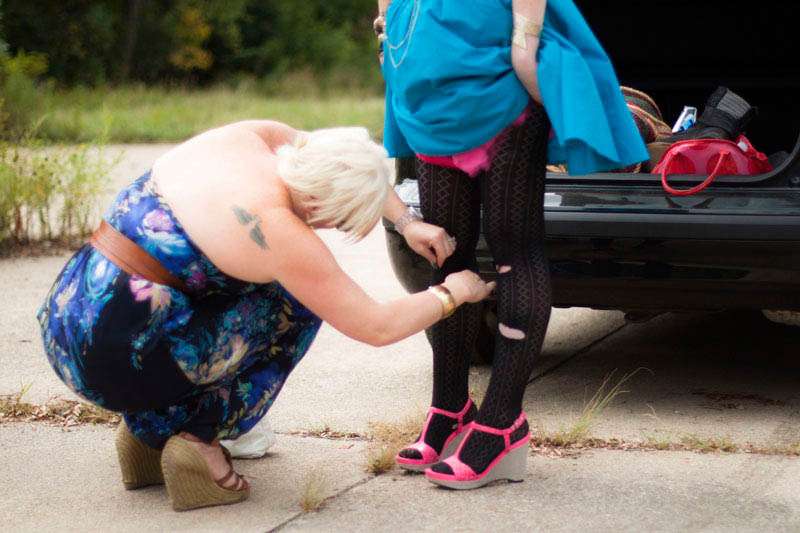 Meghann, the stylist, going through some ideas with me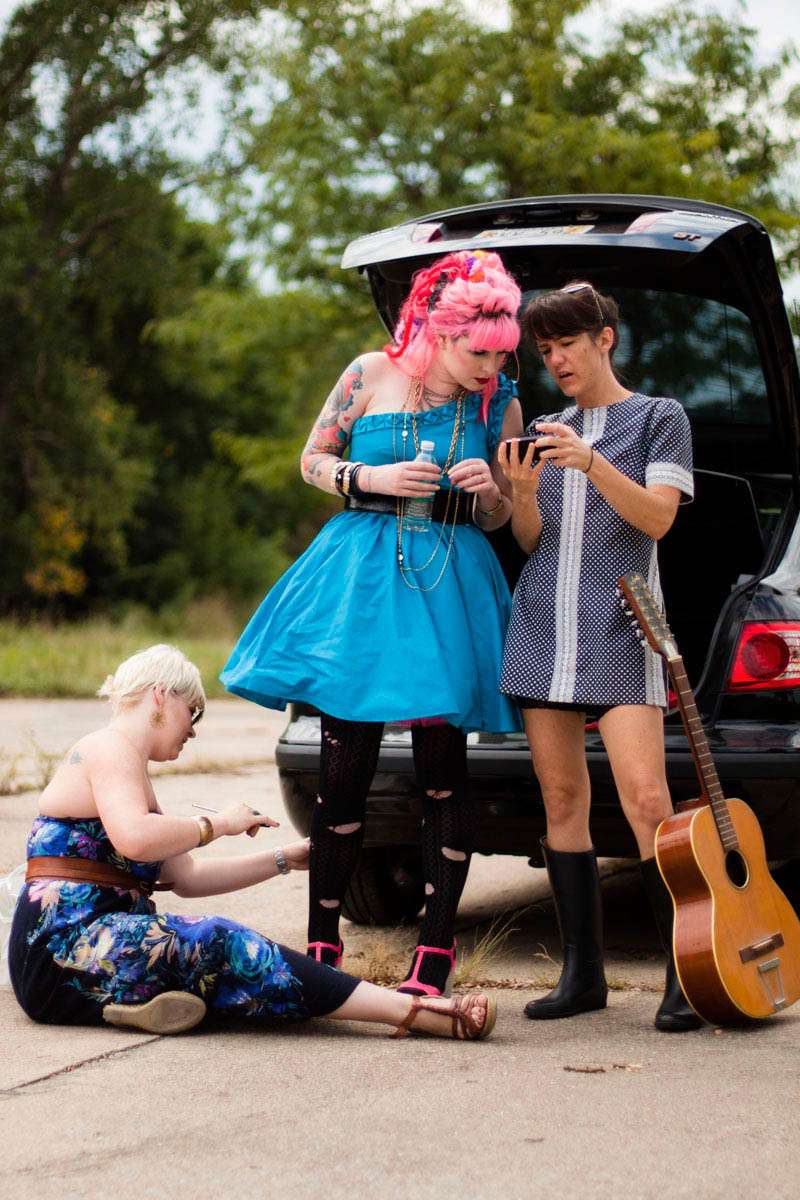 Time to get my pose on!
Buy The Dresses
The limited edition Rock n Roll Bride dress (as well as all the other dresses in the collection) can be purchased from Princess Lasertron's dedicated dress website. Prices start from just $325 (the Rock n Roll Bride dress is $442) and the petticoats and belts are available to buy separately. Megan can make any dress in any size, colour or fabric. We went for 100% cotton in bright blue for mine with a pink petticoat (which I wore as a skirt on The Morning Blend!) but I'd love to see some of you rocking these dresses in your own choice of colours. I think the Rock n Roll Bride dress would look amazing in black, white, yellow, green…well in all the colours of the rainbow really!
Oh and did I mention that every Princess Lasertron dress in her 2011 Fall line comes with pockets?! I haven't met one bride yet who doesn't love the idea of pockets in her wedding dress. Genius.
Megan says of the Rock n Roll Bride dress, "This one-shoulder design made in an electric blue cotton is perfect for any Rock n Roll Bride. Wear it with one of our optional crinolines for a fuller skirt. We love the origami-like pleat across the top of the bodice and over the shoulder to add a little extra badassery. Ask us about additional colors and fabrics."
For further infomation on all the dresses in the range be sure to check out the Princess Lasertron dress website and feel free to drop Megan an email for further info or to ask any questions info@princesslasertron.com.
Free Princess Lasertron Posie Bouquet For All Rock n Roll Bride Readers!
Oh yes you did read that right! I did say that Megan designed the Rock n Roll Bride dress with me and my readers in mind didn't I?! Well for any Rock n Roll Bride reader that purchases the limited edition Rock n Roll Bride dress, she would like to include a posie bouquet (like this one), in your choice of colours for FREE! The value of this bouquet is a whopping $150.
To qualify, simply quote 'totes cray cray' when you order your dress (you can do this at the checkout or in any emails you send to Megan) and she will get back to you to arrange it all! How bloomin' generous is that!? I'm actually quite jealous…
♥  ♥  ♥
After a cray cray week, concluded by the Omaha Fashion Week finale (which I attended as a guest not a model thank God – the whole show took place outside on the street, there were about 8000 people there and the runway was over a block long!) Gareth & I headed to LA for some more networky type stuff as well as couple of days break. I'll be blogging the photo shoot we did Downtown with Tinywater Photography just as soon as I get it. Seriously can't wait to see these shots. I've loved (and I mean lurrrved) Tinywater for years, so being able to have a photo shoot with them was a dream come true.