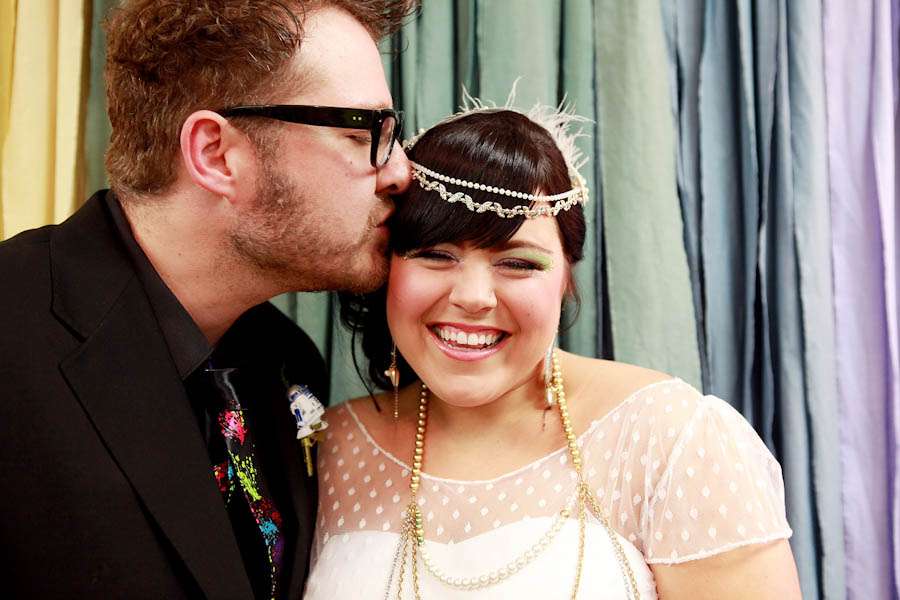 The 1980's isn't as theme you see often in weddings…but after seeing these images of Shelby & Stephen's wedding I think that that is quite frankly a crime. As a child of the 80's I'm instantly taken back to my youth with the ammmazing 80's memorabilia boutonnieres, the cassette tape escort cards, the ghetto blaster flowergirl's basket, the computer game accessories and even the food!  All in all this is one damn cool wedding. Hell, they even got thriller-inspired zombies in there!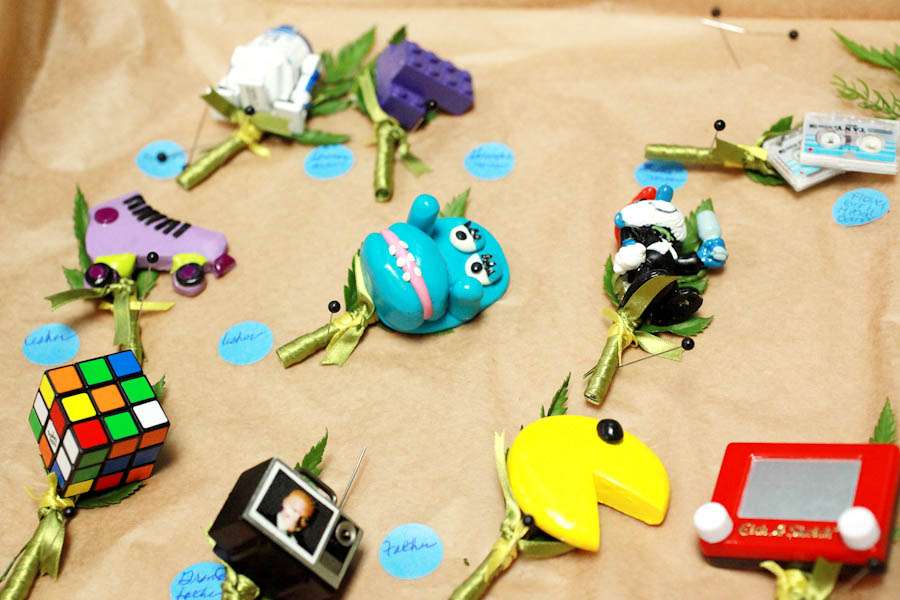 The wedding was held at The Austin Vineyard. "Right from the start, we knew that we wanted it to be a fun and creative event. We wanted something that was a little out of the box so we could enjoy the process rather than get caught up in all the wedding should do's" Shelby told me. "What's more Rock n Roll than live music, zombies and a graffiti photobooth pimped out with a Wayne's World blow-up guitar, wigs and aqua-net?"
"I'd describe out theme as 'Modern 80's' and so-much-fun! Our photographer and co-ordinator were great and made a lot of the props for our wedding because during the whole planning process I was living in Beijing! One of my favorite décor items was the ceremony arch/photobooth backdrop.  It was tricked out in vibrant graffiti with lanterns, records and flowers dangling from chains.  For the reception we had a box of props that included wigs, blowup guitar and fingerless gloves too."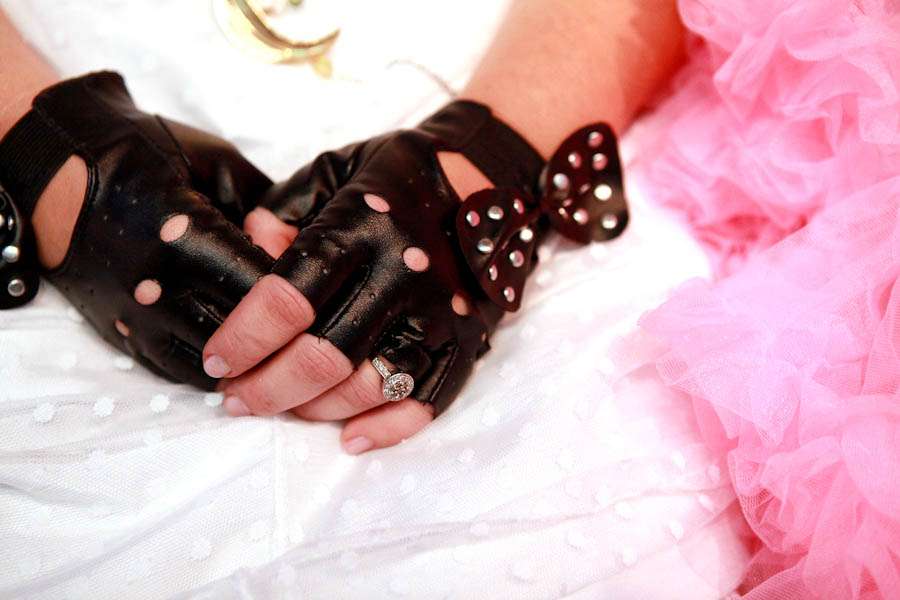 The cake and flowers the couple chose also really added to the theme. "The cake was alternating strawberry champagne cake filled with a light strawberry mousse and chocolate lovers filled with rich chocolate chunk chocolate mousse. The cake design was inspired by a mural in China at the gallery Stephen & I work at.  The bottom tier was based directly off that mural and was decorated with hand piped flowers and edible pearls. The middle tier had an airbrushed LOVE in purple that was based on other graffiti artwork used for decor in the reception. The top tier was decorated with purple and green hearts which brought the 80's pop. Then the final touch was a sugar flower that sat on the side of the cake to match the mural and gave a 3D effect to the cake. To add some additional 80s style to the sweets table, we hung Laser Disks on the wall in an abstract manner & had apothecary jars full of colorful candies.  Scattered on the table were individual pieces of Bazooka Bubble Gum! It was a table full of yummies!"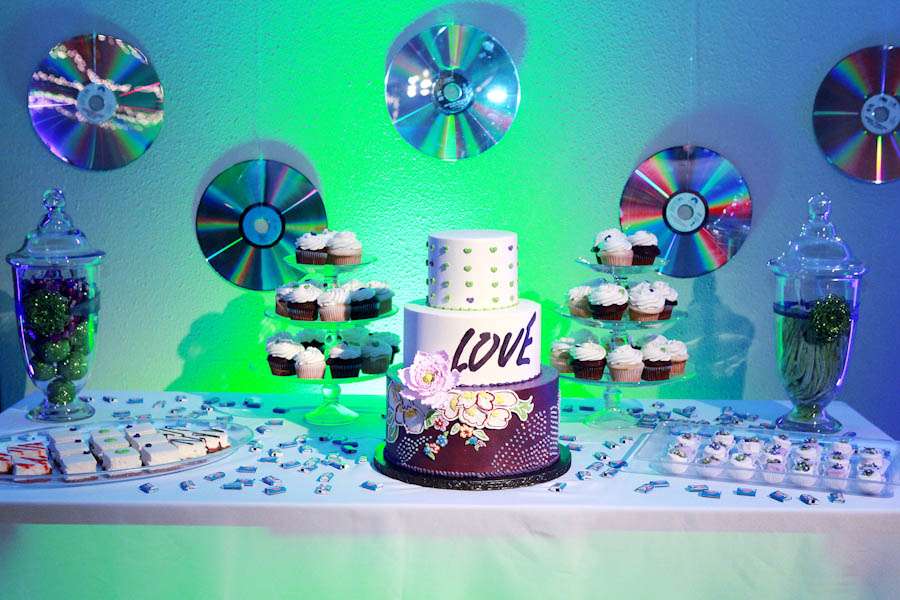 "We used popular flowers from the 80's such as carnations, mums and leather leaf with a modern look. Our centrepieces were in hand painted black vases with colorful paint splatter accents.  The bridal bouquet had green and white kale, ivory carnations, green trick dianthus, paper whites, leather leaf, deflexis. Wrapped ivory satin & purple beaded accents draped over a section to add a touch of color.  The bridesmaids bouquets were designed with a side pony tail shape with the bouquet stems placed through a 45 record as an awesome embellishment."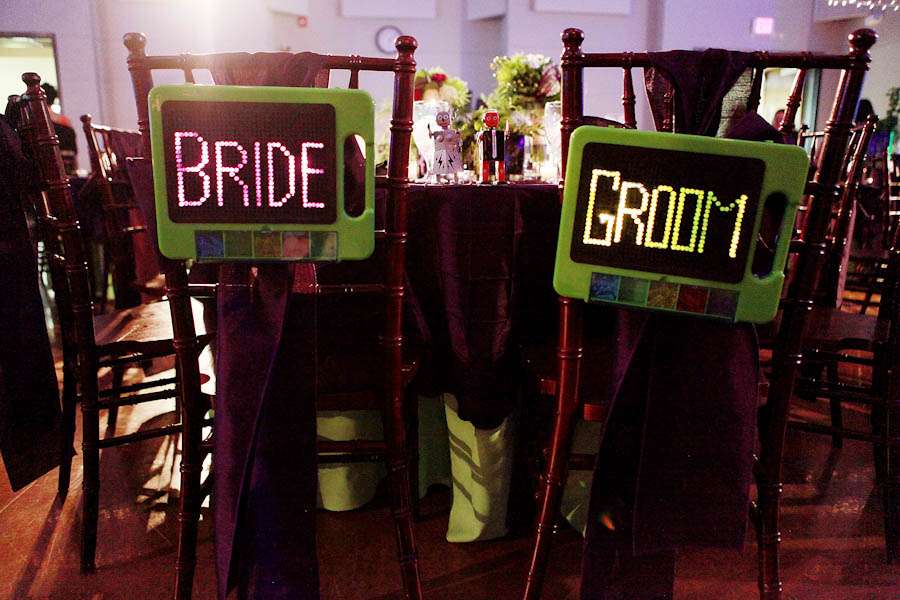 "Our grand exit was also so much fun!" Shelby concluded. "Our guests were lined up outside, we started to walk through saying goodbye when a friends truck pulled up & was blaring "Thriller" by MJ.  Zombies crawled out of the back & danced to it in front of the truck, we joined & then they pulled us into the truck and sped off.  Guests were totally thrown off guard & it was hysterical!"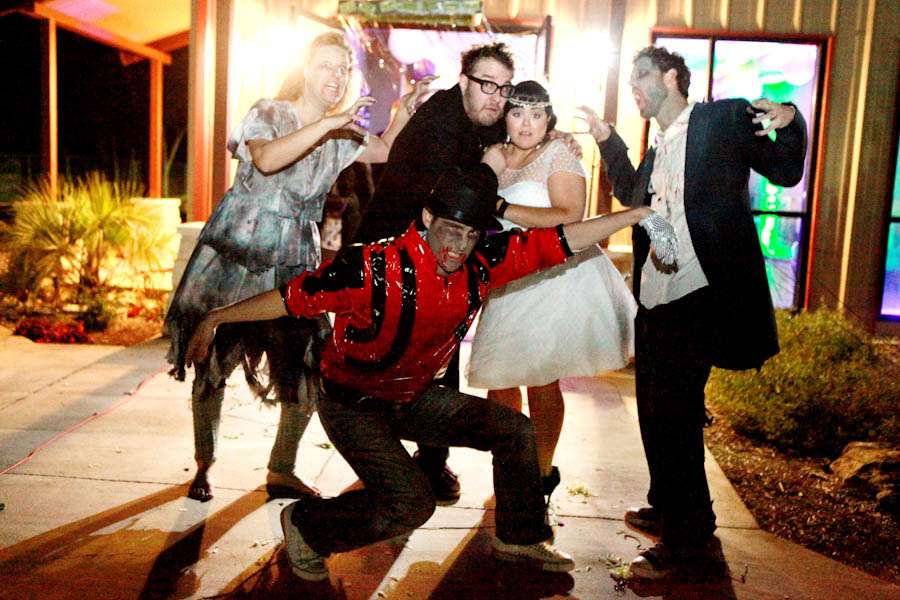 Shelby wore a dress by Savannah Red Design, found at Cypress Vanguard in Austin. "Honestly I didnt know exactly what I wanted but I knew it needed to 80's inspired but not too pretty in pink – still wanted to look good in it!" the bride explained. "Anslee, the designer, worked with me to custom design the dress of my dreams. The detailed layers of the wedding gown were a large factor as a lot of 80's fashion plays with something sheer or see through over something solid. The sweetheart neckline underlay dress was made of crisp, white taffeta, a big nod to the decade's prominent fabric choice, and paired with a fun, white, Swiss dot netting overlay with puffy sleeves and lots of texture. A vintage petticoat underneath helped keep the fullness of the slightly exaggerated A-line skirt, and a big, bright, white taffeta sash pulled the dress together to define a rockin', curvaceous waistline."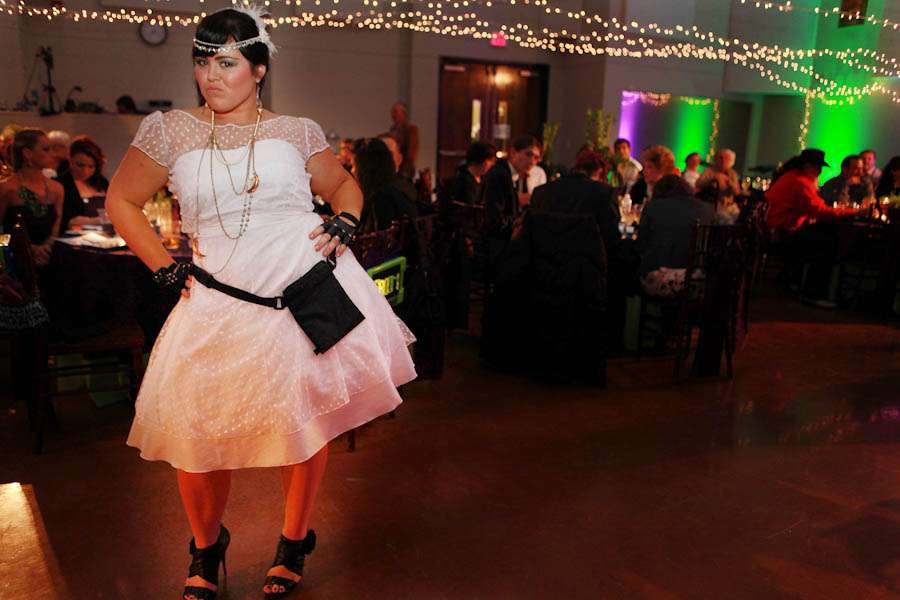 Just wow. I'm totally in love with all of this! What about you guys?
Huge love and thanks to Shelby & Stephen and their photographer Jessica Monnich for sharing this wedding with us today. Now please excuse me I'm off to listen to some Bros…
Photography Credit: Jessica Monnich Photography
Venue: The Austin Vineyard
Bride's Dress: Savannahred
Bride's Headpiece: Simmang Designs on Etsy
Bride's Jewellery: Simmang Designs on Etsy
Boutonnieres: Fritts Rosenow
Cake: Krissy's Cakes
Flowers: Visual Lyrics
Hair & Make Up: Tawny Tyler & Summer Edwards
Band: Detroit Steel
Wedding Planner:  Stylish Happenings, Beth Bennett
Make Up: Loud Looks Aesthetic Assistance
Catering: Catering with a Twist
Invitations: This is Jow W Design
Rentals: Sweet Sunday Event Rentals
Lighting: Filo Designs
Photo Booth: Hanan Exposures
Zombie Costumes: Costume World
Petite Fours:Petite Four Couture