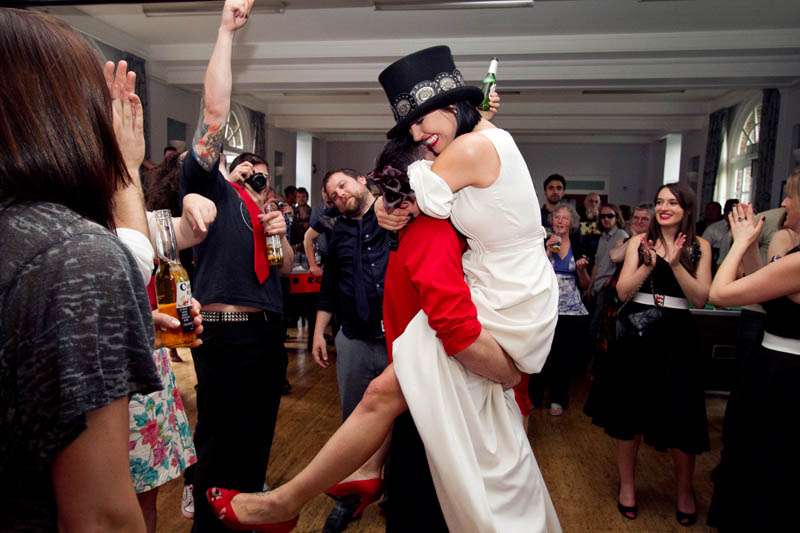 Julia & Steve found their photographer Hannah Millard after seeing a feature on her on Rock n Roll Bride. It's always so extra special to me to share weddings that my blog has 'helped' in some way and I'm really excited that this gorgeous couple were able to get such great wedding photographs because of Rock n Roll Bride. Happy face!
Hannah clearly agrees. "Woahhh," she writes. "This wedding was just… wow. I mean. Just… OK, I'm having trouble putting it into words, it was just pure Rock n Roll. Julia & Steve are an awesome couple and they definitely know how to party. There was vodka and tattoo artists and rock band karaoke and Julia's brother DOVE INTO A CAKE. It was amazing."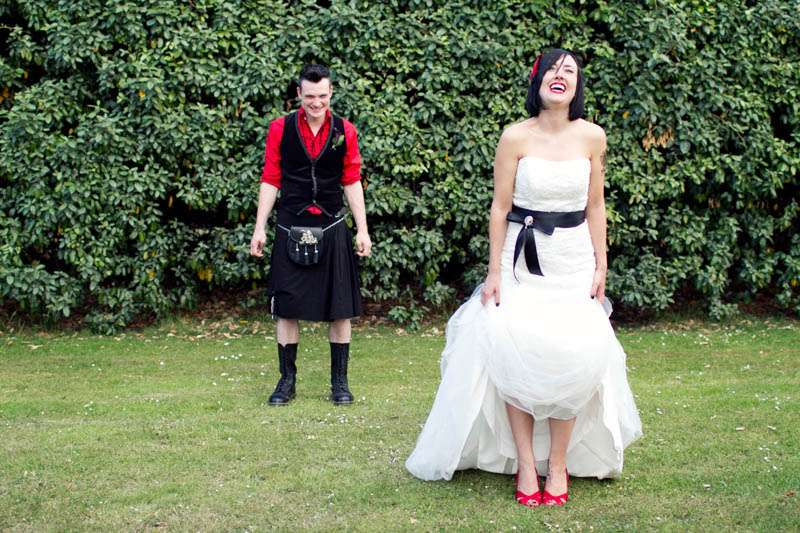 The wedding was held at the University of Nottingham, where the couple had met when living in halls, almost exactly 10 years to the date of the wedding. It was also where Steve proposed in December 2010, by the frozen lake, so needless to say the location was a very special one to them. "It was awesome being able to hold the reception back in one of the halls of residence, as everyone was able to stay in the student rooms so it was just like old times for us and our friends from University," Julia told me.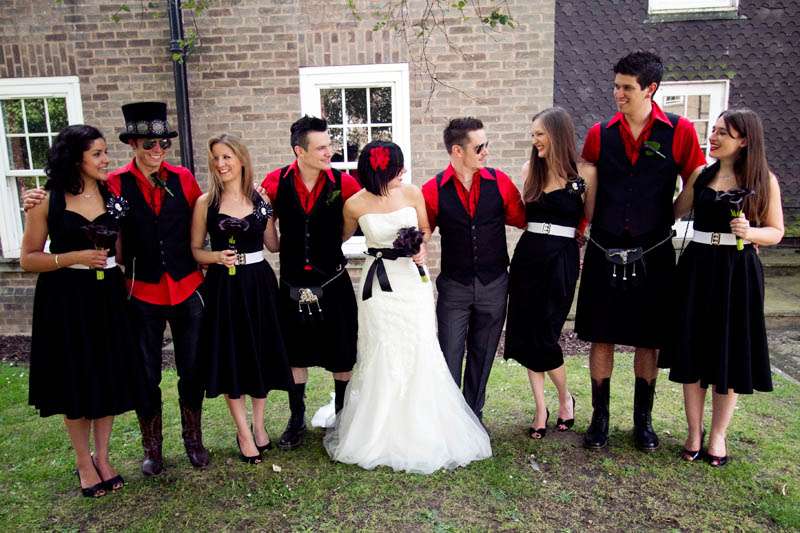 "Although our wedding followed the traditional format for the day, we just tried to make everything as personal as possible – we saw the day as the biggest chance we would ever get to celebrate with all our friends and family, and we just wanted the day to reflect all the various aspects of our personalities," the bride continued.  "We also wanted to make sure that our guests felt relaxed and able to wear whatever they wanted, drink and eat as much as they liked and go a little bit crazy! We were very lucky in the sense that our families are both open-minded and so we didn't have any pressure on us to do things by the book or in a certain way."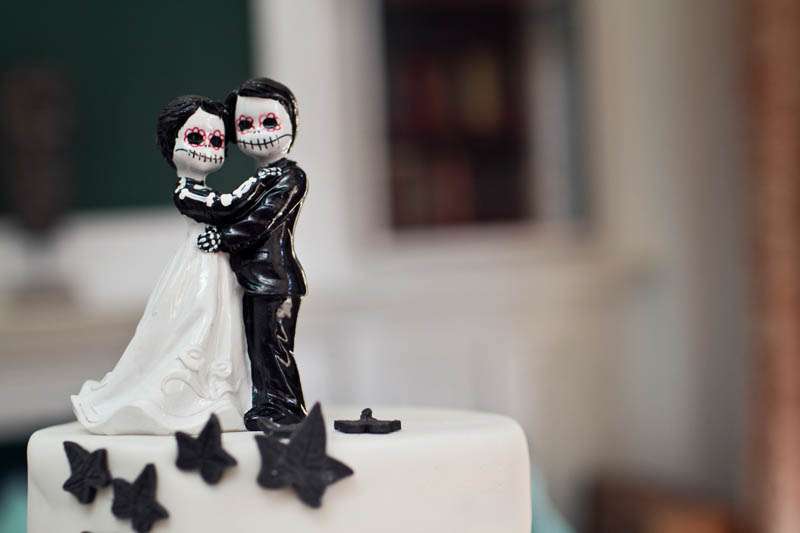 "We took inspiration from a variety of places – ideas from festivals and award ceremonies we'd been to, plus Day of the Dead and skull themed websites and blogs. I think what maybe made us Rock n Roll was that we didn't have a formal feel to the day, and tried to create an 'anything goes' atmosphere so that people could just have a really good time.We tried to focus our budget on things that we actually wanted at the wedding and things that would contribute to a big party atmosphere rather than things like chair covers, posh cars and silver service food."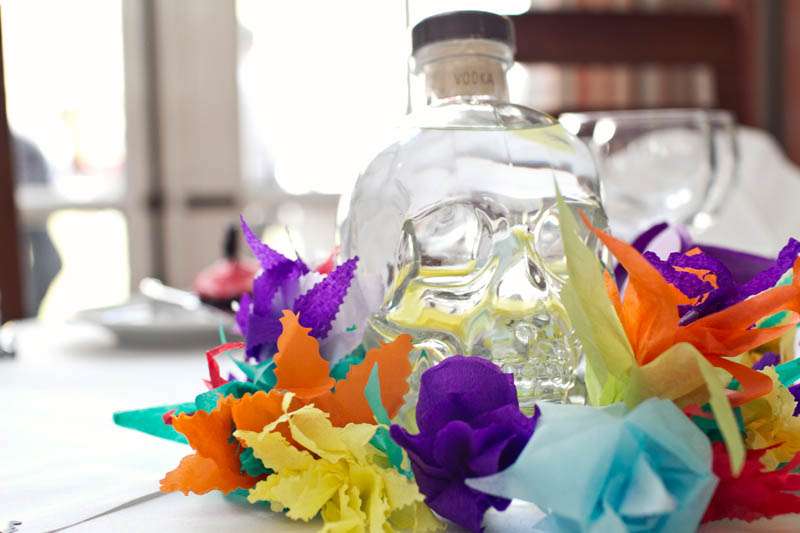 "We did as much as we could ourselves and cheaply – from making decorations to buying things from Etsy to getting a close friend to drive me to the ceremony instead of hiring a car. And by the end of the night there was stage diving a-plenty and crowd-surfing across the dance floor (by both the bride and groom, plus guests), which turned the disco into a pretty Rock n Roll affair! We are really lucky to have such amazing friends and family (some of whom are into the rock and metal scene, many not at all) who all really got into the spirit of the day."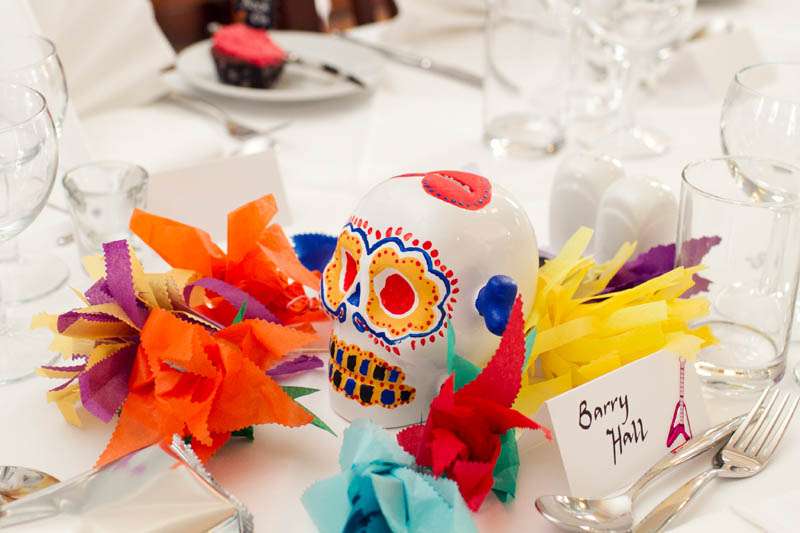 Putting their personal stamp on their wedding was clearly very important to the couple, and they also wanted their friends & family involved where they could be. So, the weekend of the Royal wedding, they hired a cottage and had a big 'wedding DIY party' to make all the decorations and favours.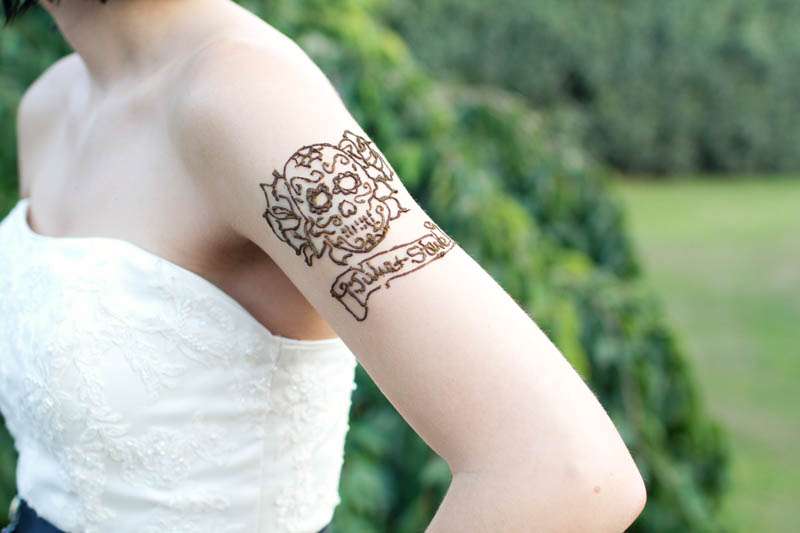 The entertainment was one of the most important things to this couple. On the day, the couple hired a temporary tattoo artist to inject something different into the day – that's not something you'd usually see at a wedding but I bet the guests were queuing up to have a go! They also had a rock karaoke band called One Night Standeoke who played in the evening.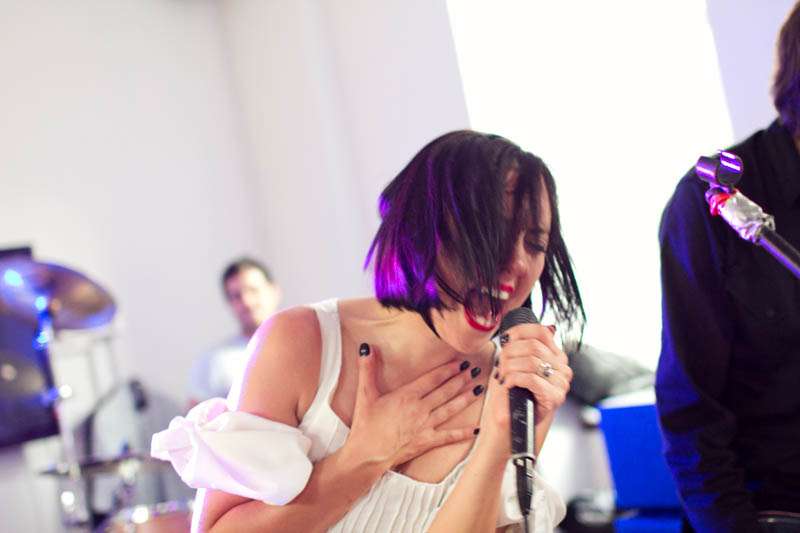 "As the wedding had a 'Rockstar' theme we thought it would be awesome to let people unleash their inner rockstar on stage (especially me, as I love rock karaoke and will use any excuse to get up and sing)," Julia remembered. "It seems we had more people with inner rockstars at our wedding than we thought, including aunts and uncles who leapt at the chance. The DJs were friends of ours who are rock/metal DJs that we met through our involvement with Download Festival (where we had out joint hen and stag do's!) and who were fortunately happy to play our whole, long range of song requests, from thrash metal to power ballads and Lady GaGa. The band and DJs were all awesome, and really helped create the party atmosphere we wanted."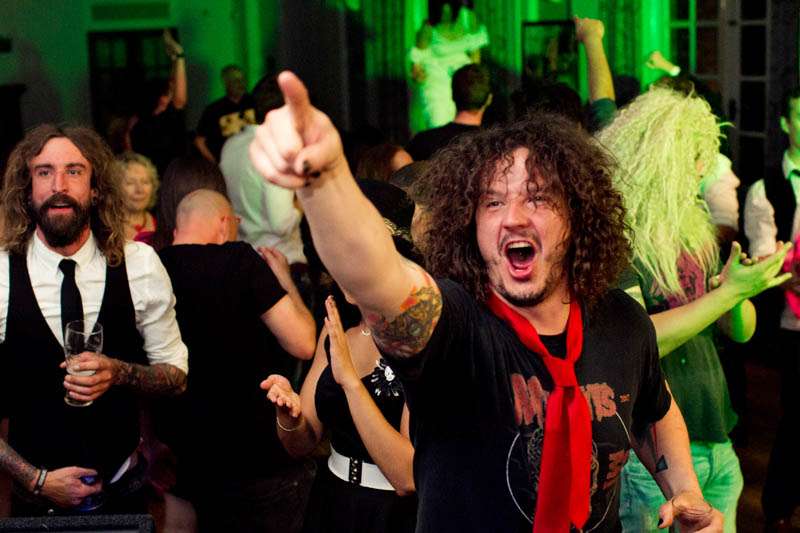 Thanks so much to Julia & Steve and their fabulous photographer Hannah Millard for sharing these today.
Photography Credit: Hannah Millard Photography
Ceremony Venue: The Ballroom, Nottingham Council House, Nottingham
Reception Venue: Florence Boot Hall, University of Nottingham
Bride's Dress: Francine by Rosetta Nicolini
Bride's Evening Dress: 1970's Vintage
Bride's Headpiece: BaroqueandRoll on Etsy
Bride's Jewellery: Crazy Pig
Groom's Shirt: Modern Age in Camden, London
Bridesmaid's Dresses: Vivien of Holloway
Bridesmaid's Cameos: DIY
Cake: Cake Perfections
Flowers: Flower Buds in Bramley, Rotherham
Band: One Night Standeoke