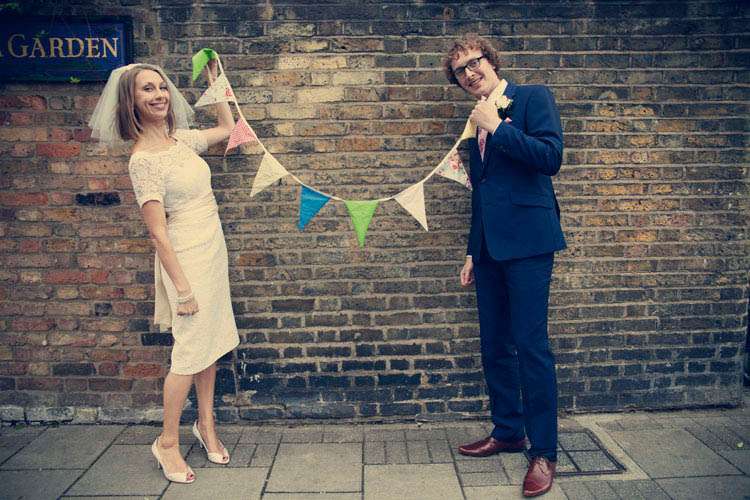 What's this? Another awesome wedding from my photographer buddy Assassynation? Yep that's right people, Sassy (aka Assassynation) really does get some of the very best wedding around…and the most awesome thing is many of them are Rock n Roll Bride readers so I get to then share them with you all afterwards. Yeey.
Lou & Chris had a simple wedding in London…and by simple I mean no fuss, no drama – just an awesome and super stylist day! They were married at Stoke Newington Town Hall, London which they followed up with a reception at The Londesborough pub, also in Stoke Newington.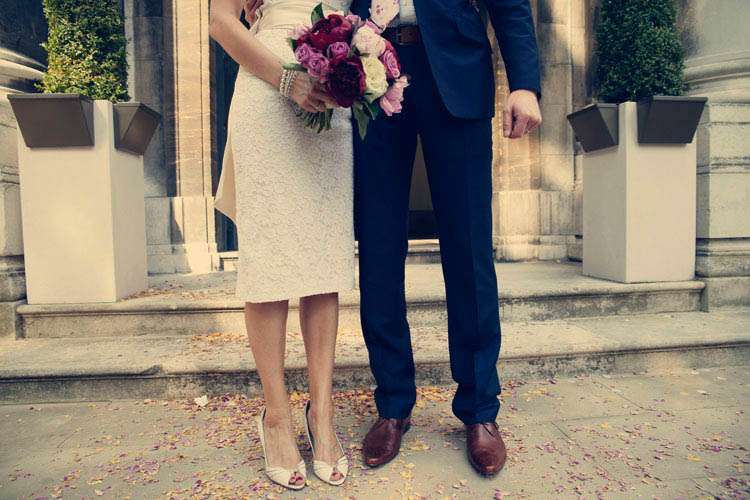 "Our dream wedding was just a handful of family and close friends and a quiet registry office service," the bride told me. "In all honesty, I was terrified of walking down the aisle and hated the idea of speeches. But we both have big families so, when we wrote down our list of essential guests, we realised that a small wedding was simply not an option. Instead, we decided to make it as personal as possible. We both work in magazines but were intimidated by the ideas in a lot of wedding magazines – we simply didn't have the budget or the inclination to have a big swanky bash. Thankfully, I found Rock n Roll Bride just in the nick of time and realised that it was fine to do things differently – big relief!"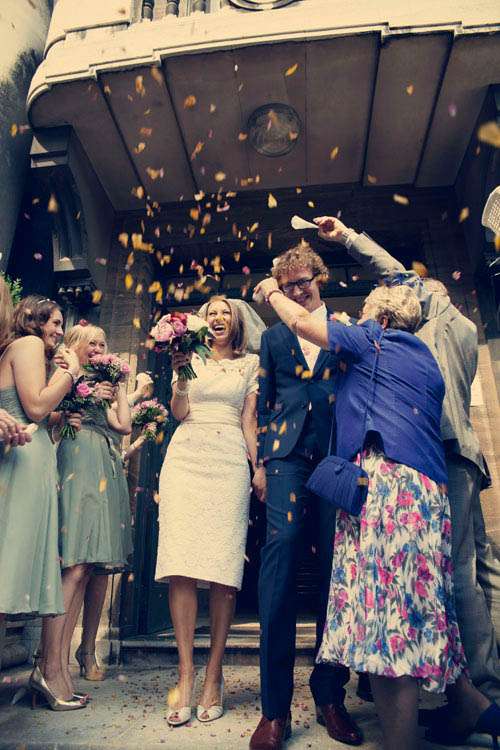 "We're not religious so didn't want to marry in a church and we didn't fancy a hotel either," Lou continued. "We looked at loads of venues in London and Yorkshire, where I'm from, from barns to restaurants to even an art gallery. Then we found the perfect place five minutes from where we lived. Stoke Newington Town Hall had recently been renovated and, every time we walked past and saw the grand pillars and art deco details, we'd both smile. When we had a wander around inside, we were equally blown away by it. We struck gold when we found the reception venue, The Londesborough – a gastro pub just down the road. Neither of us were interested in formalities or stuffiness and didn't buy into the whole 'princess for a day' thing – we just wanted the whole day to be full of meaning for us and for it to be fun for our guests. Thankfully, the pub's owners, Patrick and Greg Wright, were on our wavelength and happily allowed us to adorn the pub with homemade bunting and flower arrangements."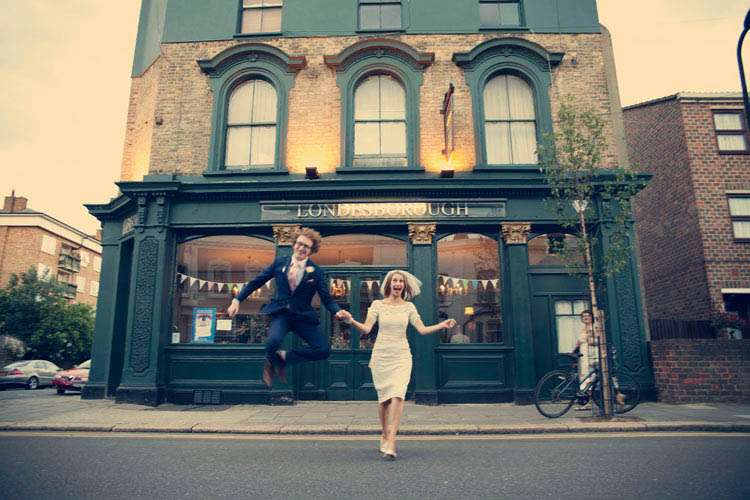 "We tried to use local suppliers. Chris designed our invites and we used a local printer. The florist was also just down the road from our flat. We also had the idea of using old books as place settings as they'd double as favours and give people something to talk about at the meal. I had a romantic notion about DIY-ing and envisaged myself wafting around serenely, creating all these wonderful little bits. It was actually bloody hard work and I spent many weekends hunched over my sewing machine making metres of bunting and matching cushions. Thankfully, my sister helped out with sewing but I had to buy some extra in – the Mr and Mrs Smith bunting and the outdoor stuff was all bought in a panic the week before the wedding, as well as some extra cushions from Primark."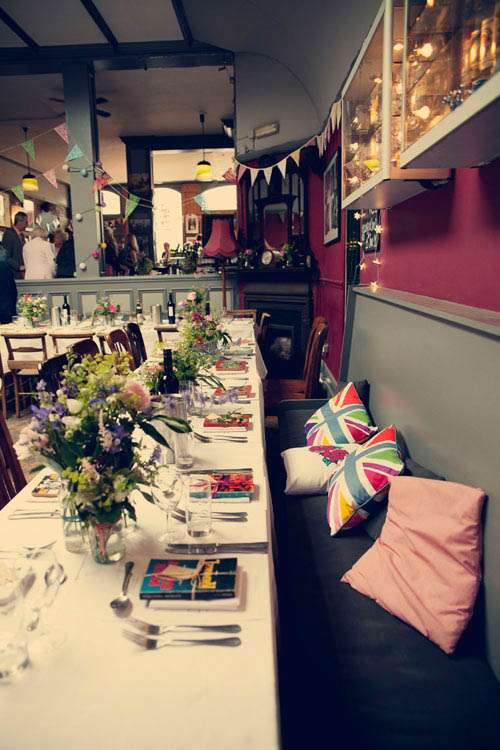 "We made all the table names and also the place settings which we made by by writing names on parcel tags, putting them on raffia and then wrapping the raffia around the books. We got books from second hand book shops as well as purging my dad and gran's book collections and we got a load of racy romance novels from the library – they were being sold off for 20p a book. We spent £20 max on the place settings and nearly all of them were taken home so they were definitely a success! We also saved money by using jam jars instead of buying vases for the reception flowers and dressed them up by wrapping raffia around them. Simple but really pretty."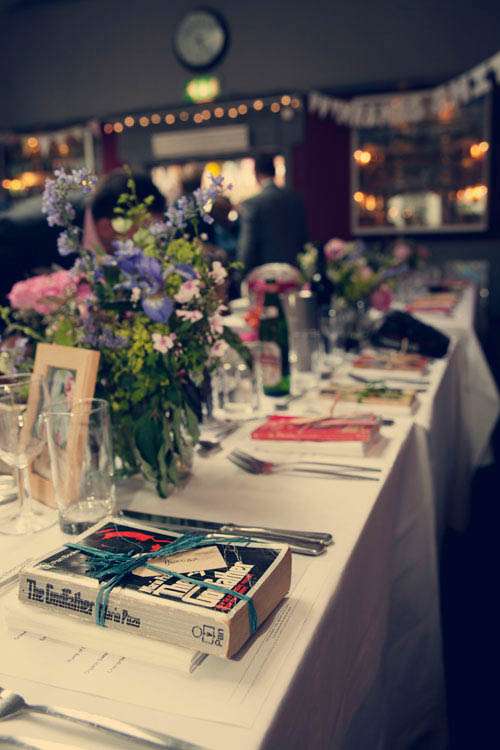 Lou went to my favourite dress shop for her vintage wedding dress, Fur Coat No Knickers in London. She explained, "When it came to my outfit, I always knew that I didn't want a long dress. When I walked into FCNK, I completely fell in love – both with the dresses and with Laura and Emma, who run the shop. They are both so talented. At first, I'd thought that I'd go with a prom style dress but then I tried on a long fifties number and they showed me how they could transform it into a wiggle dress complete with a sash and funky 'Priscilla Presley- style short veil. At every fitting I felt so comfortable in it and, on the wedding day, I even felt confident enough to make a speech." Lou teamed her dress with shoes from Rachel Simpson and jewellery which was a gift from her Gran.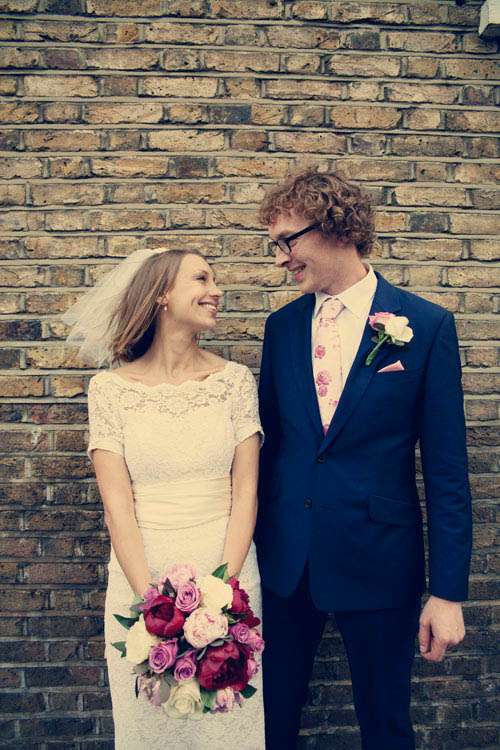 The photography was also really important to the couple, and I'm so excited that they picked one of my favourite ladies to shoot the day for them. "With the photography, it was important to us that the pictures captured the essence of the day and Sassy of Assassynation did not disappoint. She is such a calm person and she caught some really special moments, as well as all the fun bits, the decoration details and creating some really stylish shots too. We also had a little film produced by Frank Millar, which he set to our wedding music, and which makes us laugh and cry in equal measures. Everyone said how hard working and easy to get along with both Sassy and Frank were. I wouldn't hesitate to recommend them."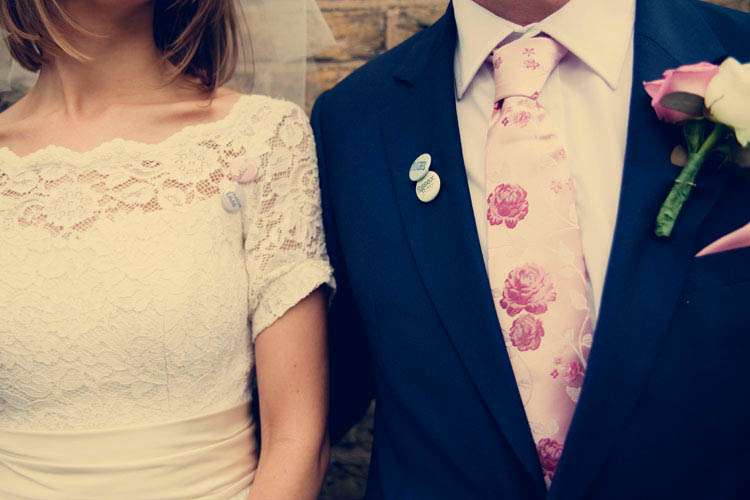 "Lots of people said that it was a very relaxed, fun wedding and I think that's because we stayed true to ourselves and tried not to care what anyone thought," concluded Lou. "On the day, the things that I'd worried about were my favourite part – walking down the aisle towards Chris was amazing and the ceremony was truly the happiest time of my life. Close friends did readings and my sister's boyfriend Ian performed 'It Must be Love' by Labi Siffre. It was just perfect and really uplifting and I'm so glad that we followed our hearts. Our families and friends were amazing with helping us out. My mum organised the reception flowers – she brought down loads of flowers from her garden and did the arrangements the afternoon before the wedding, with help from Chris' mum. And our families also helped us decorate the pub on Friday afternoon. Chris and his brother were out in pouring rain, putting up fairy lights in the garden, while the mums did the flowers and me, my dad, sister, auntie, my new sister in law Laura and one of our best mates clambered over chairs to pin up the bunting."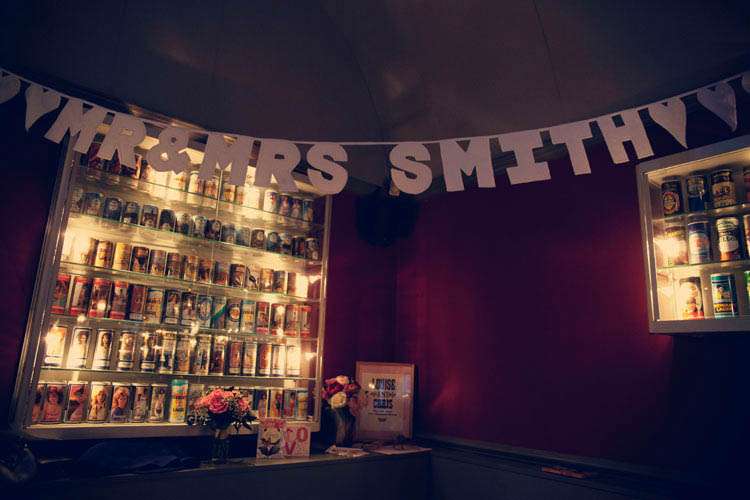 "To me, that summed up the whole wedding – it was about two families joining together and it was really, really special. Not everything went according to plan – our shoes got trashed and we have a sneaking suspicion that no one remembered to turn on the fairy lights in the garden but we were having too much fun dancing to care! Our wedding day was messy and imperfect but it was real and so much fun and we wouldn't have had it any other way."
Yey!! This wedding makes me so happy. Don't forget to check out the video too…wow.
Thanks to Lou & Chris and Sassy (photography) and Frank (video) for sharing this wonderful day with us today.
Photography Credit: Assassynation
Videography Credit: Sassy 'n' Frank
Ceremony Venue: Stoke Newington Town Hall
Reception Venue: The Londesborough pub
Bride's Dress: Fur Coat No Knickers
Bride's Shoes: Rachel Simpson
Bride's Headpiece: Fur Coat No Knickers
Groom's Outfit: Reiss
Bridesmaid's Dresses: Coast
Bridesmaid's Purses: Susie (Sister of the Bride) of Daft Apeth
Cake: Pimrose Bakery
Flowers: Evergreen and Outrageous, Stoke Newington (no website)
DJ: Prince Nelly
Hair & Make Up: Sarah Bullett
Bunting: Jonny's Sister & hopscotchhandmadegifts.co.uk
Badges: Lazy Susan
Penguin cake toppers: Bunny with a Tool Belt
Poster: A Two Pipe Problem