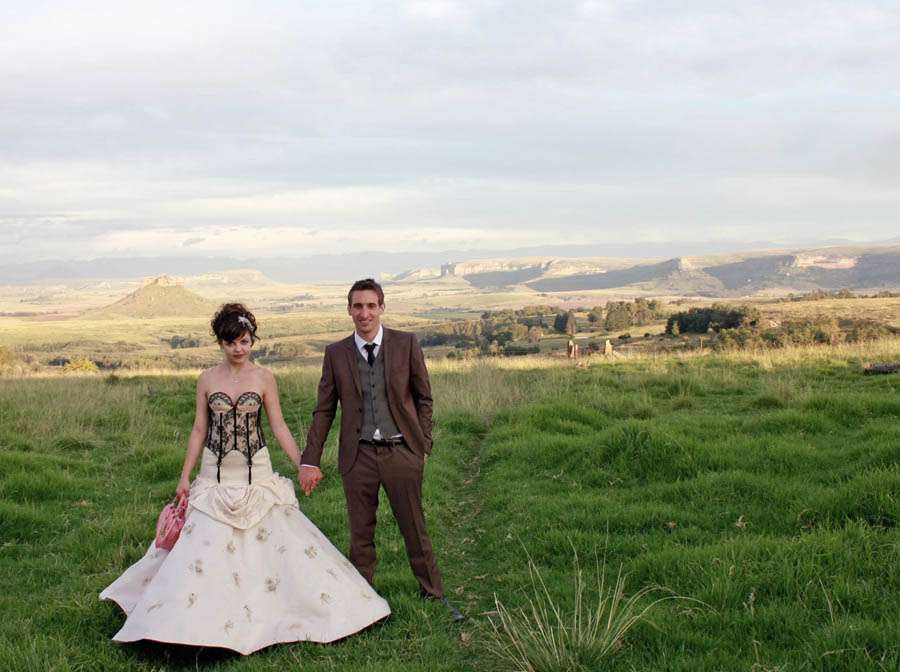 I love Elbie… love love love! She is the hair & make up genius behind many of my photo shoots, including the Mad Hatter Beach Shoot, the Tattoo Revolution magazine shoot and my rainbow hair for the Big Fat Wedding Blogger's Photo Shoot! Elbie is one hell of a cool chick, so when I heard the she was getting married in South Africa this March I pretty much laid claim to blogging her wedding before she'd even had the chance to tell me anything about it!
Elbie married Derek at Glen Skye, a farm owned by her uncle and aunt in the Eastern Free State, SA. Elbie's Mum pretty much organised the whole affair as both Elbie & Derek now live in London. She even made her daughter's dress based on a Dior pattern! I was particularly excited to see how her dress ended up, as we'd had long conversations in the run-up to the wedding about what it was going to look like.
She explained, "My Mom orchestrated the WHOLE wedding for us. We planned the wedding over the internet, she would send me pictures of the dress progress, and I'll send her drawings of what was in my head."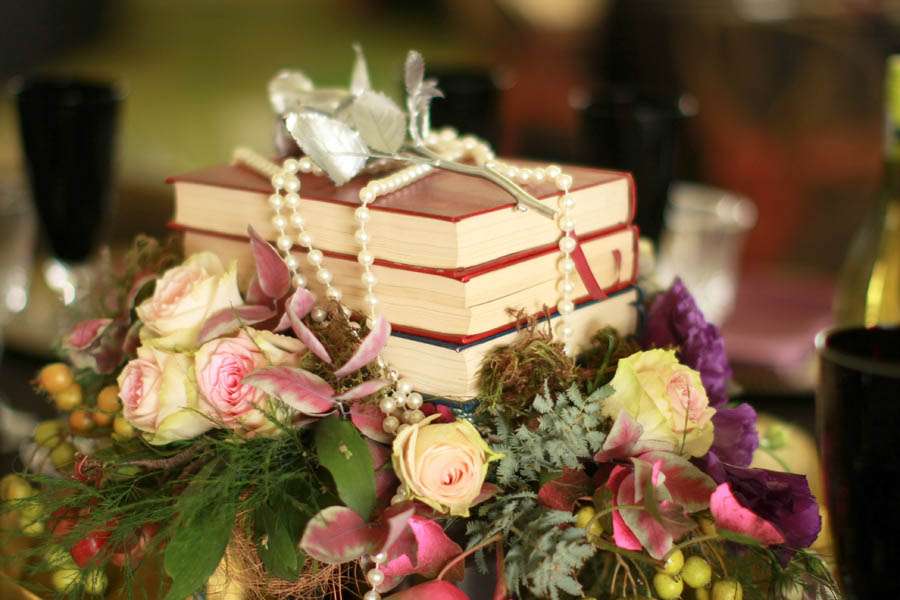 "The dress was made by my Mom, after I showed her a fabulous couture gown I liked – she had to design and make it with only ONE fitting of a mock-up a year before the wedding!  She is a little bit magic and we both were VERY relieved when I tried it on for the first time and it was PERFECT! There were about 18 metres of hoop in that gown, but it was surprisingly light! She also made my hairpiece, using beads to make little flowers, and adding gemstones and a piece of a broken tiara that belonged to my grandmother, Elbie Senior."
With her custom dress Elbie wore shoes Irregular Choice and Doc Marten Dee boots for the evening. The lucky bride also carried a Vivienne Westwood handbag that Derek gave to her as a wedding gift!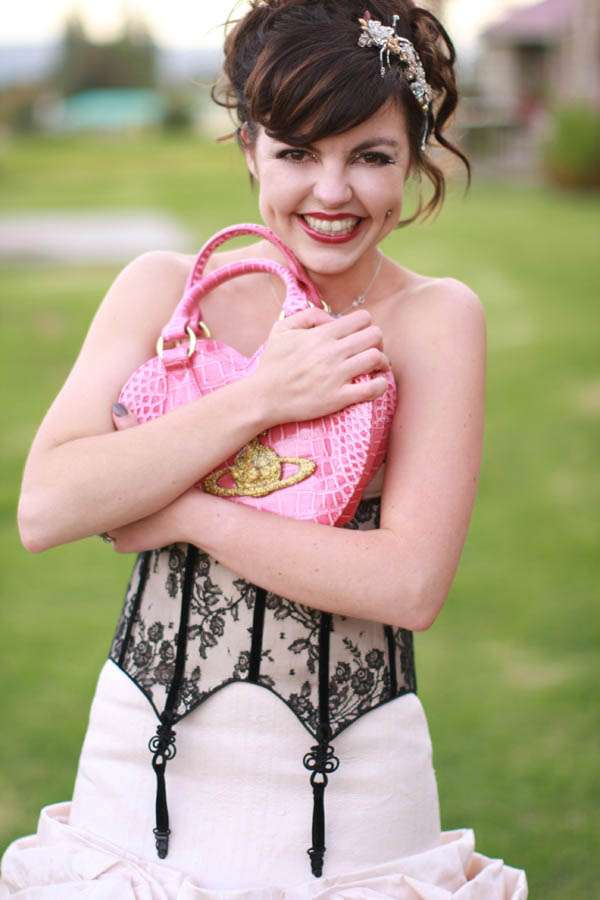 "My Mom also made the bridesmaids dresses, the cake, the flowers, the décor, (every table setting was a little bit different, shoe of my great-grandmother were sprayed silver for Elbie-ness- my Mom's quote ) and they MADE most of the steel 'props' with my dad (they do that for a living)" Elbie continued. "The wedding arch and birdcage were made by them, and the groom made the cake stand as well as the princess and the frog cake topper in bronze!!!  The parasol was a last minute addition, a present given to me by my mom-in-law and her 4 sisters.  My bouquet's flowers wouldn't open in time, and the parasol worked beautifully!"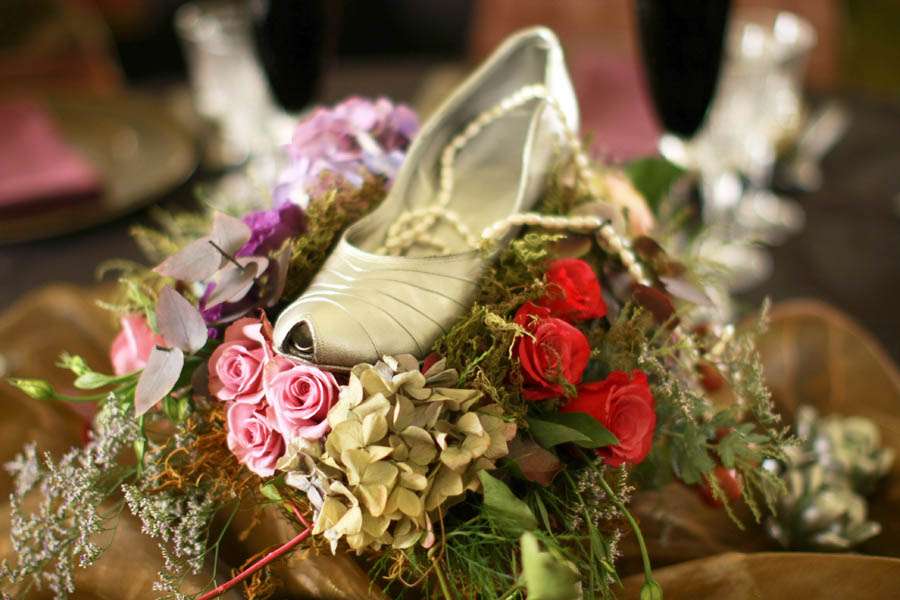 "We spent two weeks before the wedding to prepare everything, from making signs to spray-painting hydrangeas (a trick I learnt while working on the Wonderland project.) Oh, and a valuable DIY lesson – never throw anything away.  My Mom is a creative genius who could make things out of nothing. We've exhausted ourselves (and my poor father and my then-fiancé), because everytime they thought everything was sorted, we'd come up with a new idea!"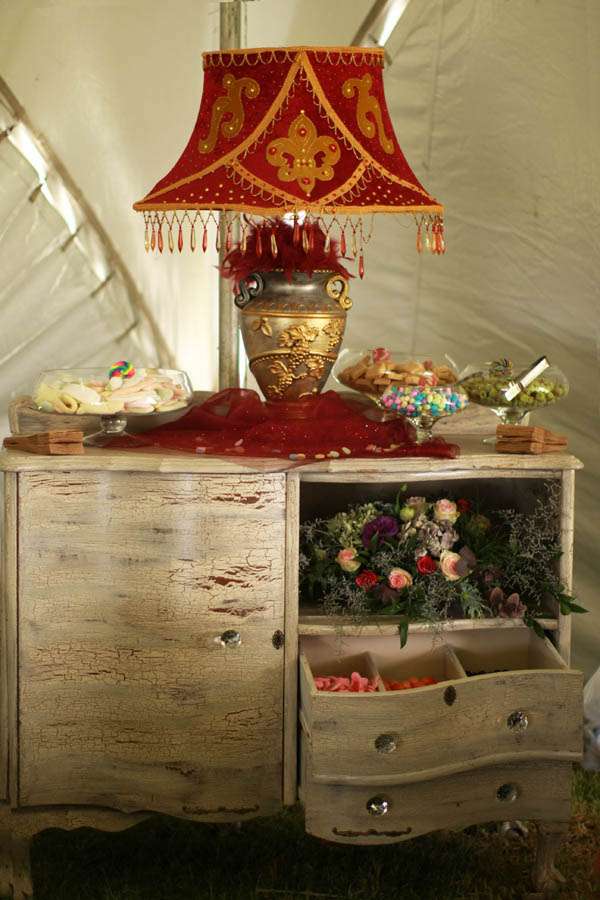 The evening reception was also a special one, with Elbie fulfilling her childhood dream of singing to her new husband, " When it was my turn for my 'speech', my talented brother accompanied me on keyboard so that I could serenade my groom with 'Don't Stop Believin' – by Journey, not the Glee cover!  (there's a pic of him staring at me in shock/wonderment!)" she told me.
"We had so many people helping us out, borrowing stuff or giving it for free, we really got a sense of community there," the bride concluded. "We had our relaxed, but opulent wedding. I have never dreamt of a white wedding, and wanted a festive, overgrown, eclectic day."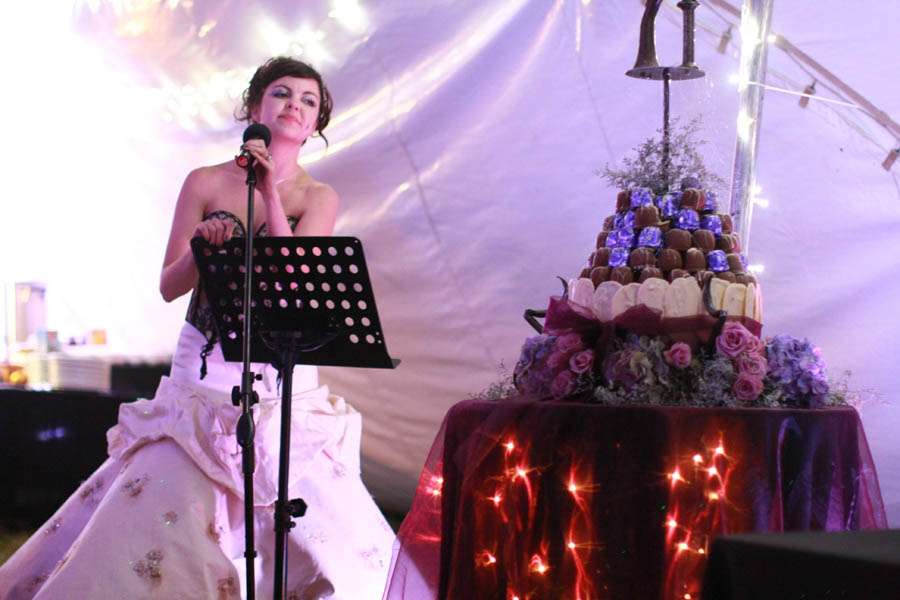 HUGE love and congratulations to my girl Elbie and her husband Derek and thank you SO MUCH for allowing me to share your awesome day with the readers of Rock n Roll Bride today.
Photography Credit: Ruan van der Sande
Venue: Glen Skye, SA
Bride's Dress: DIY (Mother of the bride)
Bride's Headpiece: DIY (Mother of the bride)
Bride's Shoes: Irregular Choice and Doc Marten Dee boots
Groom's Outfit: River Island
Entertainment: White Feather Productions wfstudio@gc-tech.co.za
Catering: Granaat Spyseniering granaat@gaffie.co.za
Hair & Make Up: DIY (Elbie Van Eeden)