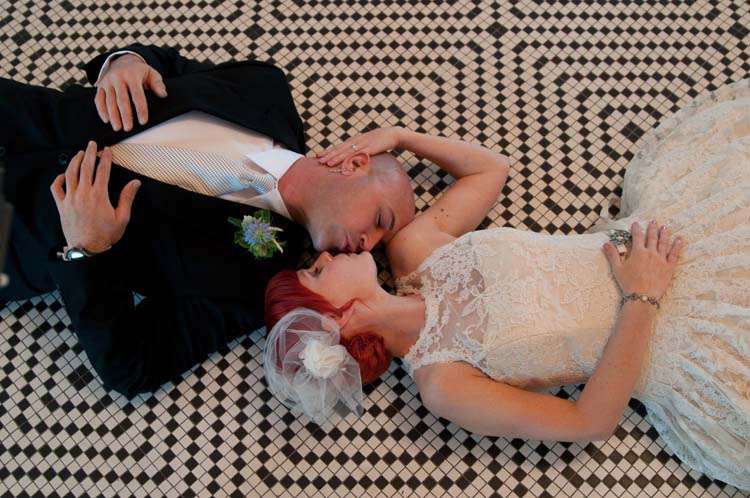 Kennon & Bob's "double rainbow" wedding is a perfect example of why less than perfect weather doesn't have to spell a disaster for your wedding or your wedding photographs!
The wedding was held at South Shore Cultural Center, Chicago – the same venue that The Obama's held their wedding reception! The couple also loved the venue because all their rental fees are given to support arts and cultural programming in the area. "If you asked our family and friends, they'd say that we're Rock n Roll because we have tattoos and piercings, aren't traditional or religious, go a lot of concerts and love to throw parties," the bride told me.  "Ok, we agree.  We just didn't want a cookie-cutter wedding.  We wanted nothing to do with dowries, religious figures or treating women as possessions. We wanted to share our beliefs in marriage — love, respect, equality, friendship — and to throw one hell of a party!"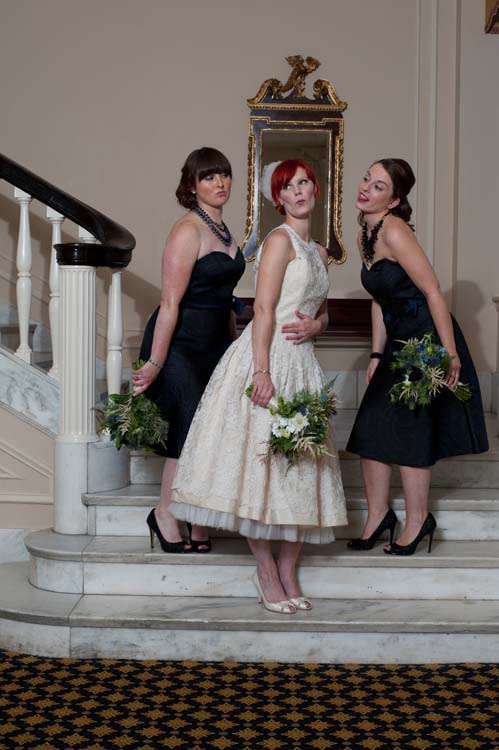 "My goal for the "theme" was to have it look like anthropologie threw a wedding.  I gush every time I'm in that store and I wanted to replicate the mix of vintage, quirky, green and modern elements in everything from the cake to the centerpieces to my dress. Bob and I are incredibly goofy, so it was a pretty fun, casual affair in an extremely gorgeous venue. Our poet/geologist/apple-farmer/rooftop gardener friend Dave married us in an Ethical Humanist ceremony that we all wrote.  Music was a HUGE part of our wedding — Esperanza Spalding to Howlin' Wolf.  We planned everything ourselves — the groom helped A LOT! We made out own DIY invitations, programs, menus, seating chart, donation cards, family photo collage — this was a really fun and long process; I visited dozens of paper shops and online sources looking at design ideas; purchased most of our materials at Paper Source, Michael's, and Target (design paper, envelopes, stamps, ink.)"
Kennon's tea length dress was Jessica" by Renella DeFina. She wanted the vintage look for her gown and not only found it on sale at Kasia's Bridal, but she was able to get a further discount on it because she offered to donate some canned goods to the store's Thanksgiving food drive!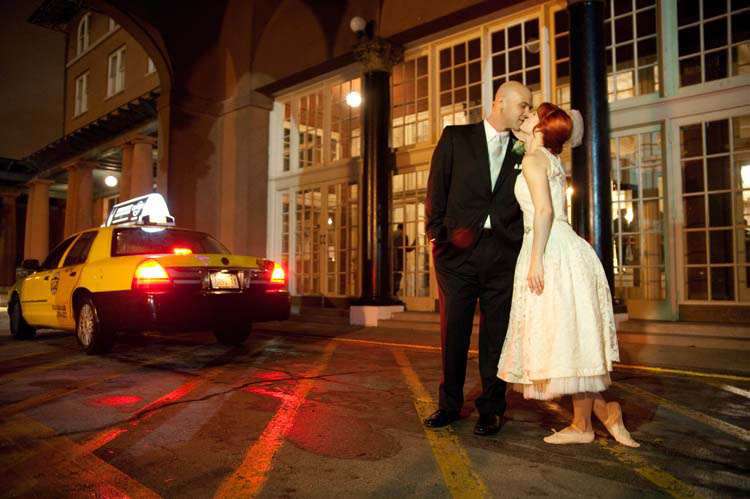 Huge love and thanks to the gorgeous Kennon & Bob for sharing their beautiful wedding with us today
Photography Credit: Studio Starling
Venue: South Shore Cultural Center, Chicago
Bride's Dress: Renella DeFina
Bride's Shoes: "Chelsea" by Grace Footwear
Bride's Headpiece: "Wendy" by Sara Gabriel
Bride's Jewellery: Vintage
Groom's Suit: Joseph Banks
Bridesmaid's Dresses: David's Bridal
Jazz violinist: Tony Ballog
Hair/Make Up: Mops Beauty Shop
Cake: Bleeding Heart Bakery
DJ: Toast&Jam
Flowers: Asrai Garden