For most brides-to-be the dress is the number one most important thing they'll choose for their weddings. In fact in the mind's of many girls it's the most important dress they'll ever wear so getting it just right is key. This month, our resident intern Alice talks about her hunt for the perfect punk rock princess wedding dress…and one that wouldn't break the bank! (and I'm pretty chuffed that I was able to help her out with that one)
Enjoy, and as always, show some love in your comments…
♥  ♥  ♥
I'll be perfectly honest with you; a wedding dress was never high on my to-do list when it came to planning my own wedding.  In fact, until I went to the Designer Wedding Show I had never even seen a wedding dress in the flesh before!  Through watching their Designer catwalk show I was able to see examples of all the things that were previously foreign to me, and began to develop my own 'bridal taste'.  I knew from one look that the Delphine Manivet short dresses were right up my street, and that the Lisa Redman dresses were perfectly whimsical and modern at the same time.  I was like a kid in a candy shop!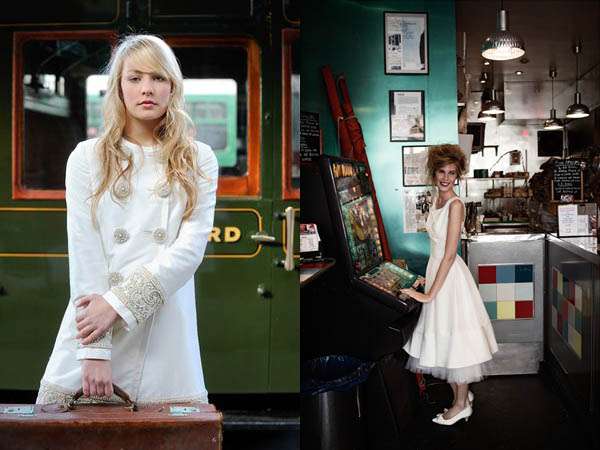 I fell in love with the gorgeous short dresses from the Lisa Redman range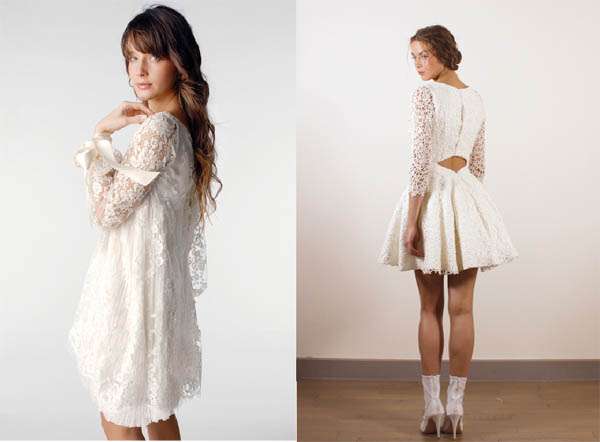 Delphine Manivet 's dresses are the perfect mix of quirky and classic but with a hefty price tag!
Taking all these ideas home was wonderful, and I collected look-books from all the designers that were there, so that I could go over them with Graham and see what he thought.  Some may say that involving the groom-to-be in the dress decisions in unlucky, and untraditional, but I disagree.  It was lovely seeing these beautiful outfits from a male perspective, and especially through my man's eyes.  Our wedding is a loving collaboration, and why should the dress be treated any differently?  One part of this experience I didn't like (at all!) was the hefty price tags that some of these dresses had attached to them.  For many of the designers I liked, their off the peg range started at nearly £2000, which they were definitely worth, but I just couldn't afford.  It began to upset me when the thought kicked in that I would never be able to have the punk rock princess wedding dress of my dreams.  It was as I vented these feelings on the coach to Sloane Square with Kat that a certain Brighton dressmakers name was mentioned: Joanne Fleming…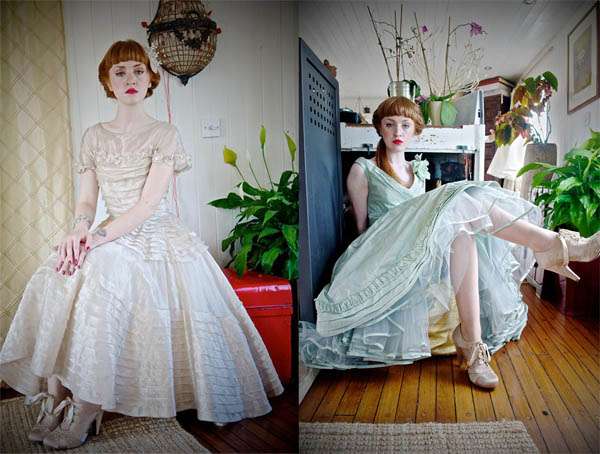 I googled Joanne's name and found not only a lovely website but rave reviews from other brides that had used her design-making genius for their own weddings.  This was a lovely bit of assurance, knowing that she had a lot of very happy customers!  I sent an email to her and she invited me to come along for a (free!) consultation where we could look at fabrics and discuss ideas etc.  I took a friend along for moral support, and went along to her studio in Brighton a couple of months ago.  As soon as Joanne opened the door and I got a view of her studio I swear I thought I was in a vintage-themed heaven.  A huge rail full of Jo's creations lined one of the walls, and a number of mannequins wore some of her dresses.  Half an hour later and I left the studio, with the promise that within a week she could send me an email with a full design of the dress that her and I had discussed, with details on fabrics, embellishments and the all important quote.  Needless to say, that week couldn't go quick enough!
When the email arrived-well, I'll let the photo speak for itself!  Absolutely stunning.  And with Joanne's bespoke prices starting at less than £1000 it was a luxury I could actually stretch to!  Being able to help design your wedding dress is the kind of thing that you may think is completely out of reach, but I think I am proof that it really isn't.  Sitting in my living room and going over satin and chiffon samples with Graham is an experience that money just can't buy, and something that I will cherish forever.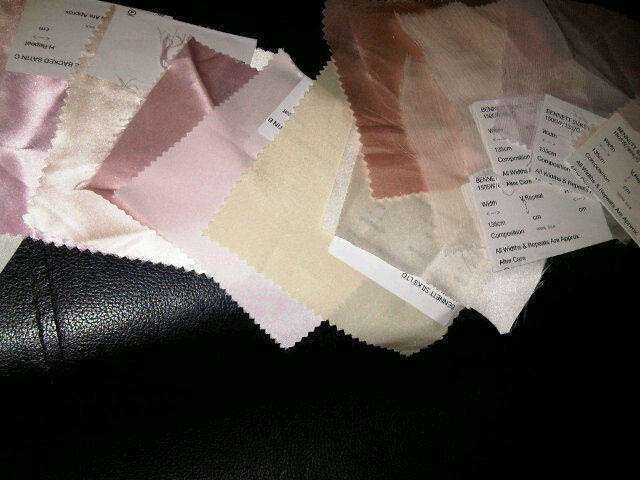 If you do decide that the bespoke option is for you then word of mouth really is the way to go.  Ask your other vendors (venue, hairdresser, florist etc) if they have any contacts that they would recommend.  This way you are more likely to find a hidden gem, and get a competitive price.  Also networking at wedding fairs is priceless…people in the industry will have a wealth of experience in dealing with other industry personnel, and so a good recommendation will be worth its weight in gold.  Shop around and get quotes from all your local bridal stores, as you can nab a designer gown at high street prices if you're a savvy shopper and wait until sample sales.  Having a good rapport with your dressmaker is key too; they are going to be a major part of your life for months, and your memories forever.  If there's no natural spark between the two of you, and a coherence of ideas and vision, then it's unlikely it will be an enjoyable experience.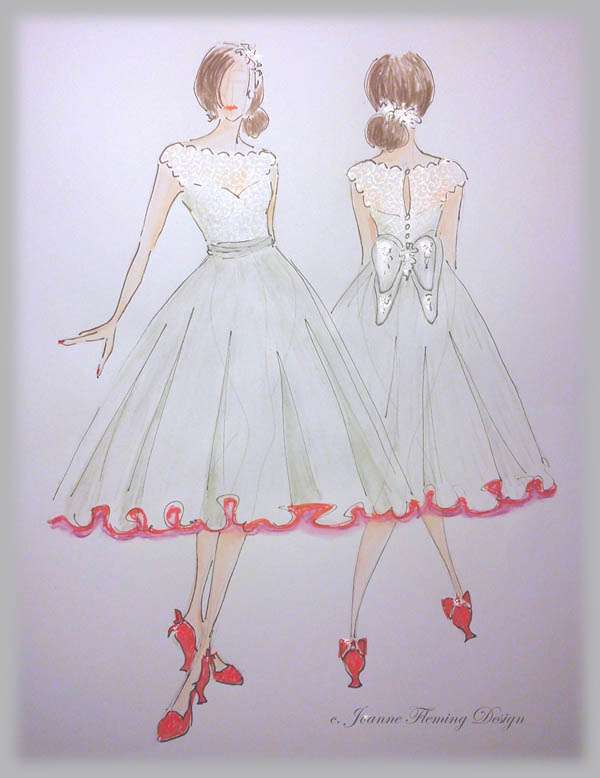 My dress. I can't wait to wear it!
So in the new year I am going for my first fitting (I have to have five!) where apparently she will take my measurements and make a 'mock-up' of my dress design for the first few fittings. The beauty is that I can change/alter/introduce any elements at any time during the whole process, a freedom that creatively is so freeing, and so very Rock n Roll.
For more of Alice's adventures in Weddingland, be sure to keep up to date on her blog, Petticoats & Poisons.