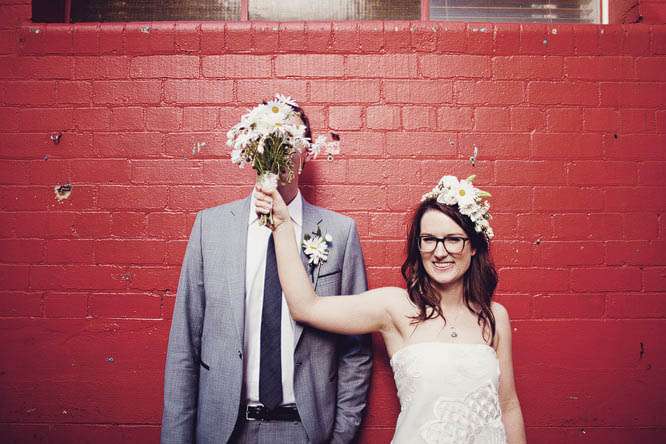 Like pretty much the whole of blog-land, I am uber smitten with anything Jonas Peterson produces, so when he sent me a super secret sneak peek of Eliesha & Joel's wedding a few weeks ago I was literally jumping up and down with anticipation of featuring it. A gorgeous couple (hello geek chic fabulous – how much does Eliesha rock her glasses?!) a stunning location and awesome photography – how can you go wrong?! Oh and don't even get me started on Eliesha's floral head band…I literally die!
The ceremony took place at Fitzroy Gardens, Melbourne. "My Dad built me a double doorway to walk through when I arrived at the gardens," explained the bride. "I think the logistics of getting it there and set up almost killed him, there was bizarre deals being made with the council and nearby hotels, a couple of our bigger, stronger (more manly) guests had to have dust coats handy to assemble and un-assemble, but it looked so gorgeous, and actually getting to step through the doors, and seeing Joel waiting for me at the end of the aisle **big girly sigh** it was totally worth the hassle."
"Joel's mum sewed the flags posing as our "altar" – we like flags.  The best bit about the flags was Joel choosing the fabric – I'm pretty sure he secretly likes doing "girly" things – and it's not as big a secret as he might like to think!"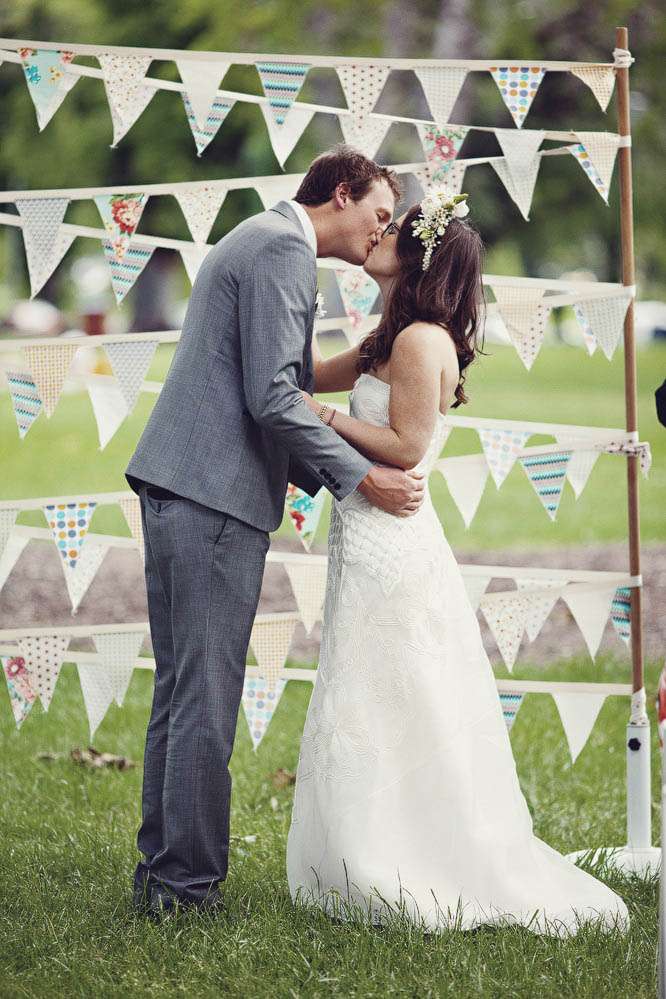 Following the intimate ceremony (in which they included some really special readings; Litany – by Billy Collins, Us Two – by A.A. Milne and Oh! The Places You'll Go – by Dr. Seuss) the wedding party headed to The Italian in Melbourne (an Italian restaurant surprisingly!) for the reception. The restaurant served an amazing selection of scrumptious Italian food as well as providing a unique but gorgeous venue for the party. "The actual venue itself is stunning– three levels and an outdoor courtyard, the decor is beautiful, simple and classic," Eliesha continued. "We also kept the venue set up as a restaurant (ie. no super long tables, or all round 10s) – we wanted to try and keep the feeling that we'd all kind of just spontaneously decided to go out to dinner together – so the tables were a mix of 4s, 6s, 8s & 10s, just as they would usually be for a dinner service."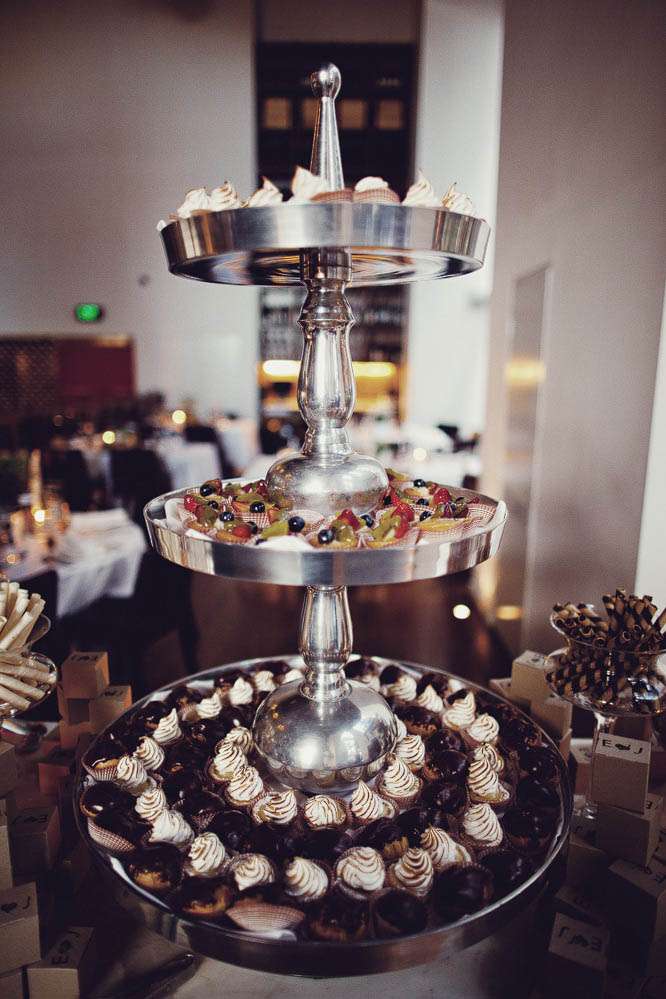 "I had fun doing the seating plan too – we both have big families (actually, not true, Joel has a big family, I have a huuuuuuge family), so most of our extended family members had never meet, as well as friends from work – and the last thing we wanted was segregation – so I mixed it all up in a massive way. This was a huge success.  I had people claiming they'd made new best friends, there's some fairly risque photo booth photos of people who had never even spoken before and watching facebook over the next couple of days was awesome – all of our friends and family were suddenly adding each other as friends and sharing photos (and some fairly suss "in-jokes") – I'm totally taking credit for the lot of it!"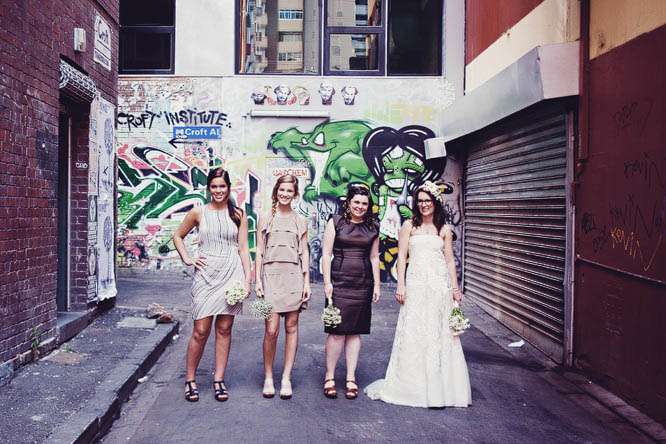 Eliesha, who is a fashion designer, wore silk and linen dress with french embroidery by Akira. "Due to my job, I found out the other day that there was a pool going over what my dress was going to look like!" laughed the bride. On her feet she she wore clogs (oh yes, how amazing?!) by Gorman, which are something she actually wears and loves every day! " I interned at Gorman when I was at fashion school and my first job "in the industry" was as at Gorman, as a temp, sketching, all day, every day and I've been wearing Gorman clogs ever since (my current every day pair have been on the go for about four years) – so now clogs are all of a sudden all fashionable and I'm like "hey, I'm totally on trend now" and think I'm cool – plus my clogs have been a bit of a running joke at work for awhile now – so it just would've been wrong to not wear clogs at my wedding  – and I was probably the only person who didn't have deadly blisters by the end of the day – all in all – pretty damn happy about the choice of shoes."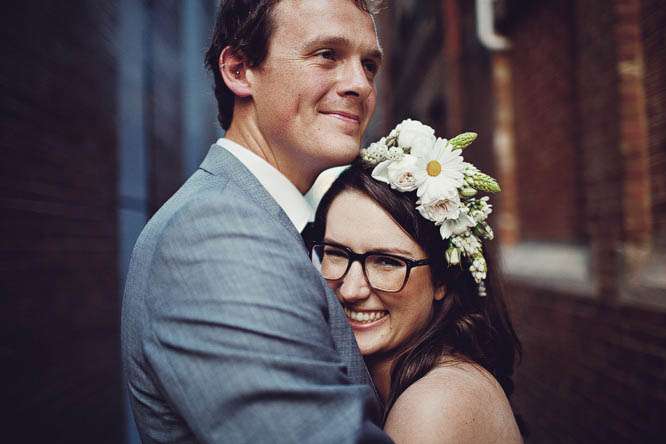 Her incredible flower head band was created especially for her by Flowers Vasette. Eliesha showed her florist some inspiration pictures and away she went. They chose the same flowers in the centrepieces, boutineers and bouquets to tie the whole look together. "My favourite flowers are white daisies.  I wanted our bouquets to look simple and fresh, like they'd just come of of the garden.  For the reception venue we had a vase of flowers on each rectangle table – lots of green, white highlights, same feel as the bouquets.  I don't like things to look "arranged". I went to Gaylene with the above – pretty vague, non?  She is magic.  The flowers were insanely beautiful."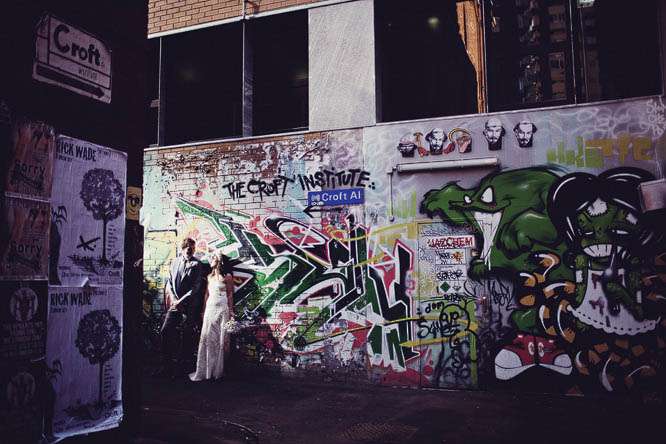 The couple went mad over their dessert table (in a good way!) "We didn't really have a traditional cake. We did have an extremely cool cake topper on our dessert table though. It's a giraffe and a squirrel and it now lives in our lounge room. We bought it from Etsy seller Melabo. We also had a giant tiered stand of  teeny weeny cakes from my most favouritest patisserie Brunetti. Lemon Meringue Pies are probably my favourite thing in the world (they were also my Grandma's favourite thing in the world) and you can't really beat miniature Lemon Meringue Pies, right?"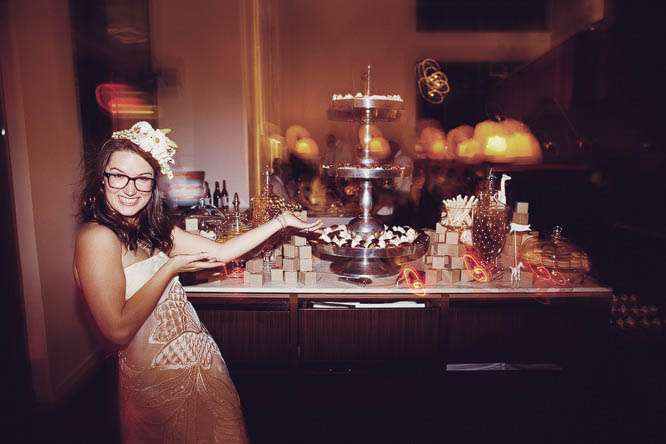 "We also went a bit DIY on the ol' dessert table. I hired/foraged for some jars and assorted other dessert holding devices and filled them with some of our favourite things – chocolate covered raspberries, milk bottle lollies, pretzels and my awesomely famous, top secret recipe chocolate chip cookies. Oh – and – just to make things even more interesting (or slightly odd, depending on your point of view I suppose) we both have a bit of a thing about m&ms being sorted into their respective colours.  Those little cardboard boxes = 12 kilo of m&ms – p.s. it takes approx 1 hour for 1 bride-to-be to sort 2kg of m&ms – you do the math!"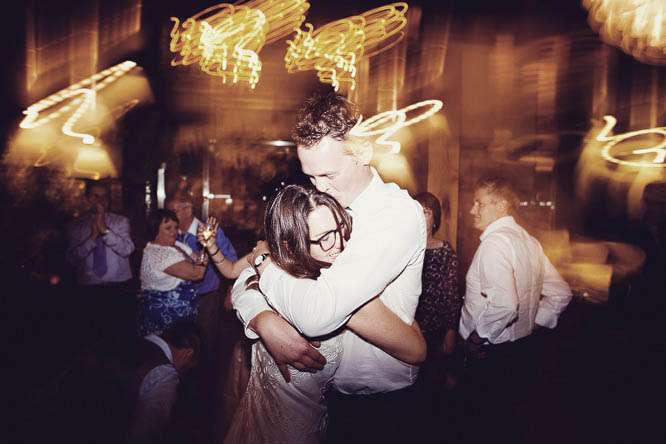 I have a serious amount of love for this wedding and this totally rad couple. I am mucho mucho chuffed to be sharing this today. Huge thanks to the wonderful couple and of course Jonas Peterson!
Photography Credit: Jonas Peterson Photography
Ceremony Venue: Fitzroy Gardens, Melbourne
Reception Venue: The Italian, Melbourne
Bride's Dress: Akira
Bride's Shoes: Gorman
Bride's Flower Hair Band: Flowers Vasette
Bride's Bracelets: Scosha
Bride's Necklace: An art deco ring with an emerald cut aquamarine that Joel originally proposed with , put on a chain
Groom's Suit: Bespoke
Groom's Watch: An "Everyday Special" watch from Mr. Jones Watches (Gift)
Groom's Heart Pin: Sudlow on etsy
Bridesmaid Dresses: Willow
Bridesmaid Shoes: Gorman
Bridesmaid  Jewellery: Scosha
Flowers: Flowers Vasette
Cake Topper: Melabo on etsy
Band: Shamdoogie
Hair & Make Up: Beautique Creative