This month's issue of Photo Pro has hit the news stands and this month I've been writing all about the awesome Marianne Taylor and those gorgeous french weddings she's been doing recently! Enjoy…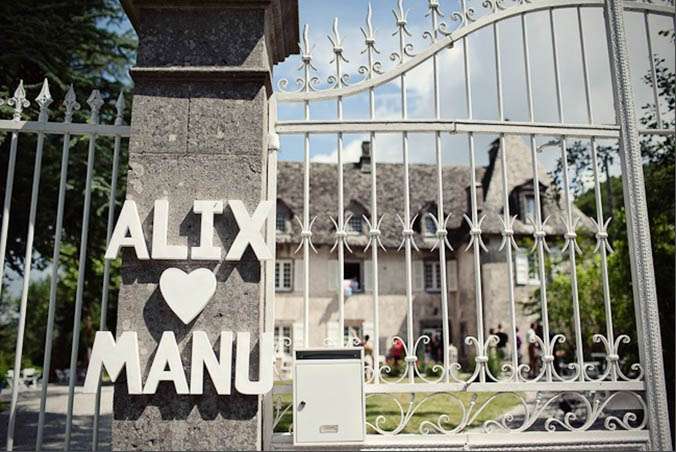 Finnish born wedding photographer Marianne Taylor moved to the UK in 1999. She had originally planned to stay for just five months, but after meeting her now-husband, she decided to move over here permanently. Inspired by real life, real emotions, light and colour she aspires to create crisp, clean images which have the power to evoke the emotions that the subjects themselves might experience when looking back on them."I am all about telling the story, but in a slightly romantic sort of way," she says, "as I try to illustrate all the emotion of the day. What inspires me as a wedding photographer is revealing all the different layers of a wedding. There is beauty on the surface, in all the details, but there is also a deeper level of beauty present, beauty in the human interactions, in the real joy and the flow of emotions that abound on such a special day."
When starting out in her current business, her work appeared to strike an almost instant chord with the UK market, and in her first full year shooting weddings (whilst she was still working full-time in magazine design) she shot 14 weddings. After taking the plunge into fulltime photography only last April she has booked 32 weddings for 2010 and is well on her way to filling 2011. Marianne's success has translated into magazine and blog features, with her work being showcased everywhere, from magazines such as Cosmopolitan Bride, Wedding, Perfect Wedding and Wedding Flowers through to wedding blogs all over the world including Style Me Pretty, Wedding Chicks and, of course, Rock n Roll Bride!
Blogging was something that Marianne found an instant affinity with, since she was unable to share all her thoughts and feelings by simply adding a few choice images to her portfolio and was looking for a format that would allow her to speak in her own words. "A blog gives me the freedom to post as many pictures as I wish and really show what gets captured on the day," she says. "I don't even think about blogging as marketing as such since, for me, it's the way I present a client with their memories. The added bonus is that potential clients will know exactly what they can expect, which means that most of the people who contact me are already on the same page right from the start. This means that I mostly get to work with couples that are a great fit and who hire me for the specific things that I do."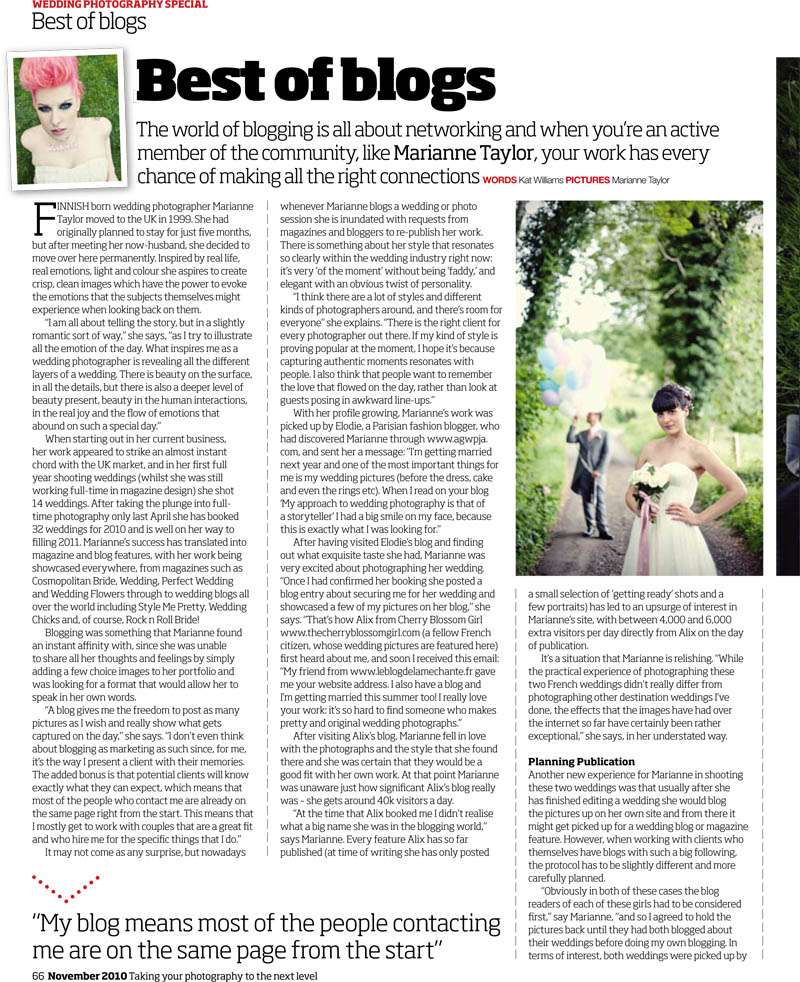 It may not come as any surprise, but nowadays whenever Marianne blogs a wedding or photo session she is inundated with requests from magazines and bloggers to re-publish her work. There is something about her style that resonates so clearly within the wedding industry right now: it's very 'of the moment' without being 'faddy,' and elegant with an obvious twist of personality. "I think there are a lot of styles and different kinds of photographers around, and there's room for everyone" she explains. "There is the right client for every photographer out there. If my kind of style is proving popular at the moment, I hope it's because capturing authentic moments resonates with people. I also think that people want to remember the love that flowed on the day, rather than look at guests posing in awkward line-ups."
With her profile growing, Marianne's work was picked up by Elodie, a Parisian fashion blogger, who had discovered Marianne through www.agwpja.com, and sent her a message: "I'm getting married next year and one of the most important things for me is my wedding pictures (before the dress, cake and even the rings etc). When I read on your blog 'My approach to wedding photography is that of a storyteller' I had a big smile on my face, because this is exactly what I was looking for." After having visited Elodie's blog and finding out what exquisite taste she had, Marianne was very excited about photographing her wedding. "Once I had confirmed her booking she posted a blog entry about securing me for her wedding and showcased a few of my pictures on her blog," she says. "That's how Alix from Cherry Blossom Girl www.thecherryblossomgirl.com (a fellow French citizen, whose wedding pictures are featured here) first heard about me, and soon I received this email: "My friend from www.leblogdelamechante.fr gave
me your website address. I also have a blog and I'm getting married this summer too! I really love your work: it's so hard to find someone who makes  pretty and original wedding photographs."
After visiting Alix's blog, Marianne fell in love with the photographs and the style that she found there and she was certain that they would be a good fit with her own work. At that point Marianne was unaware just how significant Alix's blog really was – she gets around 40k visitors a day. "At the time that Alix booked me I didn't realise what a big name she was in the blogging world," says Marianne. Every feature Alix has so far published (at time of writing she has only posteda small selection of 'getting ready' shots and a few portraits) has led to an upsurge of interest in Marianne's site, with between 4,000 and 6,000 extra visitors per day directly from Alix on the day of publication. It's a situation that Marianne is relishing. "While the practical experience of photographing these two French weddings didn't really differ from photographing other destination weddings I've done, the effects that the images have had over the internet so far have certainly been rather exceptional," she says, in her understated way.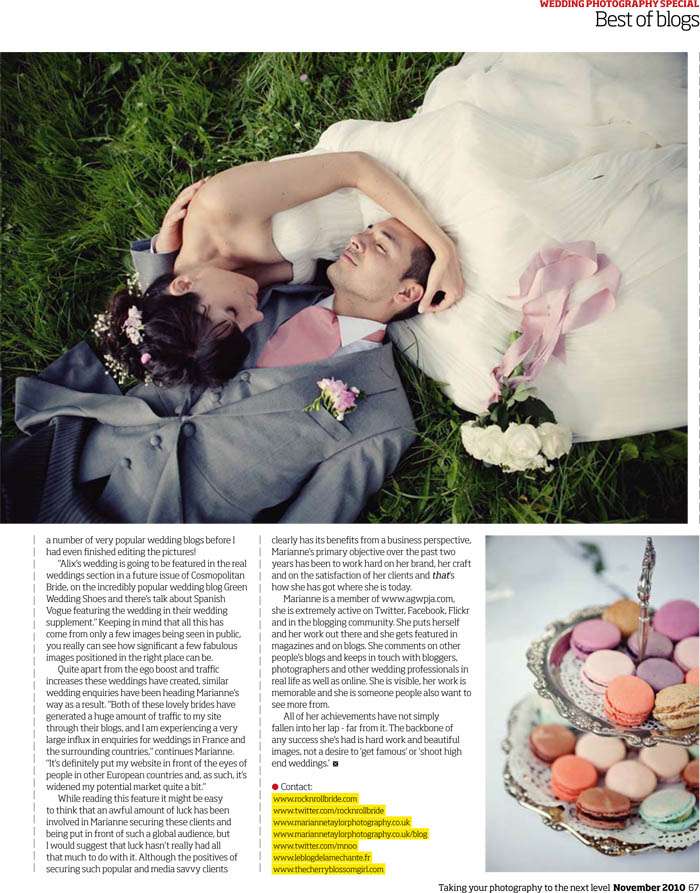 Another new experience for Marianne in shooting these two weddings was that usually after she has finished editing a wedding she would blog the pictures up on her own site and from there it might get picked up for a wedding blog or magazine feature. However, when working with clients who themselves have blogs with such a big following, the protocol has to be slightly different and more carefully planned. "Obviously in both of these cases the blog readers of each of these girls had to be considered first," say Marianne, "and so I agreed to hold the pictures back until they had both blogged about their weddings before doing my own blogging. In terms of interest, both weddings were picked up bya number of very popular wedding blogs before I had even finished editing the pictures! "Alix's wedding is going to be featured in the real weddings section in a future issue of Cosmopolitan Bride, on the incredibly popular wedding blog Green Wedding Shoes and there's talk about Spanish Vogue featuring the wedding in their wedding supplement." Keeping in mind that all this has come from only a few images being seen in public, you really can see how significant a few fabulous images positioned in the right place can be.
Quite apart from the ego boost and traffic increases these weddings have created, similar wedding enquiries have been heading Marianne's way as a result. "Both of these lovely brides have generated a huge amount of traffic to my site through their blogs, and I am experiencing a very large influx in enquiries for weddings in France and the surrounding countries," continues Marianne. "It's definitely put my website in front of the eyes of people in other European countries and, as such, it's widened my potential market quite a bit."
While reading this feature it might be easy to think that an awful amount of luck has been involved in Marianne securing these clients and being put in front of such a global audience, but I would suggest that luck hasn't really had all that much to do with it. Although the positives of securing such popular and media savvy clients clearly has its benefits from a business perspective, Marianne's primary objective over the past two years has been to work hard on her brand, her craft and on the satisfaction of her clients and that's how she has got where she is today. Marianne is a member of www.agwpja.com, she is extremely active on Twitter, Facebook, Flickr and in the blogging community. She puts herself and her work out there and she gets featured in magazines and on blogs. She comments on other people's blogs and keeps in touch with bloggers, photographers and other wedding professionals in real life as well as online. She is visible, her work is memorable and she is someone people also want to see more from.
All of her achievements have not simply fallen into her lap – far from it. The backbone of any success she's had is hard work and beautiful images, not a desire to 'get famous' or 'shoot high end weddings.'
www.mariannetaylorphotography.co.uk
www.mariannetaylorphotography.co.uk/blog
www.twitter.com/mnoo
www.leblogdelamechante.fr
www.thecherryblossomgirl.com