Oh MAN am I excited to share Krystle & David's wedding story with you today. The couple got married just twelve days after they properly met and they couldn't be more in love if they tired. This is their story…
"We met online via our professional wedding photographer forum, DWF.", the bride told me (they are both professional photographers) "We actually first met when both of us flew across the country to attend the DWF annual convention, in Nashville this past January."
"We talked that first weekend about getting married and joked around about going to get married by Elvis back then and I told him I would have married him with a ring pop because I just wanted to be with him. We actually decided to just get married mutually, and when he came out to see me the couple days before we eloped to Vegas, he surprised me with a real proposal! We were playing Mario on my Super Nintendo because he swore he was better than me, yea that sucker failed miserably and I kicked his ass. He then pulled out a Star Wars tin lunchbox filled with my favorite Canadian chocolate bars, I love you mints, and dousche bag gum. At the bottom of all of that was a ring pop. He told me he loved me, wanted to be with me forever and then some, and then asked me to marry him. Nothing over the top, but I can't think of any better way to be proposed to than Mario, chocolate, Star Wars, and wearing sweat pants."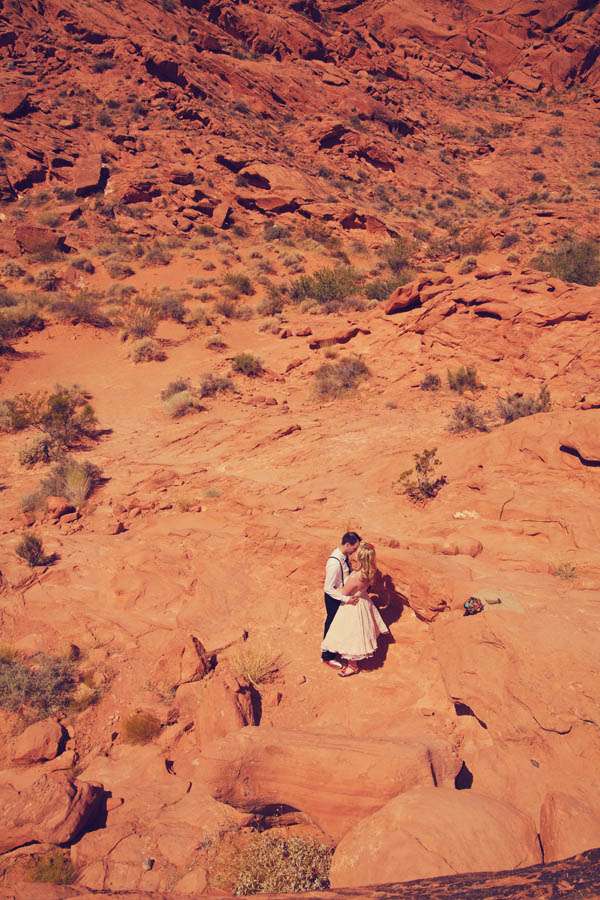 Ahhh! But it doesn't stop their people, just you wait until you see their gorgeous wedding!
They were married in Graceland Wedding Chapel and had an informal dinner at the Grand Lux Cafe afterwards. As lovers of all things retro and "obnoxiously bright" Vegas was the perfect place for them. Both being wedding photographers they had seen their fair share of what they didn't want over the years so the decision to do something completely different was quite an easy one.
"Dave and I got married on July 24th, 2010 after spending just 12 days with each other. Most people would argue that's not enough time to really know someone, question our sanity, or take bets on how long our marriage will last, but we don't care; we are not most people. We just had our one month anniversary, and quite frankly, I am pretty positive we are awesome at this whole marriage thing. The fact that this marriage has already lasted longer than several of my previous relationships, combined with the fact that I still love him and want him around, are fairly stellar indicators that some things are just meant to be. I can honestly say that since we started talking, back in November 09, that not a day goes by where I don't still get excited to hear from him, smile thinking about things we've done, or laugh at something stupid I've said and still managed to have him keep me. For those of you who have taken the time to read our story, those of you who always encouraged me to follow me heart, and those of you who shared your stories of marrying your best friend withme, thank you. You guys get "it." I am so glad I never settled, trusted my instincts that something was missing, and never gave up on my crazy idea of a fairytale just because so many other people have. Every now and again you come across a love that is enviable, and I certainly hope that ours is someday 🙂 Love requires work, but I do believe that a certain part of it should just simply be effortless. It's a crazy feeling, opening your heart up to someone after you have spent so much effort building up defenses to keep people out. Then, one day no different than any other, a stranger, seemingly no different than any other stranger, somehow manages with simply one look, laugh, smile, kiss, to walk right in. Love certainly does hold hostages; I guess it's a good thing I like handcuffs haha. So, without further ado, here is the story of our wedding day and everyone and thing that made it so special."
Krystle wore a vintage dress that she had actually bought on a whim on a solo trip to Ireland a few years before (you can read the whole story here.) She had the dress shortened and customised by a friend. She also donned some pretty awesome sparkly 'Dorothy' shoes. "My shoes were custom made peep-toe Ruby Red Slippers ala Dorothy from the Wizard of Oz," she told me. "I used to pray as a child for a pair of them, thinking that I could really go to Oz and have all my dreams come true. My mother finally got me a pair for my wedding, I couldn't be happier with how they turned out. Not only do they go with a wedding gown, but I can honestly say they look fabulous with pajamas too. Note: clicking your heels together does nothing, other than make you giggle like a nerd. I tried numerous times but alas, stayed in the same location."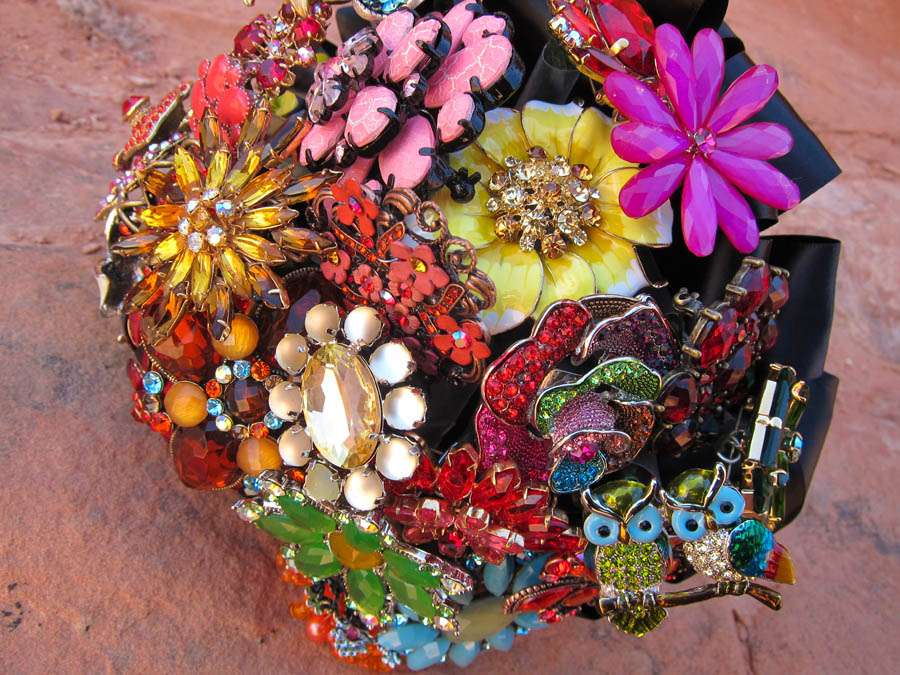 She also made her own bouquet out of bits n pieces she had found. "I knew we were eloping, but couldn't fathom having one of the bouquets of barf that were included in every Vegas wedding package, so I made my own. I love costume jewelery and frequently buy unnecessary items, like a tiara, at the local shop. So I used my bouquet as an excuse to get lots of cool things. I wired brooches, earrings, and rings together to make my bouquet, wrapped the wires in floral tape, and then had the local florist wrap it up."
As they eloped they didn't have any bridesmaids or attendants but Krystle's son did walk her down the aisle (be sure to check out the oh-so-adorable video) "I knew I couldn't have anyone else do it, as him and I have been partners in crime just the two of us for the past 7 years," she explained. "He got red Chucks, skater shots, suspenders, and even a tie with skulls in it. He also was my buddy while getting my hair colored before we left, and ended up with a black mohawk."
If you still haven't had enough of Krystle & David's wedding then be sure to go blog-stalk them (like I have!)
EEEK! Huge thanks to Krystle & David for sharing their awesome wedding with us today. I am so excited to share it!
Photography Credit: Desiree Hayes, Ray Prevost & Marcia Gold 
Plus Krystle Getson (bride) & David Getson (groom)
Ceremony Venue: Graceland Wedding Chapel
Reception Venue: Grand Lux Cafe
Bride's Dress: Vintage
Bride's Shoes: Custom Made
Hair & Make Up: DIY
Vintage Brooch Bouquet: DIY
Cake: Gift from a Friend
Bride's Ring: LeVian (rose gold pink sapphire & diamond)
Groom's Ring: Custom made by Halifax