I was lucky enough to meet Konrad Dziedzic aka Konfral a few weeks ago when he offered to come and shoot my with my lovely Restoration Cake cake which was made to celebrate the launch of the new look Rock n Roll Bride. Here's the man behind those shots…in his own words.
Who are you and what do you do?
My name is Konrad Dziedzic, a.k.a. "Konfral" and I'm a lifestyle, portrait and wedding photographer. You can catch up with me on Twitter @konfral and see my latest work on www.weddingshire.co.uk or www.konfral.com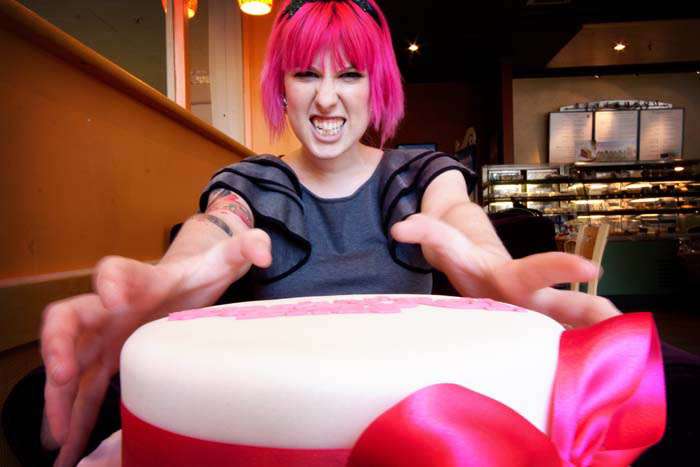 Where are you based and what cities/countries are you available to for work in?
I'm currently based in Chiswick, West London and I'm more than happy to travel across the UK and Europe for a good photo opportunity. I was fortunate enough to visit and shoot at some breathtaking locations while working for a major cruise ship company, and I'm always on the lookout to add to that list. I am originally from Poland, and this is where I first started in the wedding photography industry, back in 2001. Although I've been living and photographing in the UK for a couple of years now, I still get to photograph weddings "back at home". The ability to speak both lingos makes me a preferred choice for mixed Polish-British couples, too.
Who/what are your biggest influences? Who do you really admire?
The list of amazing photographer I look up to is quite long, but let's just mention Jasmine Star for what she achieved through blogging and Marta Potoczek and Bartosz Jastal for taking Polish wedding photography industry to the next level.
What or who made you get into photography?
I've been passionate about photography since I can remember. I picked up a camera well back in the film days of 1990's, and first started photographing weddings in Poland in 2001. After a couple of successful seasons, I got the rare chance to join the fleet of Royal Caribbean International in a junior IT position (I am "IT" by trade and still active in this profession to this day) and see the world, which was always a big dream of mine. I jumped on this opportunity head first, and it took me to places which I would probably never have visited otherwise. The downside was, I wasn't able to shoot weddings for a couple of years. It was mostly travel photography during that period spiced with some portraiture work. After my incredible adventure on the seas I decided to settle in the UK and gradually come back to lifestyle, portrait and wedding photography.
What is your approach to photographing weddings and what is your preferred style?
My approach is to tell the story of your wedding "from start to finish" and that's why I don't offer many different time based packages to my clients. I make myself available to them for the whole day by default, and then we decide how early they want to see me, and how late I should stay. I love shooting engagement or pre-wedding sessions on location. I tend to arrange the shoot as a nice date for my clients, which allows them to relax and just be themselves. Only then their love and emotions are expressed naturally, and that's when the best images are made. In terms of visual style, I try to give these images a bit of a cinematic spice.
On the day itself, I prefer to shoot in a photojournalistic style, documenting the story as it unfolds. Except for a couple formal group shots, I stay in the background and tend not to pose people or intervene too much. Again, naturally expressed emotions make for the best wedding images and I make sure I don't miss any of those moments.
Who or what are your perfect clients?
Ideal clients… let me think… how about: loving couple, eager to be photographed, with a shared passion for something cool they love doing in their spare time, be it sky diving or chess playing! I'll make sure we can make it look fabulous in the photos.
What do you love about weddings?
When it comes to the weddings themselves: the sincere emotions, the brides in their one-in-a-lifetime dresses, the beautiful venues… the list is endless. What really makes me tick are the engagement / pre-wedding /Trash/Cherish The Dress sessions. I just love shooting those. For many of my clients it's their first photo shoot ever, and I love seeing them transform from totally scared to totally loving it.
I always ask what they enjoy doing in their spare time, or where they would like to be photographed, so if you're a keen dancer, race horses, sky dive, or would love to go to Venice Carnival, make sure you let me know! Oh, one more thing… this is usually the perfect opportunity to have your test hair and make-up done!
What do you hate about weddings?
When things occasionally run late, time reserved for photography is likely to get slashed first, to make up for somebody else's mistake. Grrrr…
Tell me a little about your favourite wedding ever and why?
That would be my own one! Seriously… I have only had great experiences so far, and it's really hard to choose one favourite…
Do you have any advice for budding photographers out there who want toget into weddings?
Yes. Go for it, but don't quit your day jobs up front! Wedding photography is possibly the most cut throat competitive sector of the wedding industry. Good luck and show us your work!
Special Reader Offer:
Konrad has set up some special offers for Rock n Roll Bride readers and has even dedicated a page on his website to them. If you book Konrad by the end of August 2010, and quote "Rock'n'Roll Bride", he'll include a bespoke GraphiStudio wedding book in your package for free! Email him for more info.
Thanks to Konrad for talking to us today and sharing his funky photographs. If you want to learn more about Konrad Dziedzic then be sure to check out his website or drop him an email to larfnok@googlemail.com
If you are a photographer or wedding vendor and would like to be considered for an Under the Spotlight feature, please don't hesitate to drop me an email!