I've seen a lot of Alice in Wonderland shoots and weddings this year but none as fan-bloody-tastic as Jessica & Wade's. The couple said they came up with the Victorian Alice theme on a whim (even before the film came out this year) and decided to run with it. Unbelievably the couple designed and came up with everything for the wedding themselves. This is a wedding I wish I'd be at! I literally don't know where to start when it comes to talking about how awesome this wedding is so I'm just going to make a huge list of all the bits that I love about it.
Their officiant was from a death metal band (Chuck "Mandaddy" Ellis from Gargamel)
The groomsmen had tails
The bride had 'bride-dudes' instead of bridesmaids (they were all men!)
They all entered the ceremony to The Funeral March of the Marionettes and Jess entered to The Dance of the Sugar Plum Fairies
They solidified their vows with Tea Sipping Ceremony
There was a white rabbit
Most of the guests dressed up in either vintage or Alice in Wonderland-themed costumes
The bride had 2 dresses which she wore stripy socks and little hats
The had mis-matched crockery (which they found at thrift stores mostly)
The a tower of cup & saucers with cakes inside
The topsy-turvy wedding cake with a mad hatters hat and a teapot as seperate layers
They had 'eat me' signs
They had moustaches for people to play with
They had a fuji instax camera for guests to play with
They had their own Mad Hatter's 'Tea' made and bottled (wine)
My mind is officially blown, how about you?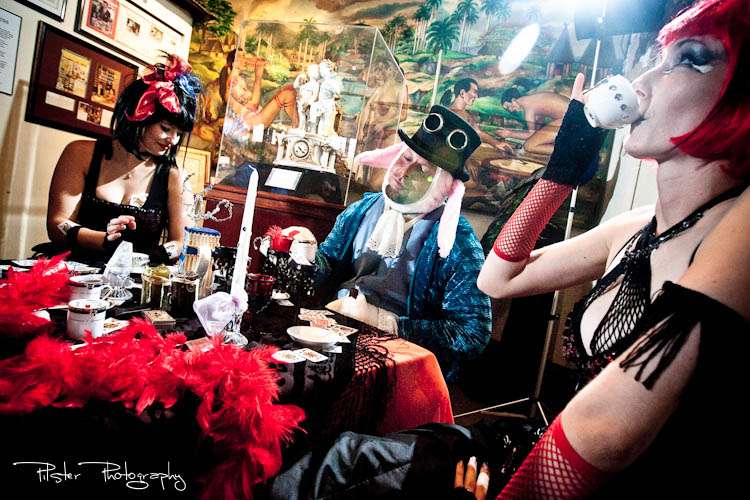 Thank you thank you thank you to Jess & Wade and their photographer Chad for sharing this incredible wedding today
Credit: Pilster Photography
Event Design: Jessica & Wade (Bride & Groom)
Day of Coordination: Erica Petramala with Occasions
Videographer: Eric Von Billington
Ceremony Venue: Bok Tower Gardens
Mad Tea Party Venue: Chalet Suzanne
Reception Venue: Columbia Centennial Museum
Hair/Makeup: Holly Nazaro with Collective Creations
Guitarist for Ceremony:Bobby Koelble (of Junkie Rush and the AbsinthTrio)
Officiant: Chuck "Mandaddy" Ellis
Centerpieces – Rose-filled teapots & Displays: Diy by Jess and Family
Personal flowers: Events in Bloom
Music: DJ Hellroy
Cake: A Piece of Cake
Cupcakes: Cupcake Spot
Bride's Ceremony Dress: Jon's Bridal 
Bride's Party Dress: handmade by Rosie at A Roseman Bridal in Clearwater
Bride's Hat: TwoBackFlats on Etsy
Bride's Shoes: Nina
Bride's Shrug: Vasini on Etsy
Tuxedo: rented from Tuxedo Junction
Boy's Hats: Uniformal Wearhouse
Canes: Fashionable Canes
Glasses/goggles: Gentleman's Emporium
Framed silhouettes of Mad Hatter and White Rabbit: Paperportraits on Etsy
Character artworks: Travis Louie
Party pom-poms: PartyPoms on Etsy