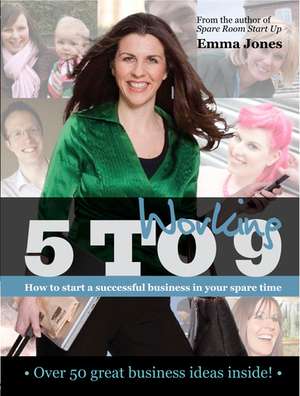 My life is nuts. Nuts. I don't exactly know how all this has happened but I'm doing the job I love, practically full-time, I'm getting featured in magazines, I've got people wanting to do photo shoots with me and now I've been featured in a new book by Emma Jones of Enterprise Nation all about 5-9ers – people like me who work a 'day' job and then in their spare time run their own business from home. Exciting huh?!
I guess I could even be seen as one of the success stories of the book, because I think I'm proof that working pretty much non-stop on something you really love so can really pay off. After doing two full-time jobs for what seems like forever, and with all your help my darling readers and sponsors, I've been able to cut down on my TV Producing job to focus on my Rock n Rollin' job.
The book is a treasure trove of information about starting a business in your spare time and is a must-read for anyone who's wanting to do the same (it even covers that 'how to tell the boss' bit!) I'm really looking forward to reading all the tips on blogging (and other online areas) as well as the variety of case studies – everyone from 5-9 cupcake makers, lawyers, online store owners, publishers, photographers and artists are included.
So why not grab a copy of 'Working 5-9 : How to start your own business in your spare time', a book that will inspire, intrigue and motivate you no end if you're wanting to do the same? At the moment is costs just £8.44 (usual price £12.99) so what are you waiting for?!?