Bright colours at weddings make me smile. We actually had a black & white themed wedding ourselves, but if we were to do it again (it feels like I'm always saying this!) a multi-coloured skittle-fest might well be the way we'd do it.
"Andy & Colleen met at a rock festival several years ago" photographer John told me. "For the wedding, Colleen wanted to incorporate lots of color.  She didn't want to limit her options and therefore decided on a 'Skittles' theme."
The couple wanted to add bright splashes of colour wherever they could and chose to have all bridesmaids wear different styles and colours of dresses.  The cake may be one of my new favourites to date – have you ever seen anything so spectacularly awesome?! It was made by Icing Dreams who helped bring Colleen's design and vision to life.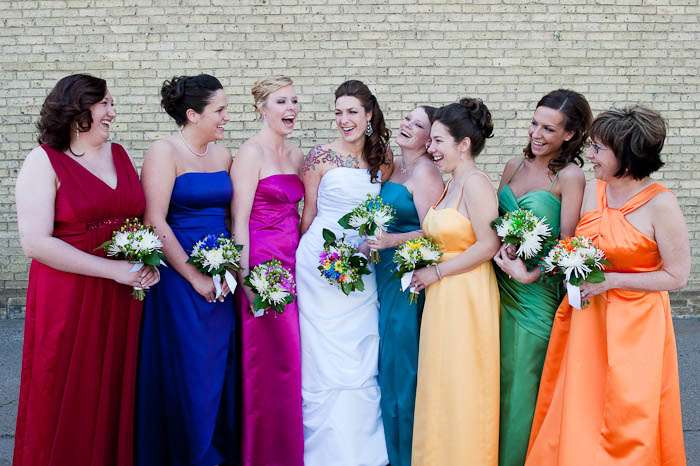 "Planning a wedding that was different and unique was my top priority" Colleen explained. "It started with my choice of crazy daisies for our flowers, and the girls agreeing to wear yellow and orange! Then came the crazy colorful invitations, which then morphed into the cake design and so on. I've been in other weddings and there is nothing worse than a bad bridesmaid dress. I feel like you all get lumped together and judged on who wears it best. I didn't want that for my girls, or expensive one-time use tux rentals for the guys. We decided each of them could get their own attire as long as they followed our guidelines. It all came together perfectly in the end and we couldn't be happier."
Amazing! Thanks to John for sharing this wedding. Be sure to check out the full vendor list below the images
Credit: John Sharpe Photography
Venue/Catering: Mi Famigilia
Dress: St Cloud Bridal Outlet
Bride's Shoes: JCPenney
Flowers: Friend of Bride
Bridemaid Dresses: David's Bridal and Mestads
Guitar Pick Favours:  Pick Guy
Cake: Icing Dreams
Band: Nelson Flavor