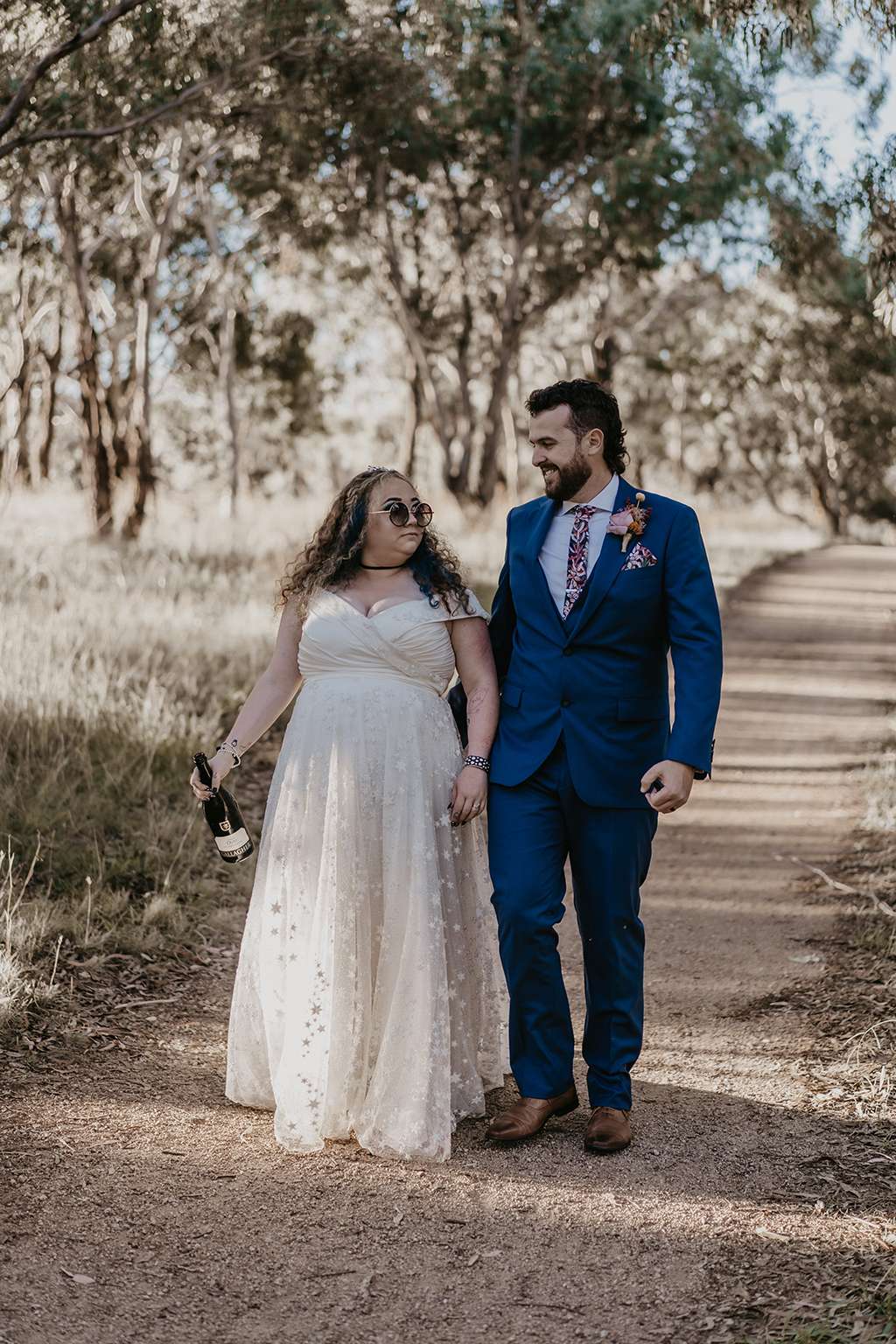 Lizz and Tim chose an Iconic Canberra wedding venue – National Arboretum – for their March wedding day. "I was pretty nervous," Lizz told us, "as it can be very cookie cutter, but I did as much as I could to include 'us' at every possibility!" This meant designing all their stationery from scratch, designing Lizz's rings, and being badass at every possible opportunity!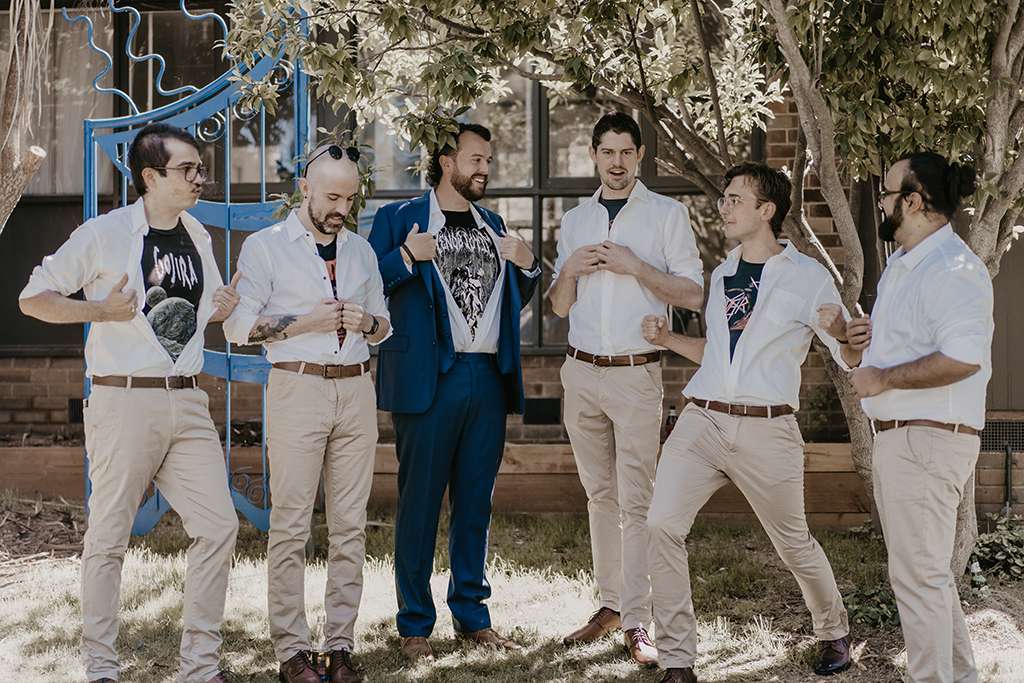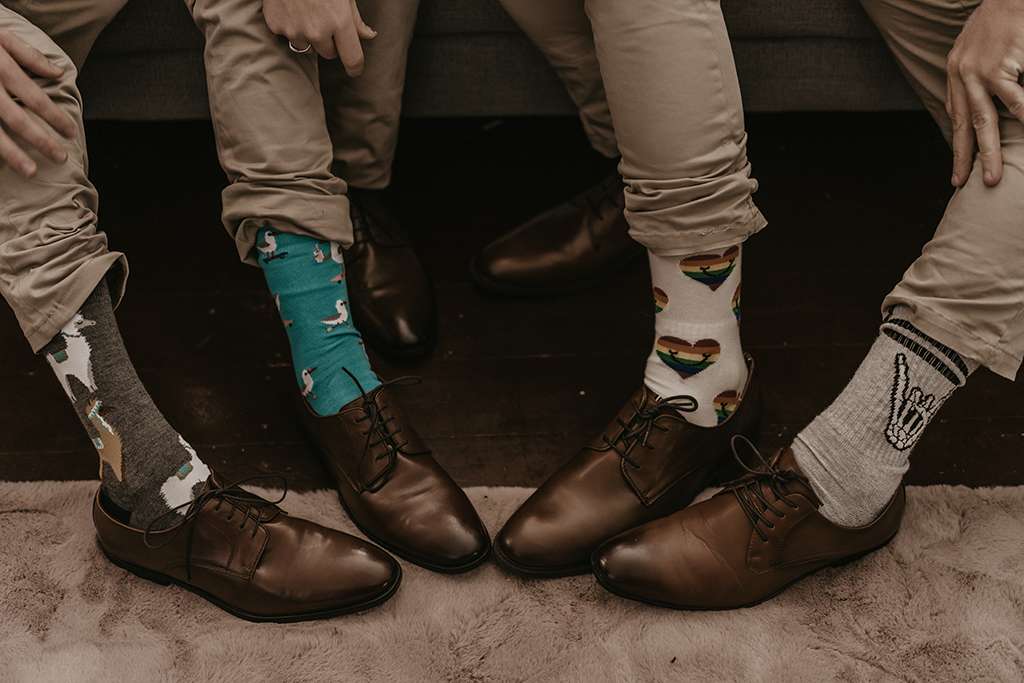 The couple incorporated their favourite metal music 'wherever we wouldn't upset the wrinklies' and said 'fuck the patriarchy' to sexist traditions with brideshumans instead of bridesmaids, Lizz walked herself down the aisle and made their wedding speech instead of Tim, too.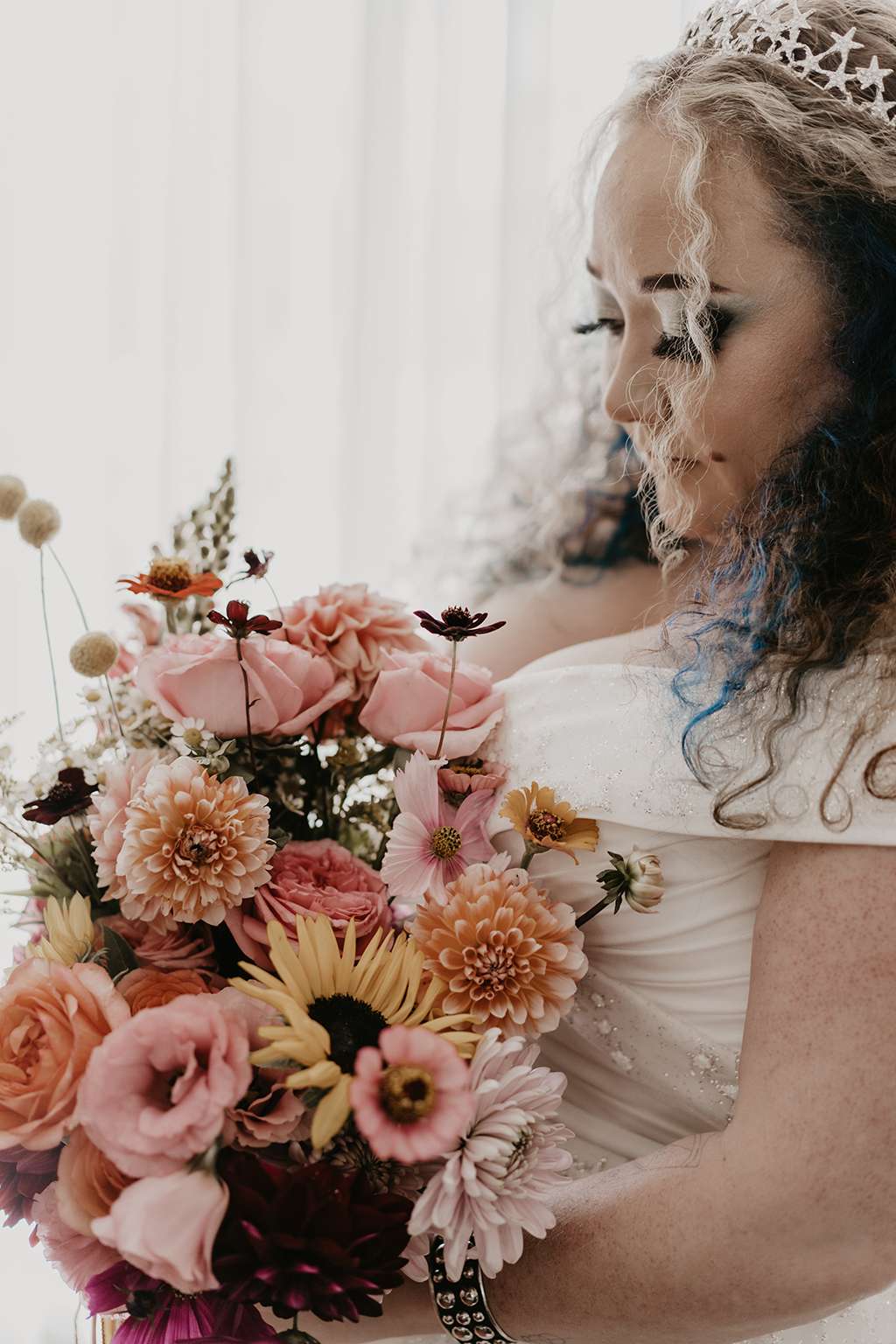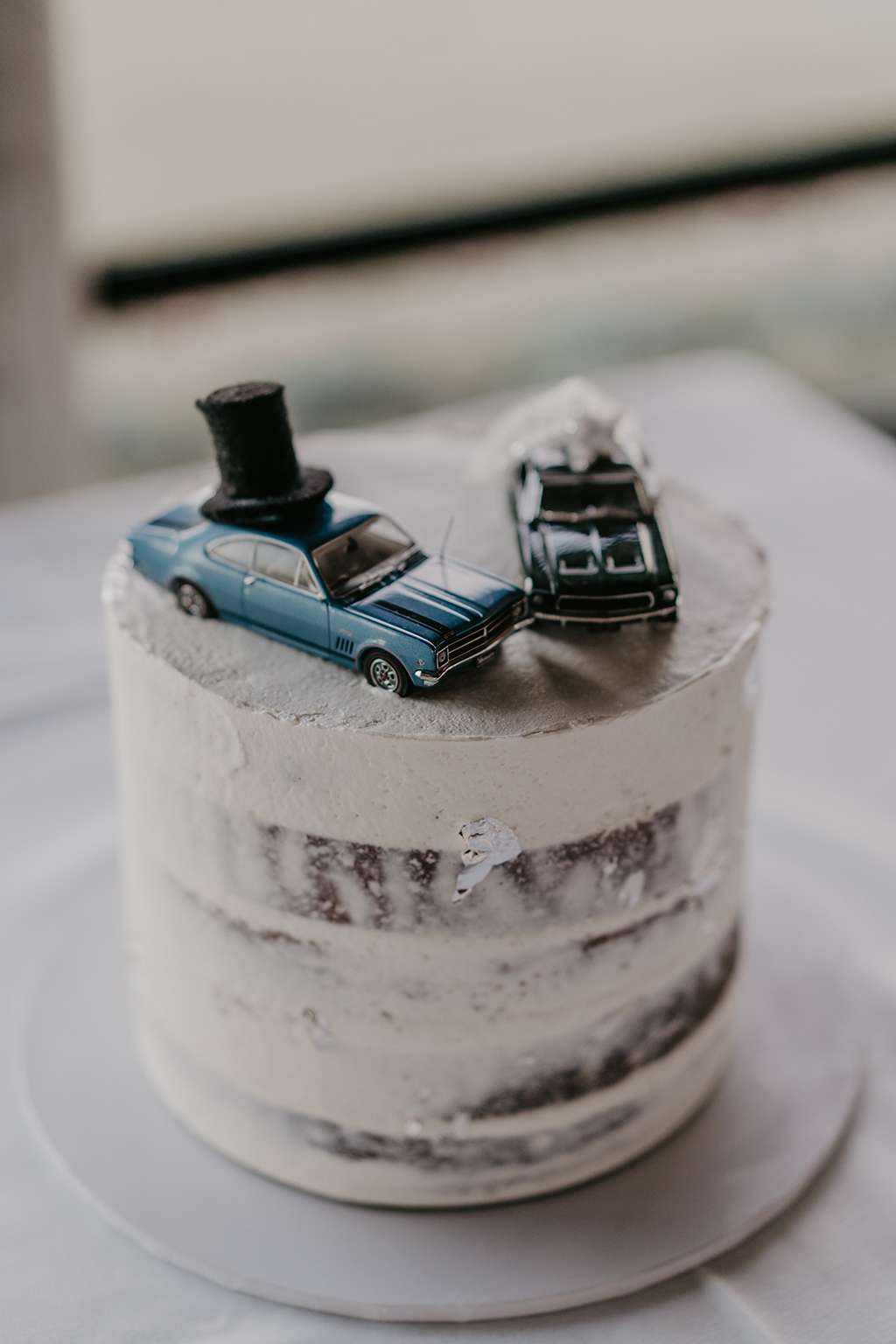 Both Lizz and Tim stayed true to themselves with their sartorial choices for the day, with Tim getting ready in metal band tshirts, Lizz customising a black jacket and styling her own naturally curly hair and rocking Dr Martens to boot. Her Purple Fox dress was a memento from a time the couple accidentally witnessed a huge meteor shower together on the beach under the stars.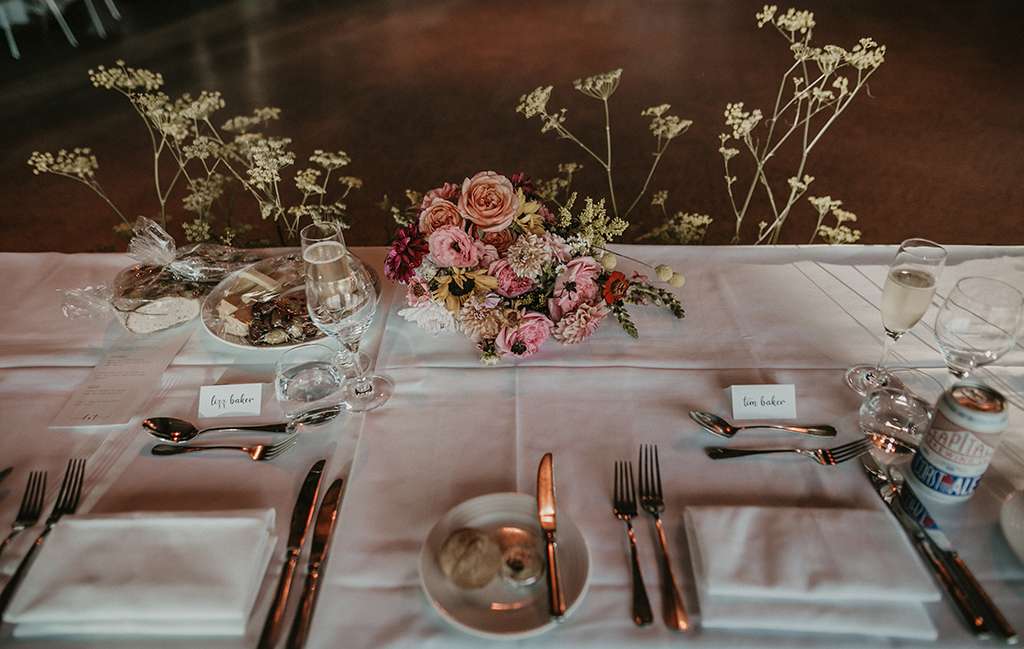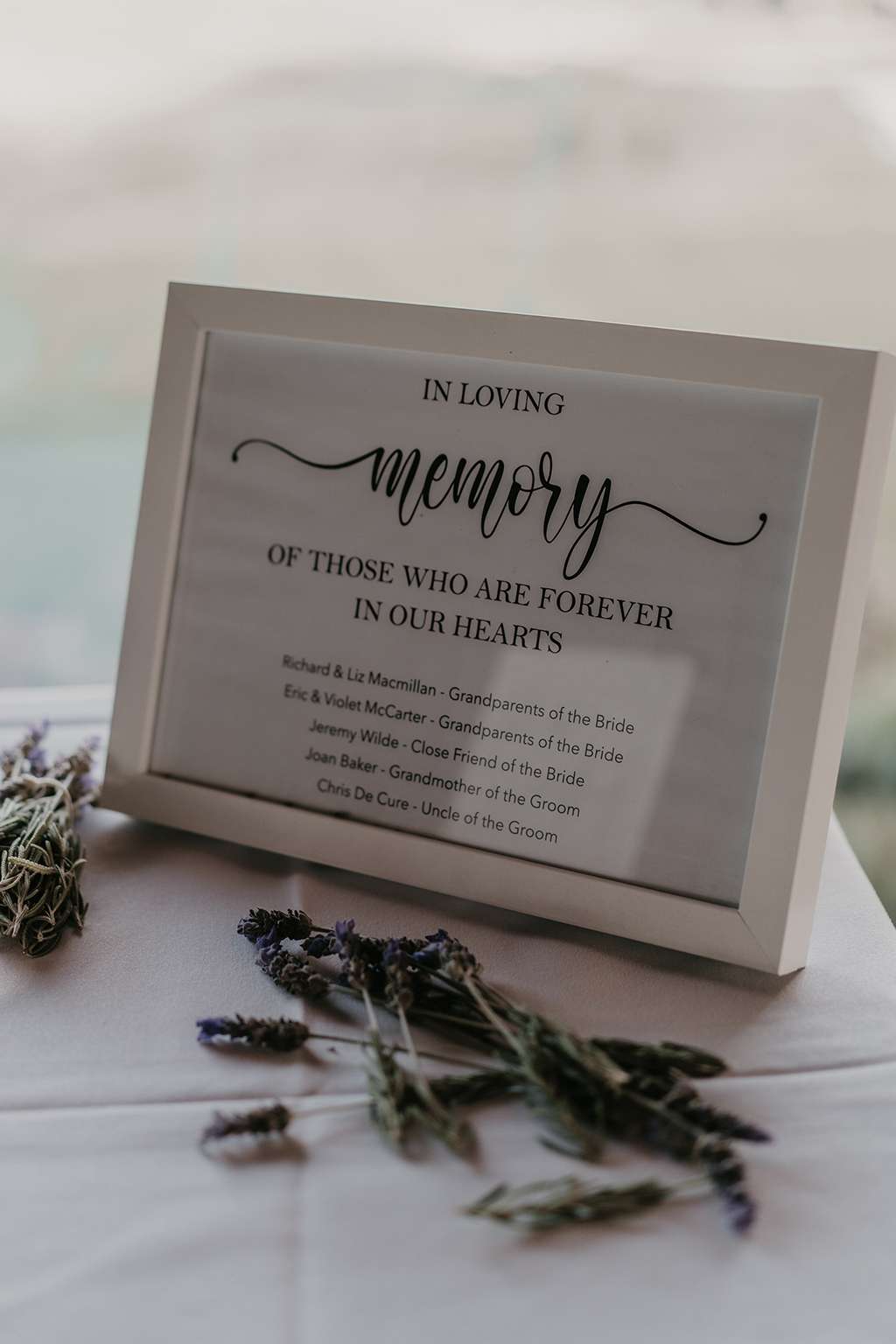 Lizz loved seeing all the inspiration that was out there for alternative brides, and was inspired by Rock n Roll Bride: The Ultimate Guide especially when it came to planning their big day. "I have OCD so it was a really big balance between what I needed to get done, and what I was doing to appease my OCD," she told us. "I loved using my creative side to design stuff and have fun with my nearest and dearest brideshumans. The worst thing about wedding planning was how time consuming it was. I slept, ate and drank wedding."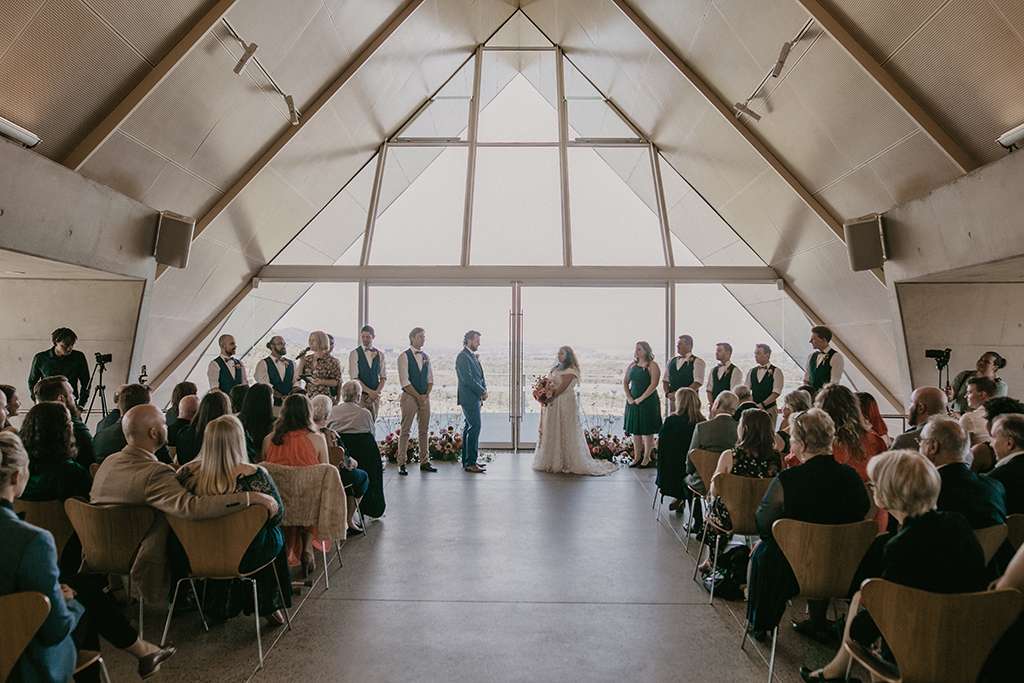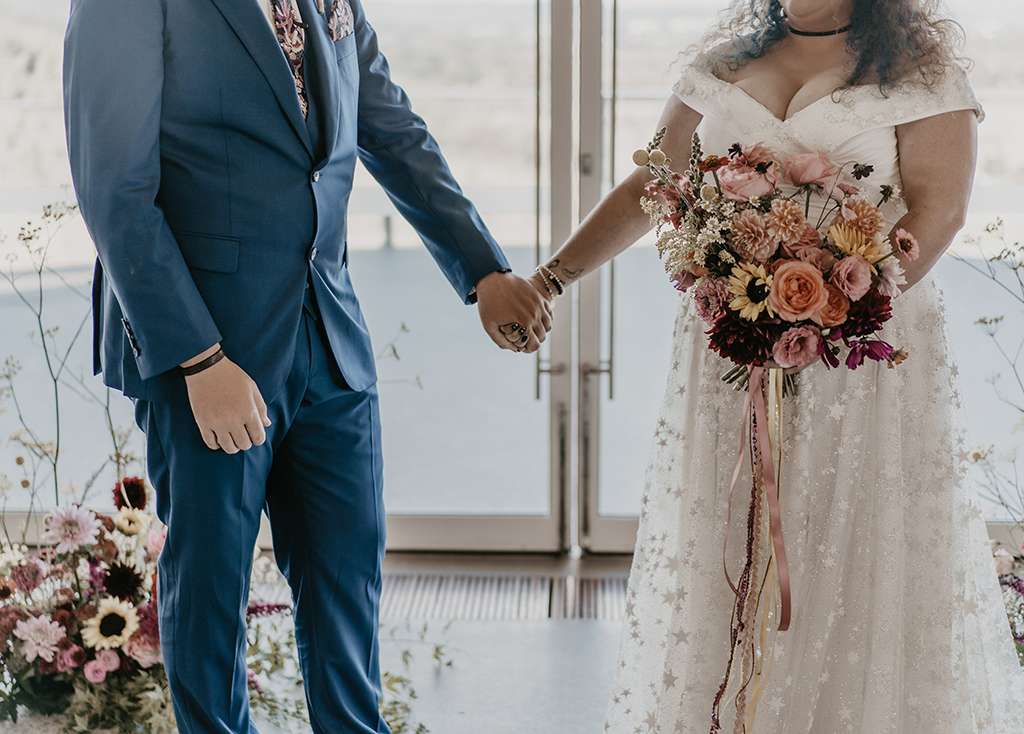 The ceremony included some of their favourite parts of their day, with Lizz walking in to The Passing by Lamb of God, with their guests waving the ribbon wands she'd made. "Our celebrant told our story in the funniest, most entertaining way possible. Even the story about how Tim met my mum in flip flops with a case of beer under his arm. My vows were funny – I read a quote from my fave book about how loving a thing because is easy but loving a thing despite is rare and perfect. I then talked about the things I despise about Tim – his punctuality, love of cricket, etc. I talked about what he does for me – fluffs my pillows every night, questions my Lizz-logic and lets me eat the crunchy edges of his chicken burgers. His were sweet and spoke about how we've spent our adult lives together and how I've taught him how to enjoy food and be more open minded."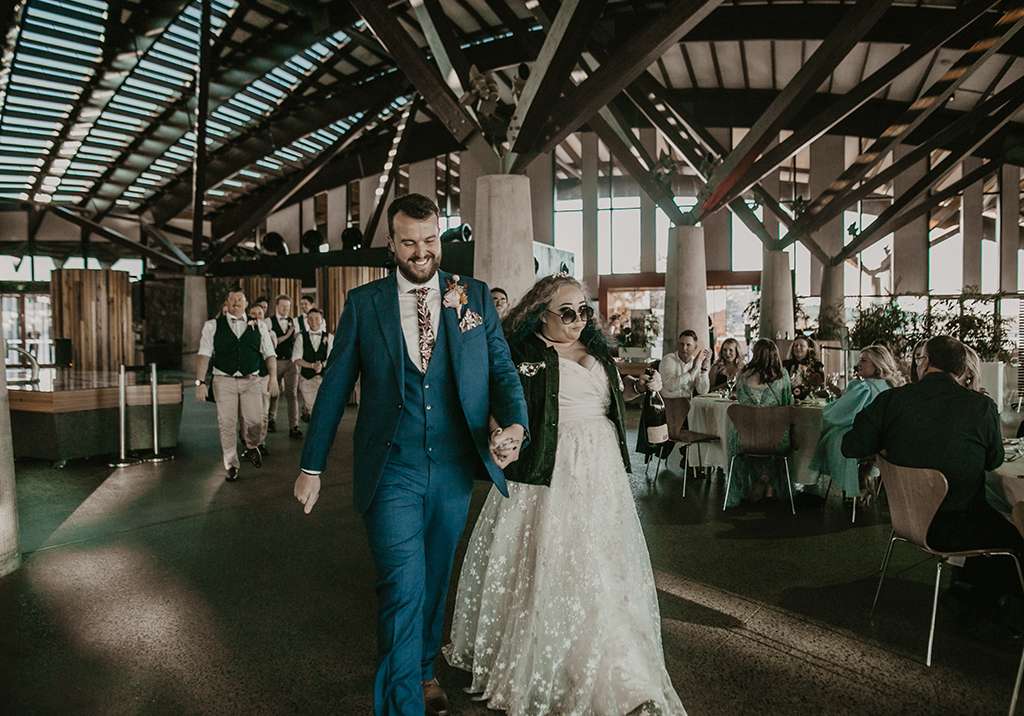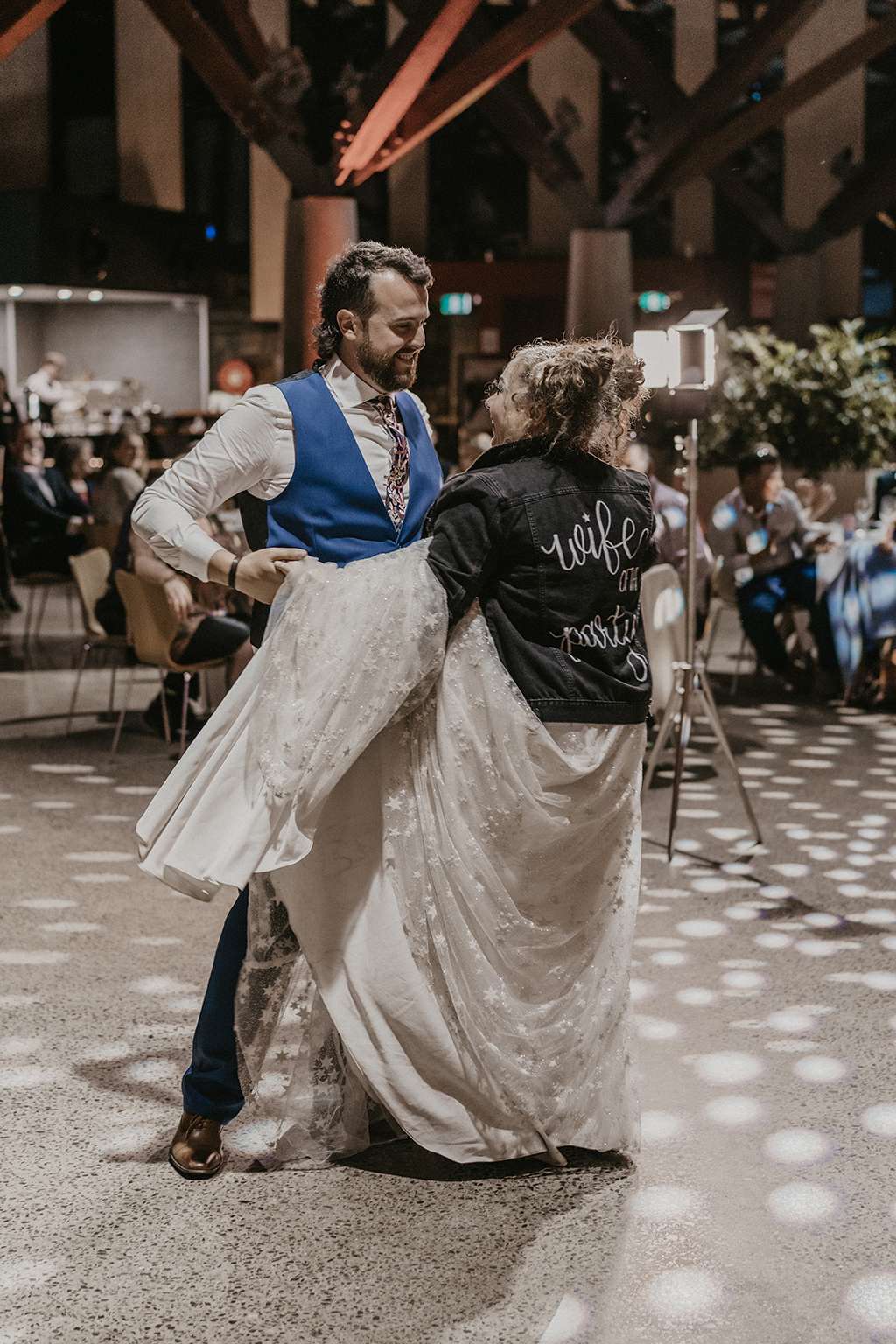 "Walking into our reception was by our favourite part of the day," Lizz continued. "We played Cowboys From Hell by Pantera and had our bridal party follow us like our entourage! I had sunnies on, my jacket and was swigging from a champagne bottle. We were introduced during the introduction of the song and when the beat kicked in, we arrived! I felt SO COOL." Their first dance to Metallica turned into a mosh pit, too.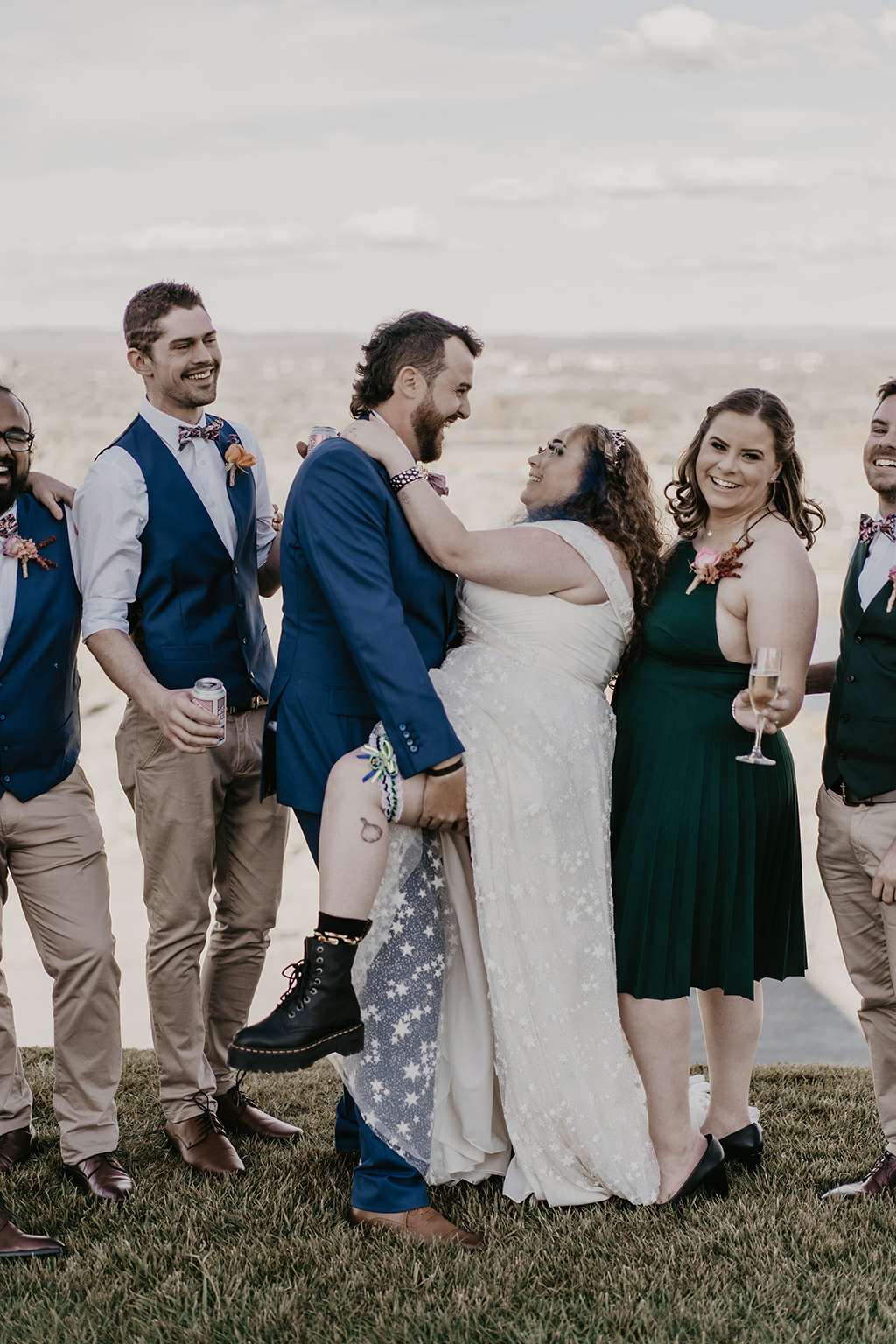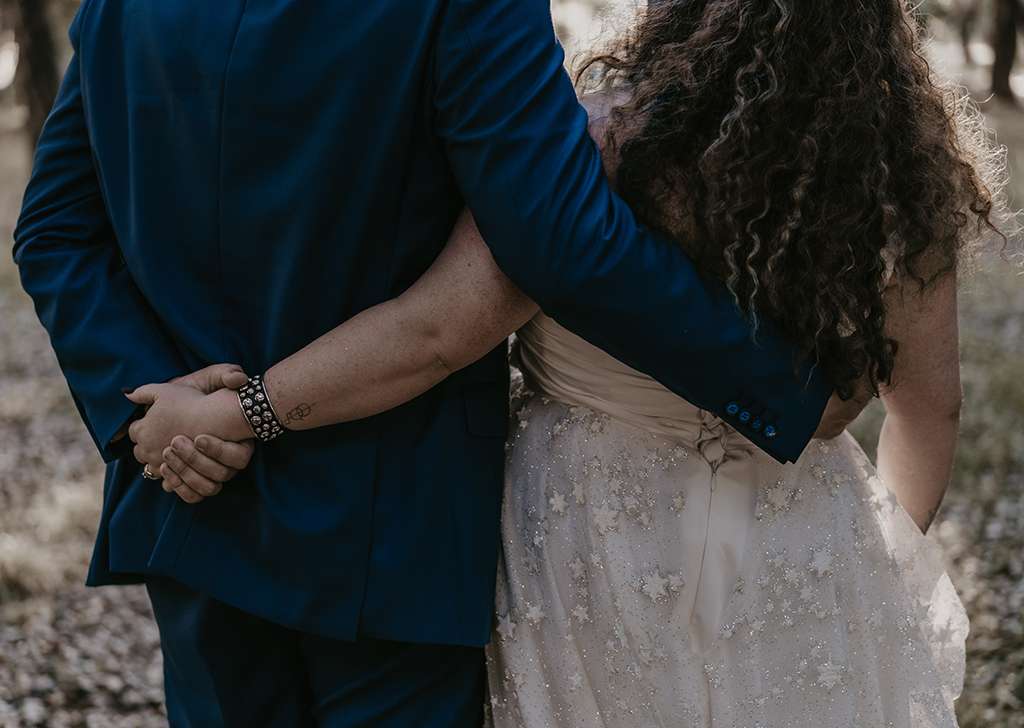 Lizz had some sage advice for those of you with body image issues and making peace with your wedding photos. She told us; "I really struggle with body image and was super daunted by the idea of being on film or in photos. It's so important to remember that it is YOUR day. You don't fit your body in the dress, the dress fits on your body. When we got our wedding photos back, I struggled not to just see my flaws. But my husband (sounds so cool to say!) had differing favourites to me, and he loved the ones where I looked the happiest. And it changed my perspective. Remember that the photos capture how you are feeling in that moment!"