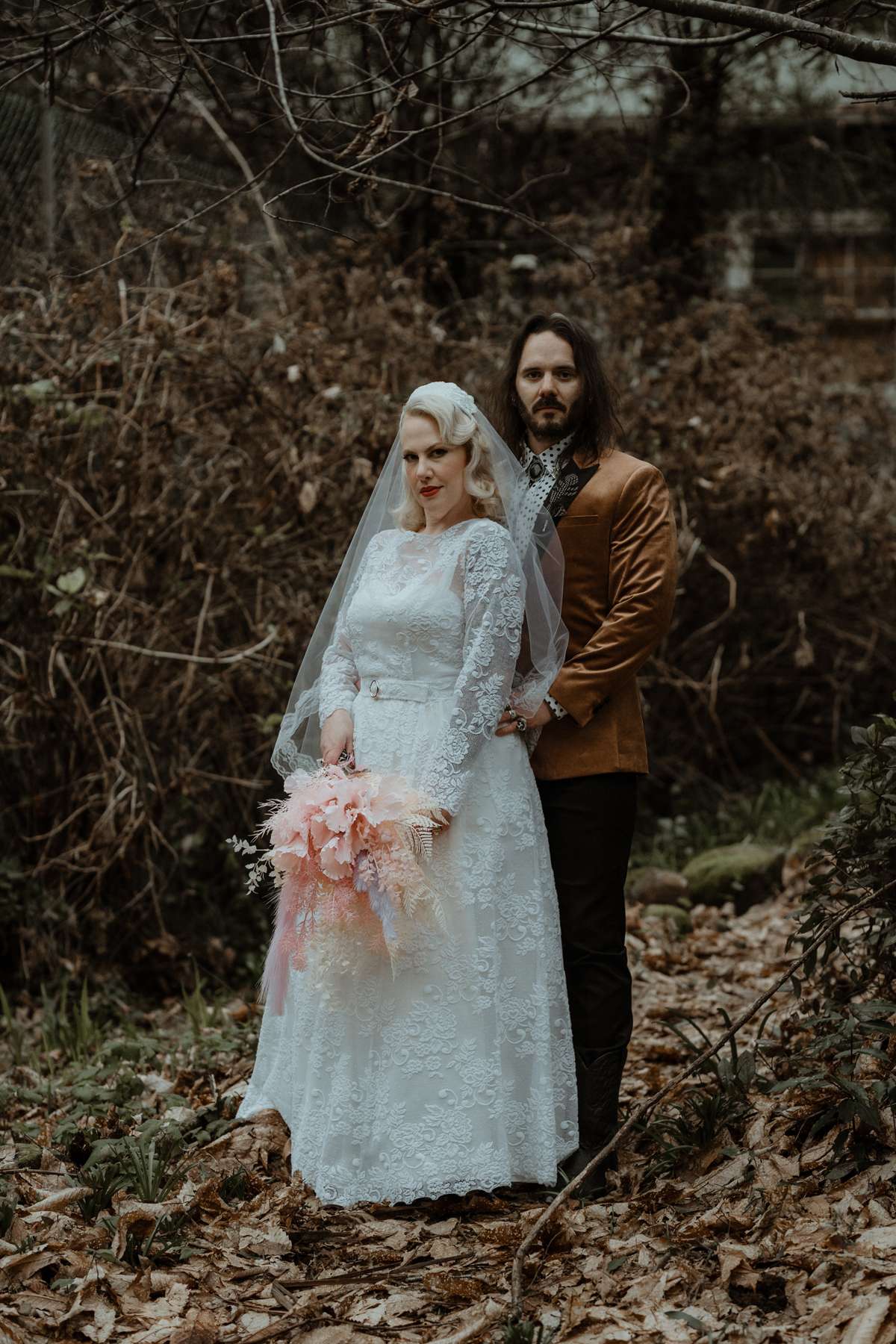 Alice and Rhys's wedding was an extraordinary fusion of creativity, love and their unique sense of style. Meeting over a jukebox in a dive bar 13 years ago, having a wedding that reflected their rock 'n' roll spirit felt natural. Alice affectionately referred to it as an "elevated cowboy" experience and it was an extension of their regular home décor and dress style.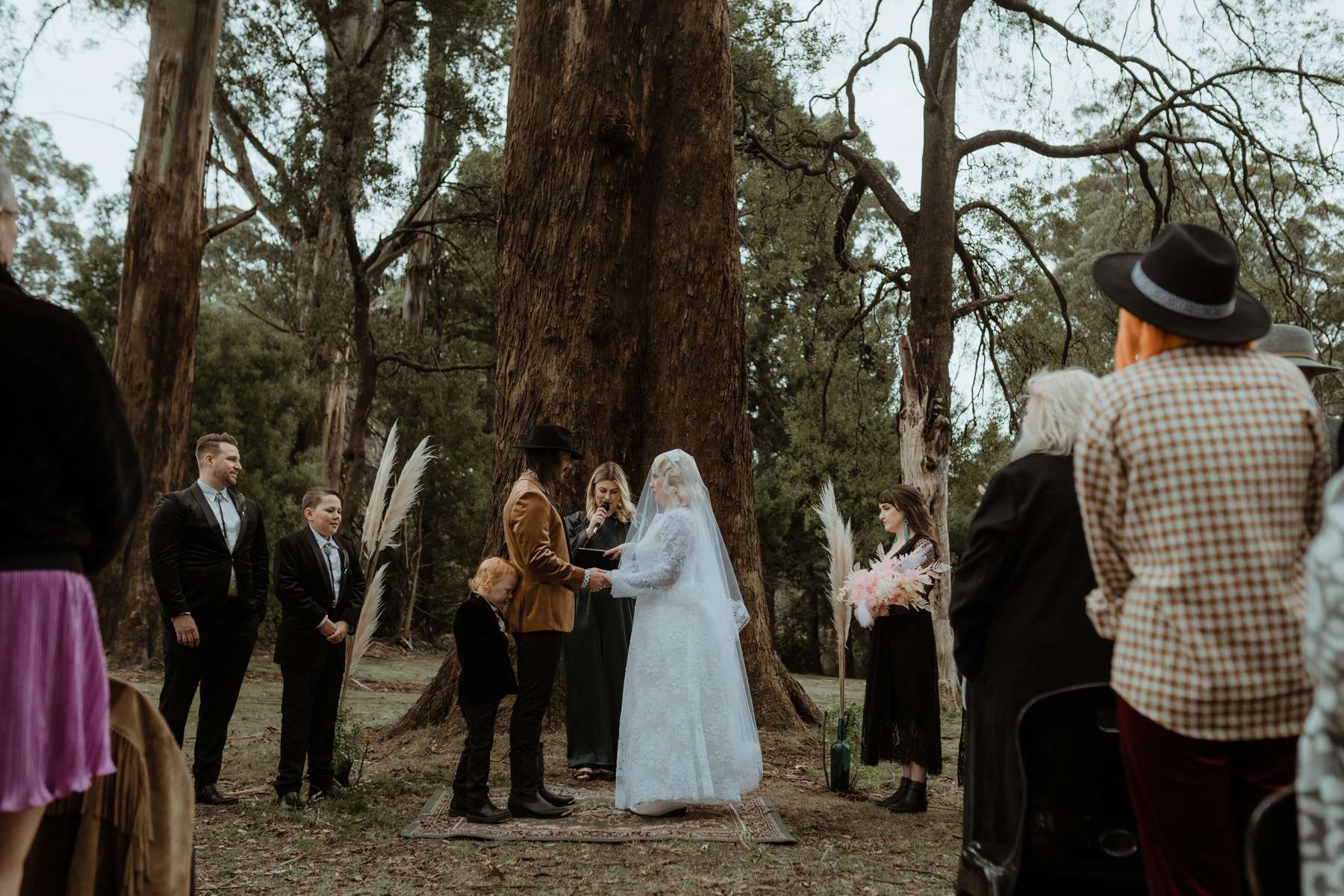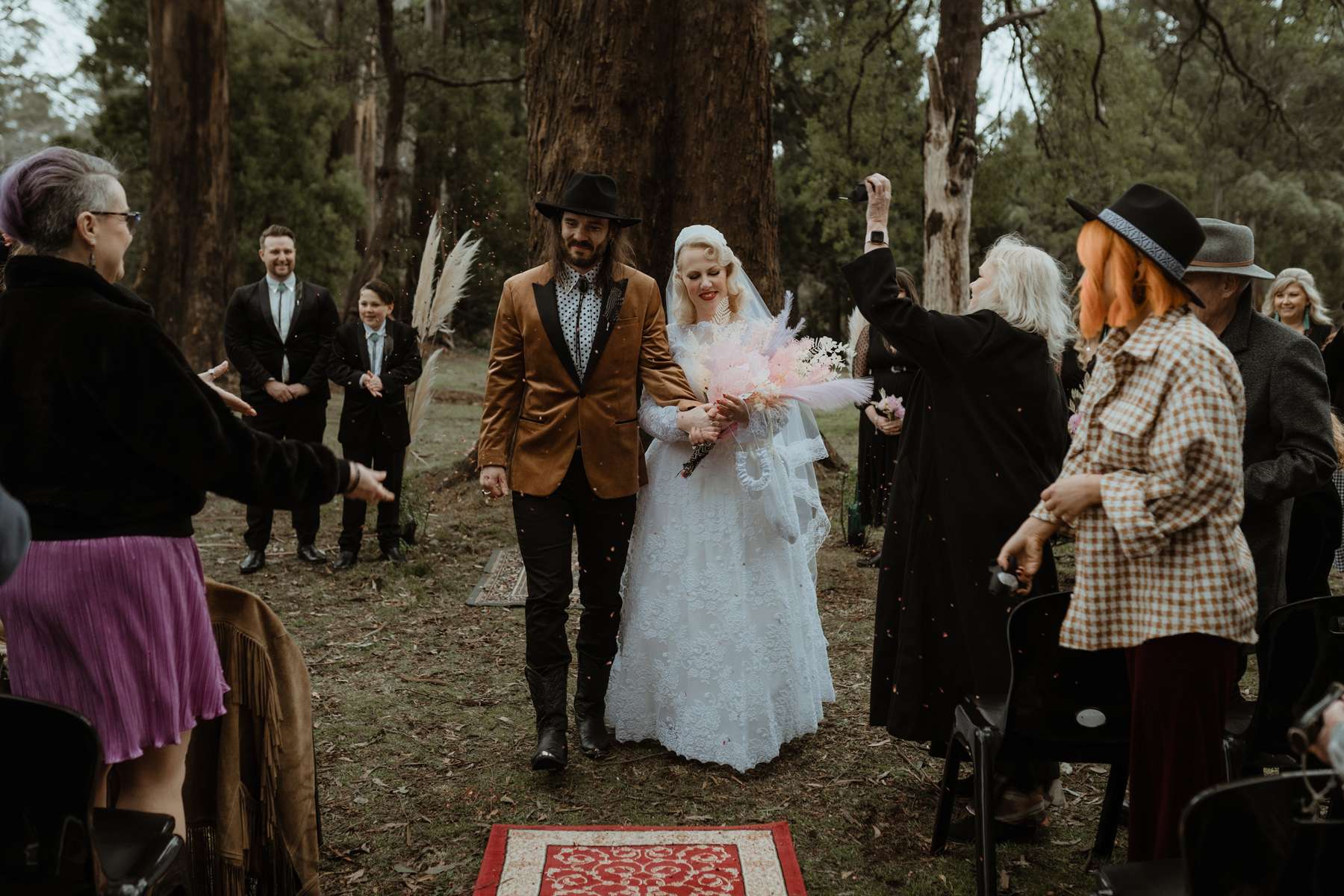 They rejected traditional wineries and strappy heels, in favour of the Australian bush and cowboy boots! The bride even made her own dress from curtain fabric so it was exactly as she envisioned. She even adding her new initials by stitching them into the fabric. This DIY approach not only made her dress one-of-a-kind but also kept the wedding budget-friendly as she only spent $100 on materials!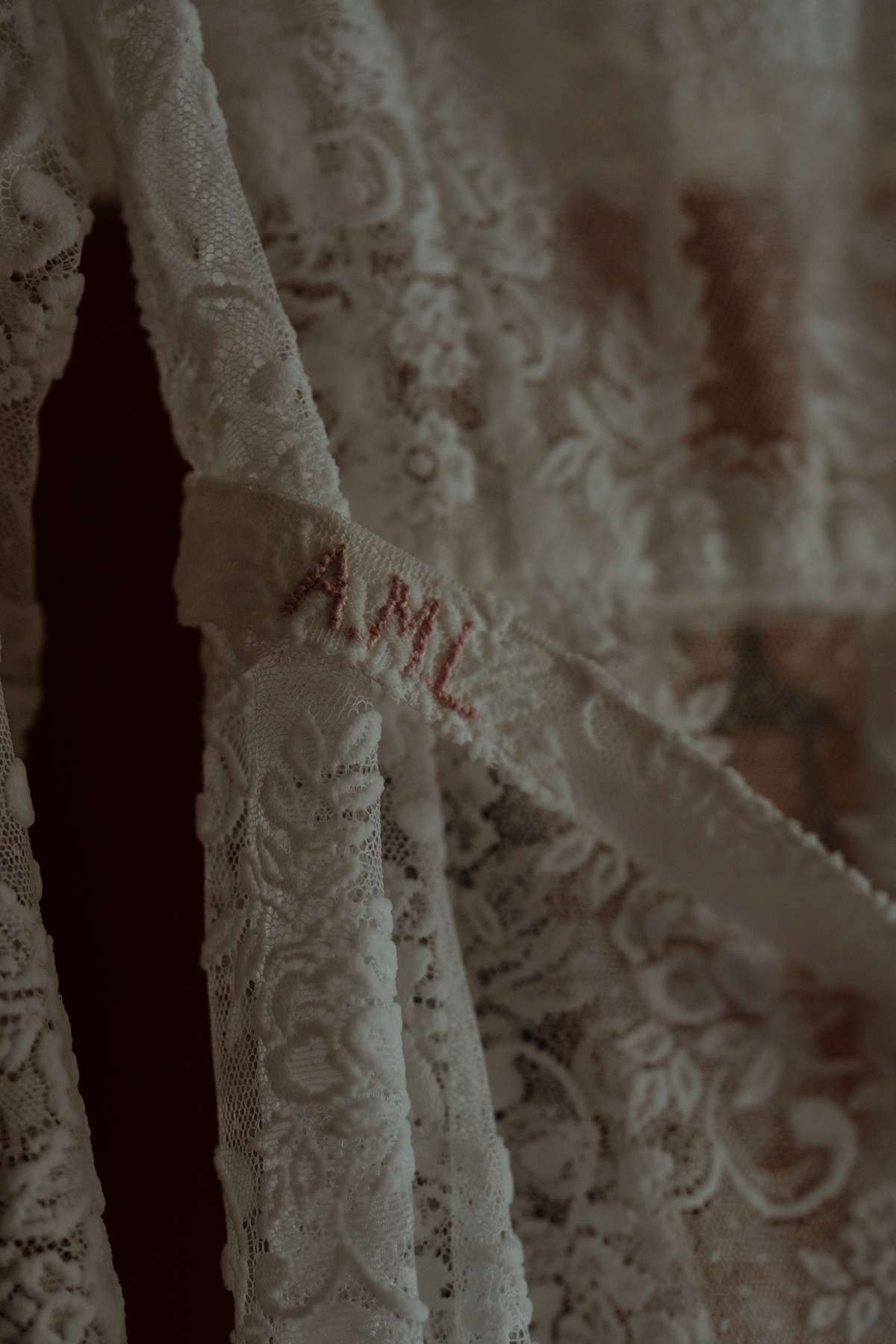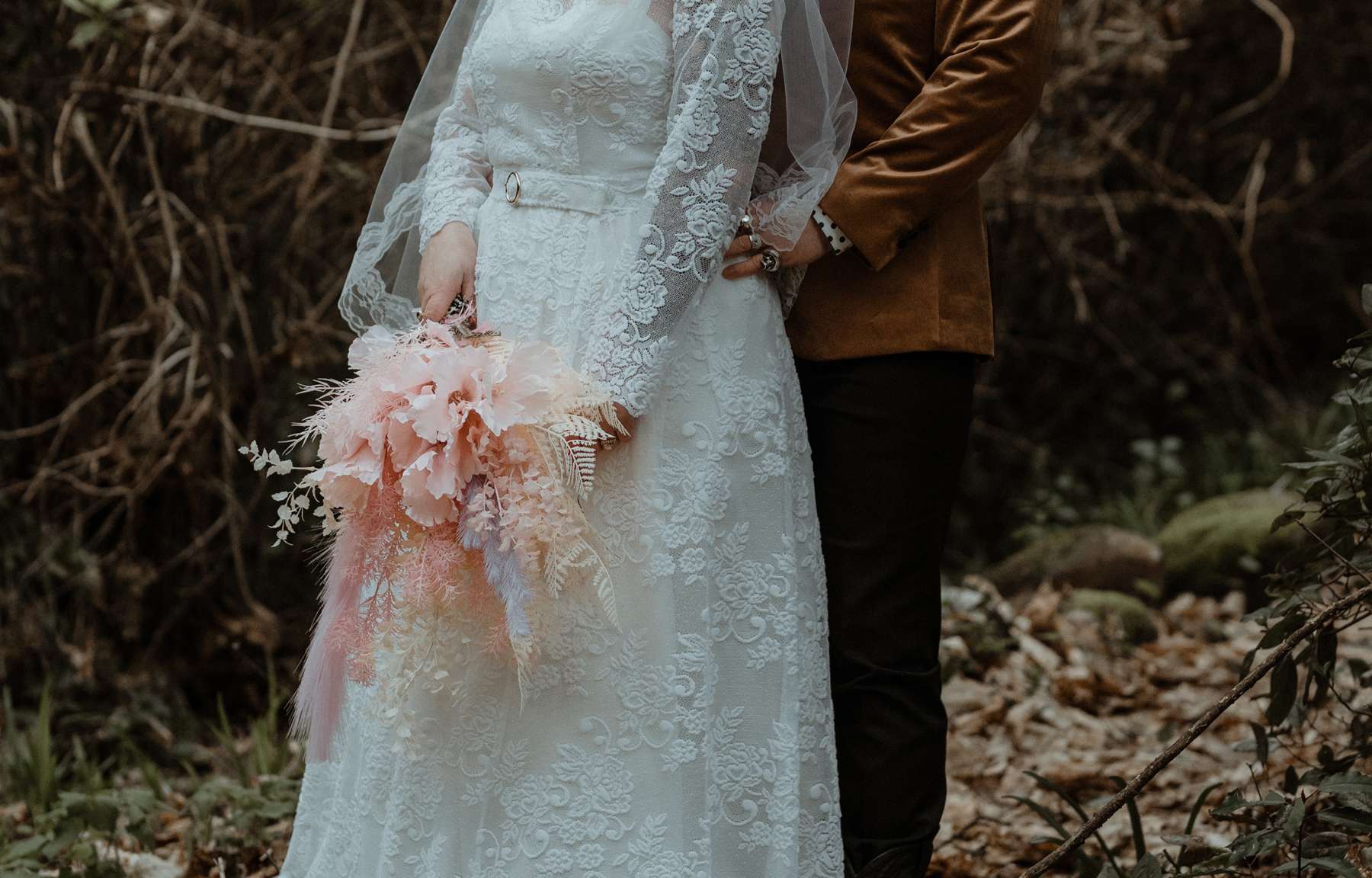 Alice, a creative and independent bride, was determined not to conform to the modern bride archetype. She shared, "I didn't want to look like a modern bride, that is one thing I always knew. We didn't want a wedding from a trad magazine or a winery. The whole thing was a passion project using our skills and sources and very much a celebration of us and the already existing longevity of our relationship." Almost everything at this wedding was DIY from the cake to the flowers, the stationery and all the decor.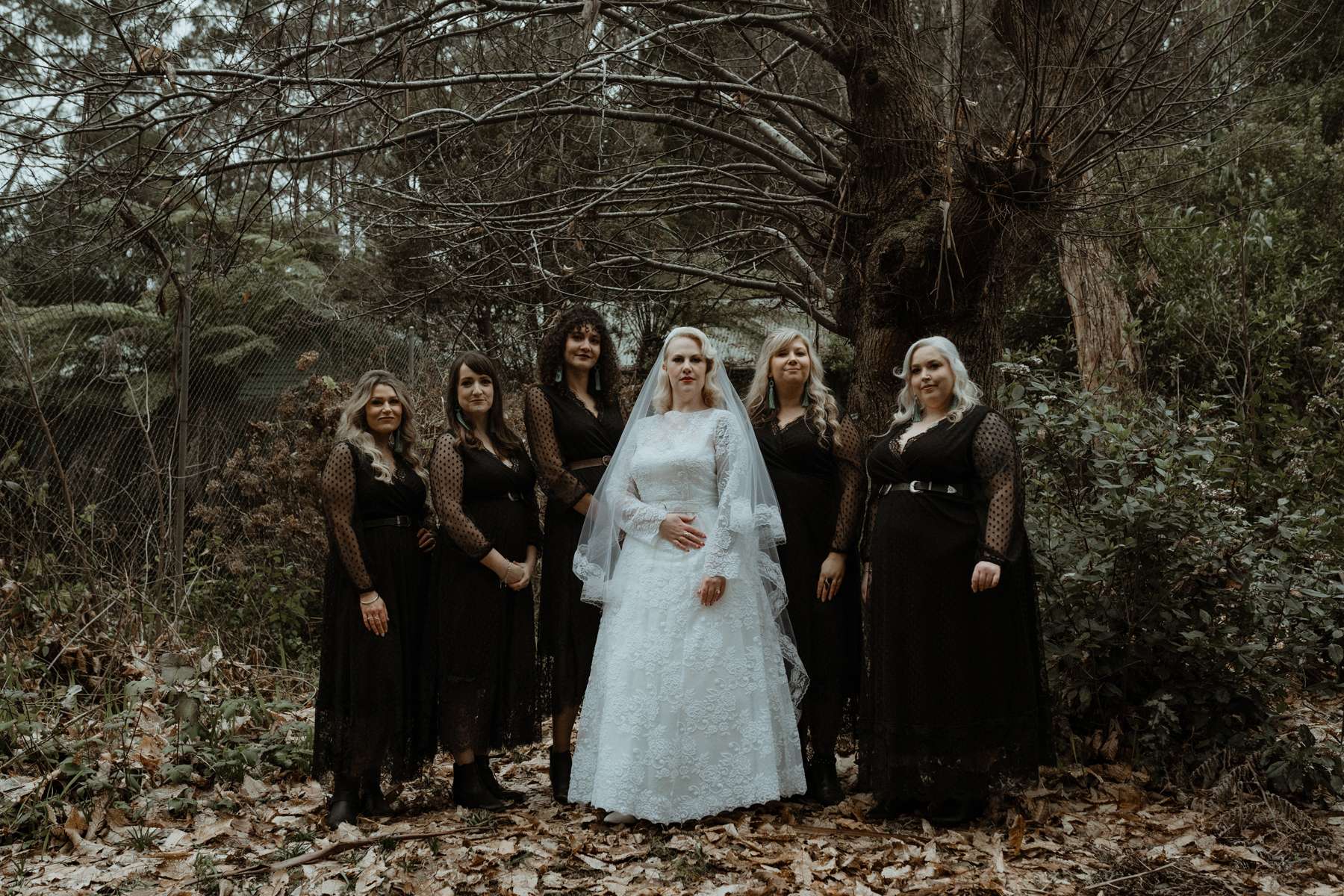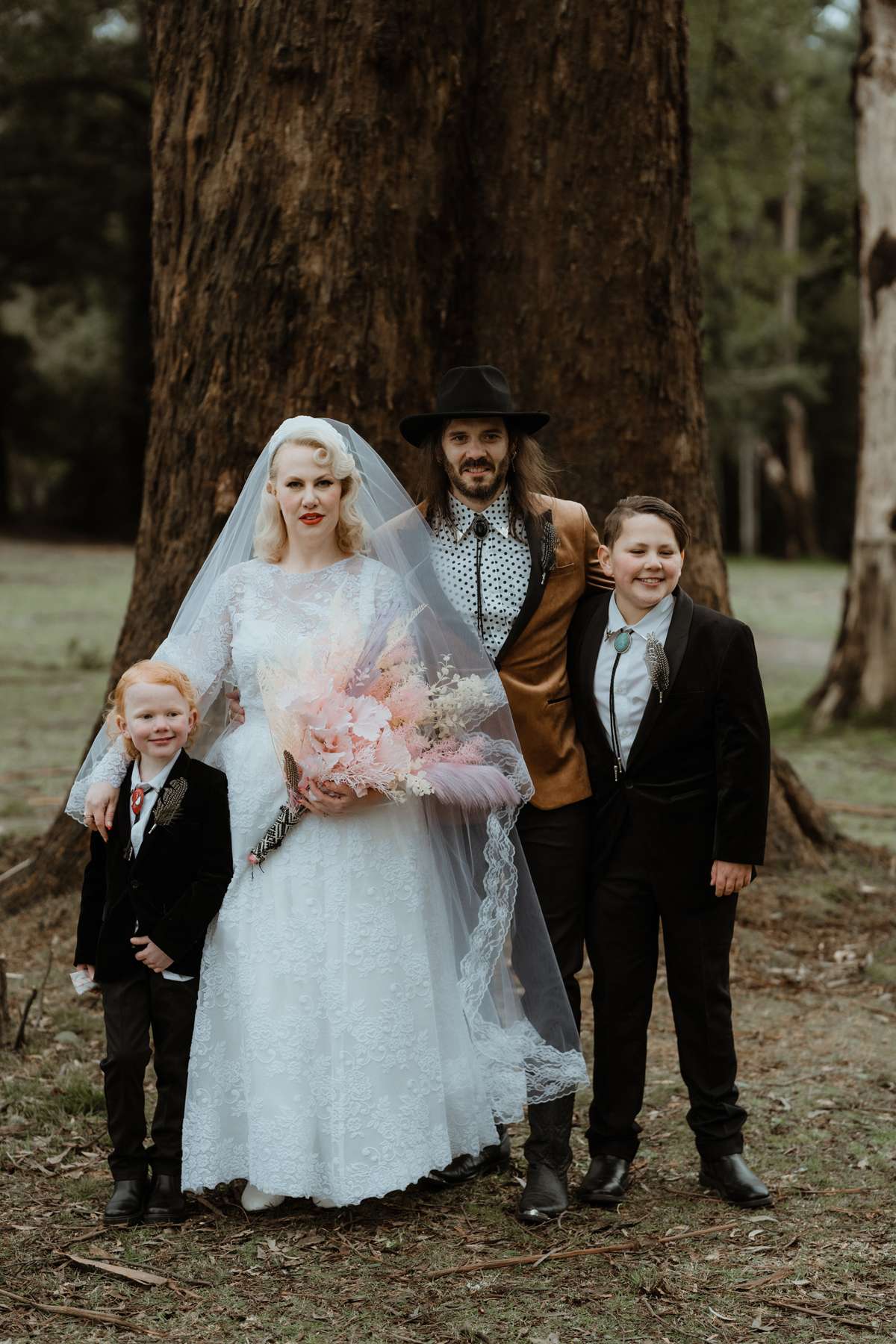 The ceremony took place under a majestic gum tree in the grounds of Ferny Creek Recreation Reserve, located an hour outside of Melbourne. Although it was winter and therefore pretty cold, the outside spot created the picturesque setting that they really wanted. To honour her late father, Alice draped his iconic fringe jacket over her shoulders as a symbolic gesture of him 'walking her down the aisle'.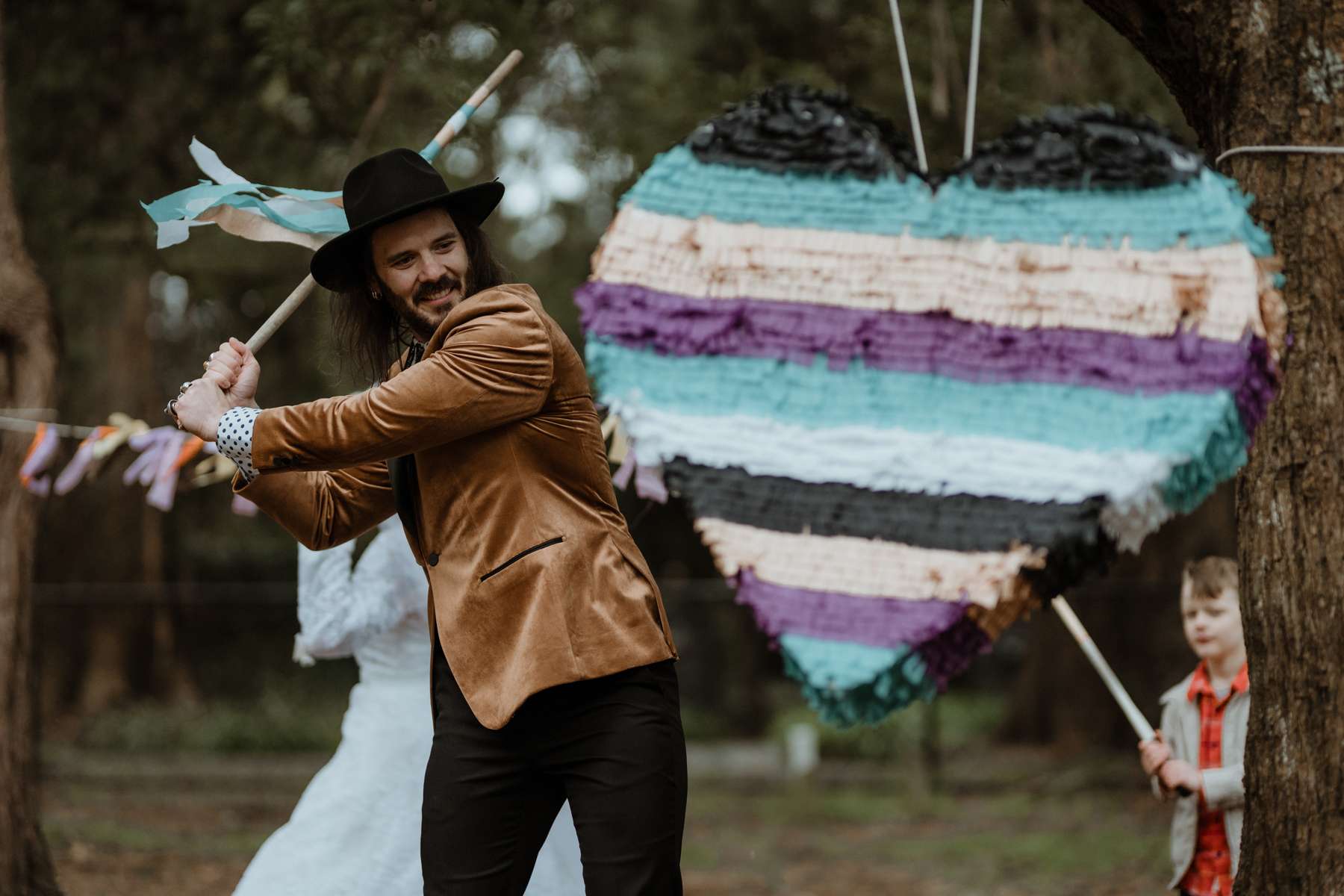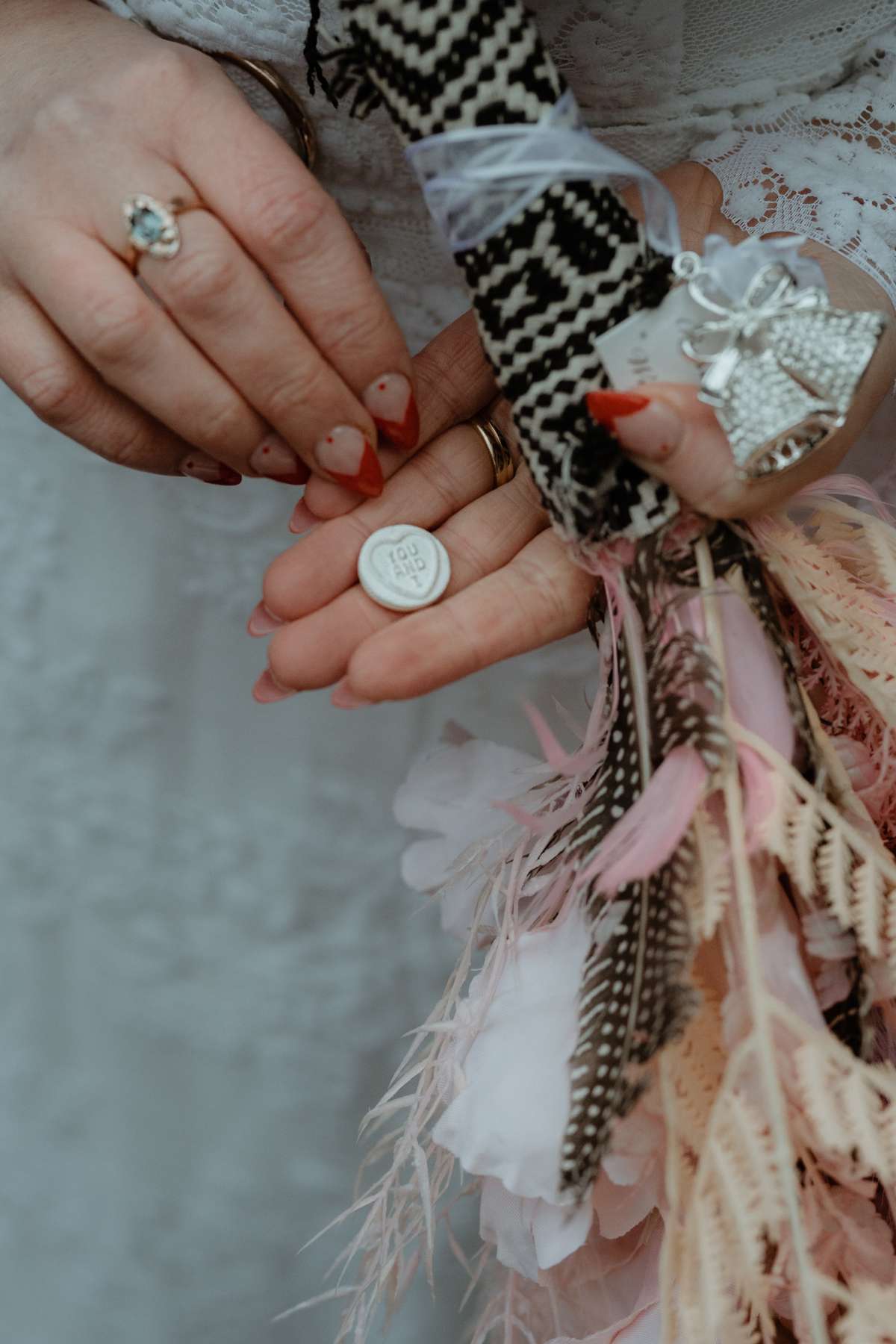 She continues, "We had one of my oldest friends Amy officiate which saved money and was a great excuse for a catch up. We hired two Chevy Bel Airs from the 50s to transport us all to the venue. They were gorgeous but we spent maybe 30 mins with the cars all up. Cars are a big cost with such minimal use! Our oldest son read one of my Dad's poems out during the ceremony and the flower girl (our niece) threw rose petals and walked down to an orchestral of Metallica's Nothing Else Matters. I walked down to an acoustic version of Lady Gaga's You & I which lyrically spoke so relevantly to our relationship (the meeting in a bar, the long distance longing etc)."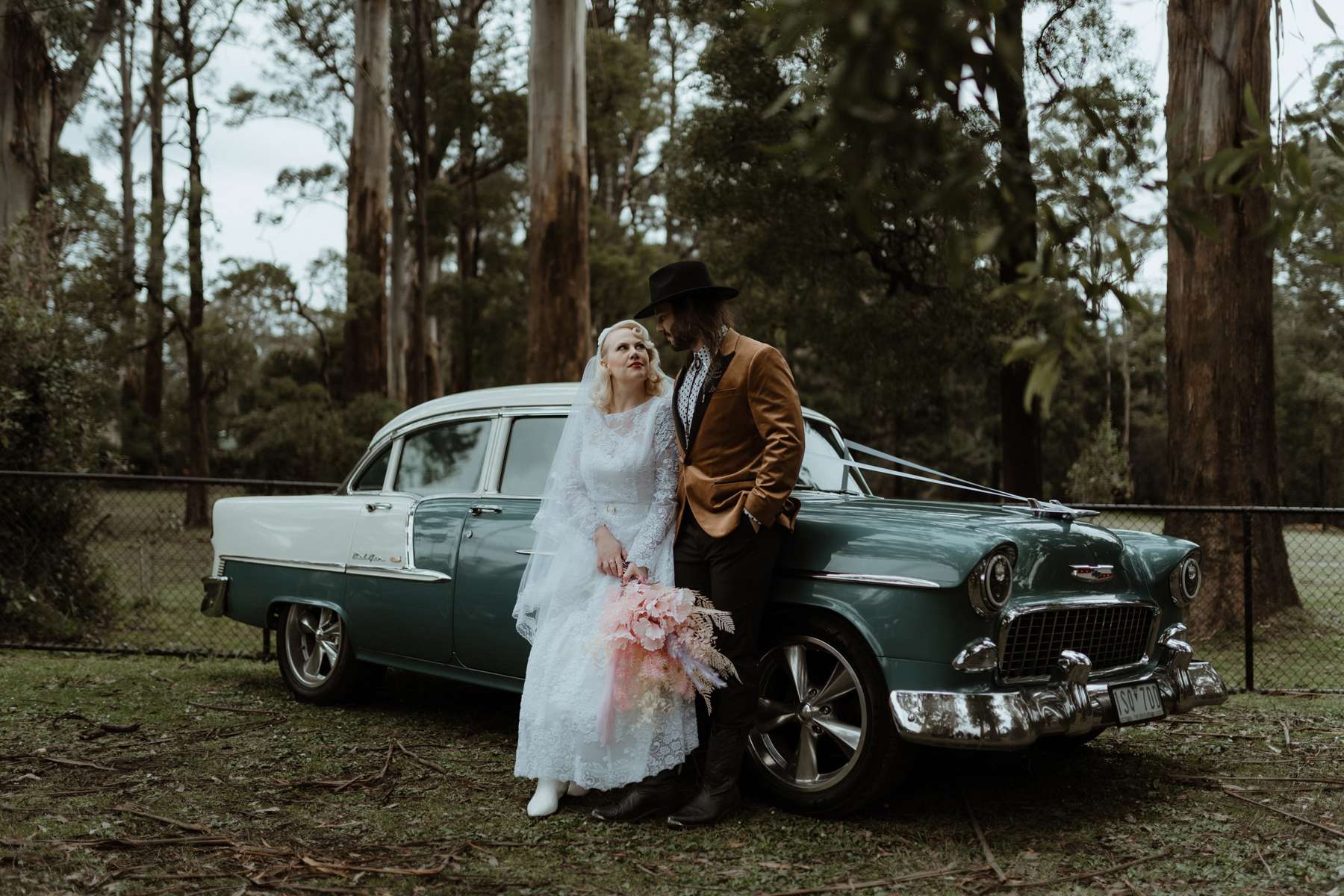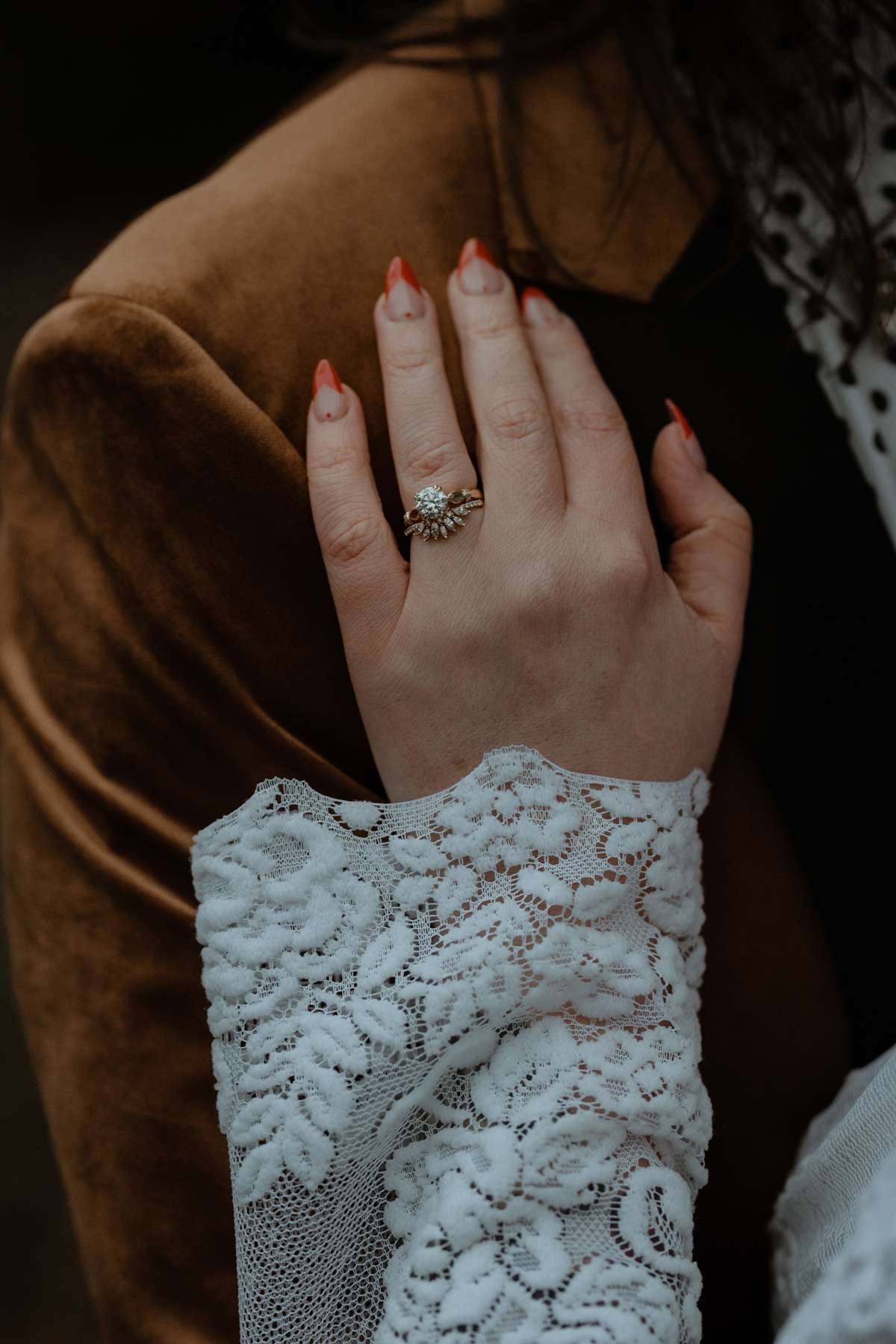 Alter the emotional ceremony came the reception party, which was full of pure rock 'n' roll spirit! The couple entered to Motley Crue's This Ain't a Love Song, setting a romantic yet rebellious tone for the evening. With a taco truck, donuts, and a vibrant atmosphere, guests were treated to a long table barn dance filled with joy and laughter. The night flew by in a blur, with Alice removing her petticoat as the party unfolded, creating unforgettable memories with their loved ones.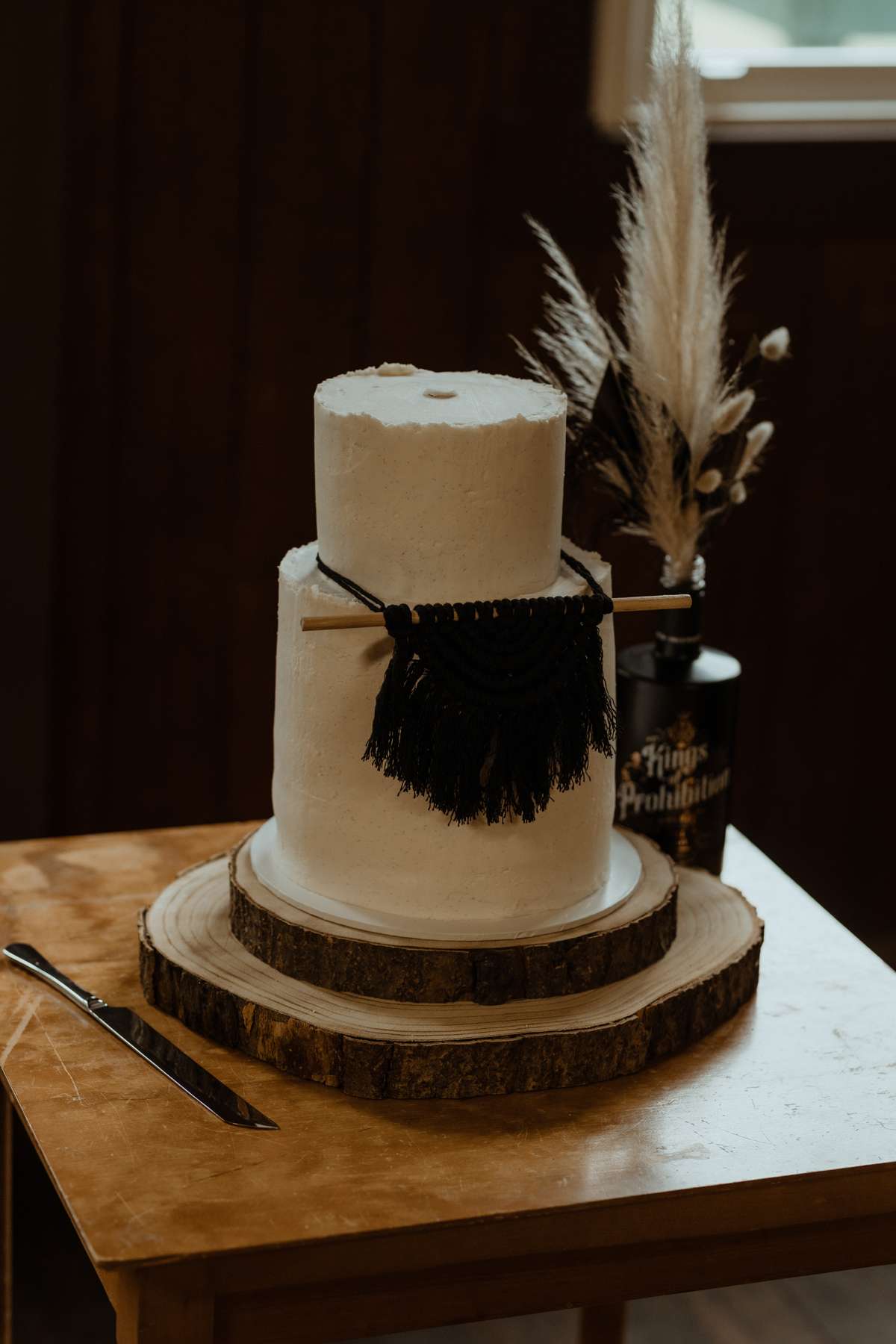 "The last ones standing were our closest mates and it was really cool to be all looking our best, listening to our favourite music and vibing together and reflecting on this community we have built around us over the last decade", Alice said. "Also, the fact this was right off the end of the pandemic and seeing people we hasn't for years was sensational. Everyone danced too! Which we hadn't experienced at other weddings."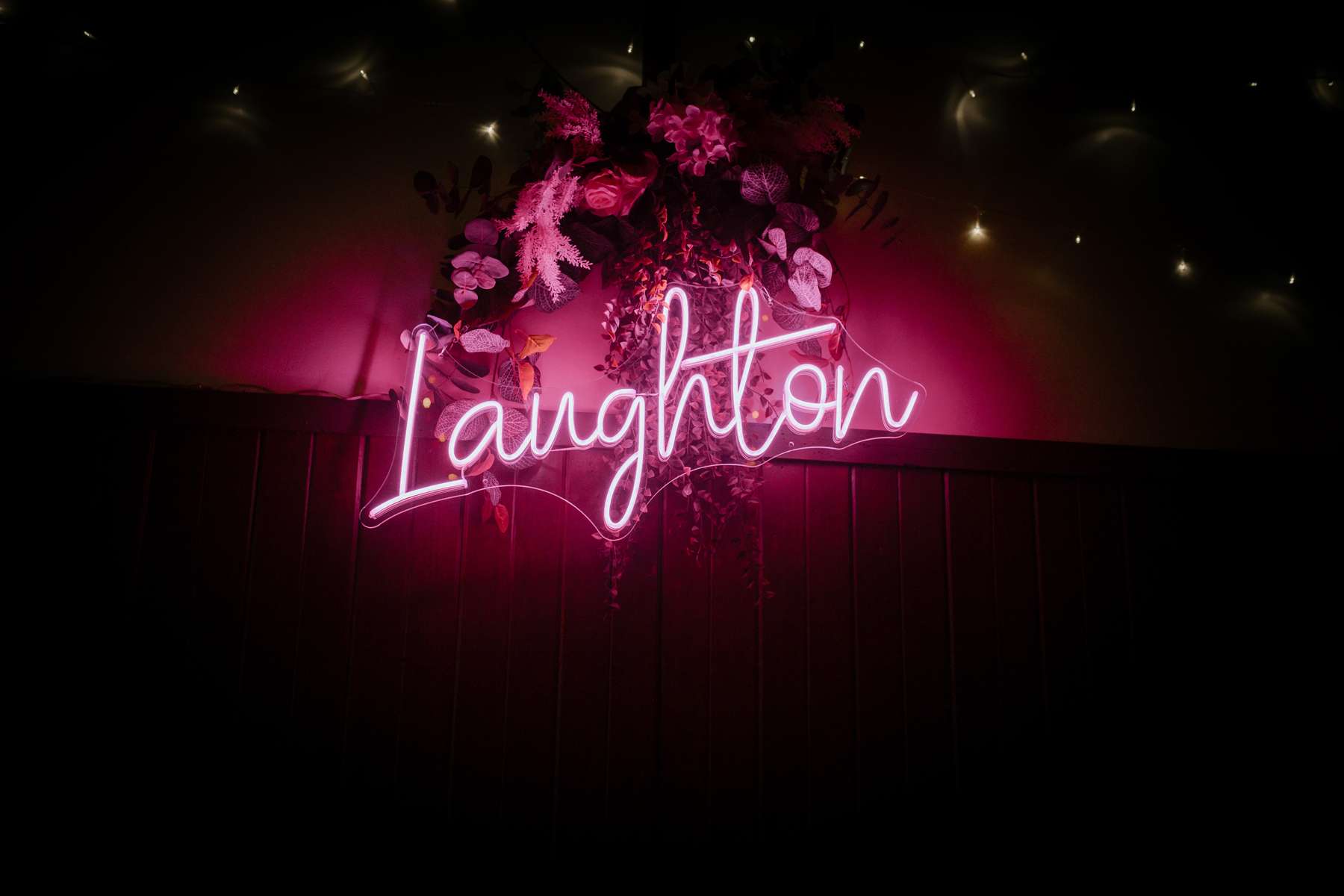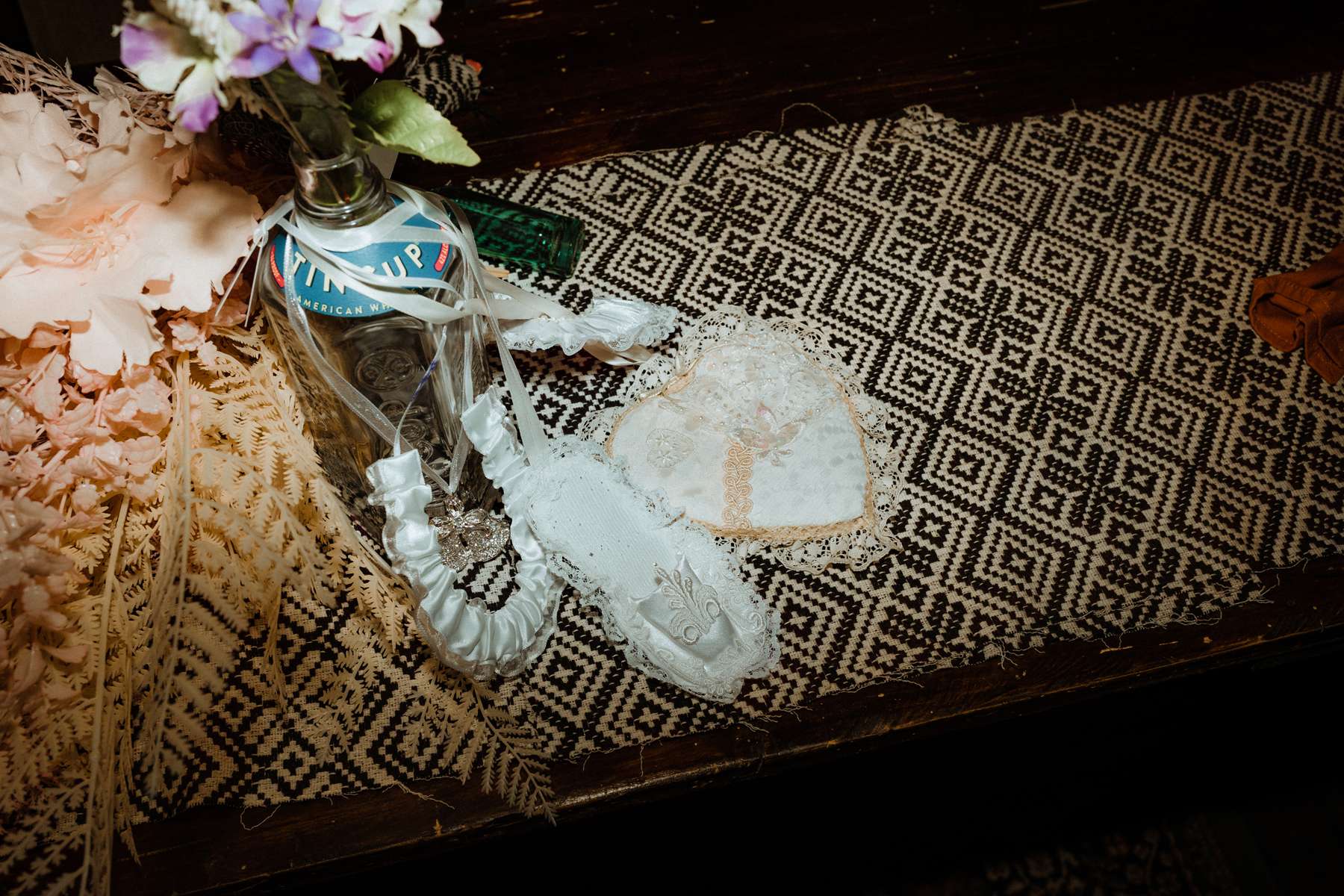 Looking back on their special day, Alice offered some sage advice to future engaged couples. "Photography is so so worth it", she concluded. "This is what your great great great grandchildren will see, this is your history, make it freakin' rad. Also, don't get caught up thinking you have to make the effort to go and chat to everyone. We had a sweetheart table and people came to us. That way, we were still together and kept it about the two of us, but those who wanted to chat and have selfies would come up to our table. Made it more relaxing for us. Finally, some things will go against your plans, but the next day it wont matter, it will have just added character."