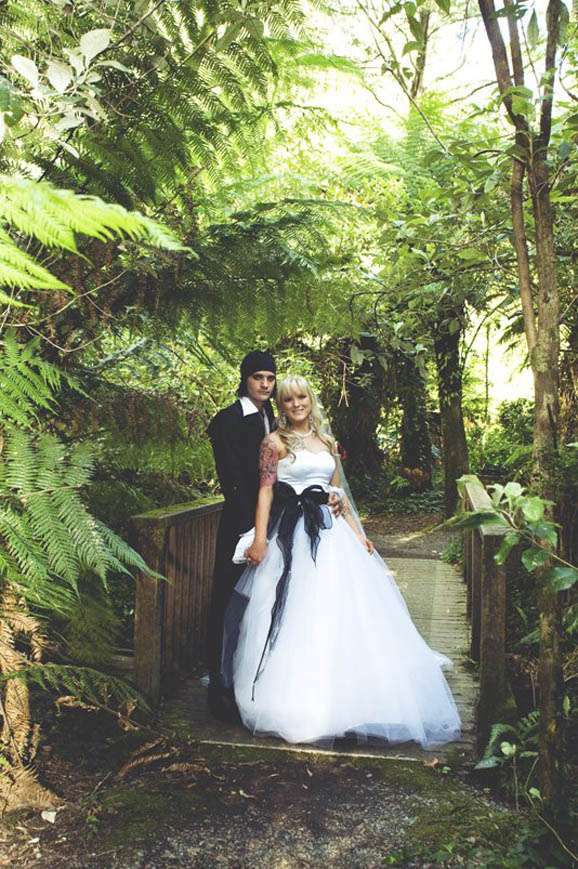 I have to say when I first laid eyes on Bodie & Beck's wedding I went all girlish and excited and started thinking very naughty thought about that party of groomsmen… I'm sorry, I'm sorry… but come on! How sexy are these boys? I even sneak peeked a shot of them on my facebook page (to share their beauty you understand) and… well… I've never seen so many smitten girls all in one place. It was pretty funny!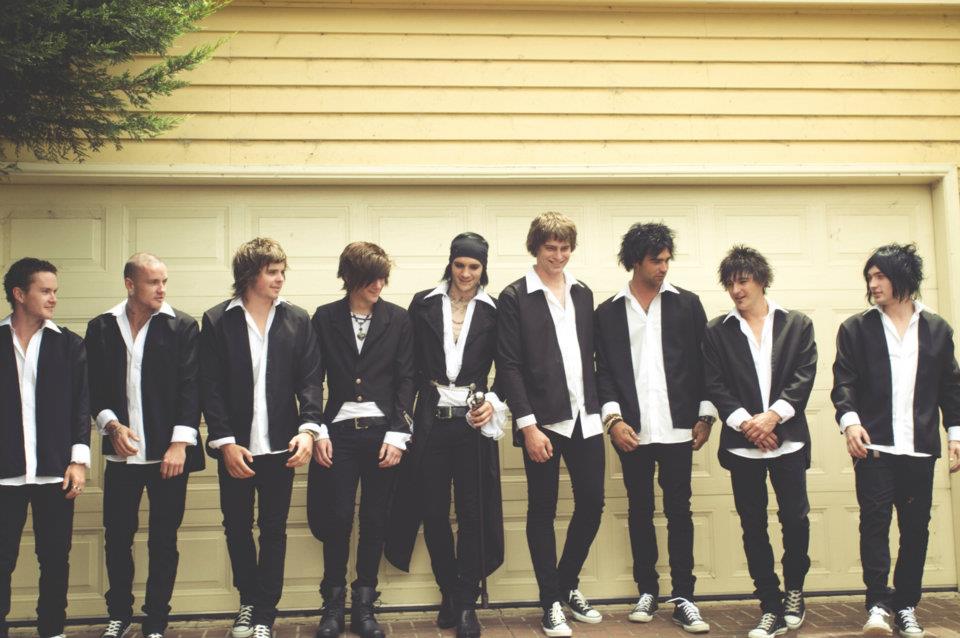 But just when I thought it couldn't get any better, I saw the rest of the wedding! How gorgeous is the bride (hello tattoo envy anyone?!) In fact I just about cried with jealousy over how damn cool the whole thing is… and they are. I'm very professional indeed. I love this wedding more than life itself. Who's with me?
The Australian couple were married at Lyrebird Falls in Kallista, Victoria. The groom's mother made Beck's dress and Bodie's outfit in it's entirety. What a talented lady!
"My husband and I are natural rockers, its not a fad, its not to be cool, its just simply us", began the Becks. "We love the sound, the lyrics, the grunt, dirtiness and sweat in every rockers musical note. Nothing is sugar coated… Rock no matter soft or heavy is the utter most truthful sound. And just like the music, our wedding was all of these qualities. Our wedding theme was black and white with a touch of red and diamonds!"
Beck had 8 bridesmaids and Bodie had 8 groomsmen. The girls wore dresses from eBay which had a 'Madonna in the 80s' vibe to them. The bride even wore black lace gloves. The boys' outfits were inspired by the Guns n Roses November Rain era.
"Continuing our theme, our table's weren't numbered, instead every table was named after one of the our fave rock bands. The names were; Guns N Roses, Metallica, Avenged Sevenfold, Roxette, Meat Loaf, The Byrds, The BeeGee's, The Rolling Stones, Motley Crue and The Runaways. We also didnt have the normal name placement cards, instead the we spent many nights collecting pictures of all their guests and putting them into little black gothic frames."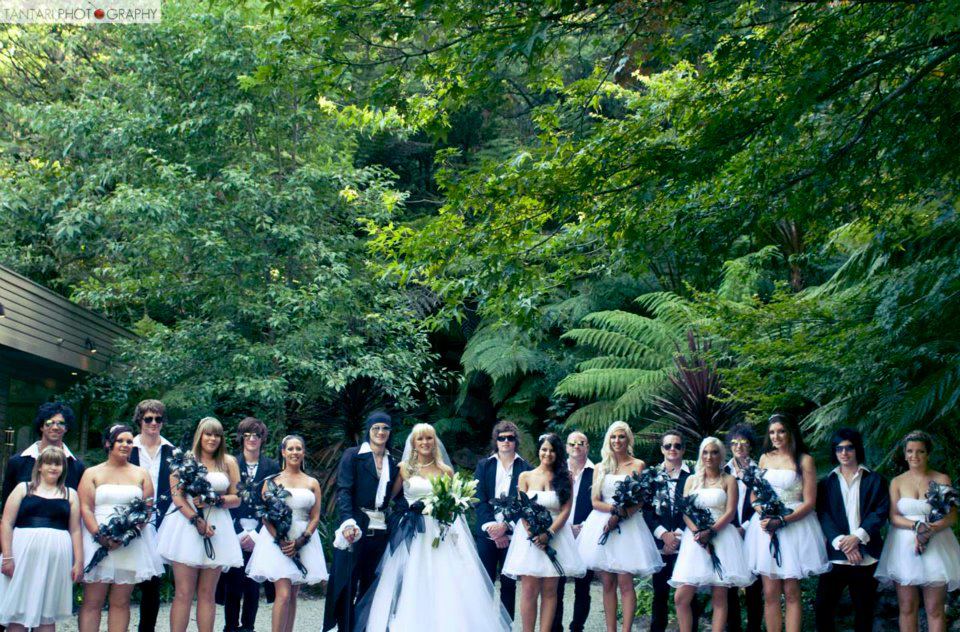 "I walked down the aisle to 'Use Somebody' by Kings of Leon and left the alter to 'The Ecstasy of Gold' by Metallica. We entered our reception to the classic 'Never tear us apart' by Inxs and danced the bridal waltz to a slow rock version of Katy Pery's Teenage Dreams done by Boyce Avenue. We only had 84 guests (19 alone was the bridal party) so our wedding was quite small but with a huge number of attendants!"
"My favourite part of creating our dream wedding was honestly the whole process, I have such a passion for event planning, especially alternative weddings", Beck concluded. "Also having all our friends come together to help us celebrate. Bodie and I have such a large group of friends all over, and love them all so equally which is why we had so many bridesmaids and groomsmen. We could have easily had more though! We've both gone through life having a huge group of many great close mates that we know we can depend on."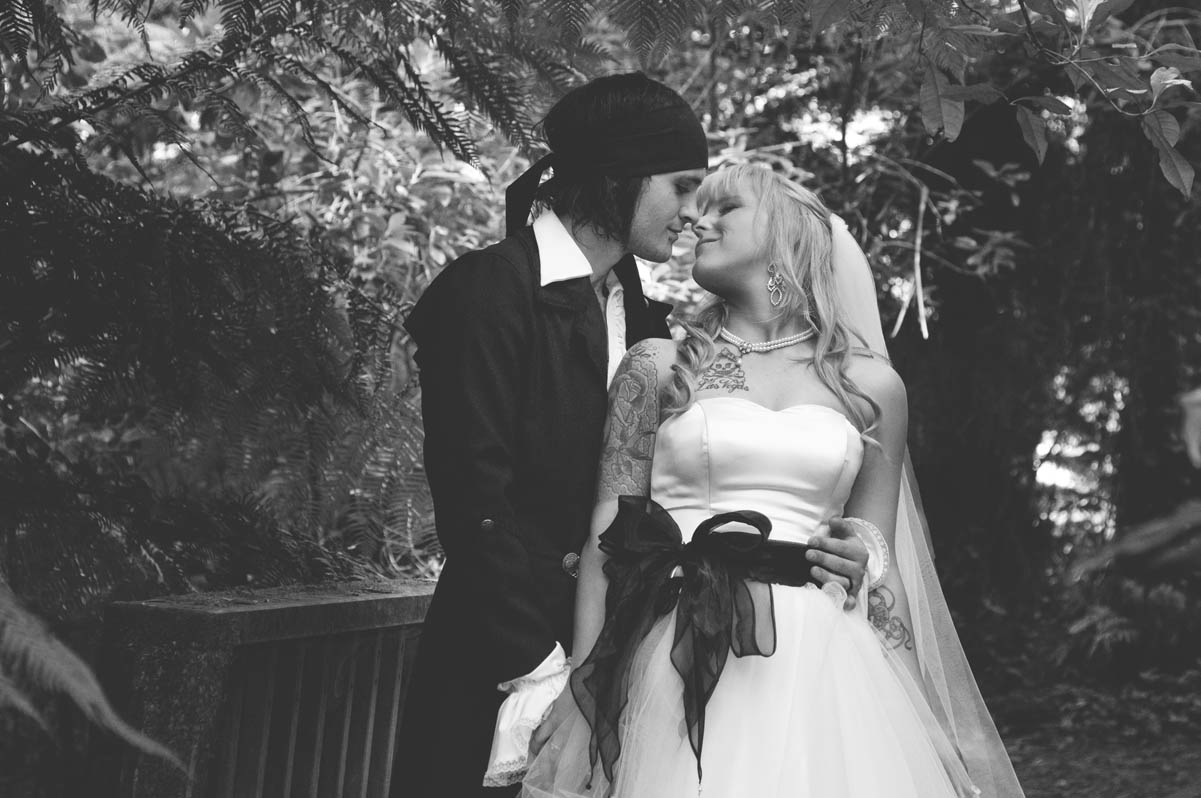 AMAZING. A true Rock n Roll wedding indeed! Thank you to Bodie & Beck for sharing their day with us today. You can also see their flippin' amazing engagement shoot here. SUCH a gorgeous couple!
Supporting Cast:
Photography Credit: Tantari Photography
Venue: Lyrebird Falls in Kallista, Victoria
Bride's Dress: DIY
Bride's Shoes: Alan Pinkus via Myers Australia
Bride's Headpiece: DIY
Groom's Outfit: DIY
Bridesmaid's Dresses: eBay
Cake: DIY
Flowers: DIY
Make Up: Machelle at Idol Eyez Hair and Beauty Parlour located in Pakenham, Victoria –  (03) 59404267
Stationery: DIY
Transport: Hummerlimos