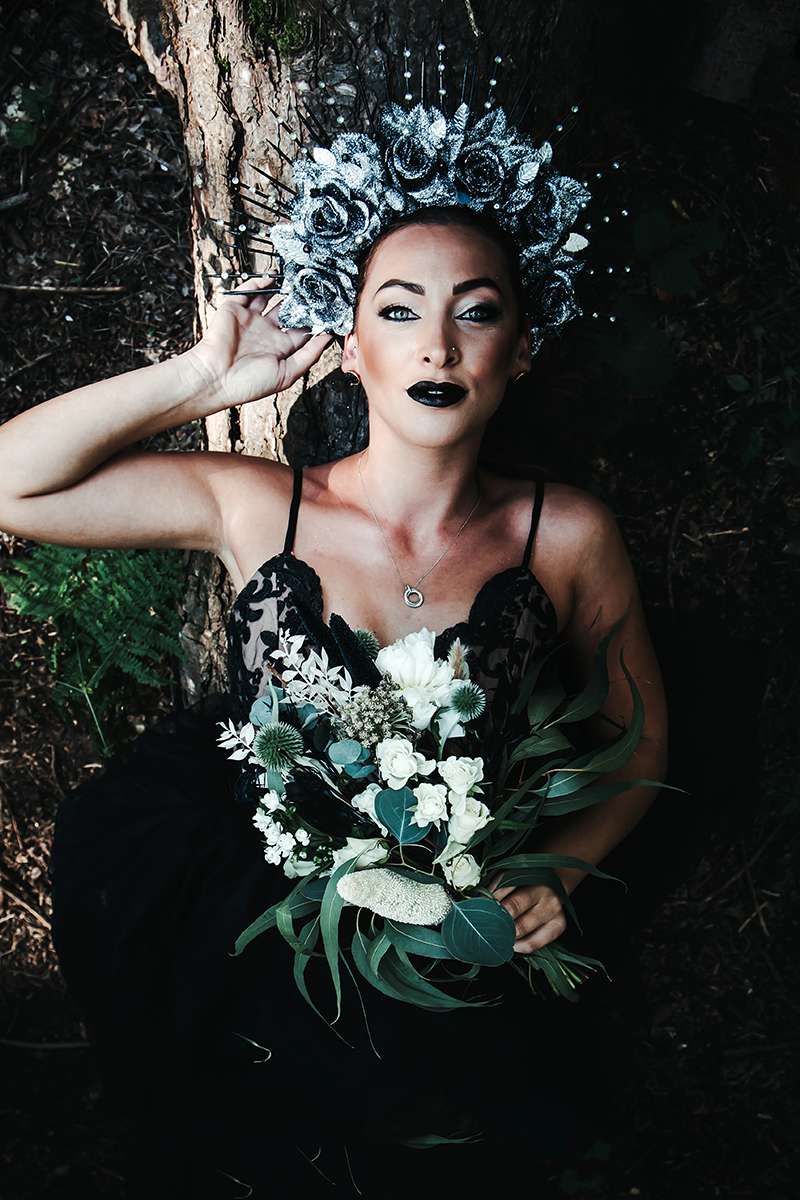 When a white wedding isn't the thing for your inner emo or goth.
The subcultures we dwelled or dabbled in during our formative years leave lasting impressions, even as we emerge from our younger years appearing quite different. If you were (or are) an emo or a goth, you probably felt like weddings really weren't for you with all that conforming to tradition, whiteness and lack of music that set you on fire.
But goths and emos get married too! Case in point; your great self reading this very Rock n Roll Bride magazine. It's hardly an accident that you chose the only wedding mag that shows weddings wayyyyyy outside the realm of white and traditional.
So, if you want to have the dark and moody wedding of your dreams, but without the stress of making your guests Panic! At the Disco, here's your fool proof guide.
First stop; zero fucks
You've found your person and you wanna marry the hell out of each other, devote your little emo hearts to one another and occasionally scream-singing Blink-182's I Miss You from the car window at each other.
The only people who matter are YOU TWO car window screamers. So, make a conscious effort together to do things your way. A great way to do this AND lessen the stress of disapproval slash unwanted advice is to not tell people who you think will freak. So simple, so effective. As long as you're not intending to make people dress in wildly complicated fancy dress, then what do they really need to know about your wedding in advance?
Hello Hallo-wedding
Personally, I was a grunge teen, who witnessed goth teens dressing as vampires now and then. Thus, I had to go deep undercover (not true) and asked our stylist and designer Stevie Winter (a former teen emo) to spill on her emo heart's desires.
"We all loved The Nightmare Before Christmas and dreamed of having the perfect Halloween wedding, where we'd walk down the aisle in our Converse Chuck Taylors to an acoustic version of My Chemical Romance's Helena. Instead of a veil we'd lift our huge fringes off of our faces before having the perfect first kiss", Stevie shared.
While you may decide against the fringe veil nowadays (though we can all agree, is fkn genius), you can still infuse your celebration with spooky, dark, moody, Halloween-eque touches that won't have your guests clutching their pearls.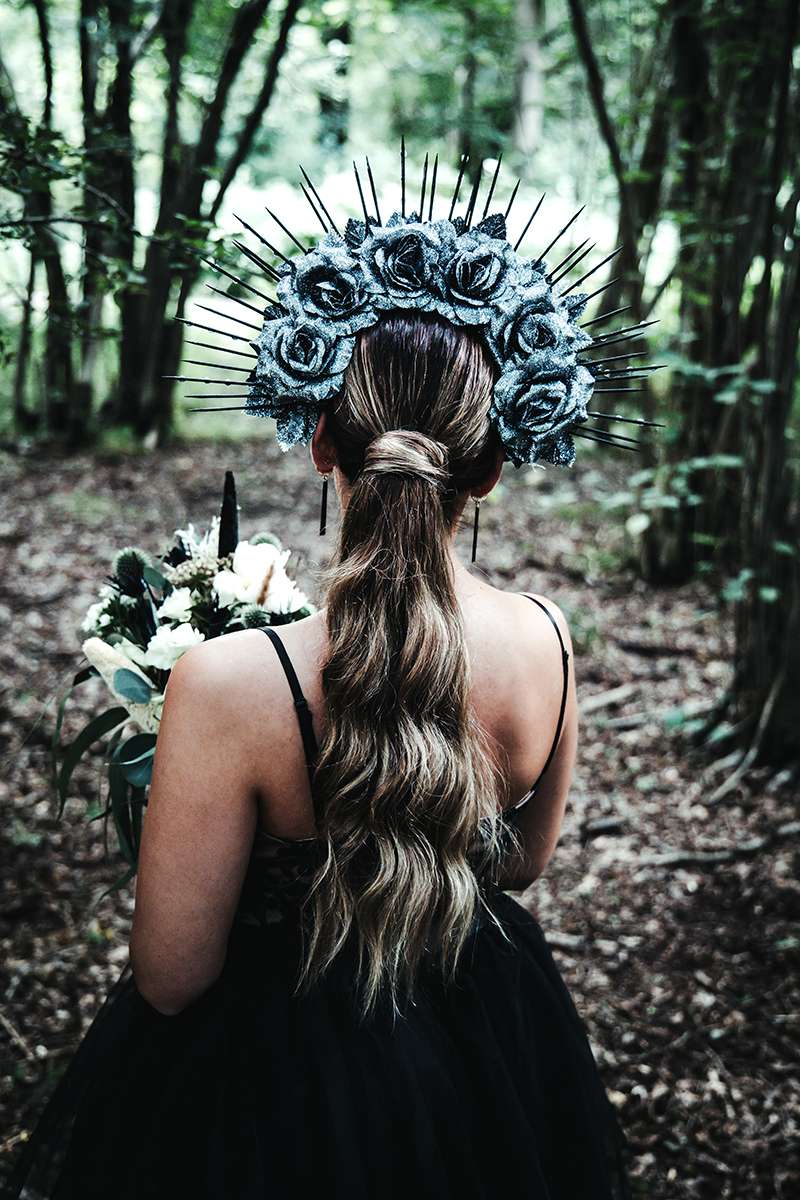 Roses are red, emo's not dead
Whether you decide to go wild with your dark at heart wedding or keep it more restrained, your decor is the perfect way to bring the darkness. Try:
? Black wedding invitations! Get a custom illustration of your cute faces or go with white text printed on black textured cotton paper. Did I hear you say you'd like to seal the envelopes with blood red wax? Oh, the romance!
? The moodiest of goth botanicals with roses on roses on roses in shades of deep red. Add a splash or two of rock 'n' roll with textured foliage, black or gold painted dried elements, foraged weeds and sticks, or get some classique pumpkins into your Hallo-wedding decor.
? Furnishing your venue with cosy AF vintage velvet lounges and cushions, Persian rugs, too many lamps and a big ass red neon sign. Dimly lit + red glow = gothic dreamscape romance maker.
? Creating a feast straight from a 17th-century Dutch oil painting; brass plates, serving platters and cutlery, OTT goblets for sloshing your wine about, velvet napkins, flickering skull candles and black taper candles in brass candle holders! Break it up with green foliage as your table runner. Before you know it, Uncle Bill will be ravishing Aunty Trish's arm a la an Adams family dinner.
'Fits fit for Morticia Adams
It's an obvious one to ditch the white dress, but some of us need a push to let go of the white dress thing. Go white if you like, but know there's never been a better time to get the unconventional outfit of your dreams. From couture to cut-price, there's options for every budget and style. Think dark hued dresses, jumpsuits, pant suits. Get those bat wing sleeves and mermaid shapes on your person stat! Morticia would be low-key proud.
If you feel like white is a better choice for your outfit, then why not add a fancy black veil or cape? Strengthen your theming by asking guests to wear black. It's a simple, fun way to get your guests involved without alienating anyone. A huge bonus if you live in a city renowned for its love of wearing black errrrrryyyyyythang (hello Melbourne, New York City and Berlin!).
Aisle be there
Any wedding worth a crumpet will be choc full of the best bops.
Stevie again; "Walk down the aisle to an instrumental version of your old MySpace song! Or mosh down to Panic! At The Disco's I Write Sins Not Tragedies. You do you hun, but whatever you do, just make sure you CLOSE THE GODDAMN DOOR!"
Set the tone during dinner with your favourite emo slow jams, OG 80s goth anthems or 90s heavy numbers, then ramp it up to move everyone onto the dance floor.
"Your first dance could be The Monster Mash, and make sure your 'Myspace Top 8' is in the DJ's mix. I promise it'll fill your dance floor quicker than you can say 'RAWR XD'", added Stevie.
Even the most Conservative Cathy and Scandalised Stan will have fun at your dark and dreamy wedding. Because what we can all agree on is that love is great and celebrating it is even better. In this case, love shall NOT tear us apart.
ABOUT KATE
Co-founder and creative director of Melbourne vintage furniture hire and event styling legends, Good Day Club, Kate Forsyth is an expert at stacking unstackable vintage chairs and designing the raddest, most non-traditional and fun weddings known to wo/man. Outside of running her business with husbo Dave, she parents small human Remy, plays the drums and just painted her house every colour of the rainbow.
This article originally appeared in issue 41 of Rock n Roll Bride magazine. You can purchase the latest copy here, or why not subscribe to never miss an issue?