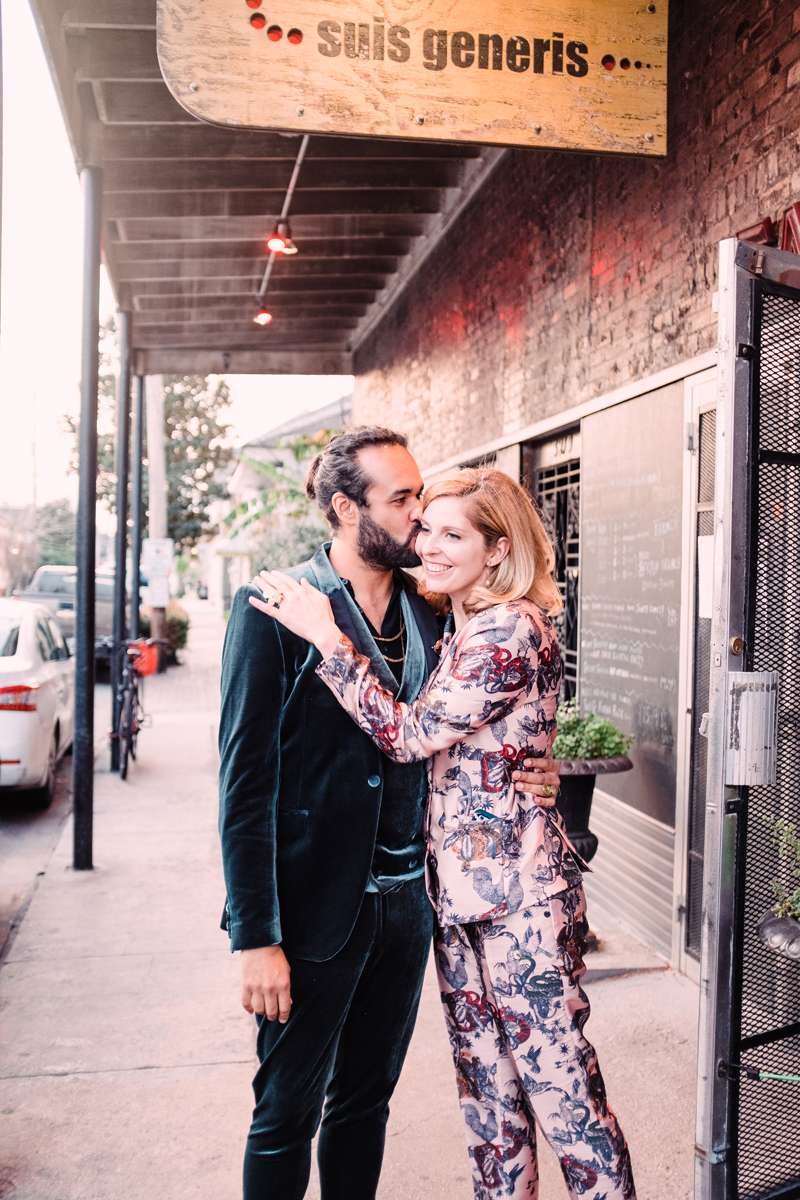 They wanted their New Orleans wedding to be a celebration of their love that wasn't bound up in ideas about gender or consumerism. Quinn, who married Natan in February, wore a stunning Scotch and Soda suit instead of anything traditionally bridal. They also didn't have a bridal party, their low key ceremony was in a park and they ended the day with an intimate gathering in one of their favourite restaurants.
"I would not have been comfortable in a traditional wedding dress, nor would I have been comfortable spending lots of money on something I would wear only once", Quinn explained, "Giving ourselves permission to ignore tradition and precedent meant that we could have a celebration that felt authentic to us."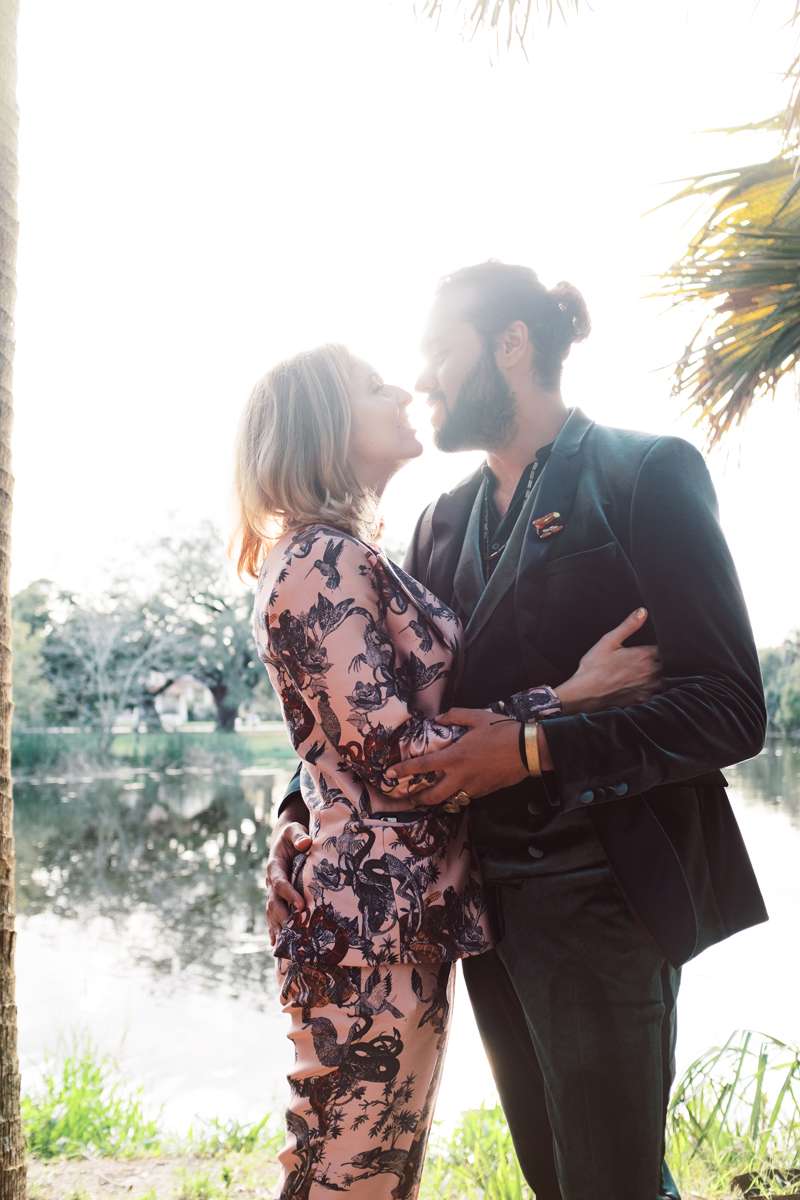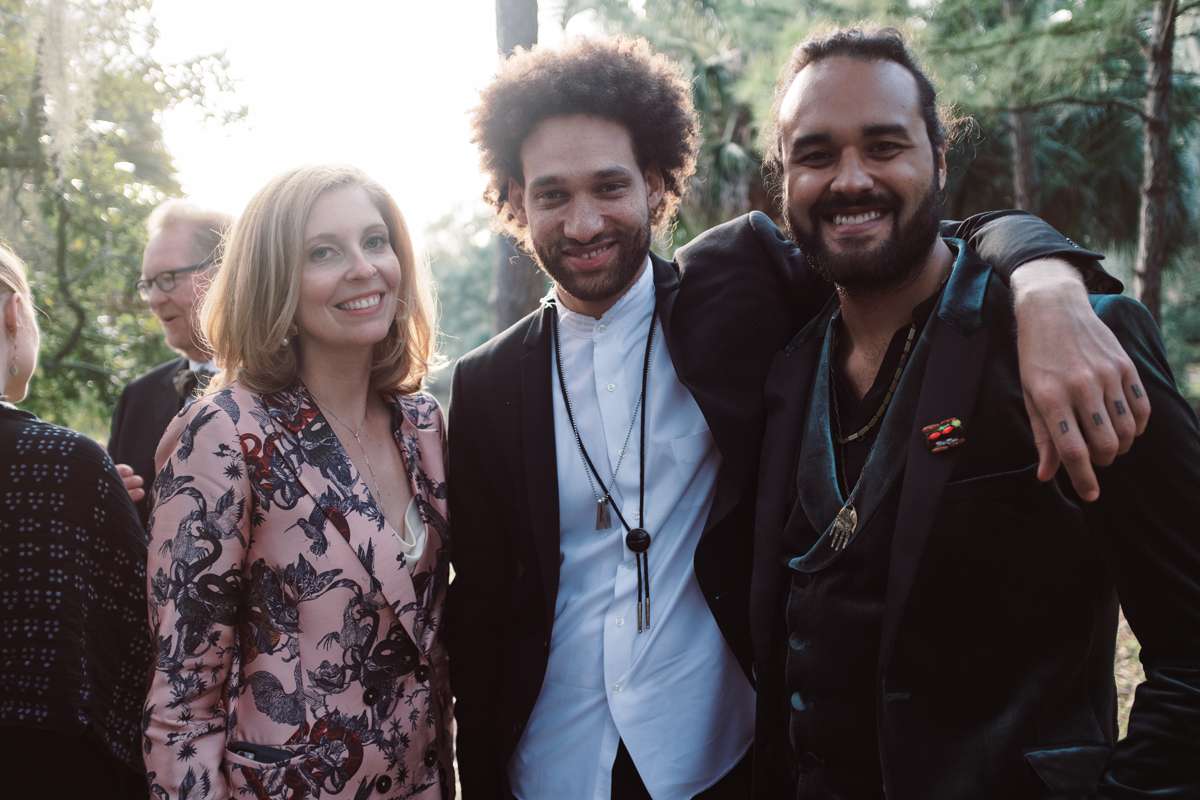 She spotted her pink, printed silk suit in a shop window in New York, before they were even engaged. "I kept an eye on it online for several months once we started talking about getting married. Once we officially got engaged, it was my first purchase in preparation for the wedding. I ordered it a size up from what I'd usually buy, just to be safe. We later had the suit tailored by a seamstress for the perfect fit."
She paired it with jewellery, 'something borrowed' from her mum, and a gold platform wedge shoe. Natan wore a dark green ASOS suit, with brass jewellery from their shared necklace collection.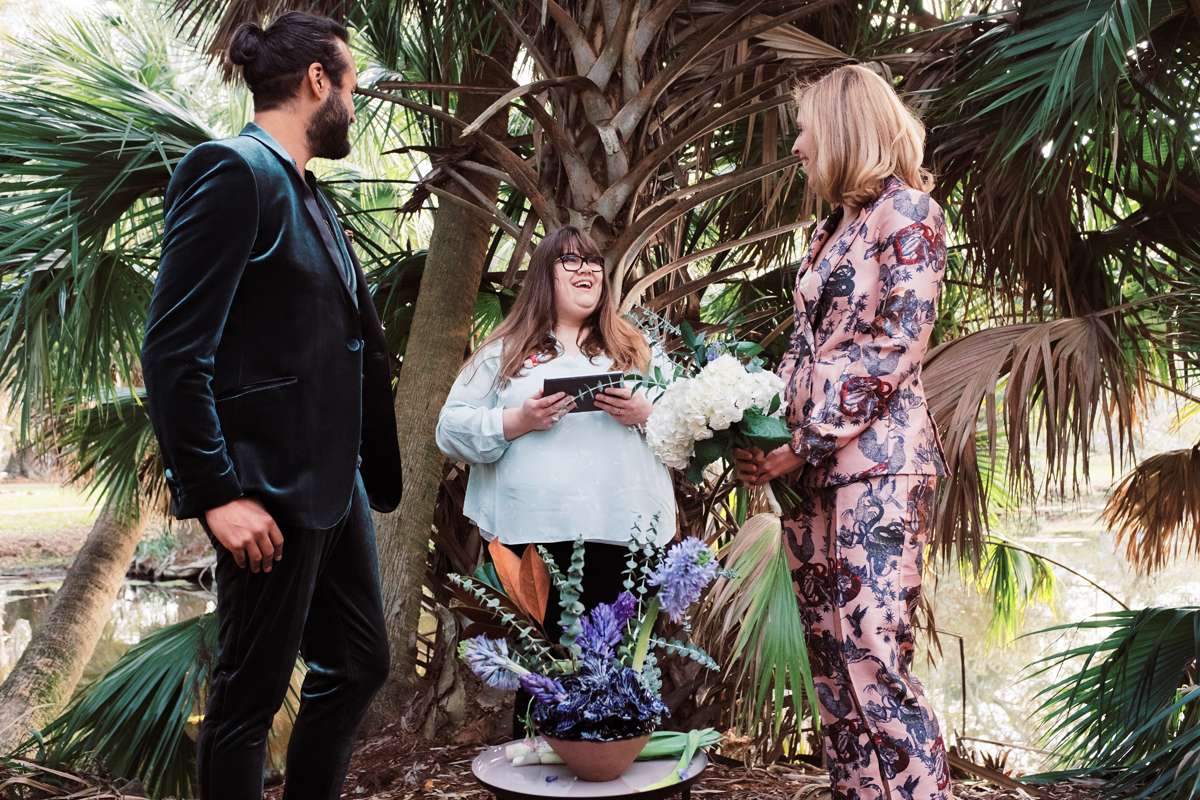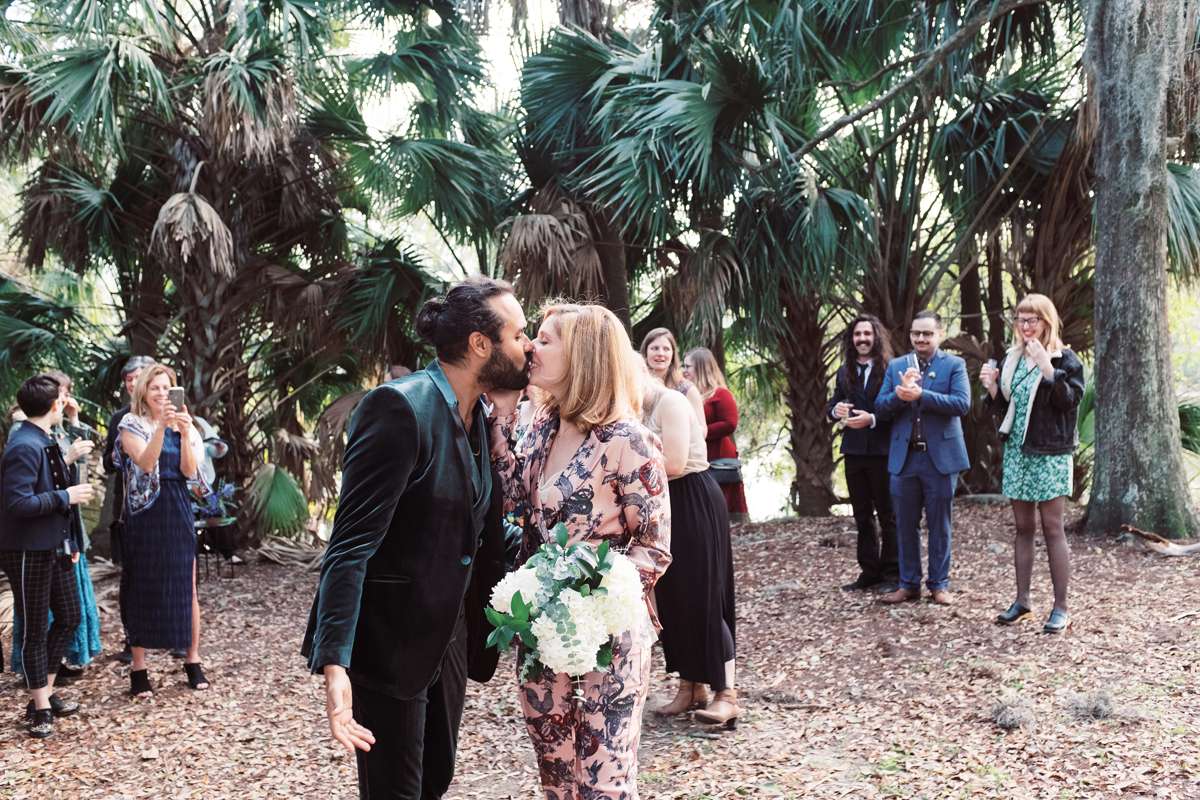 Repurposing was a running theme throughout their planning, in order to have an environmentally friendly wedding without sacrificing on personality, enjoyment, or going over their $5,000 budget. They decorated the ceremony space with things from their home and found objects. The wedding favours – handmade broaches – were made from craft supplies they found in Quinn's mother's closet that she was planning to donate or throw away.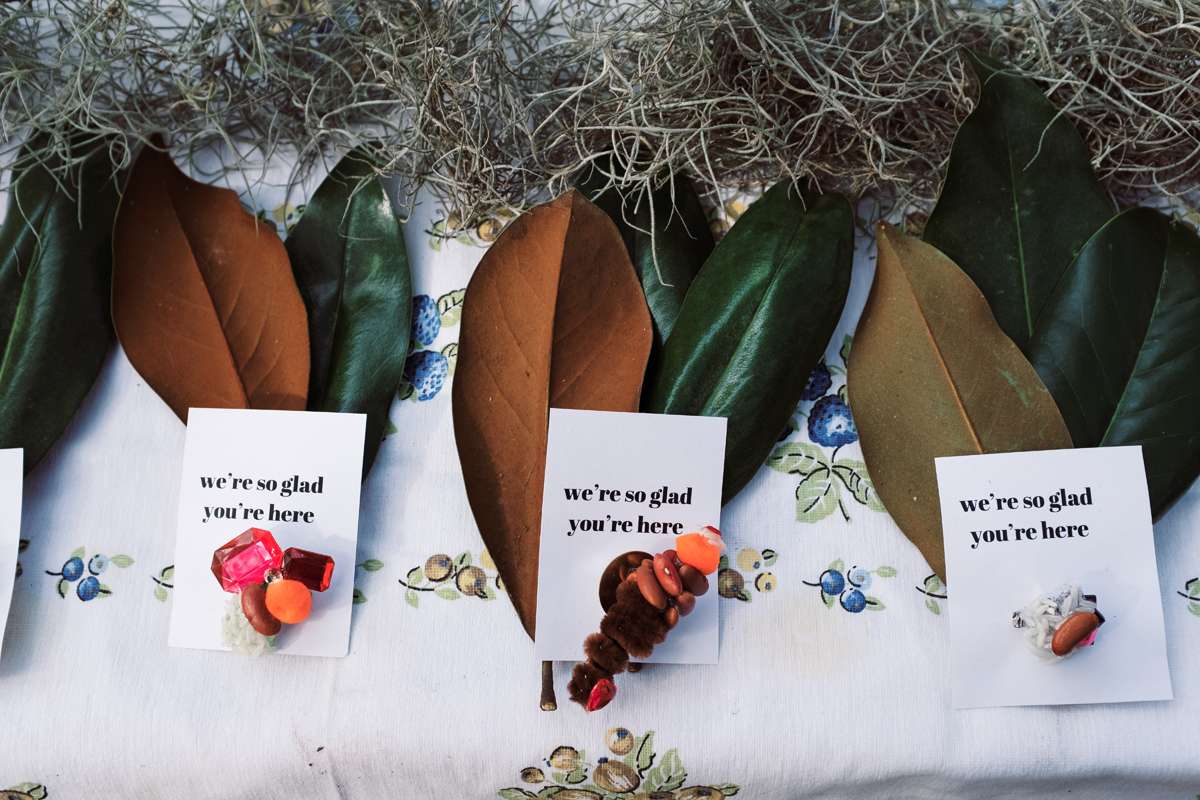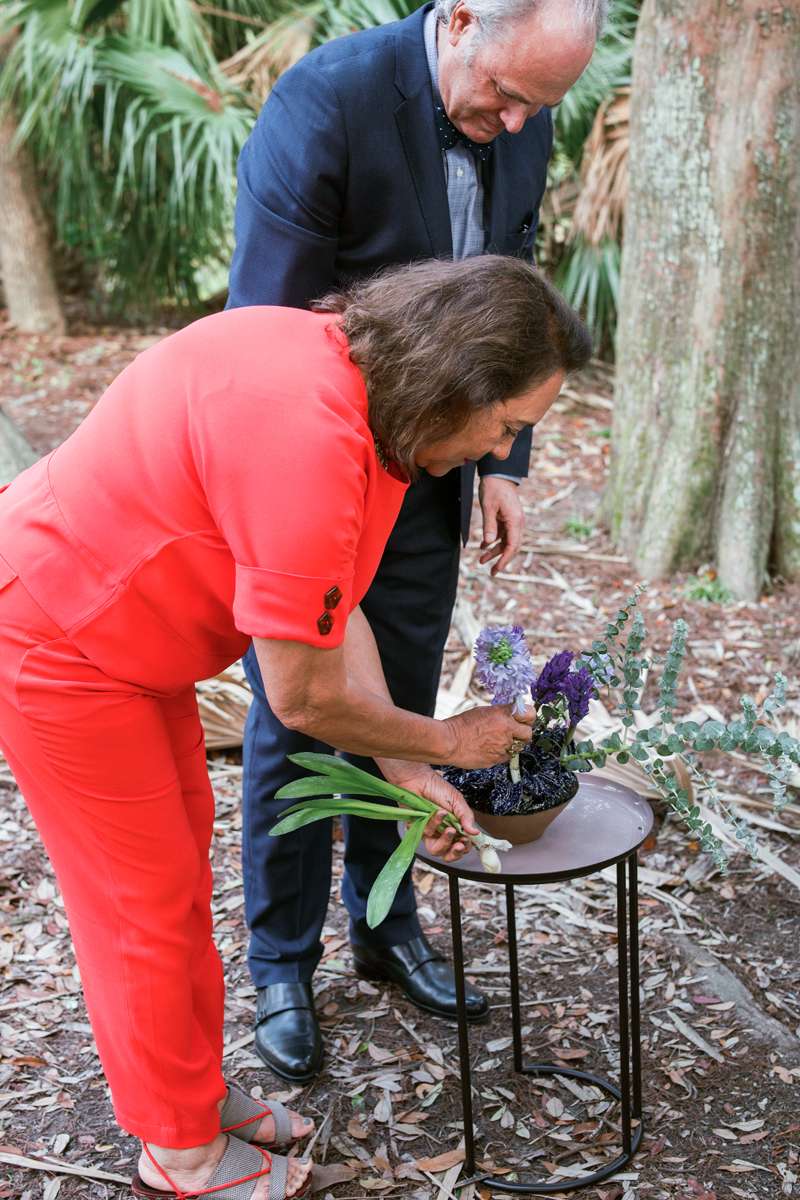 "We didn't rely on single-use items or non-recyclables for any portion of the wedding. We kept the guest list small, to limit how much jet-fuel was burned. Because of this it became much more of a community event where everyone pitched in to help make it happen. This also meant that we got a lot of Facetime with everyone and had a total blast."
The couple chose the date for their celebration to coincide with Mardi Gras, since much of New Orleans is closed down around that time. "Without work responsibilities, our local friends could celebrate with us on a Sunday— typically a 'school night.' Likewise, our friends visiting got to enjoy the wedding AND got to experience Mardi Gras for the first time. The parades that went on from Thursday-Tuesday of our wedding weekend made for great built-in time to hang out with friends and family and enjoy our city."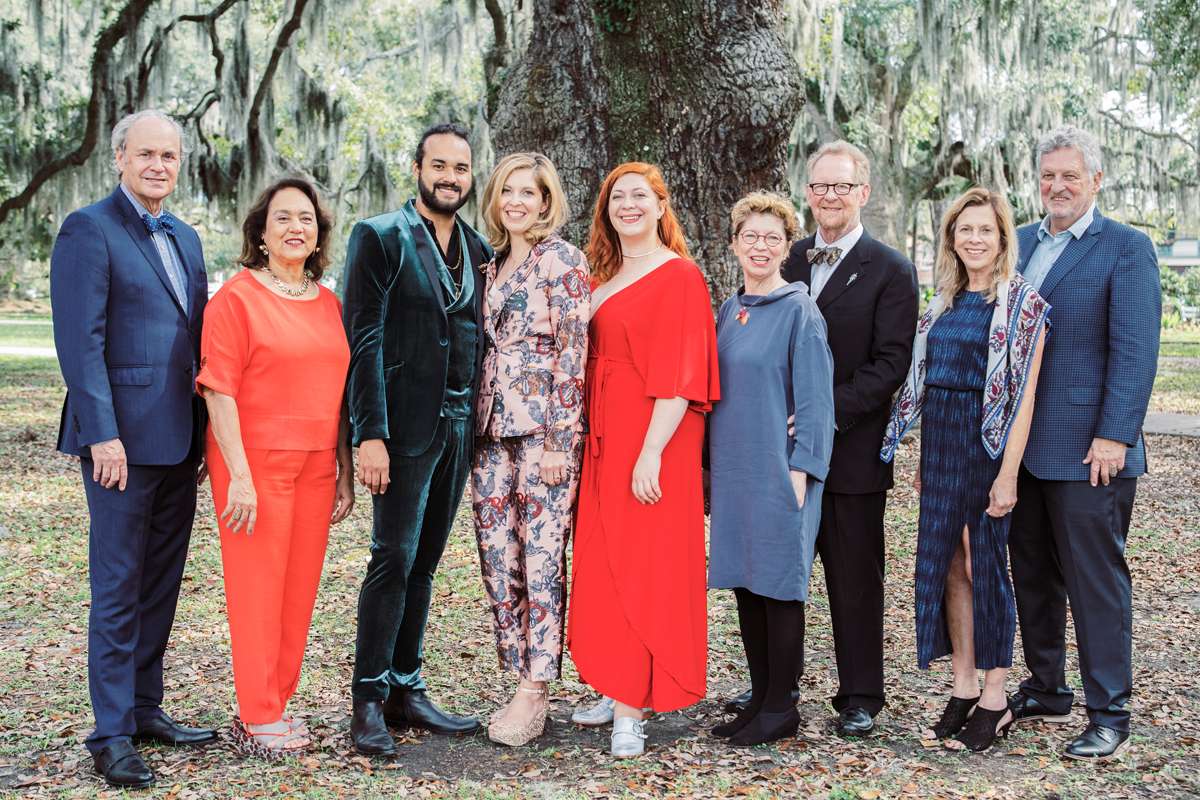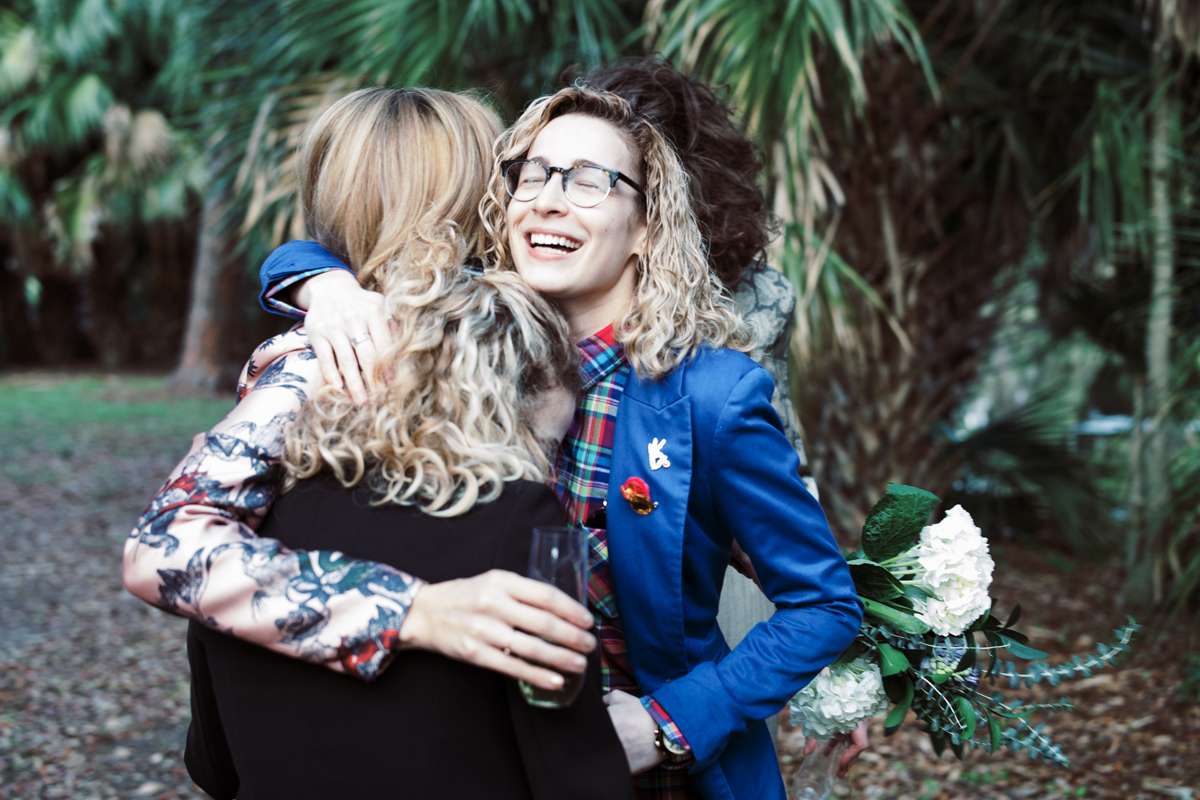 Their ceremony was held on an island in New Orleans' City Park. "Our friends convened on an island in New Orleans' City Park, picked up their favours, had a glass of champagne, and listened to a playlist of some of our favourite tunes. Our walk-in song was Seven Wonders by Stevie Nicks. Our parents came in together and each placed a flower in a vase that my mum had made for the occasion. Then we walked in together and everyone gathered with us around the vase where our officiant, Margie, performed the ceremony. Margie is one of my old friends and shared funny anecdotes about me and Natan. She also talked about the questionnaire she sent to each of us in preparation for the ceremony and how similar our individual answers were. She emphasised that, to us, marriage is about partnership and growing creatively together. Finally she talked about our mutual love of Dolly Parton—visiting Dollywood was our first road trip together. Then, our friend Alyce read the lyrics of Islands in the Stream, a song originally performed by Dolly Parton and Kenny Rogers."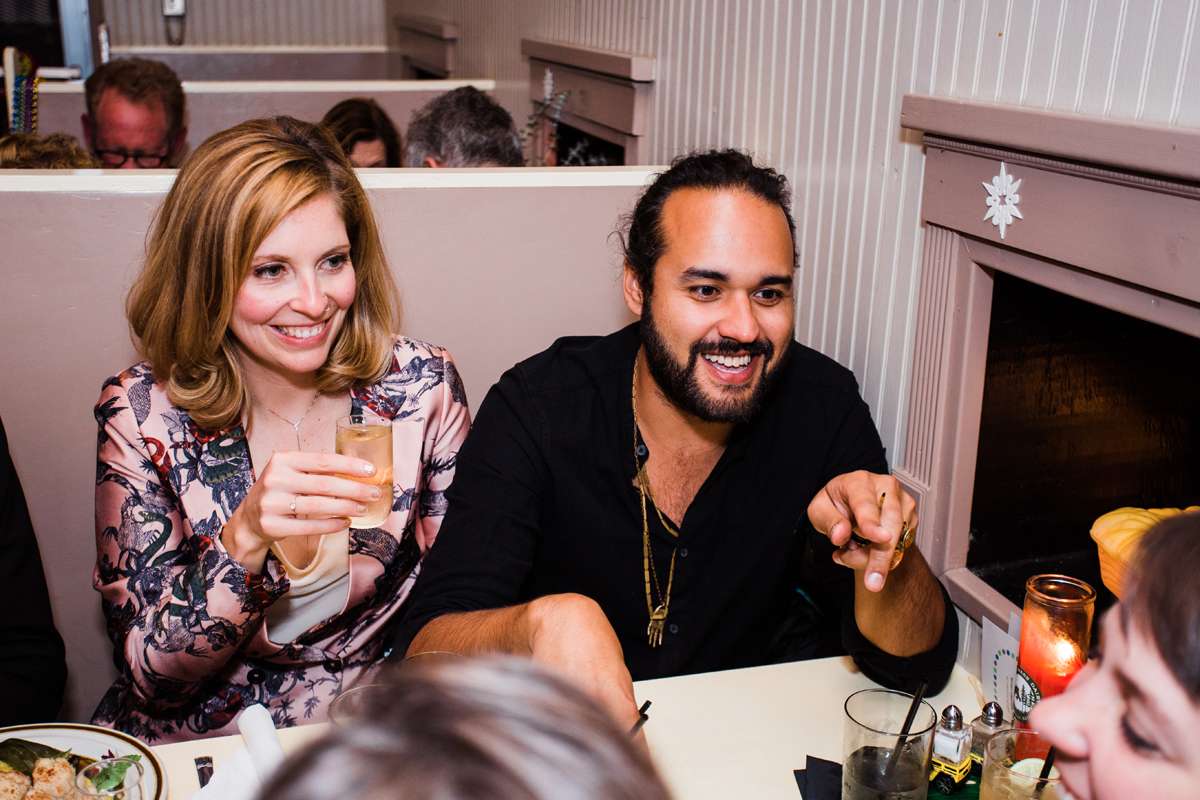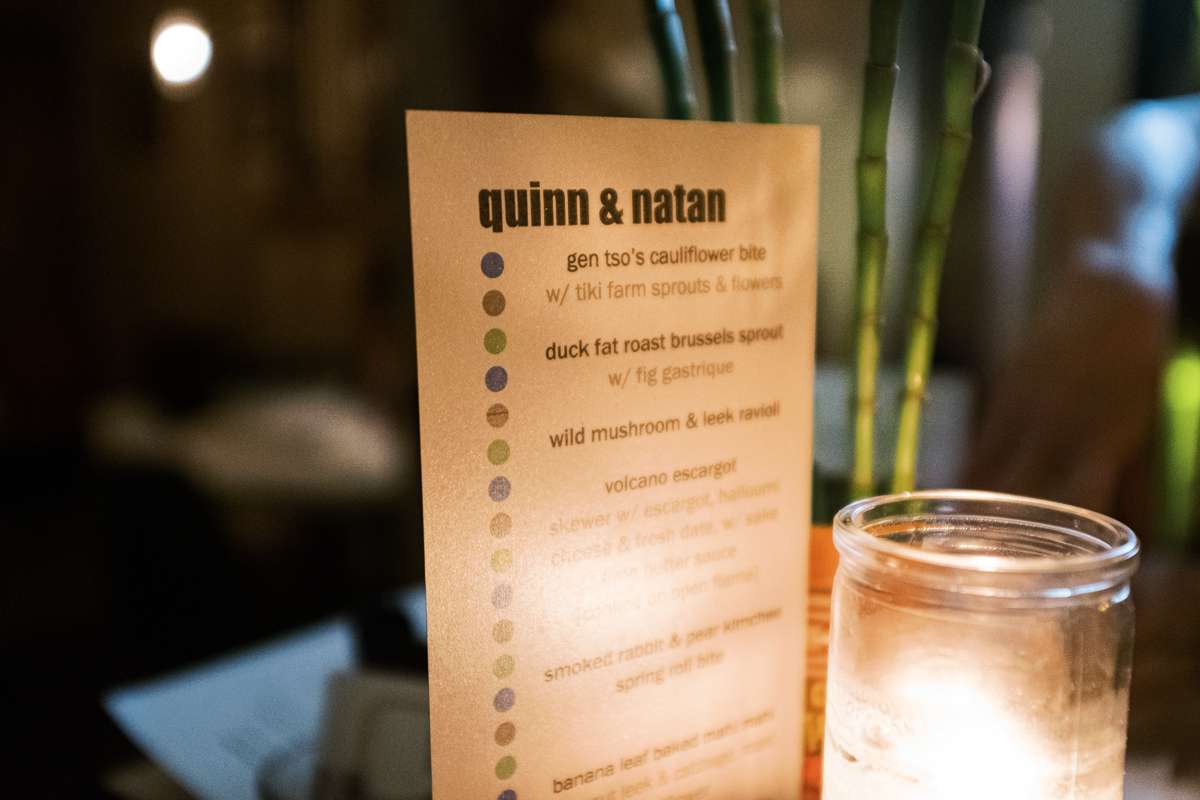 "We then shared vows we wrote ourselves and exchanged rings we'd found at a market in Oaxaca, Mexico in January. We wrapped up with a hug, a high five, and a kiss. Our closing song was Love's in Need of Love Today by Stevie Wonder. We celebrated on the island for another hour with champagne and hugs from friends and family."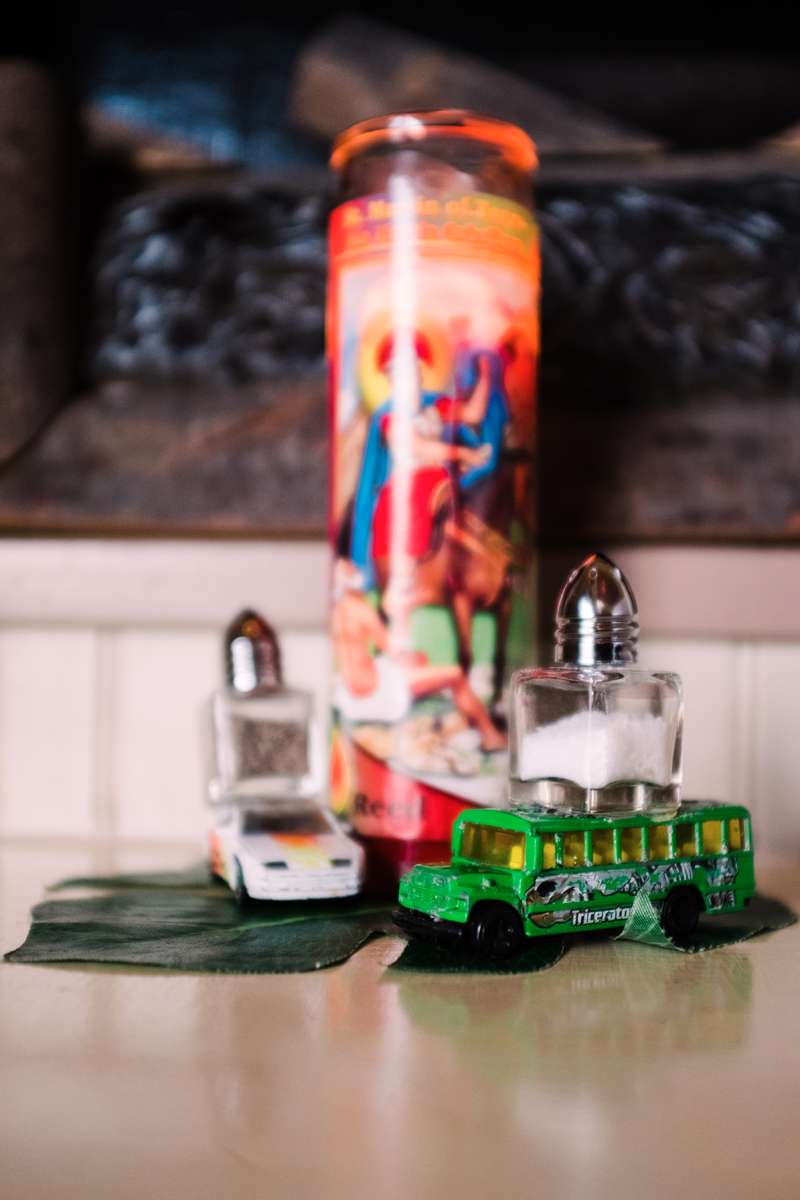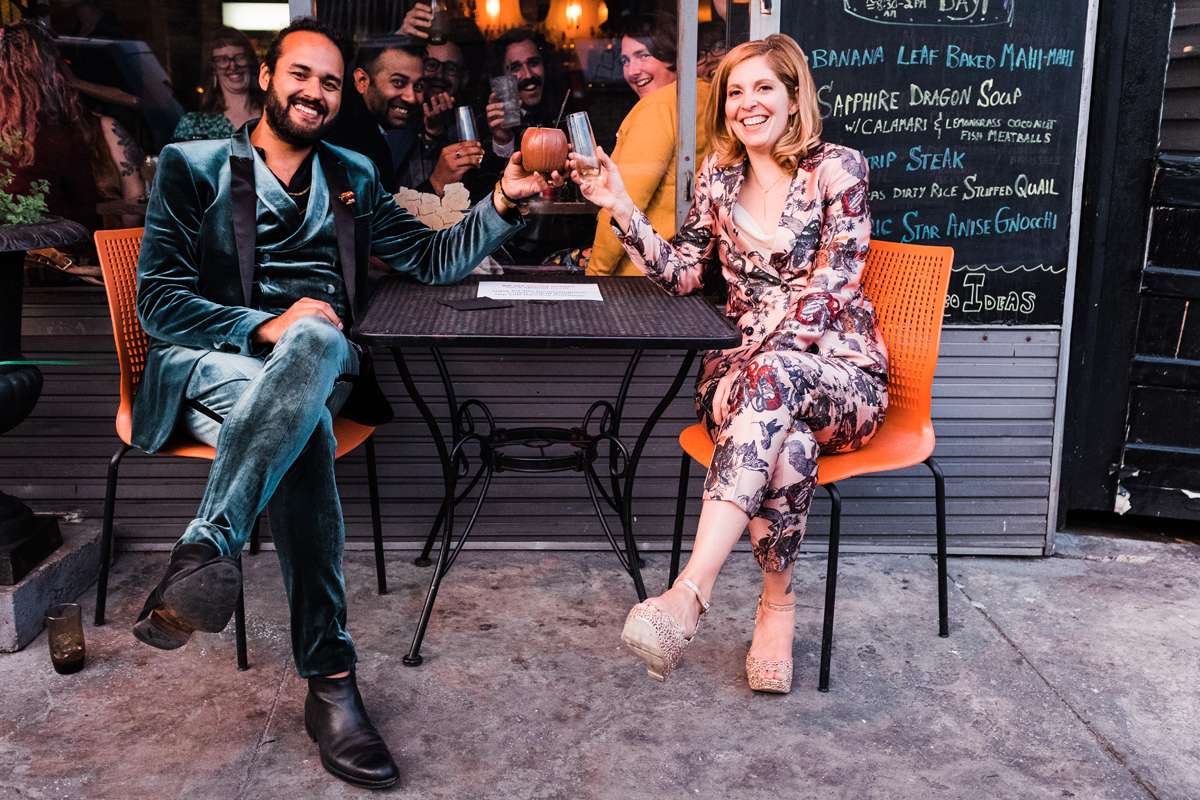 "Don't let convention cloud up a celebration of your love," Quinn advises future couples. "People kept asking about details that we weren't prioritising: The Dress, The Flowers, The Invitations. It was hard to communicate how our priorities were different in a way that could be understood by everyone. We're proud that we stuck to our guns. In the words of New Orleans' Rebirth Brass Band: 'Do what you wanna!'"