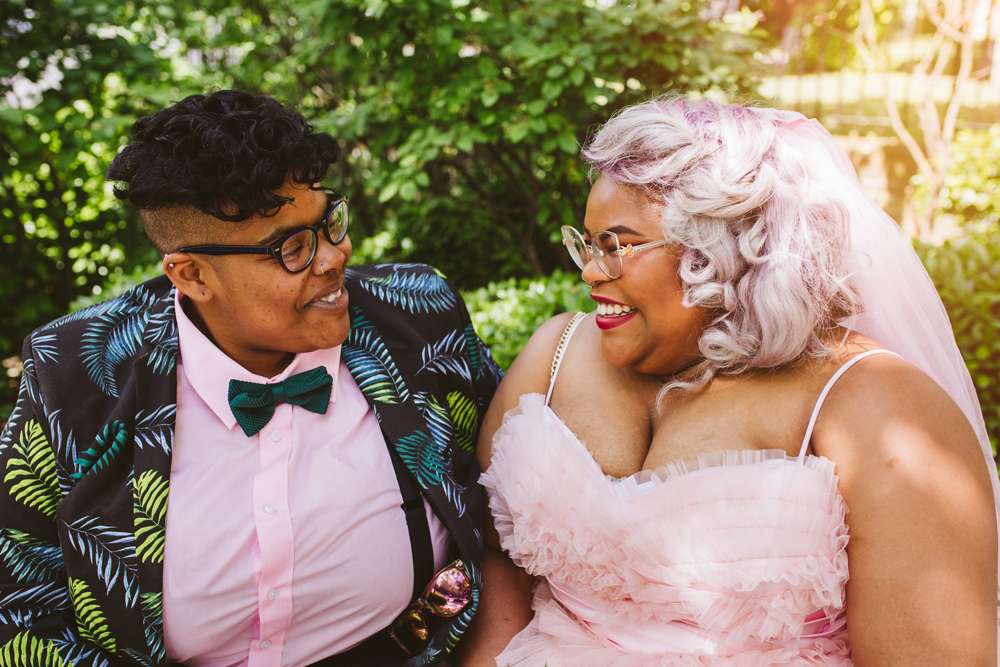 Your wedding alone doesn't have the power to save the world, but it does have the power to make you, your partner, and your guests very happy, and in the process, the choices you make for how to celebrate can help the wedding industry, a place known for its gender stereotypes, sexism, consumerism, ableism, and racism become a little less terrible. Jen Siomacco, Editor-in-Chief of Catalyst Wedding Co. shares some of the things to look out for when choosing your wedding suppliers.
The key to having a bad ass wedding that you remember fondly, both for the vows you make and the fun that's had, is to craft a day that is true to you, your partner and your shared priorities and values. Between global warming, Brexit, Trump and a variety of other political and cultural issues currently at play in the world, it can be hard to know how to best reflect your values in a way that doesn't detract from the joy you want to feel on this very important day.
Regardless of what style of wedding you want, you'll need to choose the right suppliers to help bring your dream wedding to life. So, how do you find ones who also share your values? With thousands of different suppliers to choose from, this can be a daunting task. Thankfully,
there are a number of great resources for finding equality-minded vendors: Rock n Roll Bride (of course) Catalyst Wedding Co., Nu Bride, Smashing the Glass, Equally Wed, Love Inc., Munaluchi Bridal, A Practical Wedding, Dancing with Her and H&H Weddings are just a few publications that offer large directories of progressive wedding vendors who put diversity and LGBTQ+ inclusion at the centre of what they do.
If you are still having a hard time narrowing down your list of options, here are a few things that you can look for or ask suppliers in order to decide if they are the right fit for you and your values.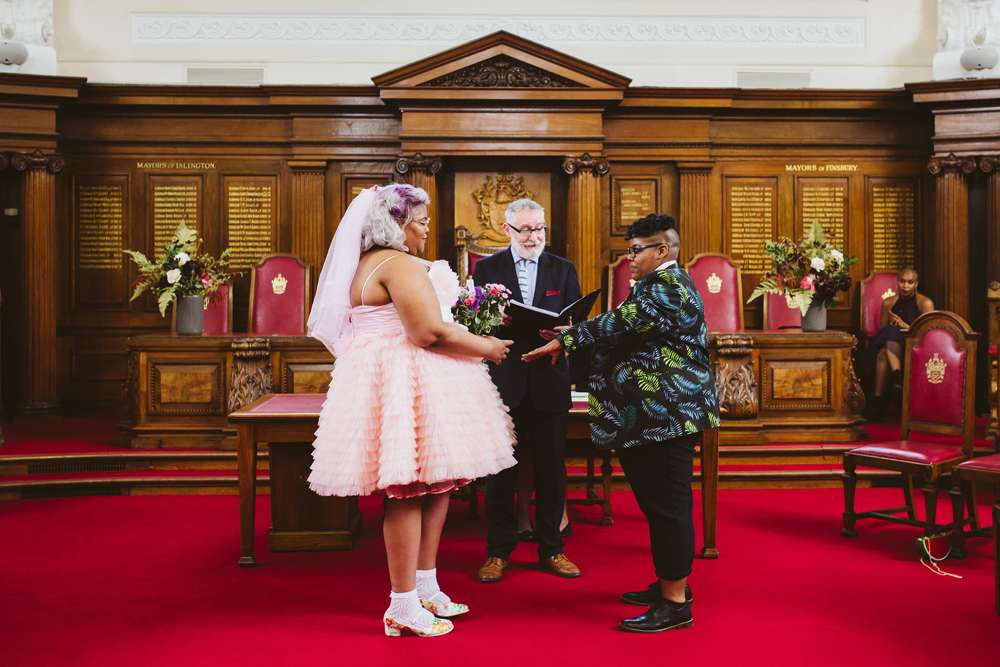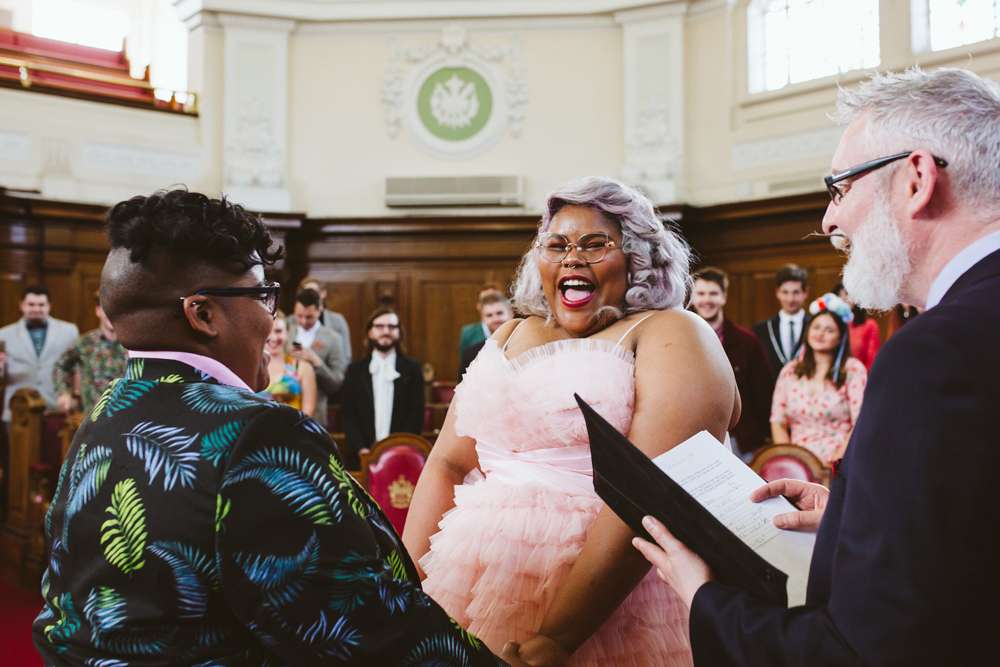 You can tell a lot about how inclusive a wedding supplier is by the language they use on their website and in their marketing. Their language provides you insight not only into who they are as people, but into who they are most experienced in serving as clients.
DOES THEIR LANGUAGE TALK PRIMARILY TO BRIDES, OR ASSUME A HETEROSEXUAL RELATIONSHIP?
If so, that is usually a good indicator that they aren't used to serving clients in the LGBTQ+
community, and often are focused only on serving female brides. Your wedding day is
about you and your partner, and you want to hire a wedding supplier who is going to listen to
both of you and what you want.
DO THEY TALK ABOUT YOUR WEDDING AS "THE BEST DAY OF YOUR LIFE"?
Many modern couples know and accept that their wedding is only one day, and it is not always perfect. Make sure your suppliers think about weddings in the same way that you do, or else
you may find yourself battling not only societal pressures about what your wedding day should be like, but also battling your suppliers over what you really want for your day.
DO THEY ASK FOR PRONOUNS?
If a supplier asks for your pronouns (for example, he/him/his, she/her/hers, or they/
them/theirs) on their contact form, that's usually a good sign that they have experience working with non-binary and transgender clients. That also means that they will respect the pronouns and gender identities of you, your partner and your guests.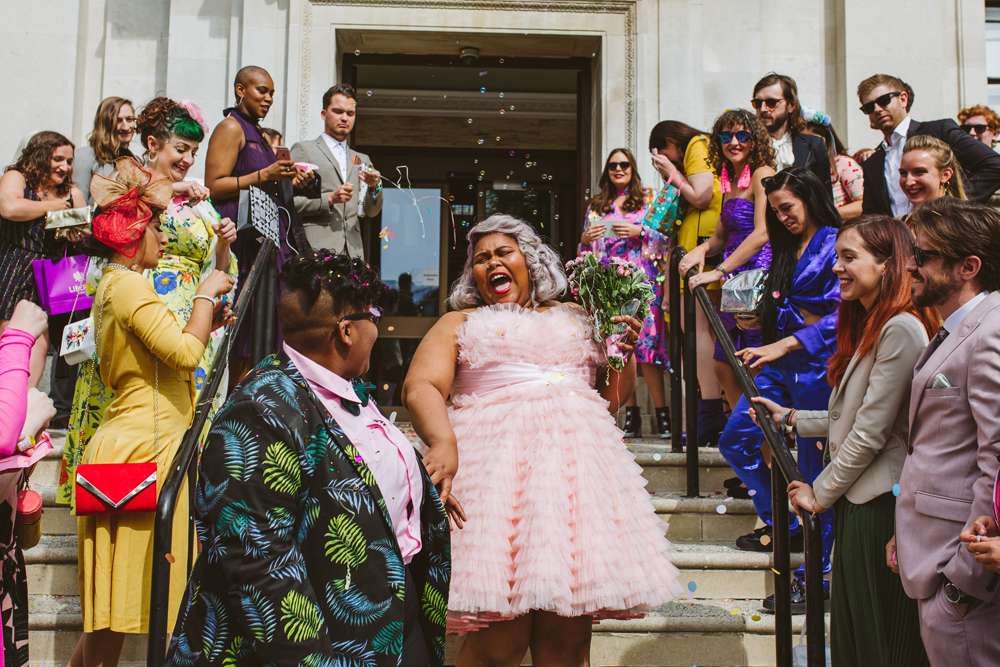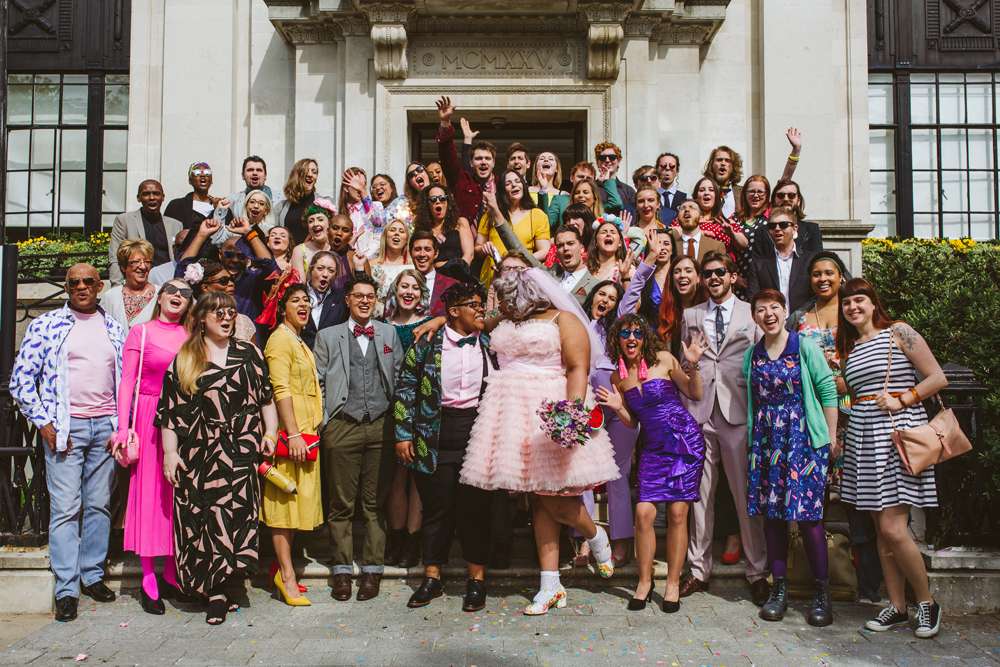 FOR ARTIST BASED VENDORS (PHOTOGRAPHERS, VIDEOGRAPHERS, MAKE UP ARTISTS)
A supplier's portfolio tells you a lot about the type of couples that they are used to working for. Before you hire a supplier for your wedding, make sure that you see yourself reflected in their portfolio. Give your money to suppliers who serve a diverse set of couples, and don't only
cater to thin, white, straight couples. You can do this by asking yourself the following questions.
DO YOU SEE A VARIETY OF SKIN TONES REFLECTED IN THEIR PORTFOLIO?
For photographers and videographers, it is important to see that they can light and edit a variety of skin tones, as there is a deep history of dark skinned people, especially black individuals, having their photos either overexposed or lightened and altering their skin tone as a result. You want to make sure you are hiring someone who can capture you as you truly are
in all of your beauty.
Similarly, you will want to make sure you hire a make up artist or hairdresser who is skilled at working with a variety of skin tones and hair textures. Nothing is worse than having a make up artist show up unable to do their job because they don't have makeup that matches your skin tone or a hair stylist who could potentially damage your hair because they don't know how to work with your hair's natural texture.
DO YOU SEE DIFFERENT TYPES OF PEOPLE IN THEIR PORTFOLIO?
The sign of a great photographer or videographer is that they can beautifully capture anyone, regardless of their sexuality, gender identity, skin tone or body size. Remember, you aren't just looking for a vendor who knows how to work with people that look like you and your partner, they also need to be able to work with and beautifully capture your wedding party and guests.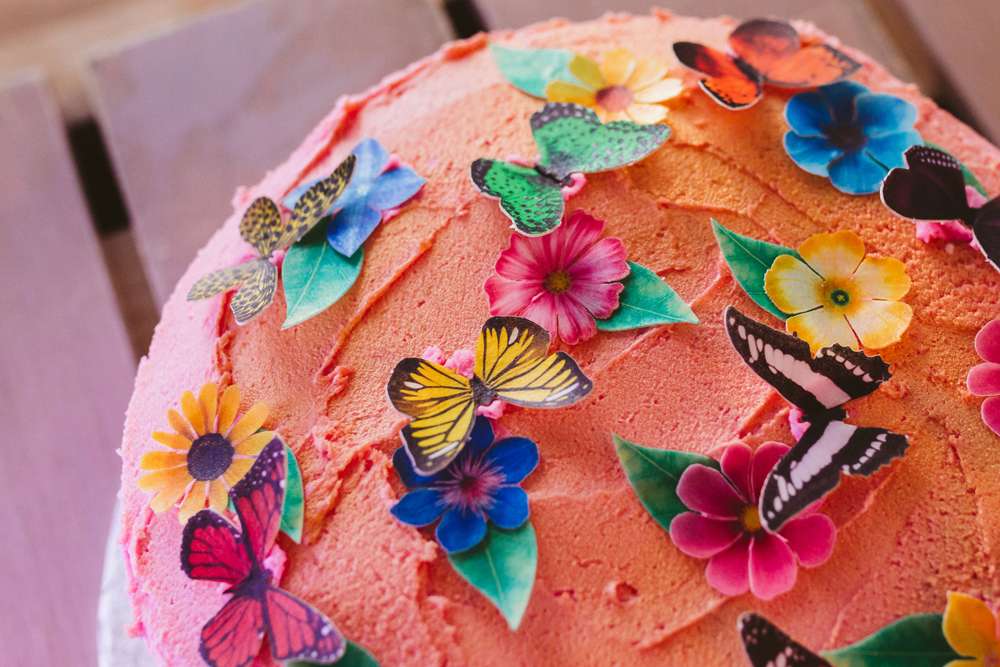 FOR PRODUCT-BASED VENDORS (CATERING, VENUE, DÉCOR, FLOWERS)
Your food, drink and décor will play a large role in determining the overall feel of your wedding day, and for many couples it is important that these elements also match their values.
CAN THEY ACCOMMODATE A VARIETY OF GUEST NEEDS?
You obviously want to make sure that your guests are having a wonderful time, so make sure that your suppliers are able to serve all their needs. The most common of these is being thoughtful of dietary restrictions and food allergies, but many allergies go beyond food. If you have guests with environmental allergies, make sure your florists and stylists are aware and are prepared to accommodate. Additionally, consider guests of different body sizes and abilities, and make sure that your furniture choices and layout meet these needs.
DO THEY CONSIDER SUSTAINABILITY?
Weddings produce a ton of waste, but one way to combat waste is to work with suppliers who donate, compost, reuse or recycle. Talk to your suppliers about the life cycle of your wedding
food, flowers, and décor and make sure you feel good about the impact your wedding will have on the planet.
IS YOUR WEDDING VENUE ACCESSIBLE?
Accessibility is so often overlooked in the wedding industry. If you or any of your guests have limited mobility, it is important to make sure that your venue doesn't rely on stairs or uneven paths for access to important areas, like the ceremony location, reception area, or toilets. Some venues may technically have an accessible entrance, but that entrance may be a work lift or staff entrance and may provide a very negative experience as it separates those with limited mobility from the rest of the party. Would you want to enter the venue this way? If the answer is no, don't force your guests to enter this way either.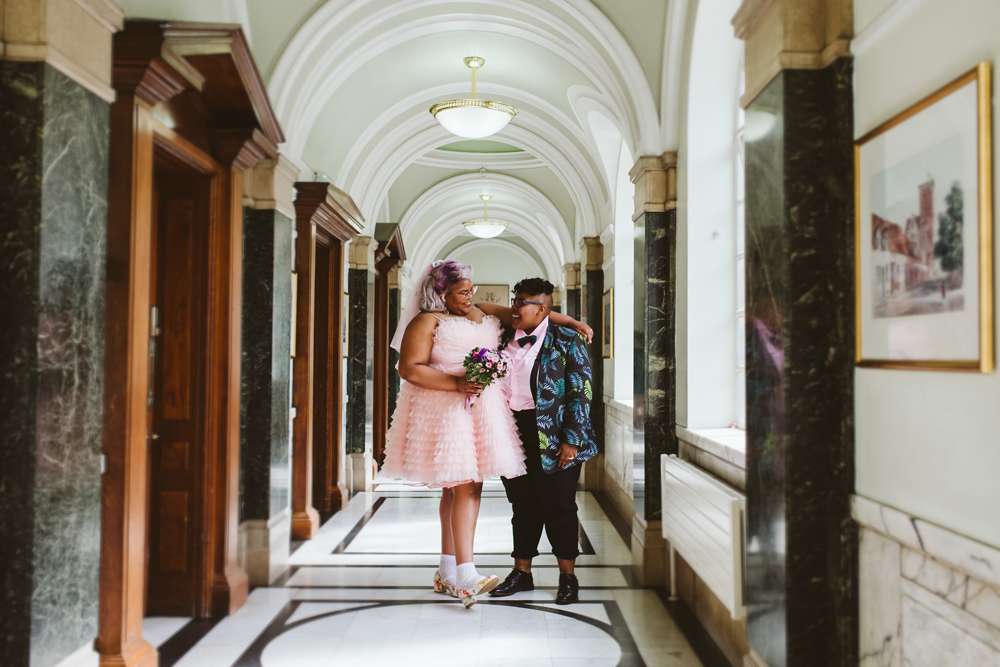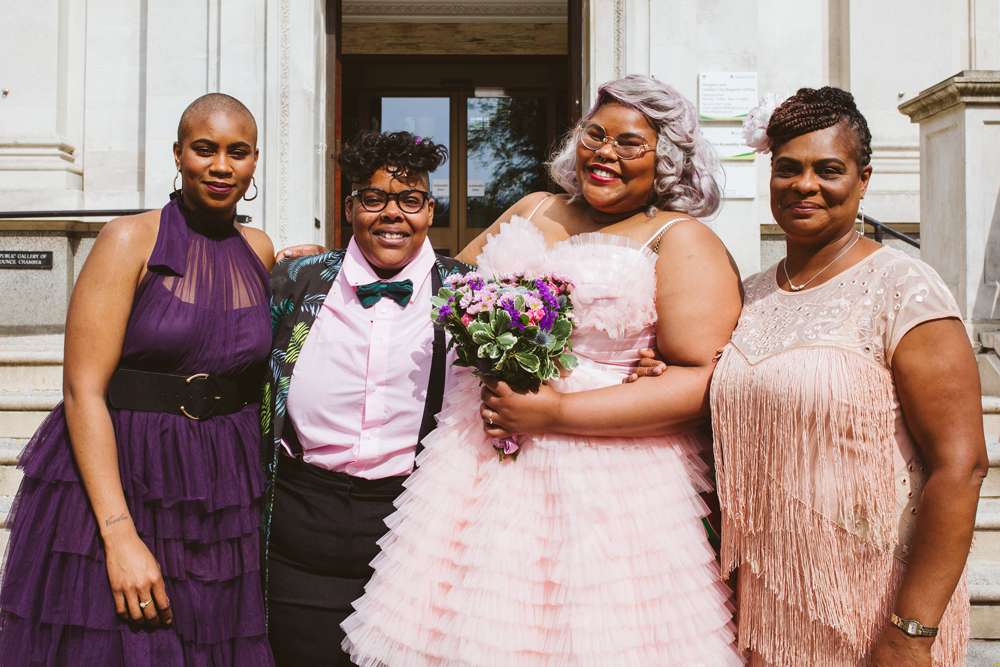 ARE HALLWAYS AND PATHS LARGE ENOUGH TO ACCOMMODATE A WHEELCHAIR?
If you or any of your guests have limited mobility, you will want to make sure that you can actually move around the venue in an enjoyable way. Older buildings with narrow passageways may cause a problem in these instances. If this is a concern, ask your venue about whether or not they can accommodate your needs.
ARE THE TOILETS A SAFE SPACE FOR NON-BINARY AND TRANSGENDER PEOPLE?
Our favourite type of toilets are those that are individual water closets and don't demand that people identify as male or female. If your dream venue has separate male and female toilets, ask if you will be allowed to change the signage for your wedding day. Remember, non-binary and trans individuals are not required to reveal their gender identity to you, so even if you think this doesn't apply to any guests at your wedding, it's still a way to make your wedding a more inclusive space.
Which values you want to prioritise are up to you I could go on talking about different ways you can bring your values into your wedding day, but ultimately, it's up to you and your partner to decide which values are most important to you. Sticking to your values on your wedding day ensures that you start off your marriage on strong footing, and you'll never have to look back on your wedding day second guessing your decisions.
About the Author
Jen Siomacco is the CEO and Editor-in-Chief of Catalyst Wedding Co., a U.S.-based wedding publication focused on making the wedding industry a more diverse, feminist, and inclusive place.
This article originally appeared in Rock n Roll Bride magazine, issue 25 a back issue of which you can order here.