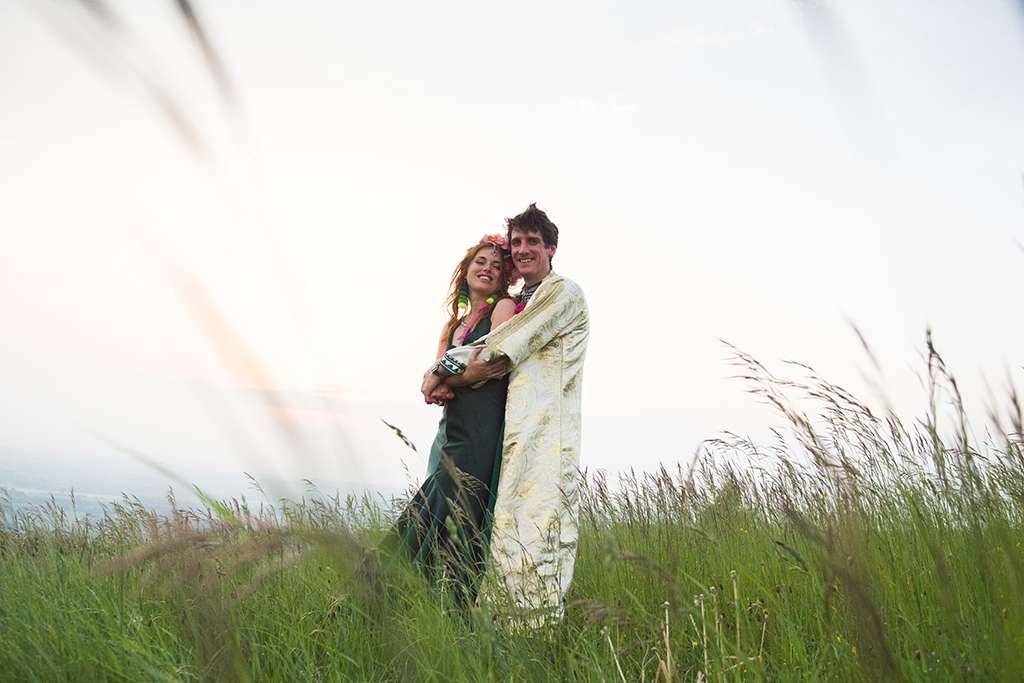 Rosie and Charles' inspiration for their wedding was to have a two-day party with all of the people who meant the most to them in the world. Choosing a wildflower covered hilltop overlooking Bath and Somerset, they combined festival elements to create a celebration that allowed them to really express themselves.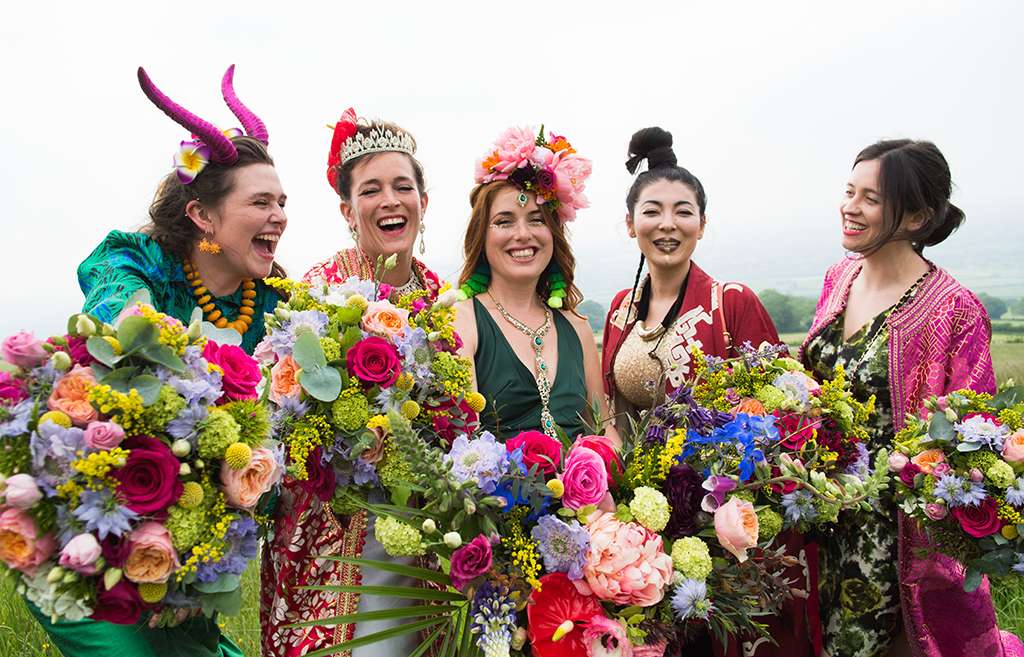 They were lucky enough to have an army of friends who helped build the wedding from scratch the day before their wedding weekend began – everyone camped over at the venue for two nights so it was a real festival atmosphere. Together they created everything from floral displays, to the canapés and desserts. "It was so magical to have the support and love of our family and friends, doing everything together ourselves made it so personal," explained Rosie.
Rosie wore a second-hand emerald green fishtail dress, originally from ASOS, that she had altered to fit her perfectly. Charles wore vintage Moroccan robes, trousers and shoes in green, gold and white. Guests were also instructed to 'dress fabulously', and they didn't disappoint; sporting kaftans, kimonos and other fabulous fabrics in a rainbow of colours. The gather of the bride even wore the most vibrantly patterned shirt and pink horns.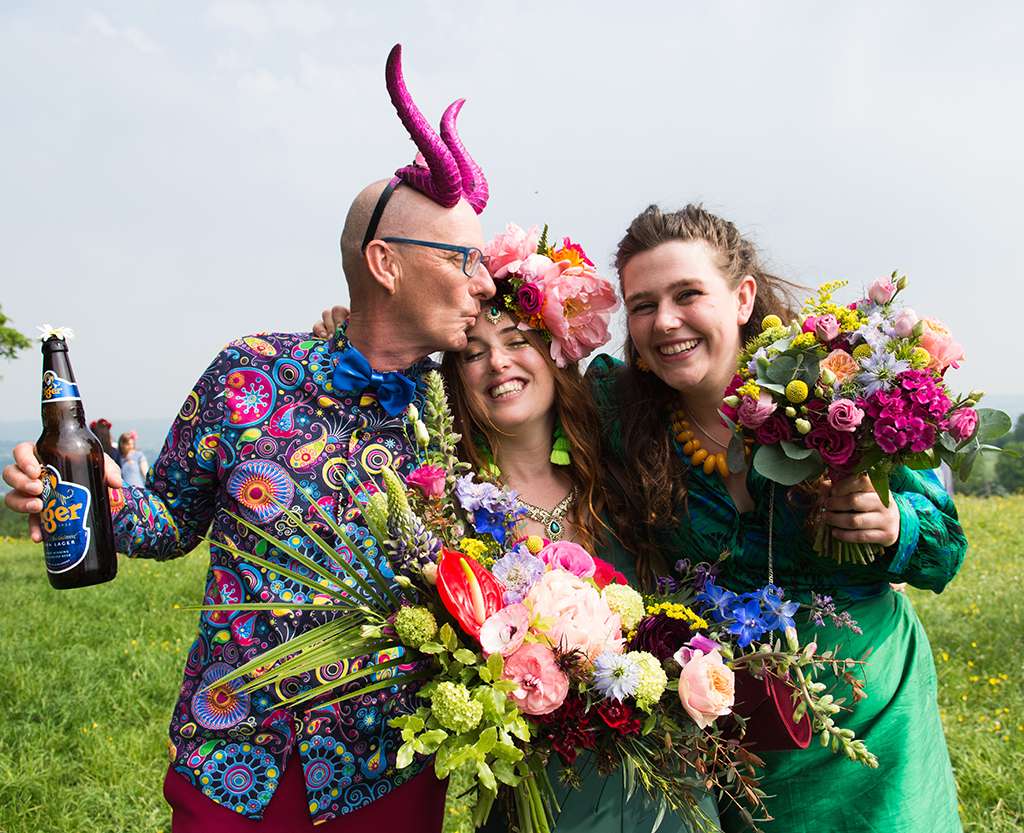 Despite morning rain (the stress of which nearly broke Charles!), Rosie was able to climb to the copse for their outdoor ceremony barefoot as planned, surrounded by her 'surprisemaids' (she hadn't planned to have bridesmaids, instead selecting a few friends to help accompany her on her journey.) Their humanist ceremony (they'd hotfooted it to a registry office with a few family members beforehand to seal the deal) included a little help from their friends, too. Their writer and performer friend led the ceremony, weaving together spiritual touches and humour and stories, with other friends contributing arias and poems, making for a truly personal ceremony that reflected their love for not just one another, but the special people in their lives too.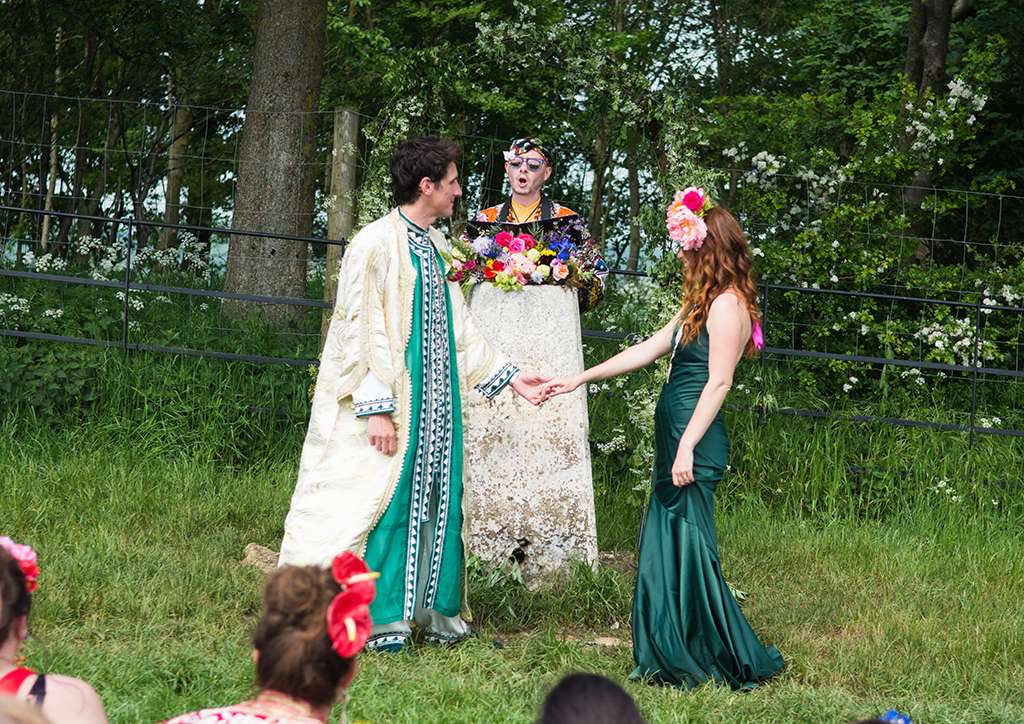 After the ceremony, the party headed down the to a beautiful old barn where they drank sparkling Belgian kriek beer in the courtyard. Dinner was middle eastern mezze and char-grilled lamb, chicken and whole smoked aubergine from a local Bristol food truck called Murray May's, accompanied by obligatory wine and fizz, plus craft beer brewed and supplied by Rosie's cousin who is a brewer for Wild Beer Co.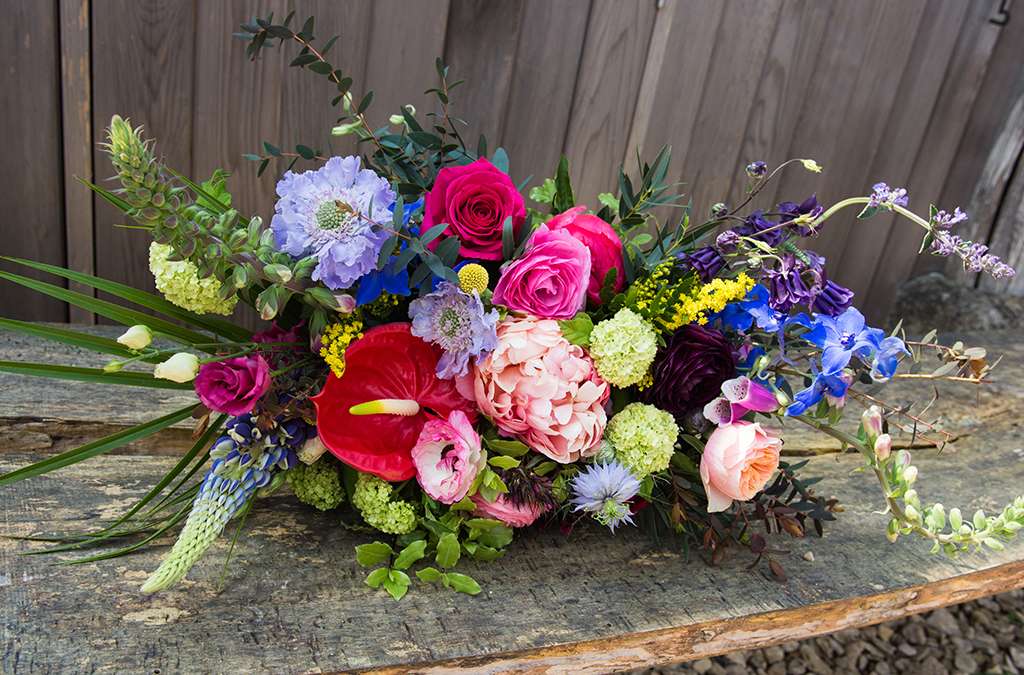 Once the tables were cleared away Rosie and Charles danced to Camille Yarbrough's Take Yo Praise, before their talented friends MC Zani and Hobbit performed a mind-blowing beatbox set as The Beatbox Collective. The festivities went on until the early hours, while a lightning and thunderstorm swirled around the hill, miraculously leaving them dry.
When asked if they had any advice for future brides and grooms, Rosie said , "Expect to get stressed, but then for it all to melt away – just relax and the day will take you with it. It's never too early to start things when you're DIY-ing the day, too! Throughout the process, really try to remember what you're working towards; ultimately, about celebrating love… and living it full tilt for one day!"