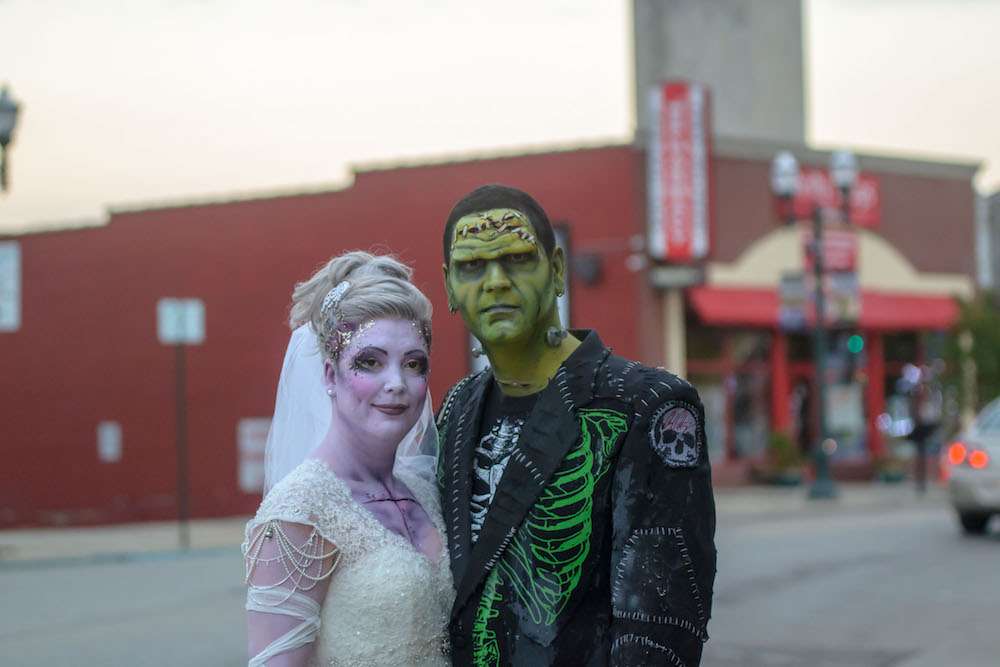 We feature a lot of Friday the 13th and Halloween weddings on Rock n Roll Bride (and we love them!) but Alexis and Jeff took it to the NEXT LEVEL with their DIY Halloween themed wedding, where they were made up as Frankenstein's monster and his bride. Yep, you read that right.
"We both love Halloween, and so when we saw there was a Friday 13th in October last year, we knew it was right!" Alexis explains. "Our theme was a Classic Horror Movie Monsters Halloween Party."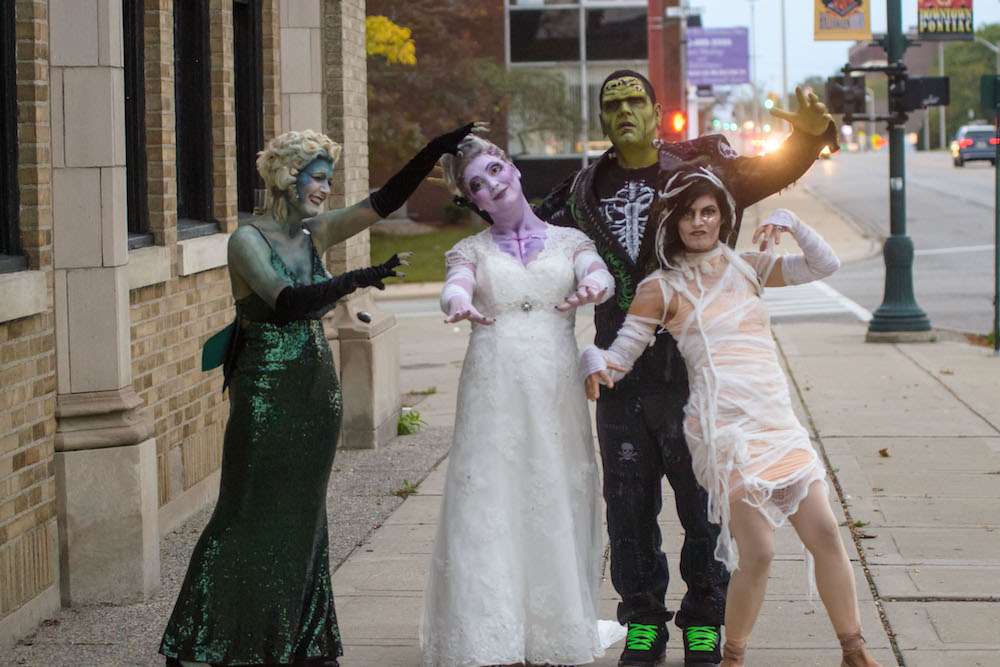 Alexis and Jeff hired a professional make-up artist to make the wedding party look like the classic horror movie monsters: the bride and groom were Frankenstein's monster and his bride; her bridesmaids were The Creature From The Black Lagoon and The Mummy, and the groomsmen were Dracula and Wolfman. Alexis' dad walked her down the aisle as the Phantom of the Opera, and they were married by Dr Frankenstein. This was their biggest expense of the whole day!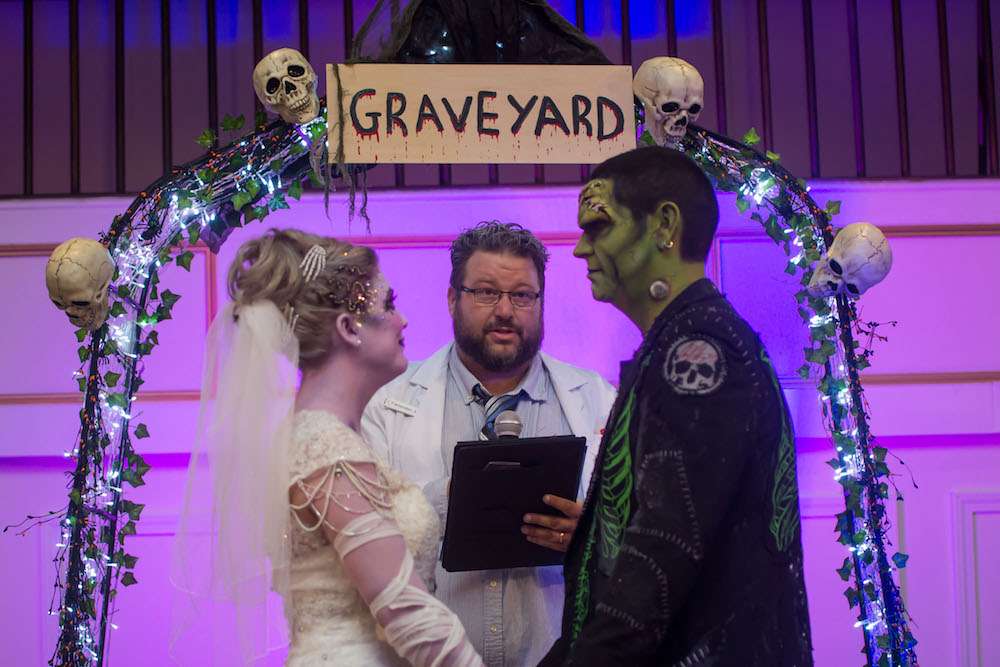 All of their decor was Halloween themed, and most of it was handmade. "We had decorated potion bottles, classic horror movie posters, a candy Boo-ffet with spooky name labels, and handmade miniature Halloween scenes. Our ceremony was decorated like a graveyard, and our seating chart was done as a cemetery."
Alexis and Jeff literally thought of everything: Zomboys and Ghouls Bathroom Signs, and handmade 'Boo-Hoo' Tissues, whilst signs at the food stations labelled Gorederves and Vampitizers and warned people that one was poisoned. Alexis continues, "The best part is everything can be used as decoration in our home and our yard for future Halloweens to come!"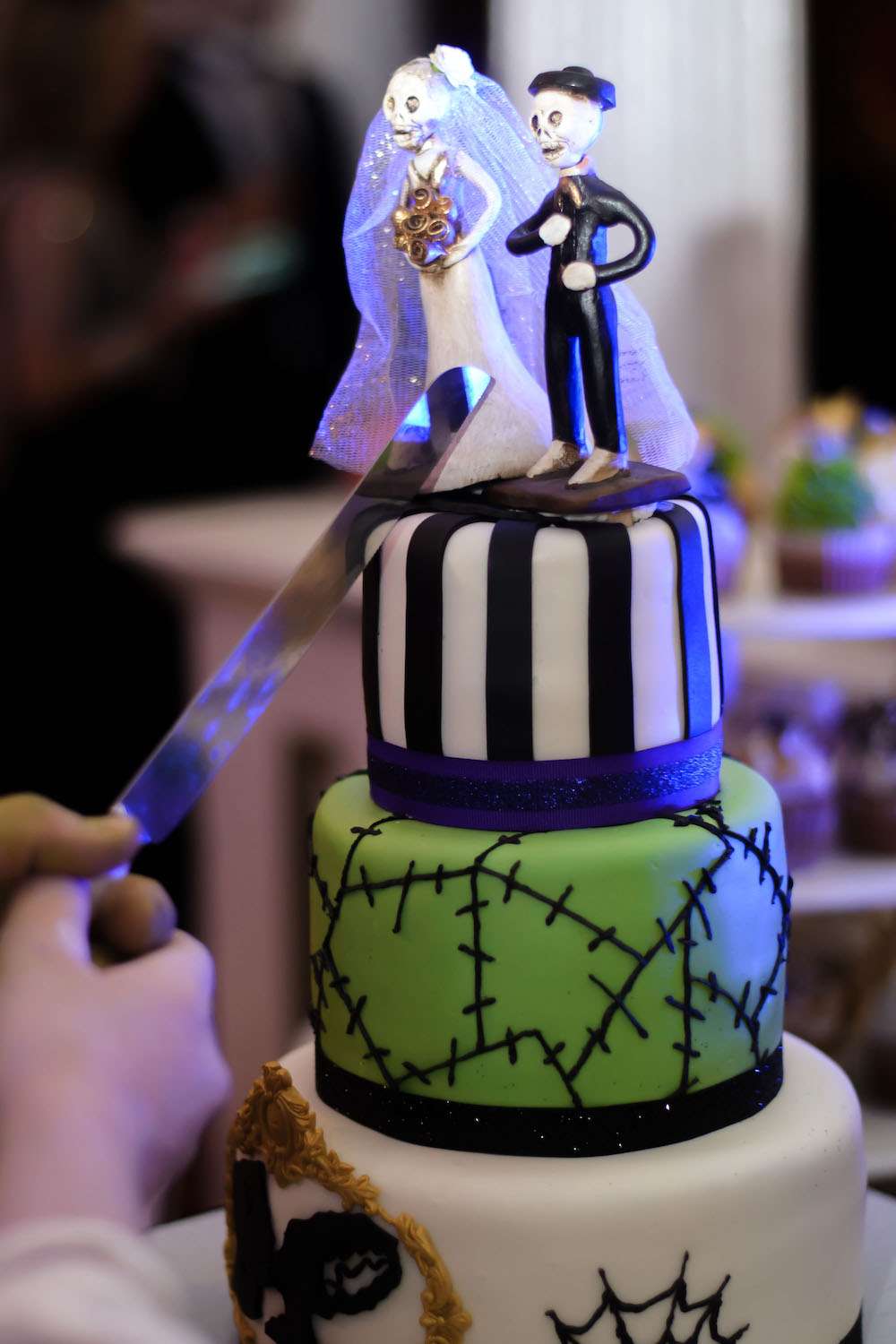 And though their advice for couples is to not wait until the last minute to complete DIY projects (they were still making potion bottles at 12am the night before) – the laidback feel of the day was what made it so amazing. "We LOVED how laidback and untraditional it was," they say, "because it was like we threw a huge Halloween party! We loved seeing everyone in costume, and loved how everyone told us that our wedding was the best wedding they'd ever been to."