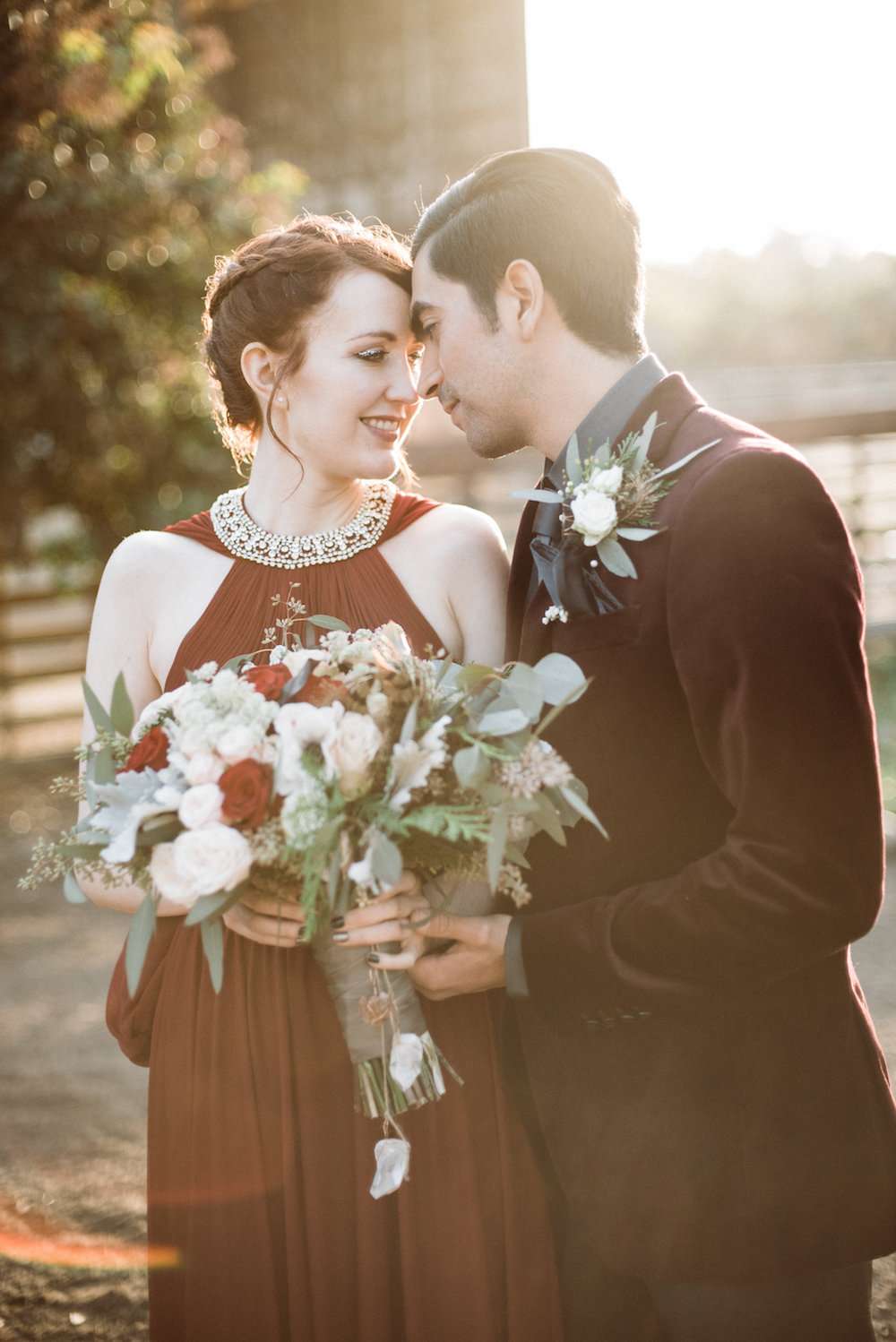 Kelly and Oscar describe their wedding as "modern winter witch themed" and we're inclined to agree. Their beautifully moody day was inspired by witch practices including herbalism, crystals, tarot and the importance of natural, balanced elements.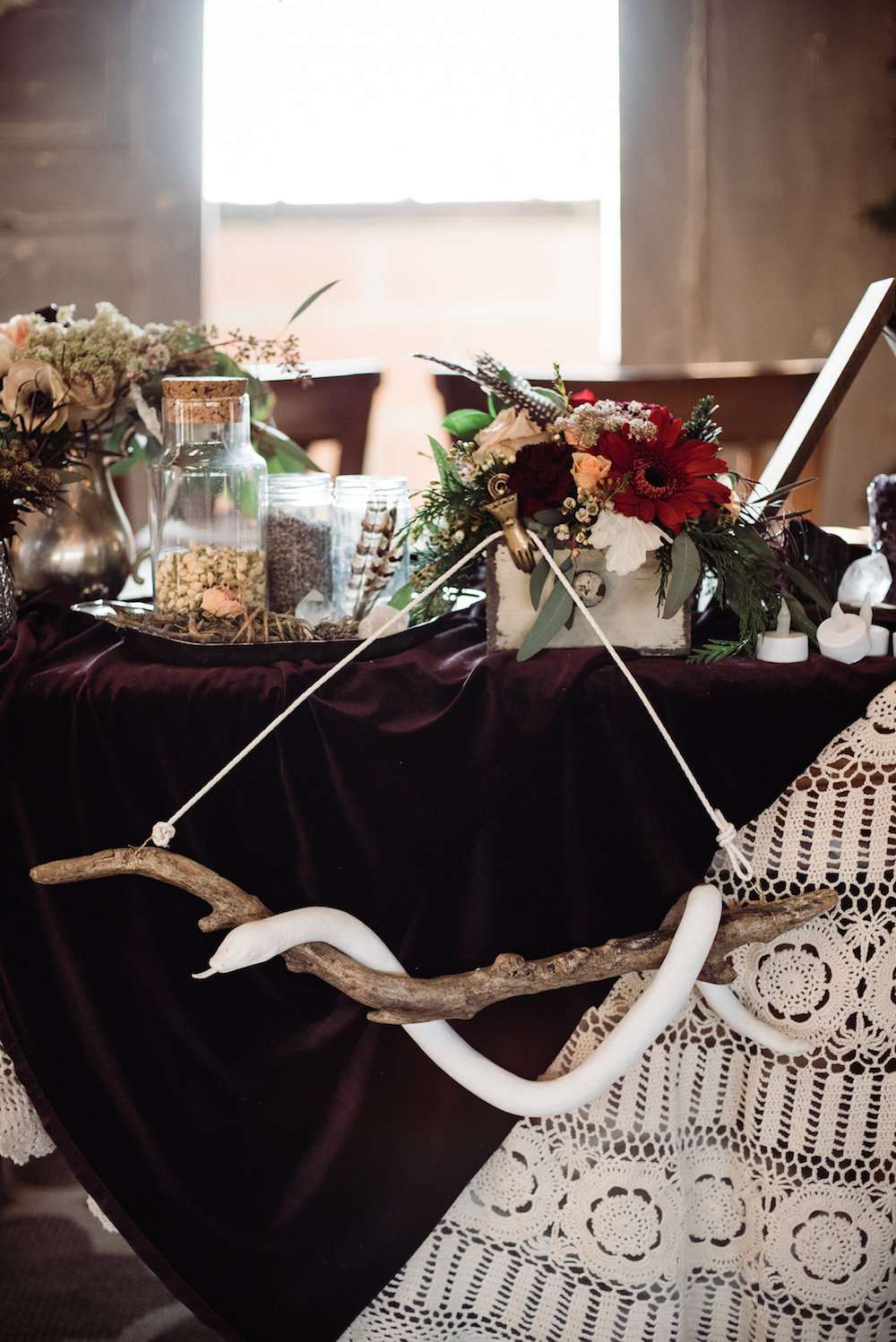 "These elements weren't just for show," the couple explain, "but are things of importance to both of us. Having all the elements present, that the building had openings in all directions (north, east, south, west), crystals to bring good energy and spirits into the area, herbs to chase away bad energy and spirits, celebrating the cycle of life by having both living and dead pieces; all of these details were intentionally brought in to not only create a fun ambience for the guests, but to include things of deep meaning and importance to us.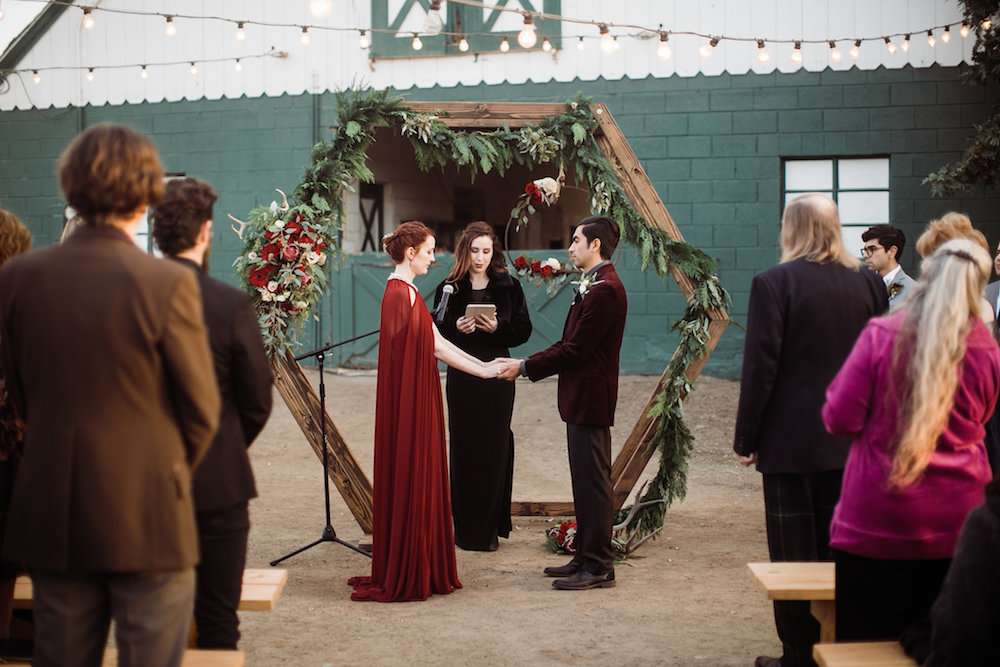 "After all, a wedding is a ritual, and we wanted all the things present that we would normally have at a ritual to ensure its success, and in this case our success as we enter a whole new chapter of our lives together. For this reason we made sure we both felt represented by the pieces used, with a balance between masculine and feminine, and a balance between us as individuals."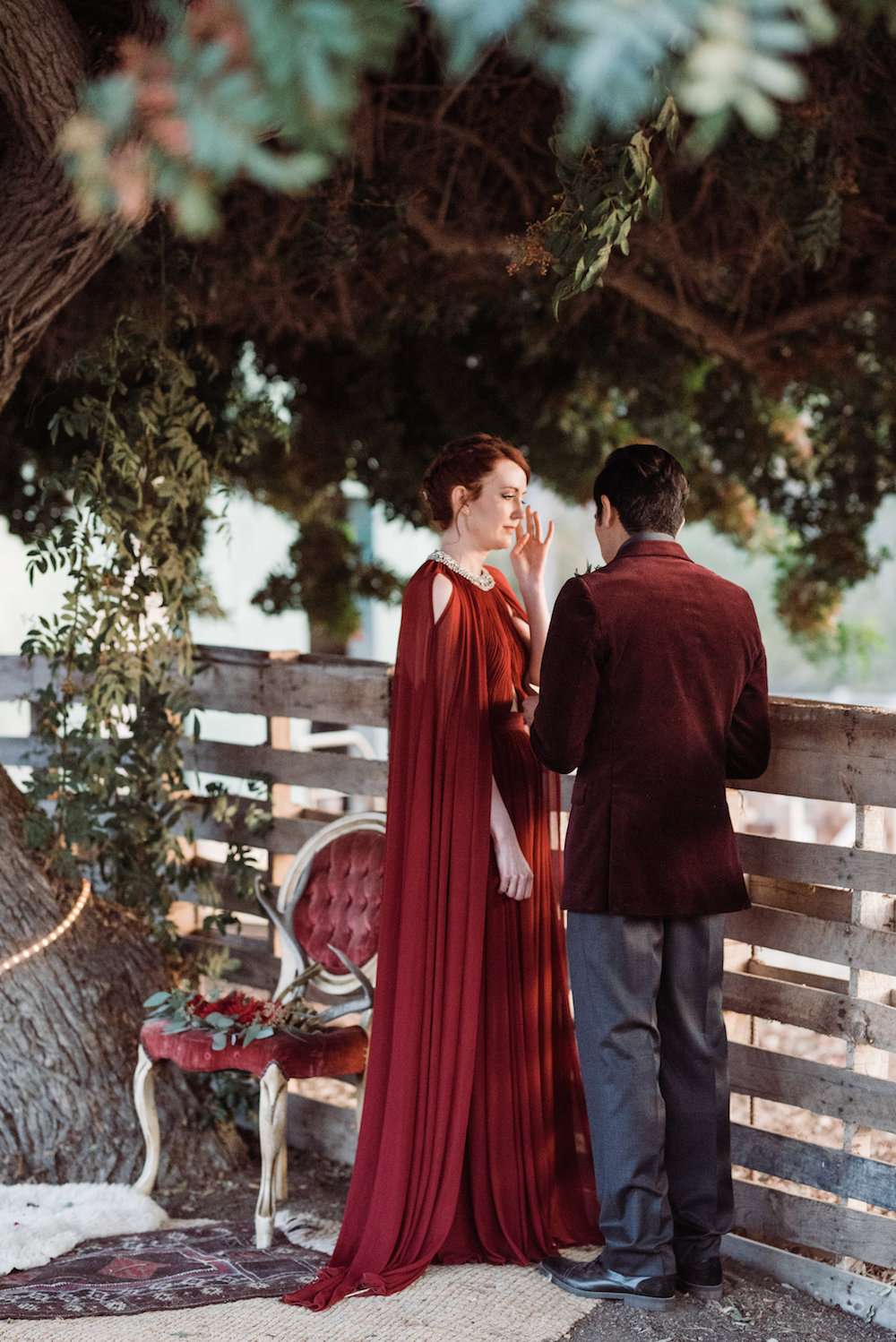 Their ceremony was held in the yard of Sweetwater Farms, in front of a stunning hexagonal floral structure. During the ceremony, the officiant (their friend Lyndsay) excused Kelly and Oscar to do their personal vows in private at an altar under a nearby tree. "Having that intimate of a exchange of words just felt weird to do in front of so many people, when those words are only for the two of us to hear. Afterwards we got so many compliments on how touching it was just to see us as we shared this special moment."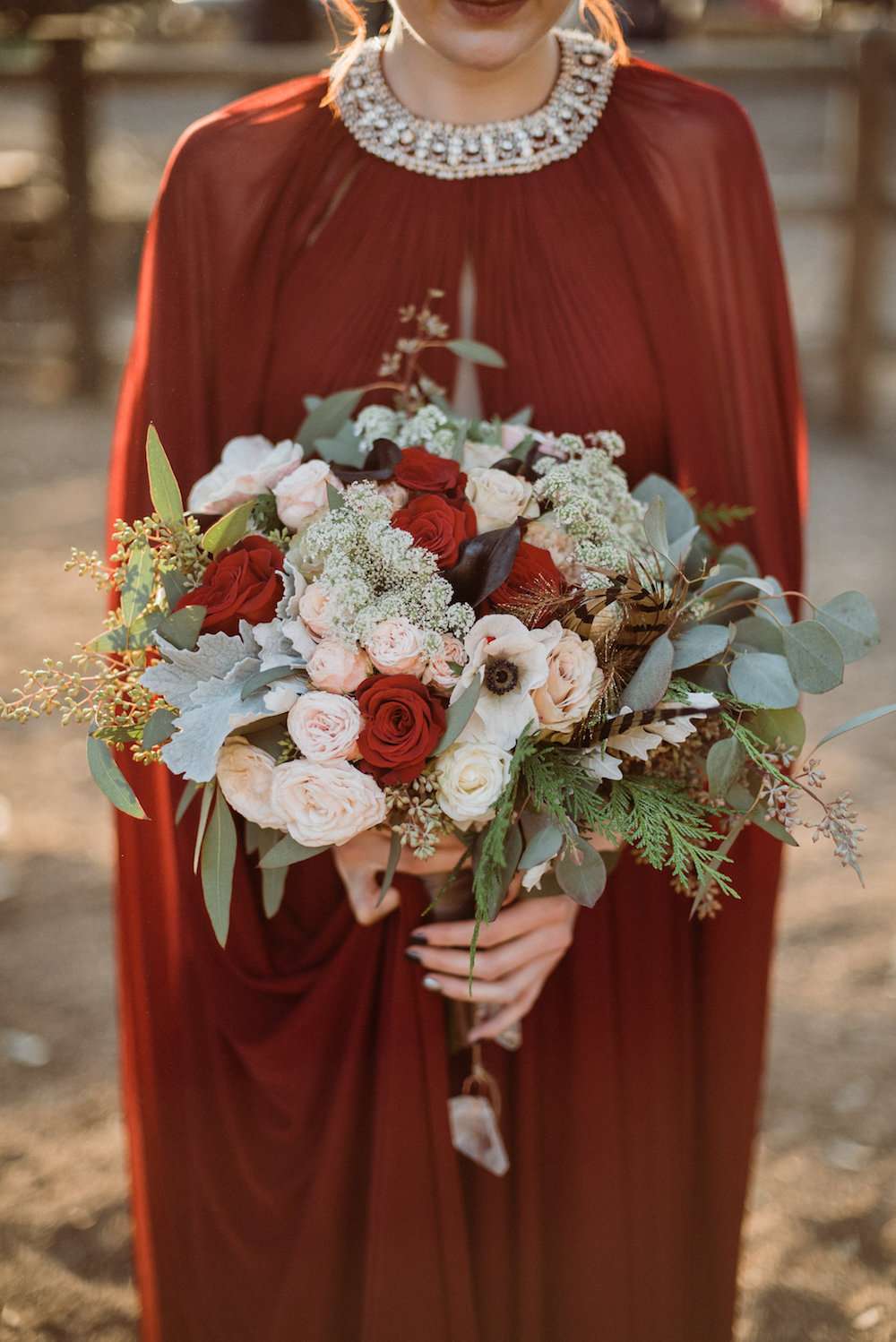 Kelly wore a beautiful caped wedding dress in a berry red colour, which she got from a prom dress store at a local mall, and wore with pointed silver heels from ASOS. Her bridesmaids looked incredible in shiny silver or pewter too, having been asked to pick their own outfit that represented them in the colour scheme.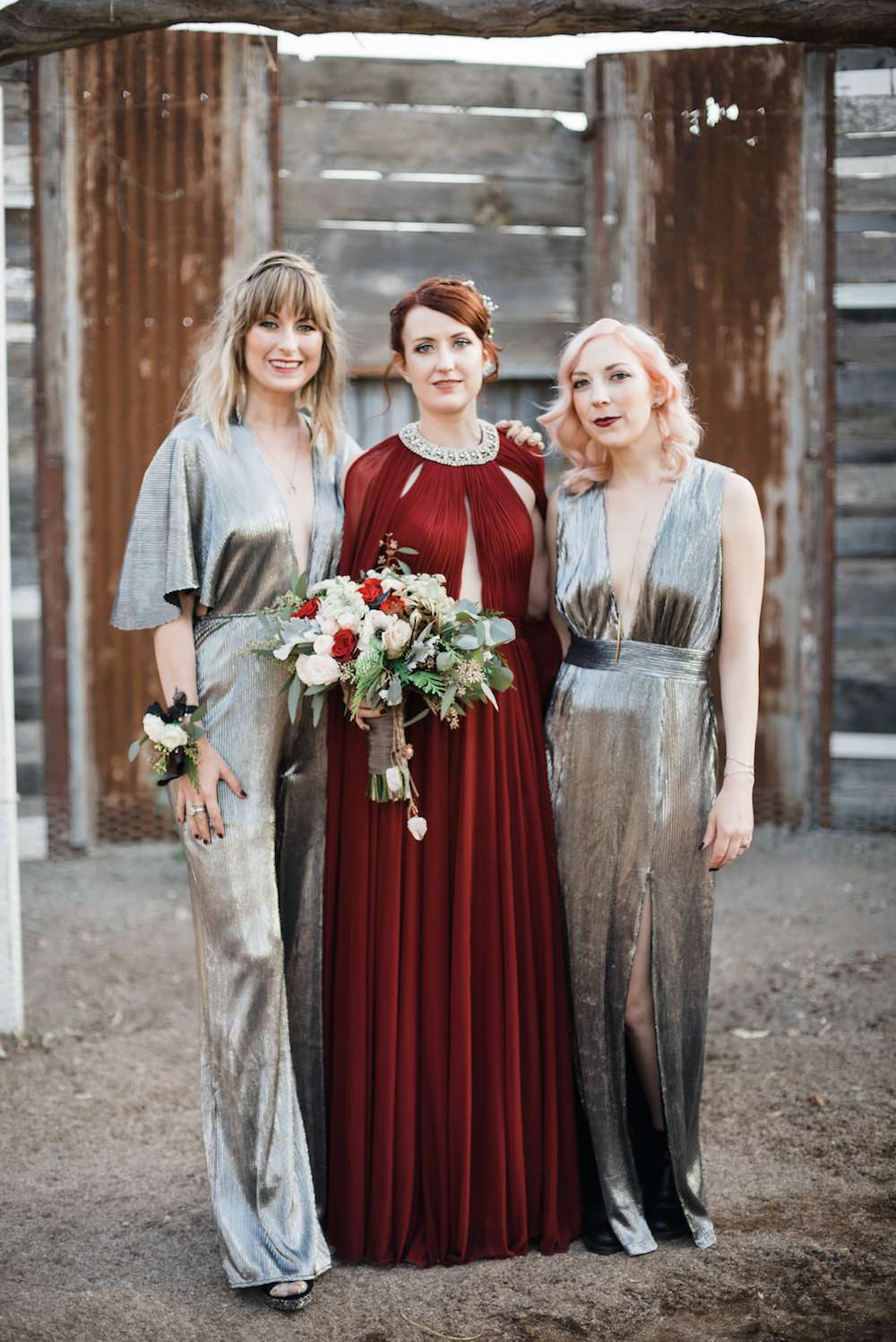 Kelly and Oscar's gorgeous barn setting provided the perfect backdrop for the glamorous bohemian, spiritual feel that they were going for, both for the ceremony and the reception later. They served rustic comfort food from Mastiff Sausage Company, and in lieu of a cake had shedloads of vegan donuts from Nomad Donuts (including a funfetti flavour!) which they piled high and feasted upon.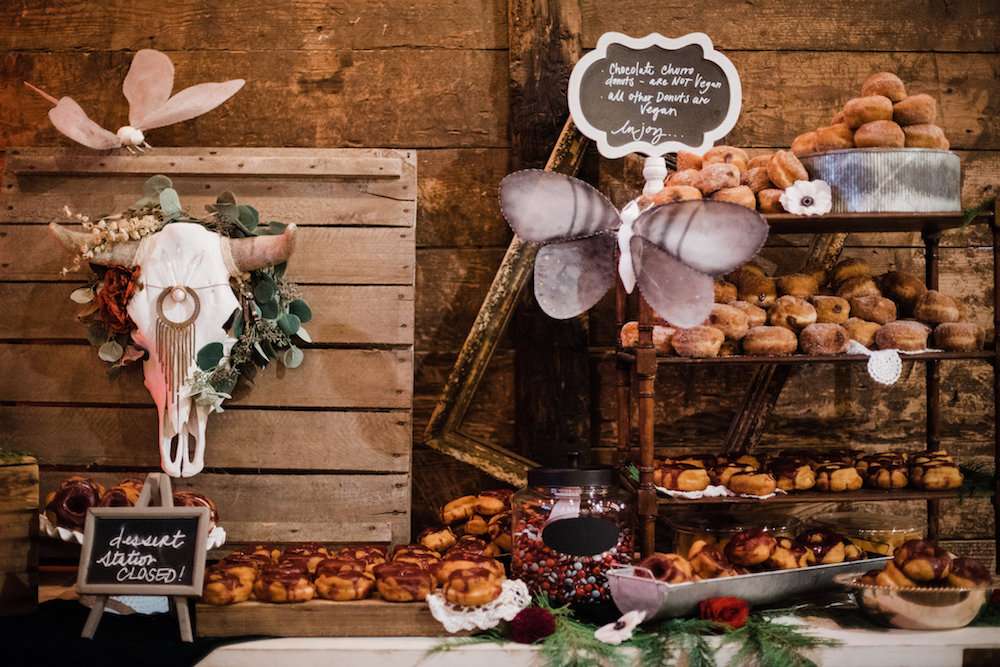 All in all, it was an amazing day for someone who didn't want a wedding in the first place, as Kelly explains. "It was my husband that insisted that we have one, as he's a bit more old school than myself, and because it was something he had wanted for a long time I agreed to go along with it. At first I worried that I might regret it, but it was the best day of my life. I am so grateful that we have those memories to share together, and with our family and friends."
"So if you happen to be in a similar situation as myself i would say: consider how much it may mean to your partner, and also how having a reason to have all your family and friends in one place to celebrate your love is truly a once in a lifetime opportunity. Don't miss the chance while it's there!"