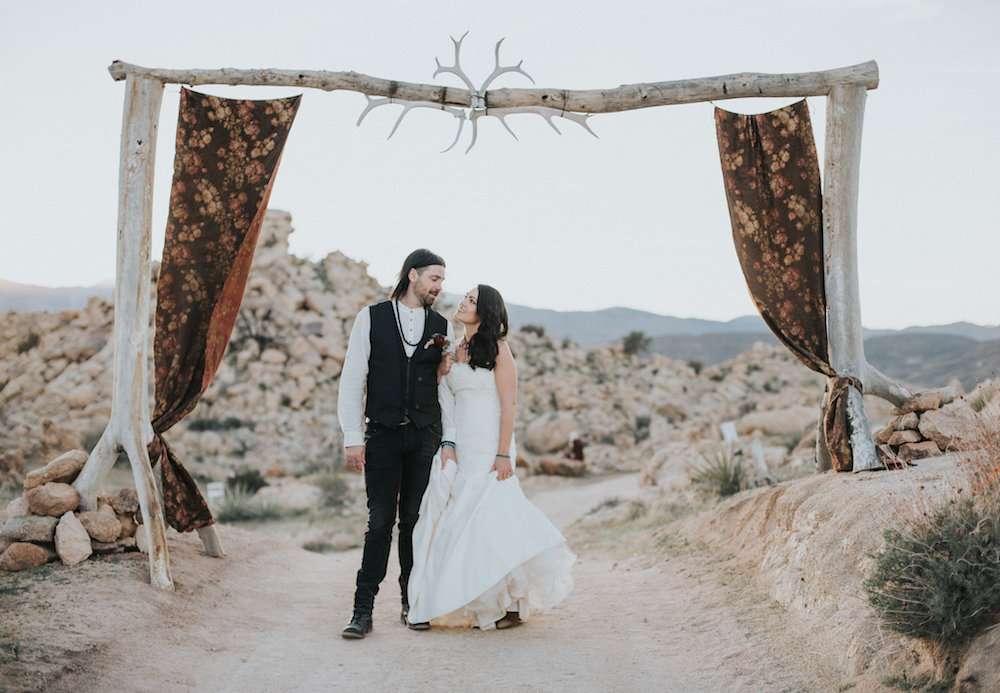 I would say Jess and Kenny's wedding day was nothing short of magic, but that would be wrong: it was nothing short of spiritual and stunning. As lovers of the desert, and frequent visitors to Joshua Tree for quick getaways, they knew they had to get married out there. They also wanted to incorporate a little of their Native American background into the day, mixed with their love of Rock n Roll. What resulted was a desert bohemian wedding that is the stuff of dreams.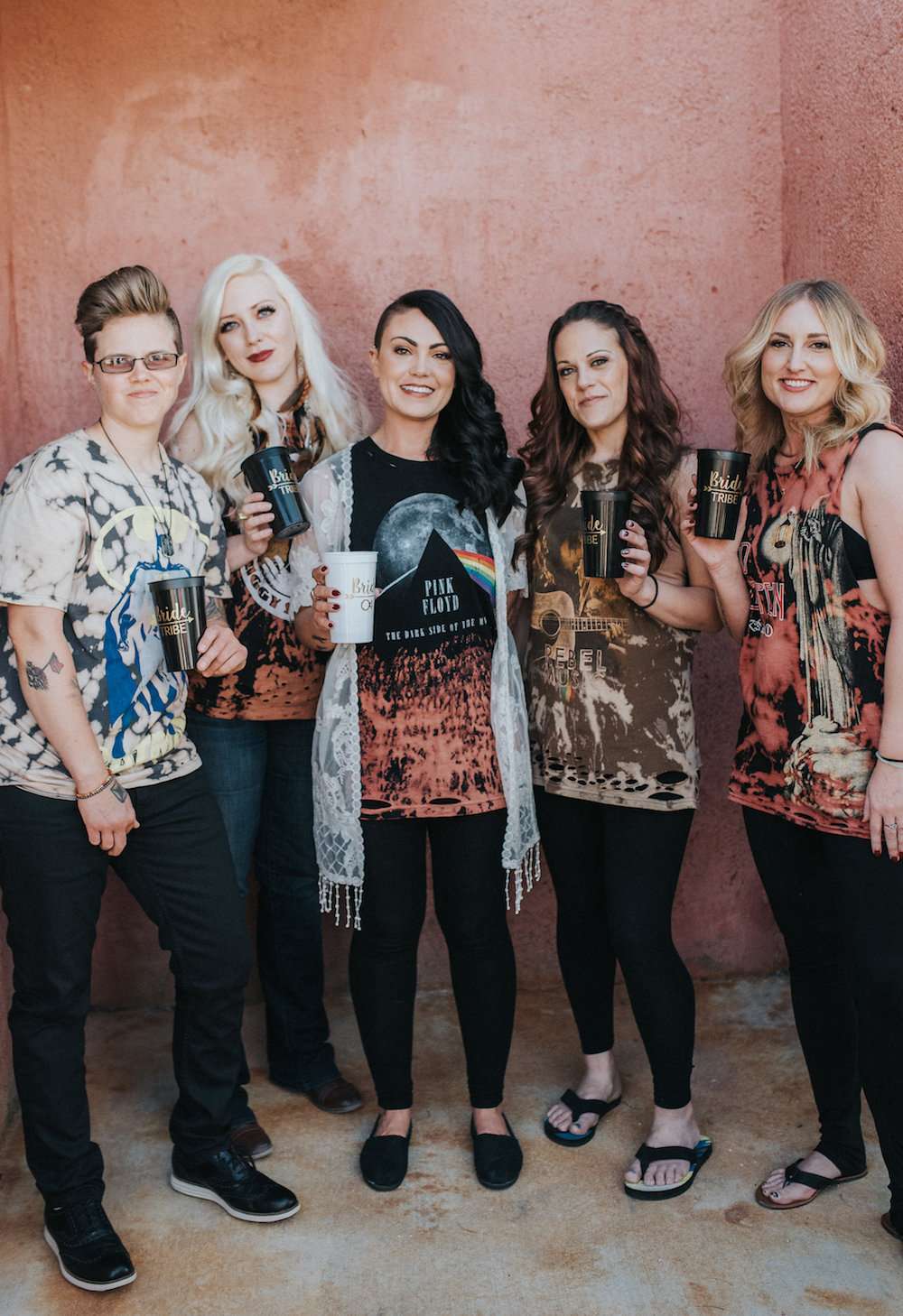 Jess and her bridal party got ready in old band t-shirts before changing into their deep red bridesmaid outfits (which they'd all chosen themselves), whilst Kenny and his party all looked slick in black suits in a Reservoir-Dogs-meets-rock-band photo shoot against the desert backdrop. Jess' wedding dress was a strapless dress from Pronovias, which she wore with knee-high lace-up camel coloured boots from Nine West.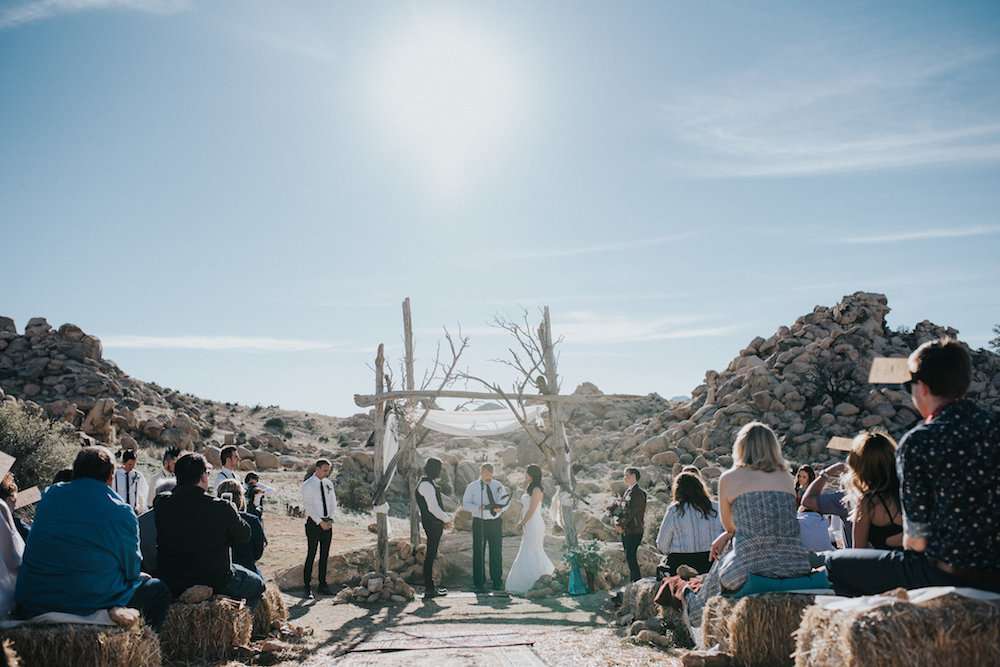 "I insisted on walking down the aisle to Led Zeppelin, and had The Rain Song – it was perfect!" Jess says. "We had a jar of stones placed at the entrance to the ceremony site, and everyone was asked to take a stone from the jar as they entered. With my dad as the officiant, we took a moment of silence during the ceremony for everyone to pray, meditate, or simply channel their wishes and blessing for us into the stone. After the ceremony, everyone placed their stones back in to the jar for us. We now have this jar of blessing in our living room."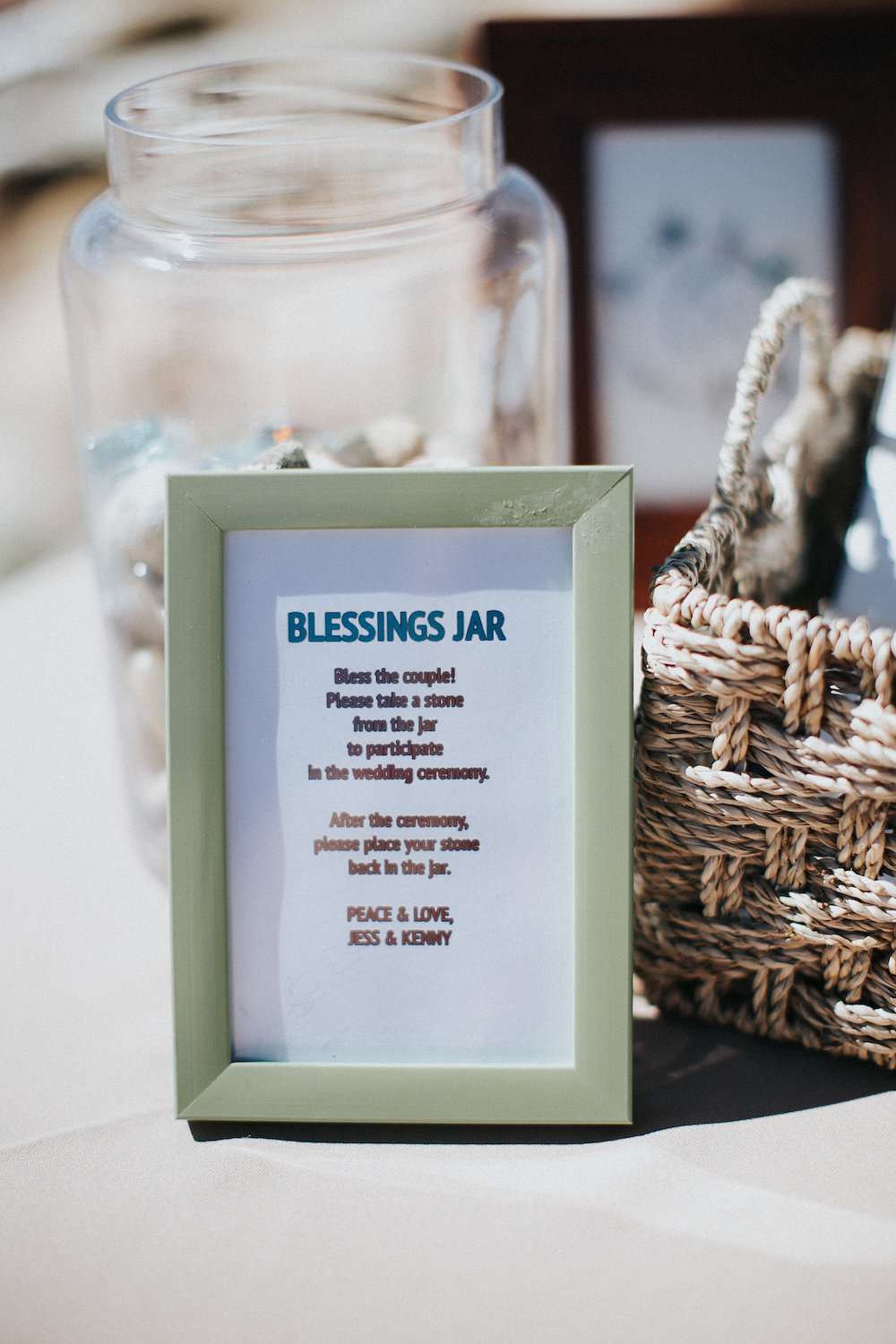 "Our good friends and Kenny's band mates performed Tennessee Whiskey. During our vow exchange, I called Kenny an 'ornery mother fucker' or something along those lines, which garnered a few gasps and laughs from the audience – I meant it in the most endearing way possible, of course!"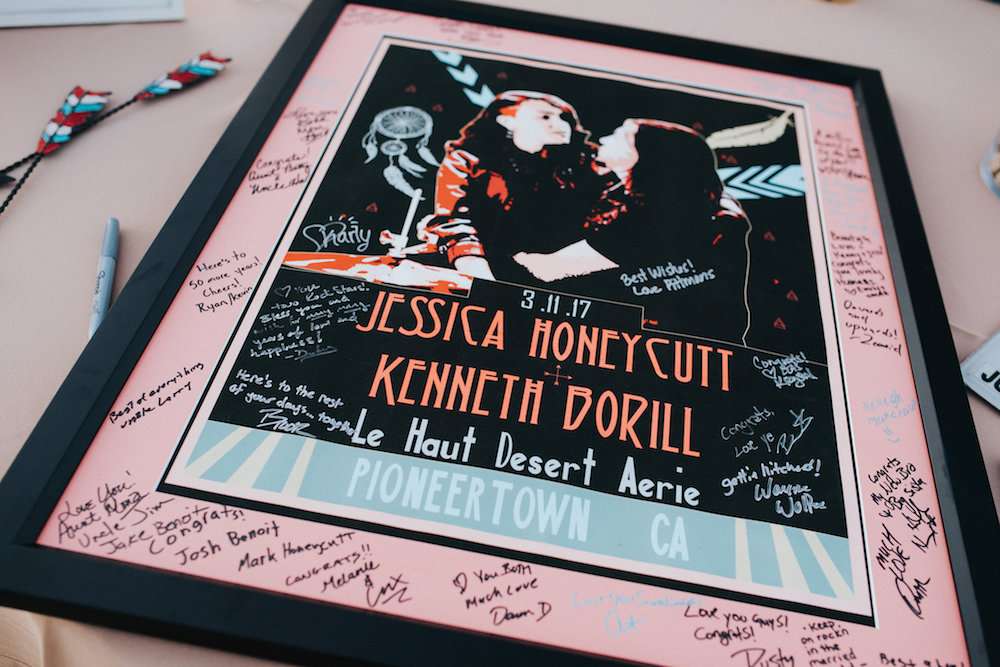 Almost all of the details of their desert dreaming boho day were DIYed. "Decor, bridesmaid bouquets, groomsmen boutonnieres, wedding favours, etc. Our guest book was a poster designed by my friend and bridesmaid, the lovely Laura Lamour."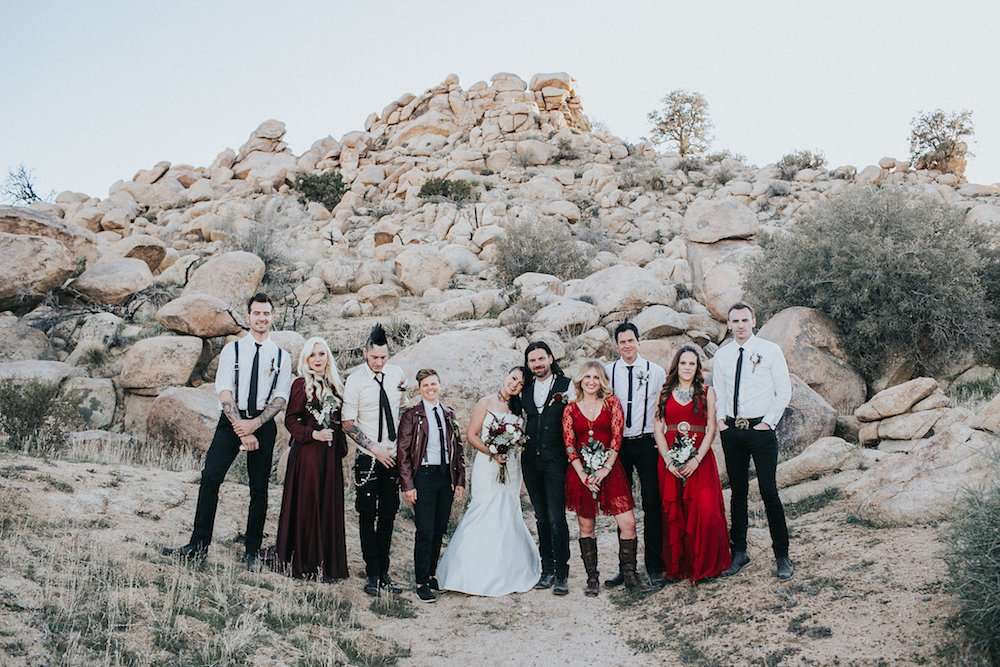 "We bought a lot of decorations from thrift stores, flea markets, and craft stores," Jess continues. "We had a lot of fun getting everyone together to shop and craft and plan. One night in particular, Kenny made homemade gumbo (he's from Louisiana), for all the girls while we crafted the boutonnieres and the wedding favour maracas. By the end of the process, we were all exhausted from the amount of work it took to get it all done." We think it's worth it though – the day looked phenomenal, with an assortment of props everywhere from crocodile heads to woven vintage rugs and everything in between. They also had succulents on the tables and on their buttercream cake from Cactus Flower Florist, arranged by Jess' Human of Honour, Claire Wood.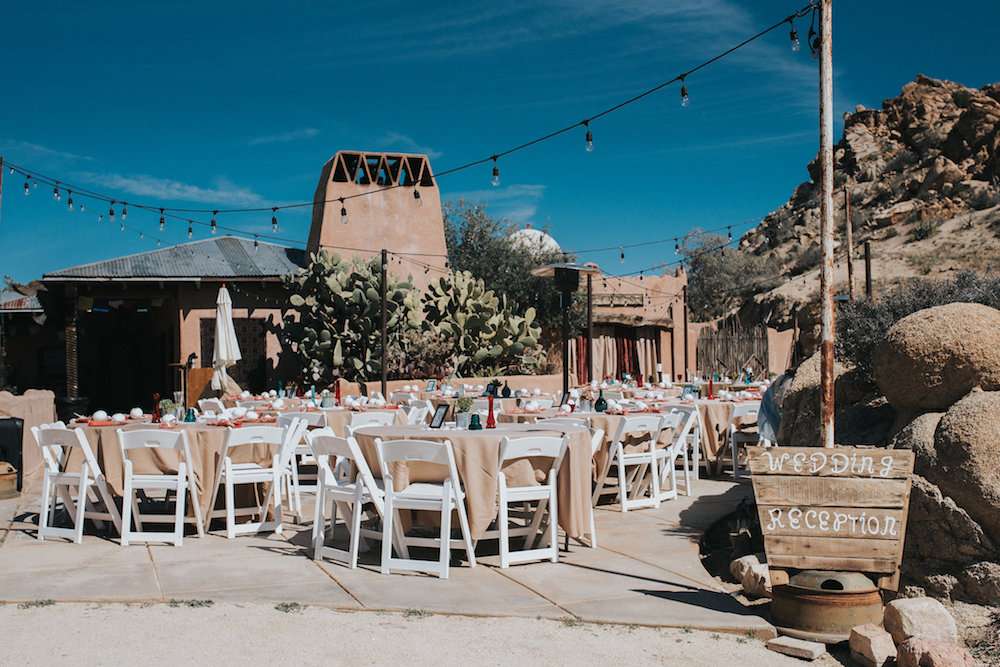 Their jawdropping venue, Le Haut Desert Aerie in Pioneertown, was their biggest expense, but it gave them everything they needed. Jess explains, "It was well worth it considering everything it included. It was the site of our ceremony, dinner, reception and incliuded lodging for most of our wedding party, and a beautiful room for our wedding night. The venue was incredibly peaceful, and didn't take much to decorate as it was amazing on its own."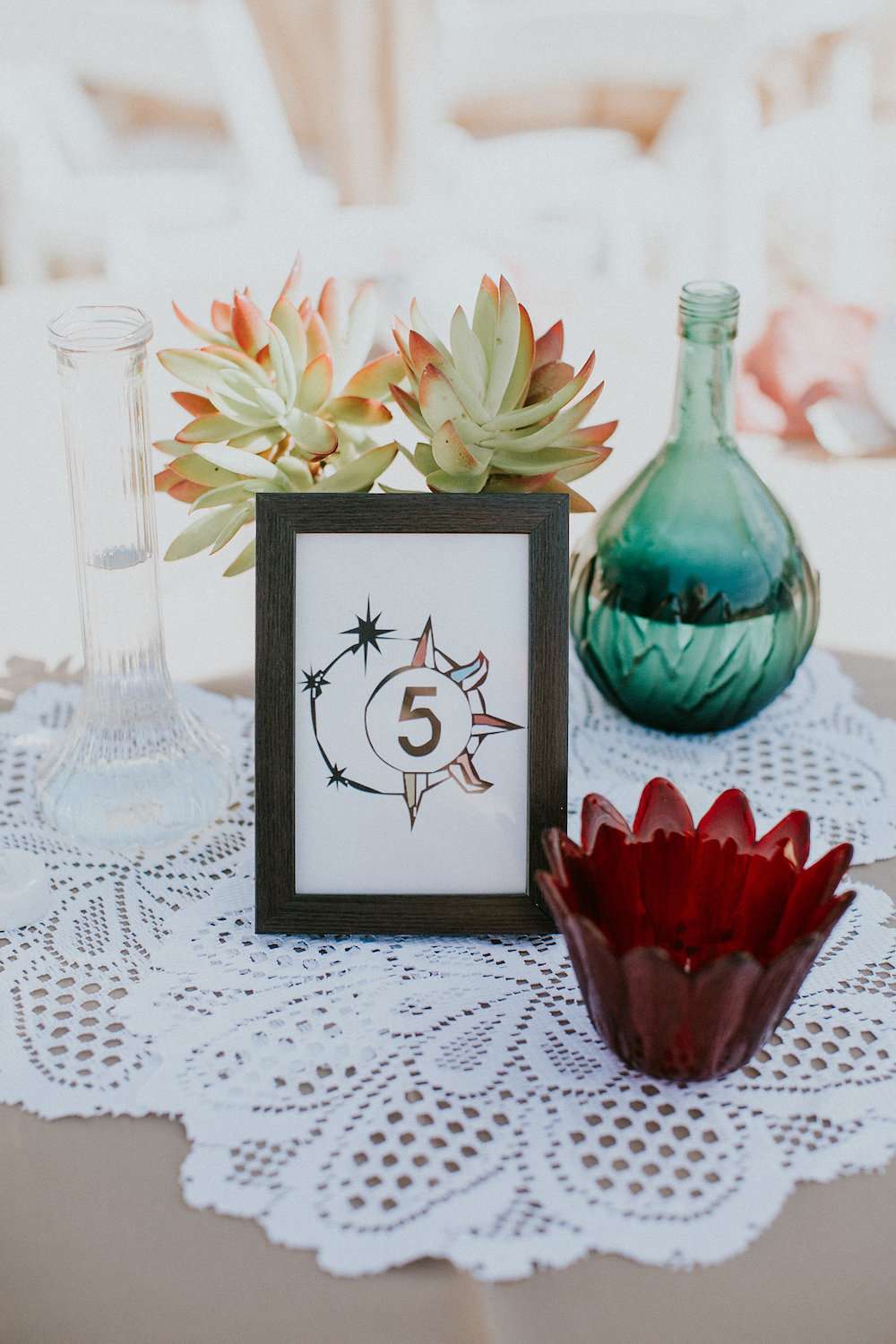 The location is absolutely insane too, with stunning views of the desert and beyond and blazing sunshine beating down from a blue sky. (This was in March last year…in March this year, we had the Beast from the East. Anyone want to move to California?!)
Check out all the gorgeousness in the gallery – there's a lot to bask in!