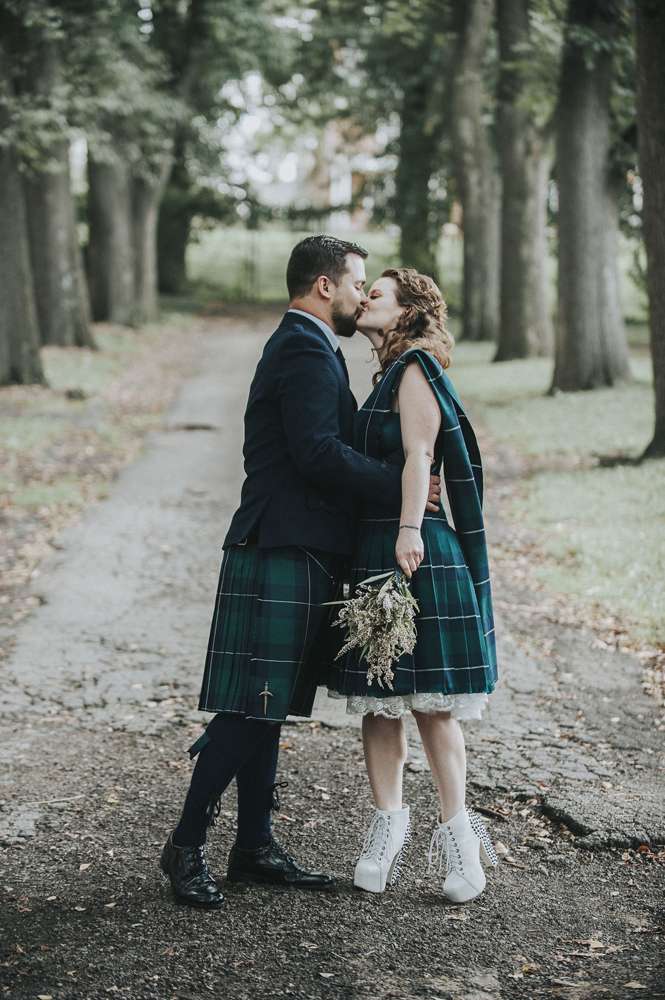 Phoebe and Brett's wedding had ethical intentions at its core. From using a CSA (community supported agriculture) florist, to sourcing local female vendors, to donating leftover food to homeless charities, its a wedding that's all heart. And also a ton of fun and stylish – have you seen the punky tartan outfits and the bride's boots?!
The couple had a mostly traditional Quaker wedding, which is a self-uniting ceremony. Brett explained that, "It occurs as a meeting for worship. There is no clergy and anyone who is moved may stand and speak. Fortunately, here, in the state of Pennsylvania you can get a self-uniting marriage licence, so we only needed two witnesses to make the whole thing legal." And of course, being a Quaker wedding meant that electronics were not allowed in the ceremony, so photographer Sandrachile documented it from far away and in a non-intrusive way.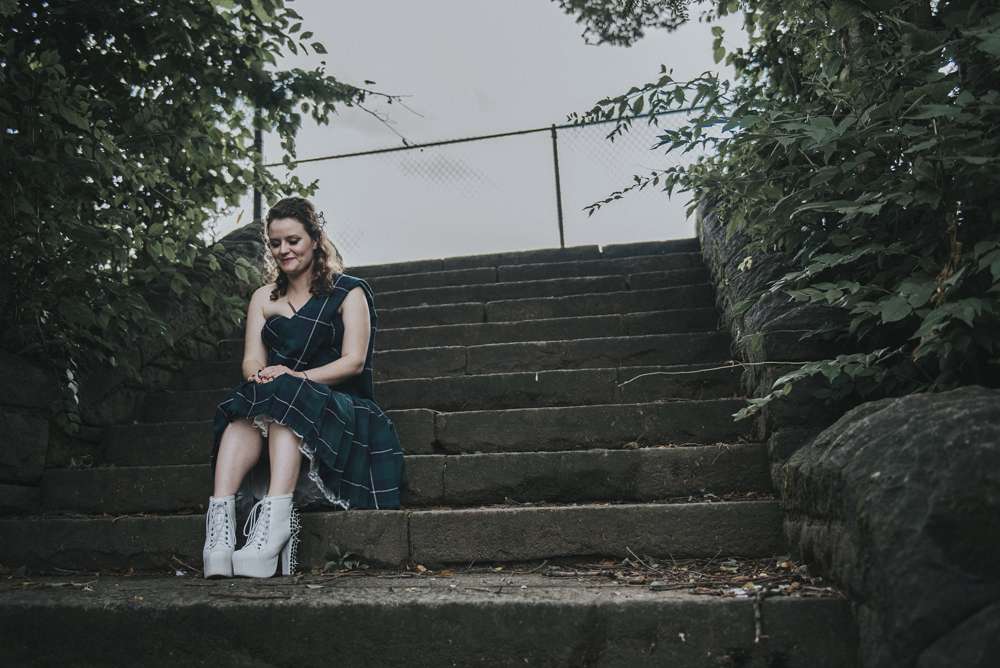 The bride's ethically-sourced tartan dress was custom made by local artist Anthony James Sirk, which she teamed with some bad ass shoes by Jeffrey Campbell from Poshmark, and the groom's kilt by Quality Kilts matched Phoebe's dress perfectly.
Hiring ethical and eco-friendly vendors actually played a big part in their day. Bistro to Go Café and Catering reduced the carbon footprint by providing a mostly vegan and vegetarian menu, and leftover food was donated to homeless people. They also used an eco-friendly stylist, greenSinner, who included upcycled and vintage decorations along with CSA flowers. Their invitations and RSVPs were online, and they registered for a charitable wedding registry.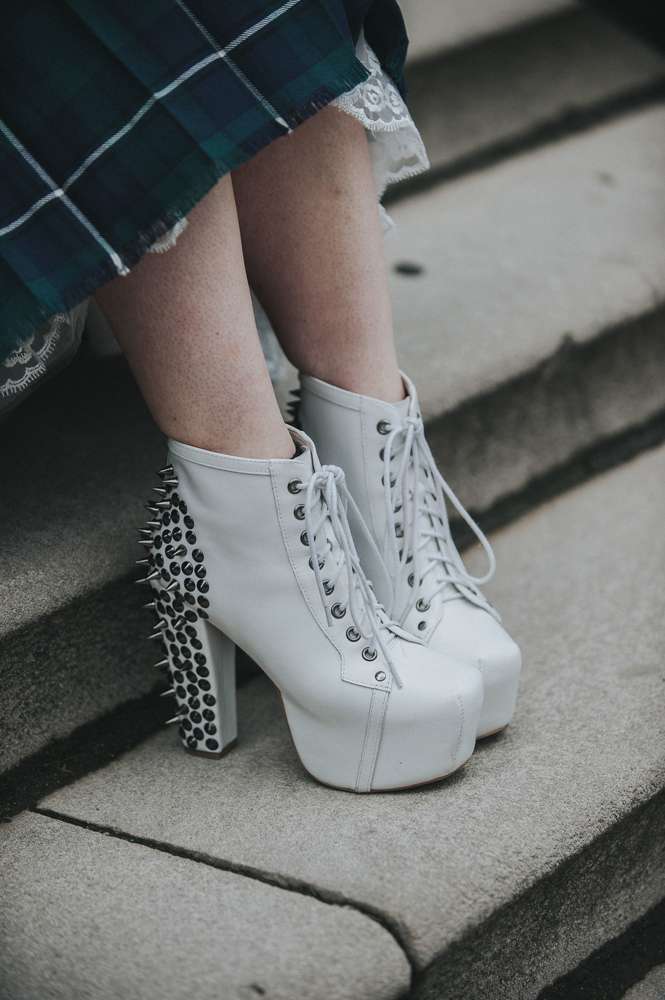 When they were thinking about their vendors, Brett said that "Our goal was to keep as much of the money in our neighbourhood (or nearby neighbourhoods) as possible. We worked with small businesses, most of which are owned by women. We weren't haggling for bargains, we were trying to make a difference, but I do think that our amazing vendors delivered beyond what we paid them for. We knew if we were going to spend a bunch of money, we wanted to do it locally, and we wanted to show off our new home of Pittsburgh to our families and friends."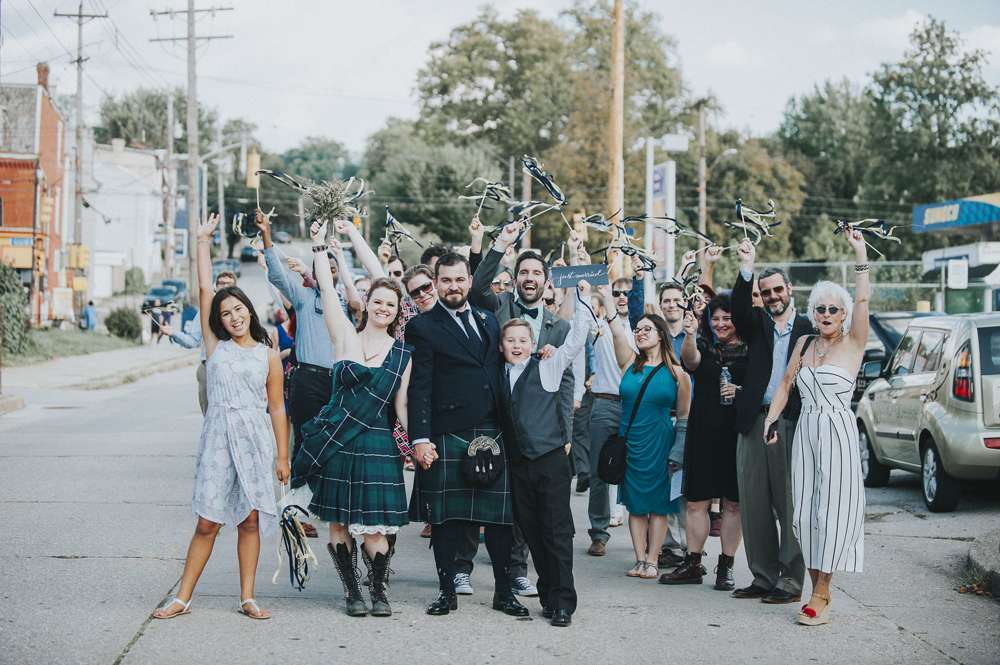 They didn't rehearse a first dance. Brett said, "We chose the song, which was Letters to Cleo's cover of I Want You To Want Me from 10 Things I Hate About You, about a week and a half before. We both know how to swing dance, so we figured it'd be easy and people would join us on the dance floor after a while. We did not remember how LONG that song is! Part way through, we both started to get out of breath, and everyone heard us saying as much to each other!"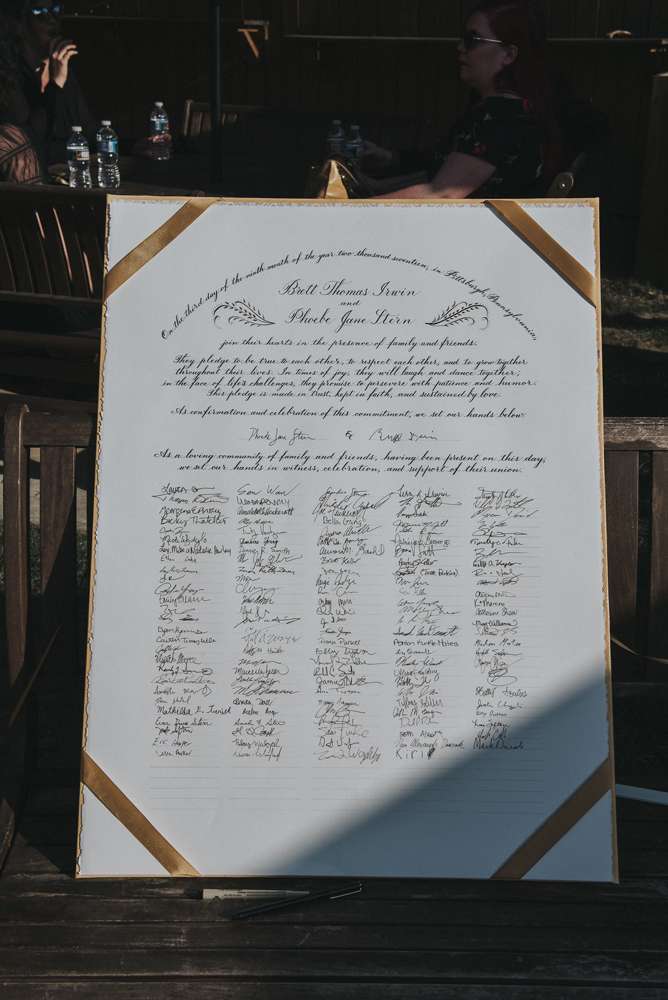 Brett continued, "We didn't realise our wedding was different until everyone told us so. Apparently if you don't have a white dress, have a self-uniting ceremony, and rent a pool table (a nod to how they met, which was, 'Drunkenly, playing pool at Bleecker Street Bar'.), it is pretty different. We didn't realise how homogenous weddings were until people reacted to ours. We just tried to make it a reflection of us and a celebration of the neighbourhood we live in."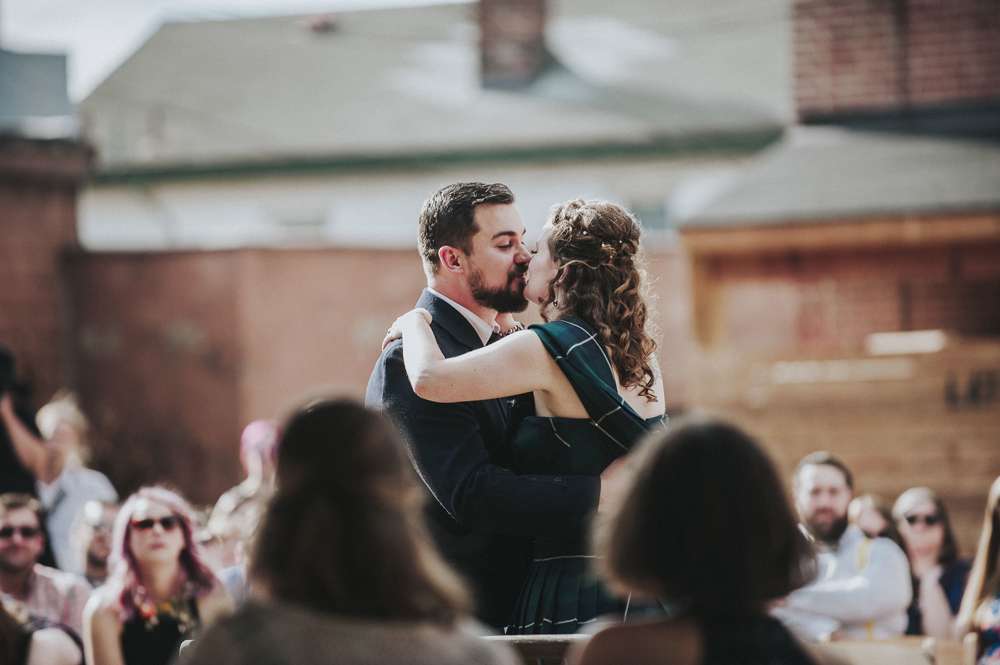 The wedding brought out the best in everyone, and the bride explained, "We were so touched and pleased by how loving and supportive everyone was, especially our families. Brett's divorced parents sat through dinner together at the same table for the first time in 23 years and seemed like they had a good time. It was moving." The ceremony was their favourite part of the day, with Brett recalling, "We felt so loved and supported, and even though a lot of guests weren't Quaker, they really enjoyed and respected the style."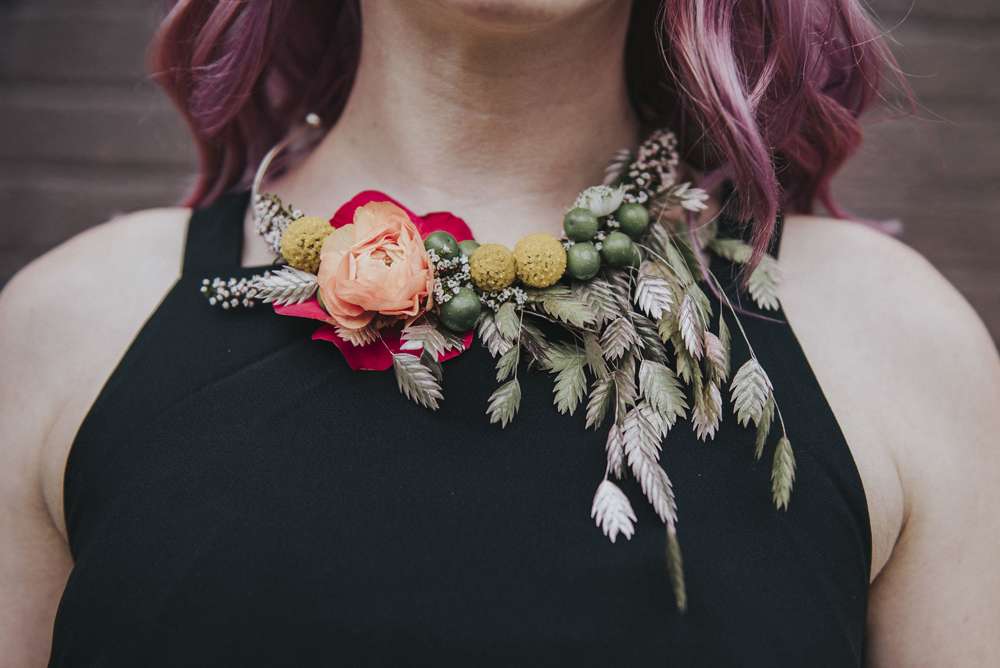 Brett said they did a few DIY projects, "But mostly it was our family and friends who showed up and did amazing things. Phoebe's mom not only calligraphed the ceremonial certificate, but also all of the place cards, and made the ribbon wands for the parade. There is also this local tradition of having a cookie table at your wedding; family usually are the major bakers for this, but our local friends stepped up and made an impressive spread of cookies (I bet those cookies went well with the ice-cream they had by Millie's Homemade Ice Cream instead of cake!). A good friend also made these amazing Daria-esque buttons as favors."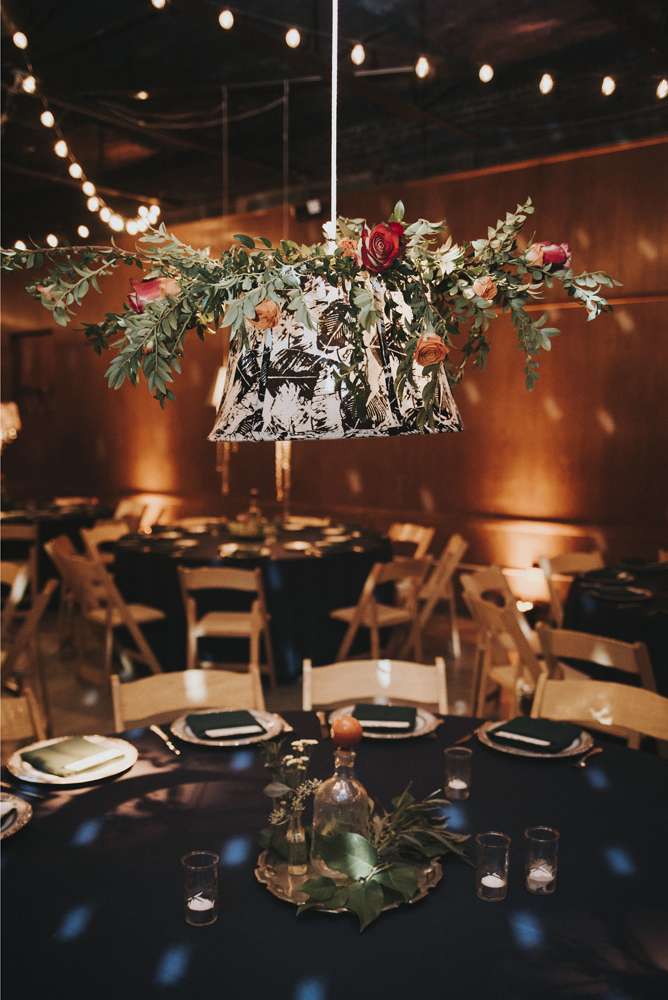 Their biggest expense was food and booze. Brett said, "When we sat down and listed our priorities for the day, these were two of the top three. We know what makes a fun party – good people, good food, and a little drunken shenanigans."
Brett concluded, "Planning a wedding is hella stressful. Don't let anyone tell you otherwise, but it is totally worth it. Phoebe (who is super 'Type A') did most of the nitty-gritty planning, but the best thing was the parts we did together: Going to taste food, talking about our outfits, or deciding on random details. It was nice to have those moments together."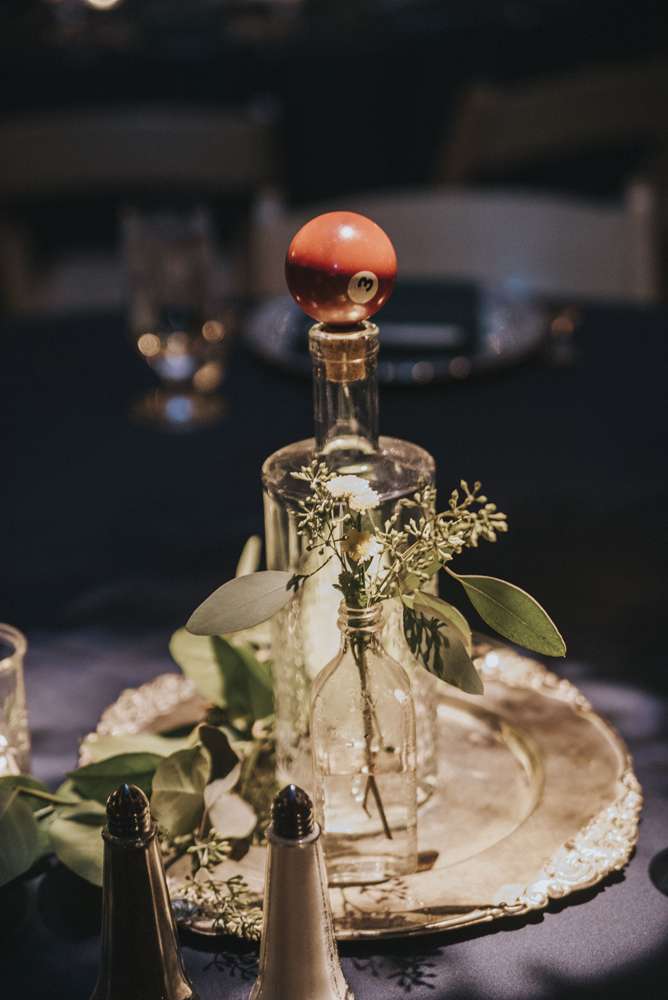 Brett said that planning quite far in advance made things much easier when it came to crunch time! He also advised those in the throes of wedding planning to, "Find creative, talented vendors and let them do what they want; they know what they are doing, and if they are happy you will be happy. Everyone at our wedding was amazed at how beautiful and organised everything was, and that is because all our vendors worked so hard and so well together. We are so grateful to them, and we would like to acknowledge their dedication towards our day."