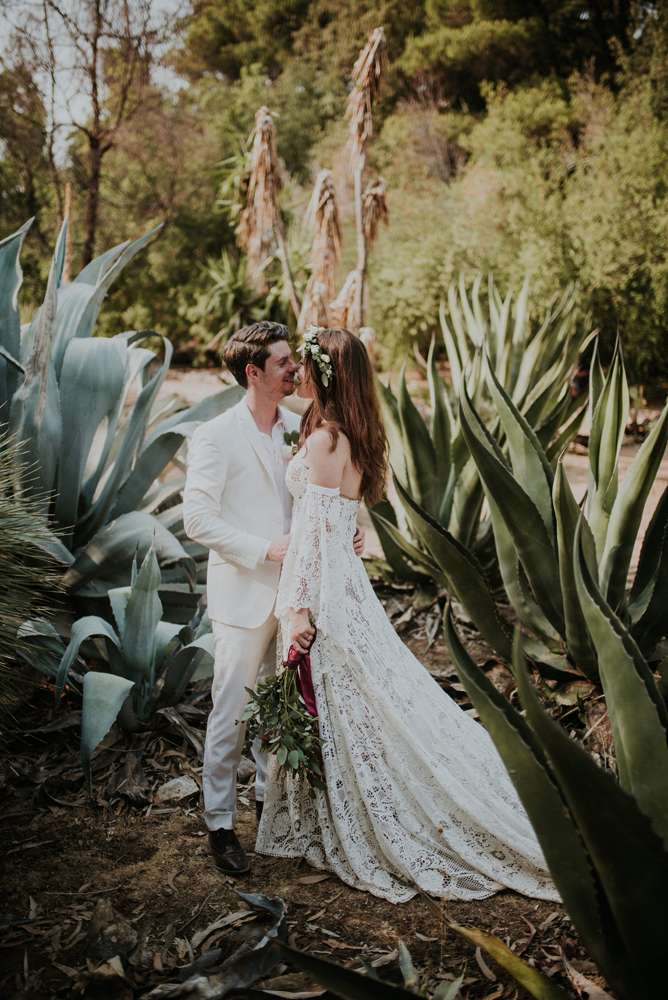 Lucy and Nick's summer island wedding in Dubrovnik pulled inspiration from magic and folklore, added it to musical, artistic and popular culture references, and basically showed us all how you do a destination wedding of dreams. They even had photos taken on the Iron Throne! Wedding goals and then some.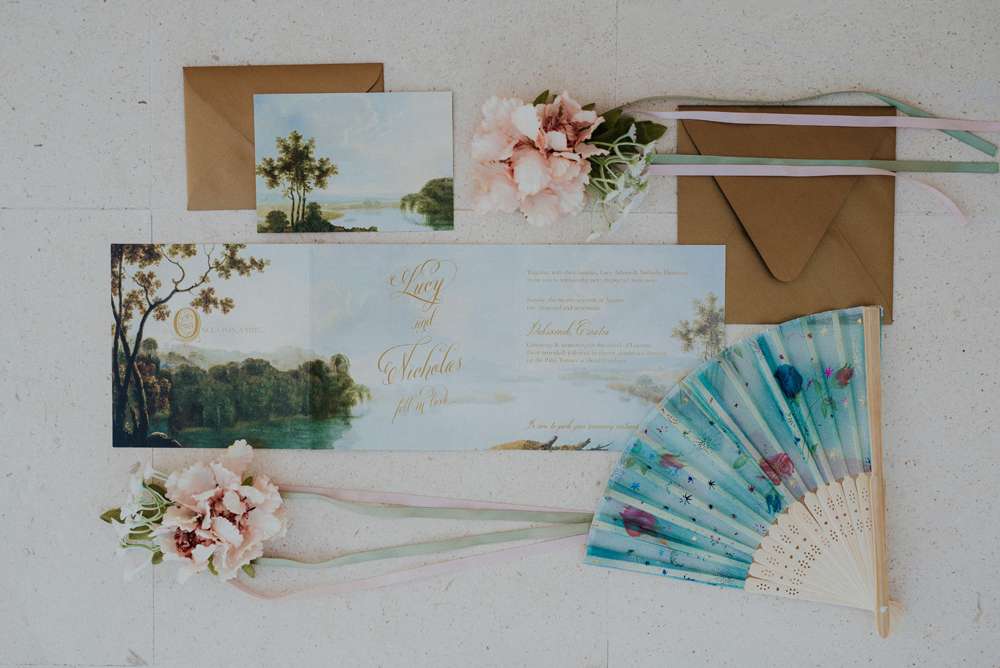 They were destined to be together, with their creativity at the heart of it all, "We met in our university art gallery, while Nick was doing a masters in music and I was doing a degree in contemporary art", said Lucy. "Nick asked me if I'd like to work with him on a project. I agreed, and together we created a contemporary opera The Life and Times of Virgil Edicere. The music was composed by Nick and the visuals created by me. It was during that creative process that we began to adore each other. I went travelling around California for the summer, and whilst I was there I had my fortune told; the cards said that love, sweet love, was coming my way. As soon as I stepped off the plane, Nick came to visit me, and we did indeed fall in love, sweet love."
And this magic is very much present in their wedding day style.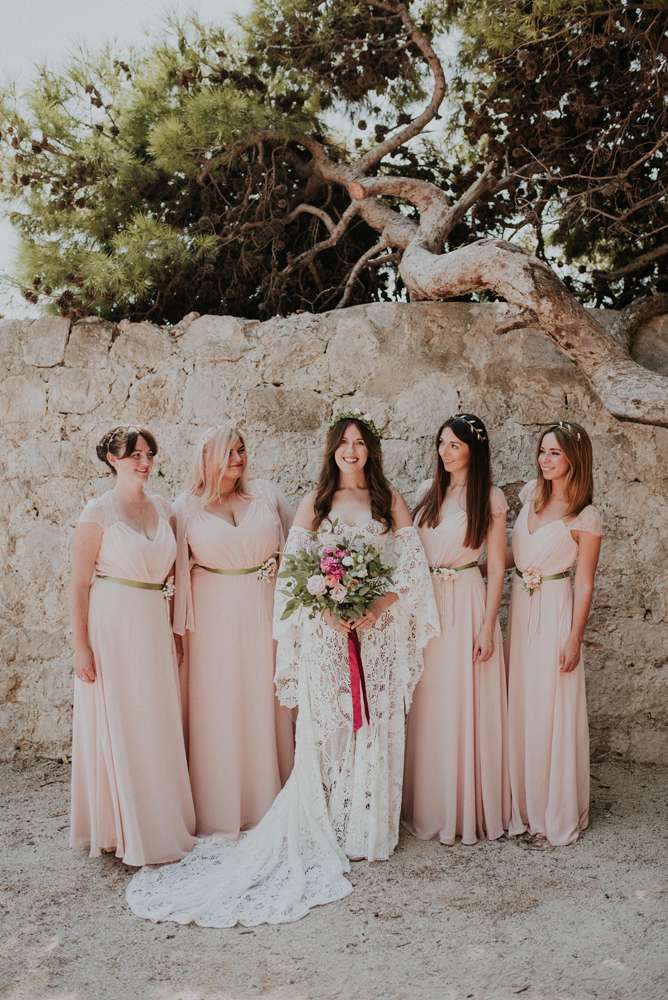 They married under an old olive tree on a tiny island called Lokrum in the Adriatic sea. Lucy said, "I walked down the aisle to a song that Nick wrote for me when we first met, and as soon as I heard our musician singing it I began to cry. We also wrote our own vows, which I am so glad we did because reading our own special promises to each other made the ceremony very personal. Being surrounded by all of the people that you love, who are there to celebrate and witness you marrying the person that you love is incredibly powerful."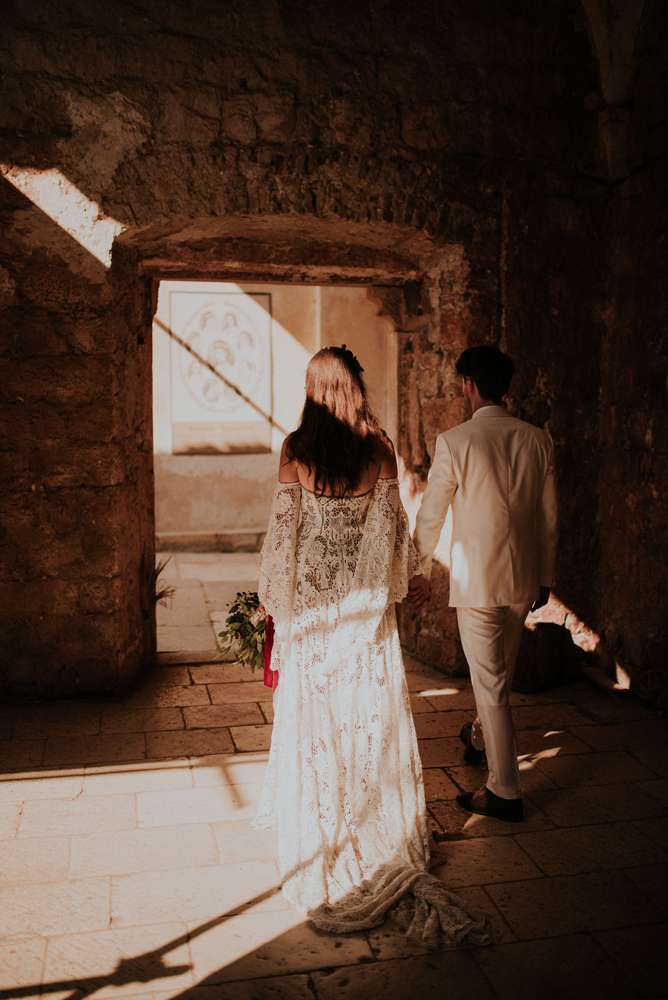 Lucy described their wedding theme as, "Romantic, bohemian, magical and fairy-esque. We drew inspiration from all over the place, based on things that we love. The Island itself looks enchanted, which really inspired us, so there were lots of little touches with a magical aesthetic such as the tall taper candles, eucalyptus leaves and vow books that looked a little like the spell books from Practical Magic. I have a book about folklore, which I adore, called The Magpie and The Wardrobe, and here I got ideas such as having a ribboned wishing tree and rose quartz (the stone of unconditional love) charm favours. I also had a quote from Labyrinth in my vows! We walked back up the aisle to Rude by Magic, with a shower of rainbow confetti, huge smiles and dancing."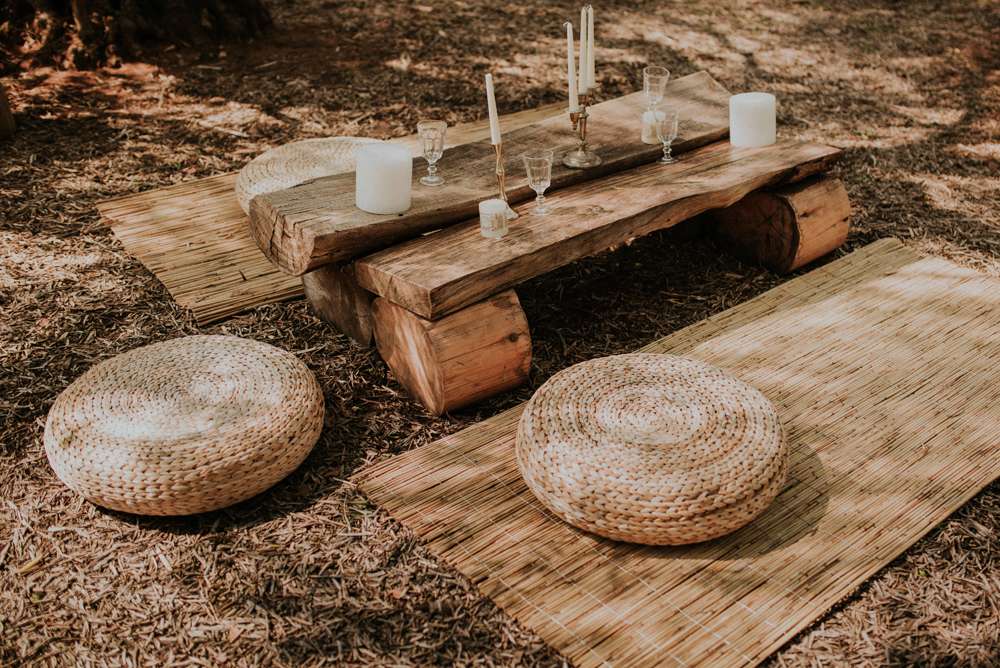 The bride recalled a funny moment during the ceremony where the wildlife of the island had a total Disney moment. "The largest inhabitants are peacocks and bunny rabbits, which run around wild and free. When the registrar declared us husband and wife, a muster of peacocks began to crow as though they knew exactly what was happening, and everyone laughed."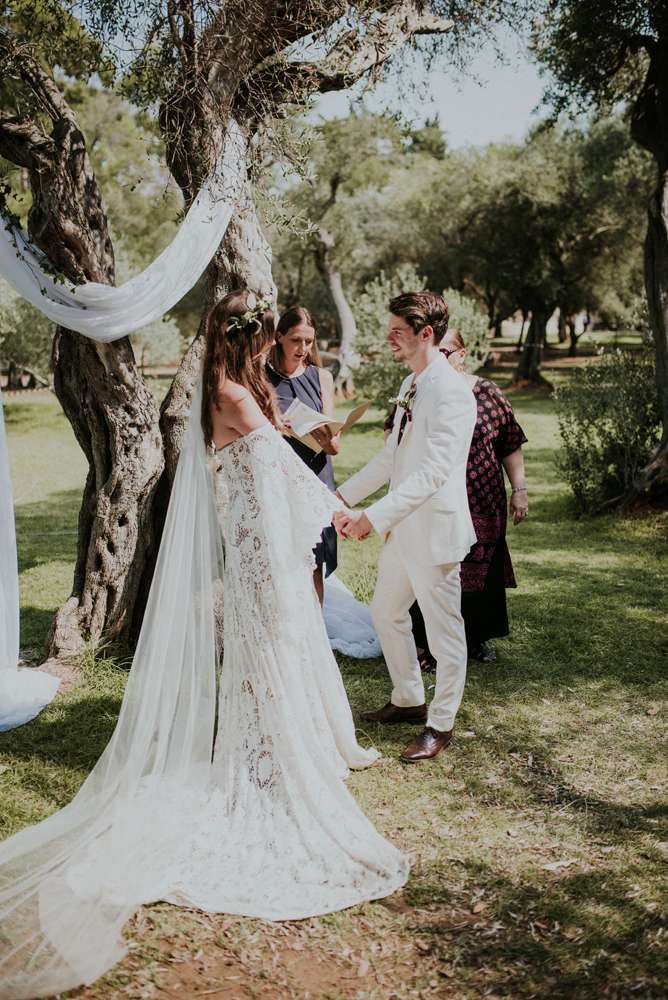 "The weather was hot and beautiful, so after the ceremony everybody jumped into the glistening sea to cool down. It was a surreal sight, everyone bobbing around on love heart and flamingo floats with beers in hand as our musician, Dominik Heštera Acoustic, played things like R.E.M's Shiny Happy People and Nirvana's The Man Who Sold the World. All of the guests said it felt like a dream, and that's exactly how it felt to us, too. We both just felt so happy. On the day, I kept turning to Nick and asking, 'Is this real life?' as it could have been an incredible hallucination!"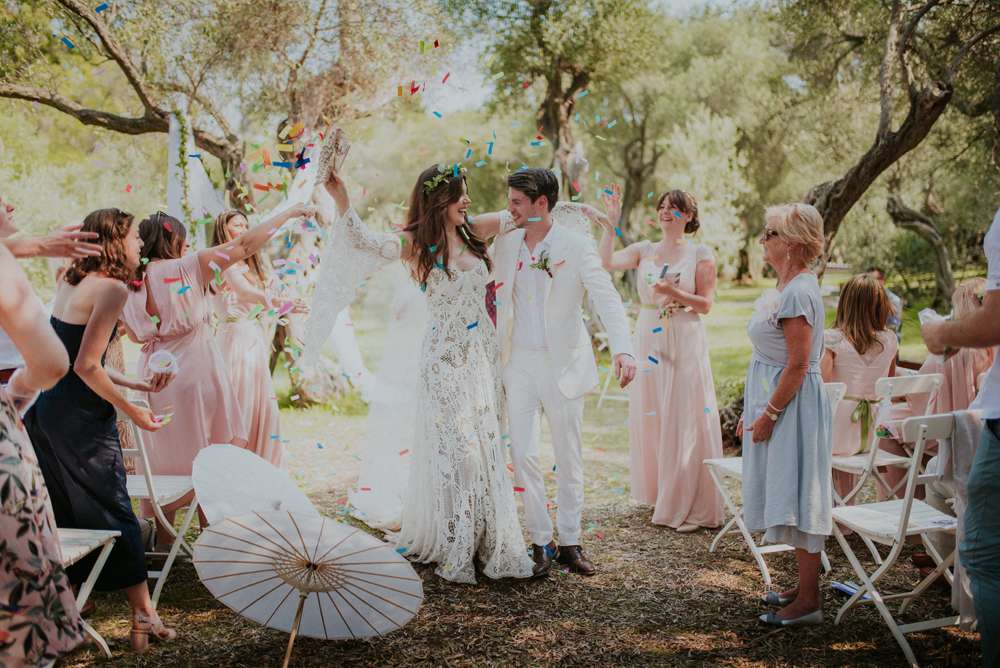 The bride wore a gorgeous boho dress by Rue De Seine, from wedding dress boutique Jean Jackson Couture, with vintage jewellery belonging to Nick's grandma in the daytime, then jewellery by Ottoman Hands for the evening. Nick had a white suit from Richard Smith Bespoke, with brogues by Loake, and the bridesmaids wore ASOS dresses altered with batwing sleeves, sashes and corsages.
"There's a story behind our attire", said the bride, "James Taylor is one of Nick's favourite artists (our first dance was to one of his songs). When James got married to Carly Simon, he wore a white suit and she wore a white bikini. So that was the inspiration behind Nick's white suit, my white bikini, and the après ceremony swimming!"
DIY played an important part of the couple's day, with the bride even designing the stationery under her brand Led by Lucy. "We both love being creative, so we were keen to make things together for the wedding. As it was a destination wedding, there was a natural cap on how much stuff we could take across. I think this served us well as it meant we were selective with our DIY projects, and we got to really focus on and enjoy making the items that we did, rather than stretching ourselves trying to make everything."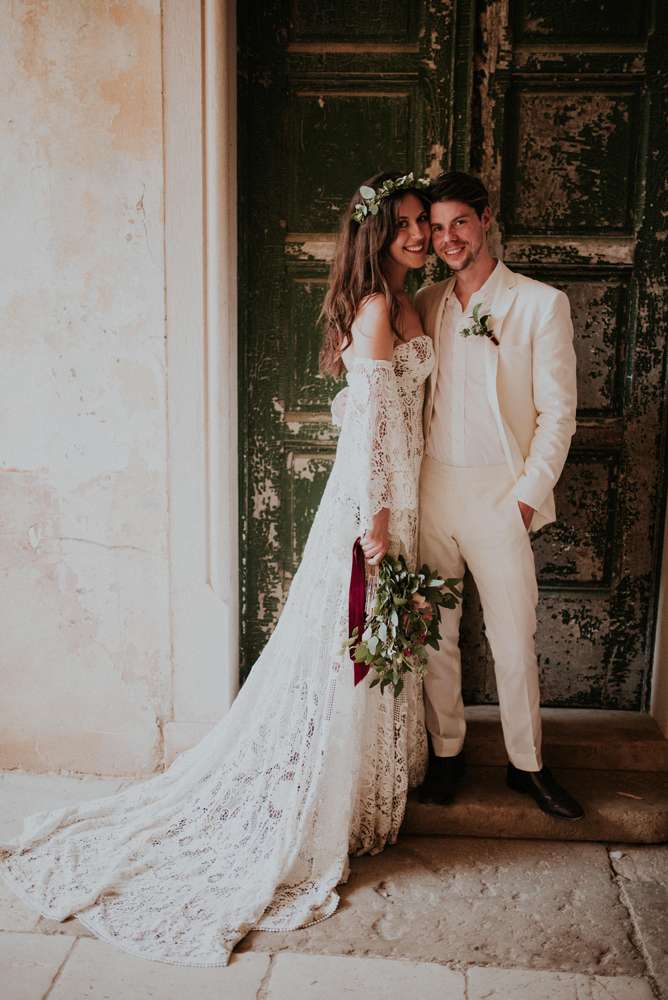 "Some of our favourite DIYs were hand-stitching my kimono, which I wore over my bikini after our ceremony, with hundreds of tiny glass beads, adding the floor-length satin sashes and flower corsages to the bridesmaid dresses, our wishing tree, designing the programmes, and the seating plans. Our guests had travelled from around the world to be with us, and we wanted them to feel valued, so we made name cards for each person with a photograph from a special moment we'd shared together. It was so nice to hear them explaining to each other when the picture was taken, and we noticed that everyone took these home with them as a keepsake. I'd seen these incredible Marie Antoinette fans with hand-painted butterflies on, but they were all in museums so I asked my friend and artist Amy Coney to paint one for me, which came in so useful in the heat. It was lovely to look around on the day and see how all of our ideas had come together."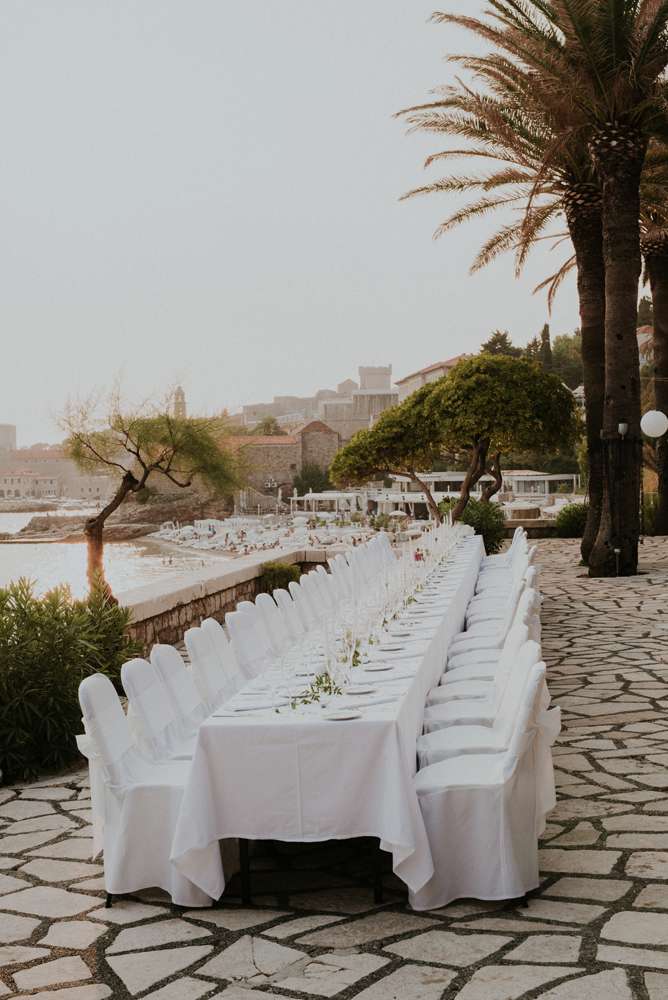 Talking about how they saved money, Lucy said, "The Island is full of natural beauty with botanical gardens, Benedictine monastery ruins, and of course the sea! So decoration-wise, we really didn't need to go overboard – why block the view!? Also we're not huge cake fans and in hot weather don't really crave cake, so we had sliced watermelon on lolly sticks served with fresh mint, which was a lovely cool snack on the day."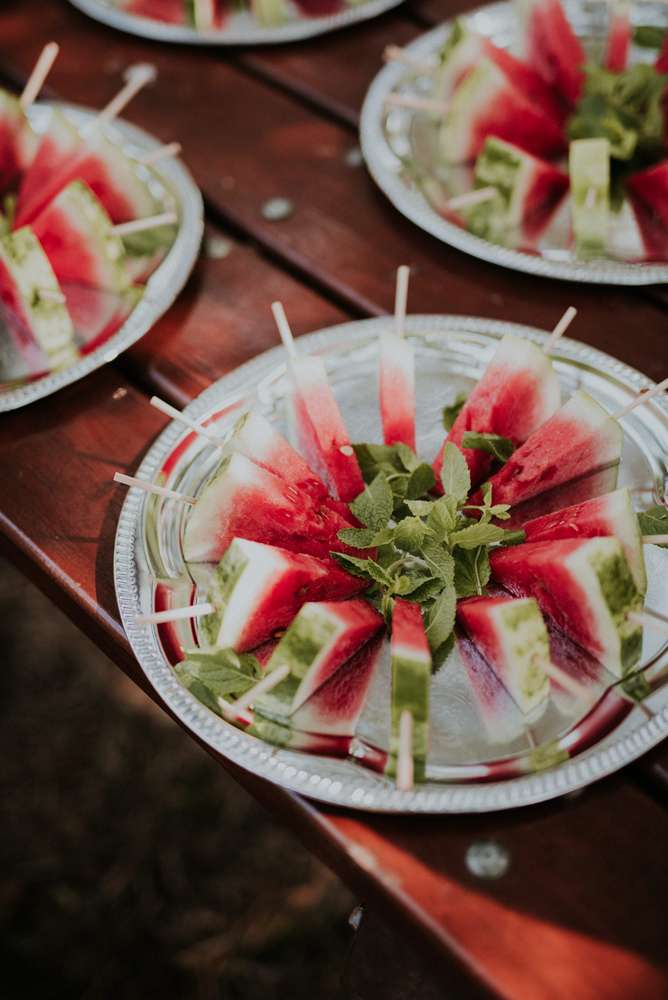 The bride said that, "Other than marrying the man of my dreams, my dress buying experience is probably one of my favourite memories of my wedding planning. I searched high and low and started to question if finding the perfect dress was a myth. But when I met the dress of my dreams at Jean Jackson Couture on Christmas Eve with my mum and sister, it felt like fireworks began to explode. The owner of the shop actually picked my wedding dress for me. My sister, mum and I scoured the rails picking out beautiful dresses that caught our eye for me to try on. I loved all of them, but Rebecka took one off the mannequin and said, 'I know that you don't want strapless, but I think this will look fab on you.' I am so glad she suggested it for me as once it was on it felt like my spirit dress!"
She went on to say, "One of our favourite moments was the first dance; the sun had just gone down and all of our guests had sparklers glittering in the dark as they surrounded us with love. As soon as the next song came on, everyone piled on the dance floor and we went wild! We loved the fact that the dance floor was full all night; people were dancing on the chairs and the tables it was so much fun. When we had to switch off the music, we went to another bar, then when that closed we went to another bar! We just wanted to make the most out of it and enjoy every single moment."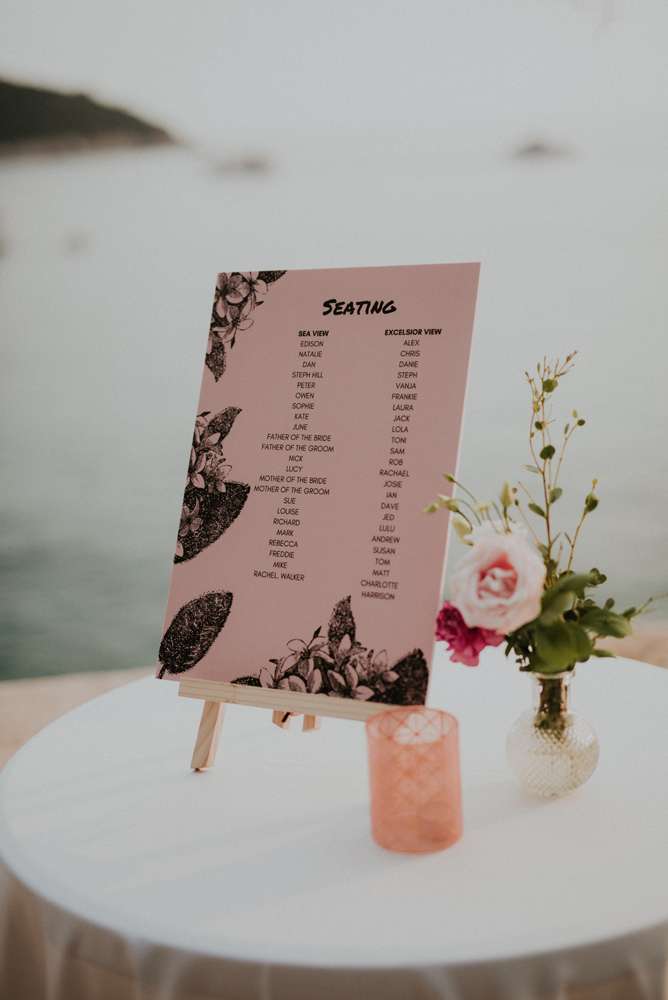 Lucy's advice for future couples is, "If you're having a destination wedding, which people will be flying out for, consider hosting some relaxed, low-key gatherings a few days before the wedding and for the day after, too. The day goes by so quickly, so it's nice to re-live everything with your nearest and dearest, and to maximise the amount of time you all get to spend together. We did gentle sunset yoga on the night before the wedding (which helped me to relax and centre), then we all went kayaking on the day after, followed by pizza and wine. It gave us more precious time with our guests, who had travelled all the way to celebrate with us, and we were able to talk to everyone properly and spend time with each individual. We made sure everyone knew these activities were optional so they didn't feel obliged, as it was their holiday, too – but everyone said how these additional moments together were really fun and precious. It's also important to get some alone time with your partner in the run up to the wedding, so be sure to schedule lots of that in, too."