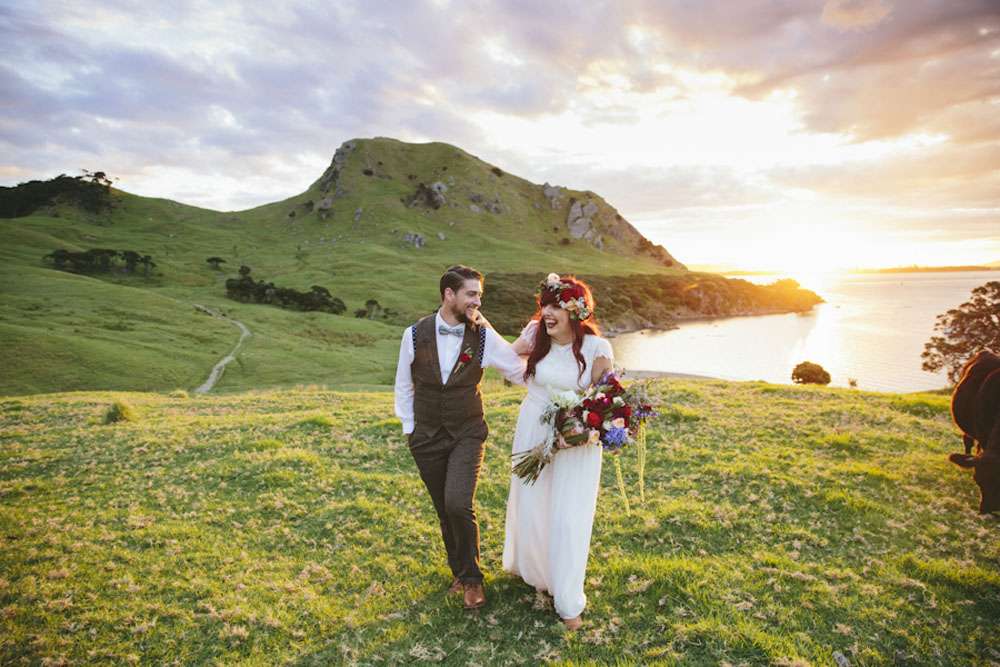 Hayley and Marty were married at the historic Mcleod Bay Church in Whangarei Heads, New Zealand. It is the church of the early settlers of the small coastal area where Marty grew up.
"We are both creative people so this is really what influenced our wedding", the bride began. "We wanted too execute our own ideas and make our wedding unique. Everything there was made by us, for us. This meant nothing was over the top or tacky. Nothing about it was traditional."
"All the décor was DIY", she continued. "Living in Australia and flying home for the wedding meant we only had a week prior to organise and create everything. We had a clear plan of what we liked and this meant we wanted everything to be personal. We didn't just want to have things you could buy in a store. That's not what we are about and we wanted to have our wedding reflect that."
The bride wore a gorgeous Grace Loves Lace gown with brogues and a crown made of real flowers. Her bouquet was hand-tied and made from wildflowers.
"Our 'theme' was just laid back. We wanted our guests to tell us our wedding was just like 'us' afterwards and they did. They kept saying that they were blown away with the authenticity and how we poured our personalities into every aspect of the wedding. The whole day was just so much fun, our bellies hurt from laughing so much by the end of it all! There was never a dull moment, but everything went absolutely perfectly. We thought something might go wrong, but it didn't, so it was a huge plus!"