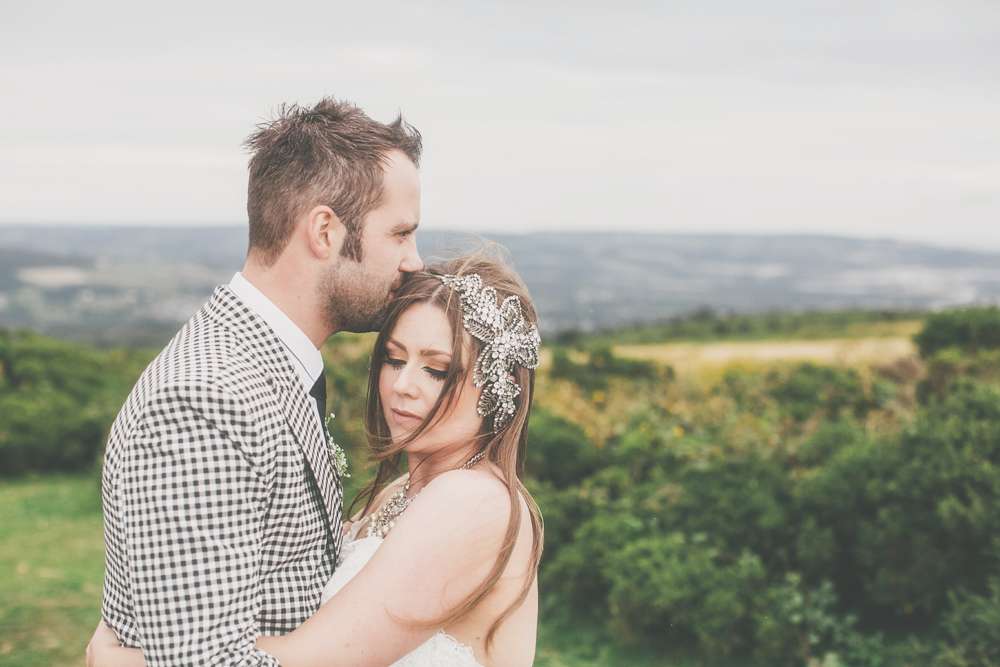 If you're sad about the fact that your wedding day will be over in a flash, why not do what Mark and Alex did and have a two-day celebration?! They wanted both parts of their wedding to have their own unique personalities, so day one was a casual fancy dress festival party, and day two had a more glamorous, sparkly theme.
"We held our wedding over the August bank holiday", began the bride, "with the fancy dress festival day on Saturday and the wedding on the Sunday. We hired Colehayes Park in Dartmoor for the whole week (oh yeah!) and over 25 family and friends stayed with us. We actually continued the celebrations until the following Friday. Greedy aren't we?!"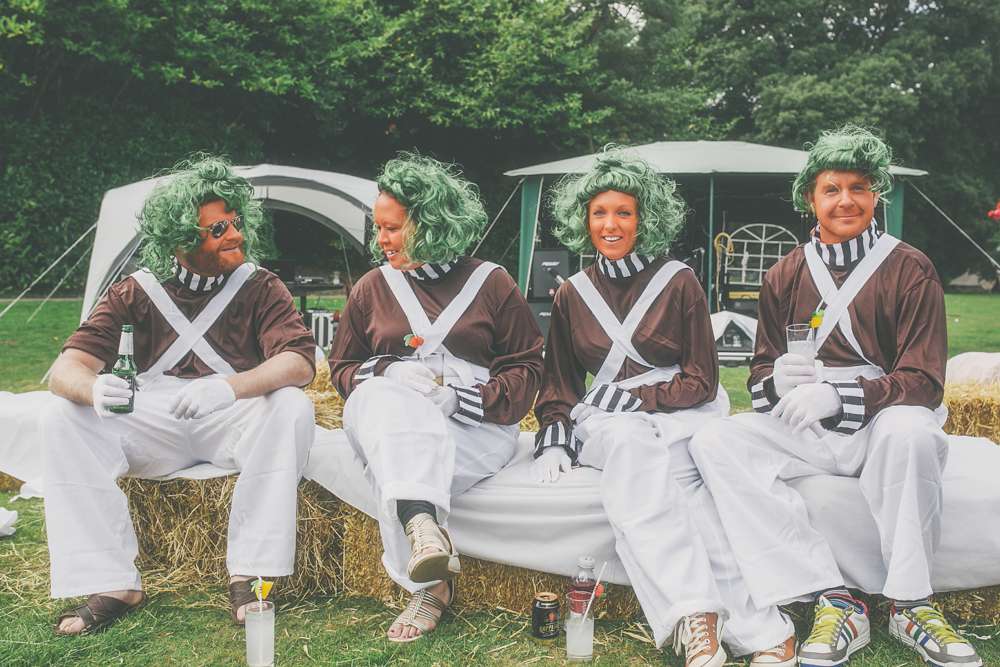 "We always knew that we wanted to drag the wedding celebrations out for as long as possible, so finding a venue where we could stay and party for longer than a day was our pre-requisite in choosing where we were going to get married. Our plan was to always have a festival day and wedding day, we decided to have the festival day first so that all the guests could mingle and were familiar with each other before the wedding. This worked out really well and we had an 12pm curfew so that people were still fresh the next day!"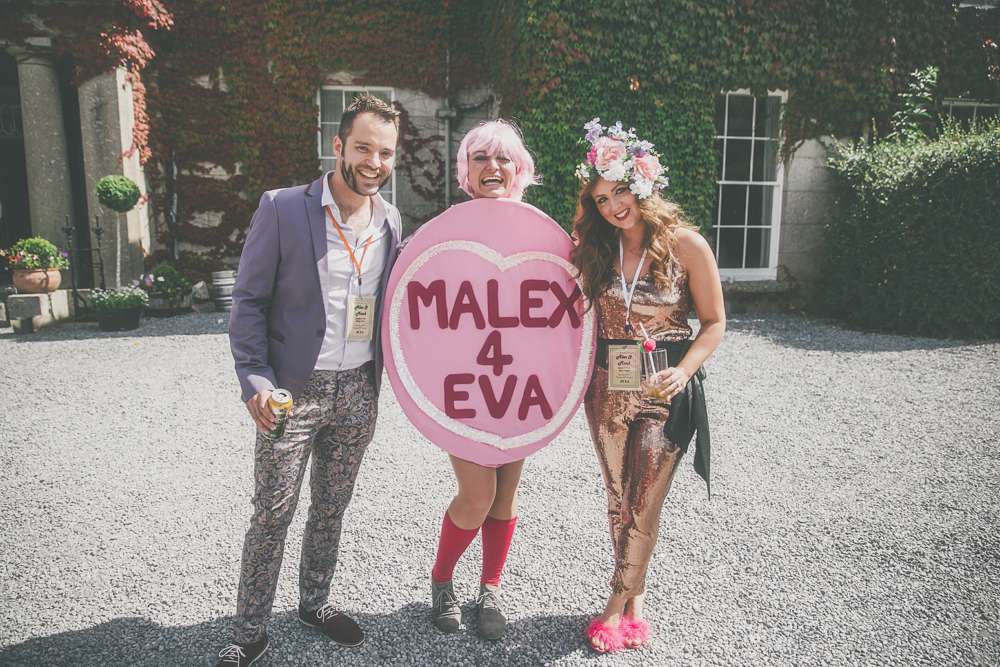 "The main thing we wanted was an incredibly relaxed, fun and friendly wedding", she continued. "We're not huge fans of serious, formal and traditional weddings as just not our style, and so wanted to go as far from that as we could while still ensuring we were getting legally married."
"The festival day was an incredible, sunny day. The theme was Willy Wonka which meant that a lot of oompa loompas turned up! Mark went as Willy Wonka in lilac and purple suit, and I went as the golden ticket in a metallic sequin jumpsuit! Our friends made such an amazing effort with one group coming as confectionery – so we had the Milkybar kid, a Fried egg, a Fruit Salad, a Loveheart and Strawberry Shortcake. We had face paints, a lemonade stand where we served chilled cocktails. We also had someone dressed as a Jagermeister bottle, handing out shots of Jager!"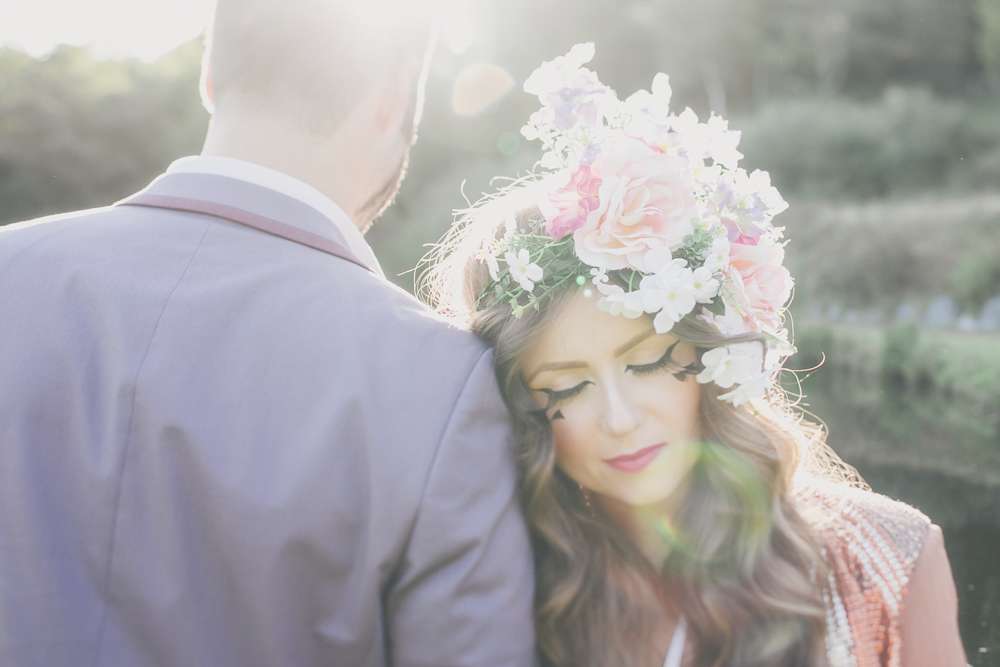 On the wedding day Alex wore a Maggie Sottero dress, with gold 'Ennis' shoes from Freya Rose and an epic headpiece from Jenny Packham. Not wanting to wear the usual, boring morning or hired suit, Mark also went all out on his outfit! His black and white gingham suit was bought on eBay and he customised it himself with different buttons. All his groomsmen wore ties with the same pattern!
"The ceremony took place in the garden which we were really happy about as really wanted to get married outside", Alex said. "The rain held off just long enough for it to happen. For the reception on the Sunday we put up up a marquee on the lawn. We had 140 guests which was too many for the rooms in the house and we didn't want to separate the guests into different rooms."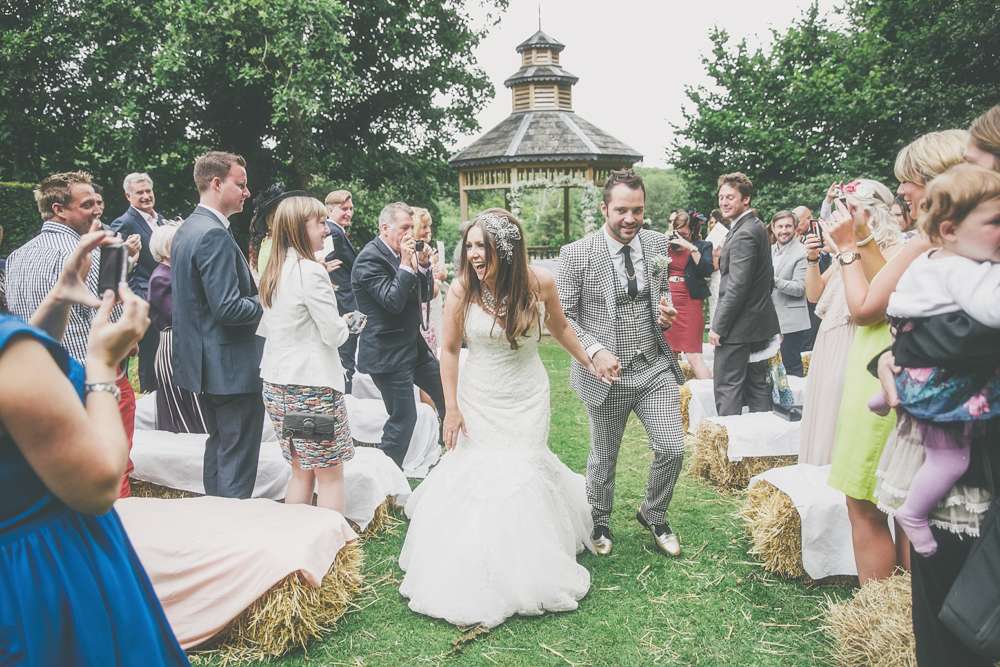 "I really wanted my bridesmaids in sequin dresses (of their choice) but we ended up finding a style that suited all their shapes, sizes and colourings from J S Collection at House of Fraser. They then styled themselves. I wanted them to wear their own shoes and whatever colour, belts, accessories they wanted. I wasn't keen on the uniformed bridesmaid look and I think they all looked amazing!"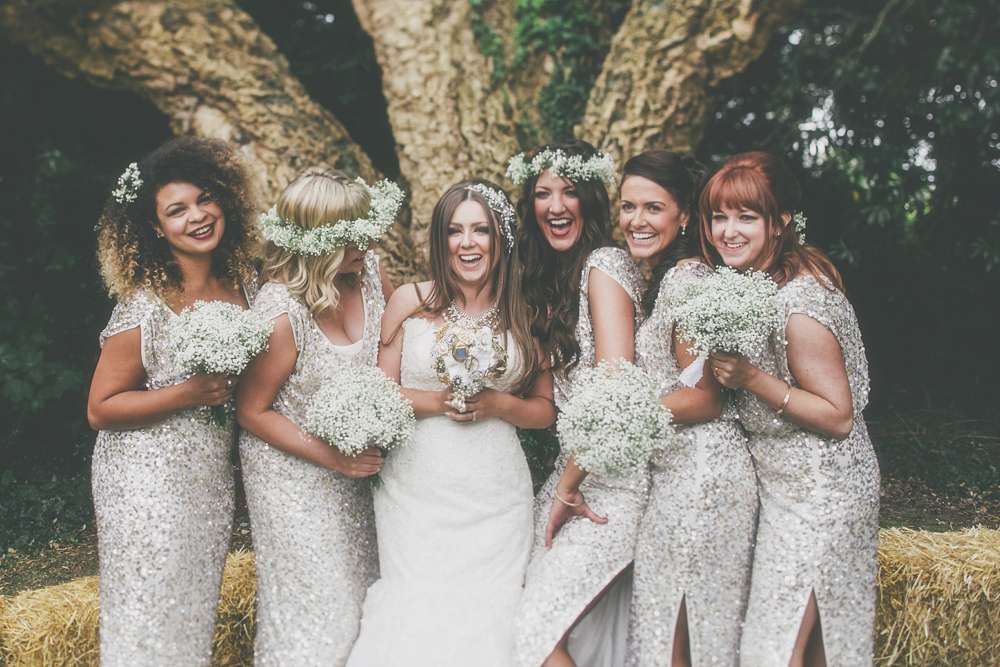 In terms of décor the couple kept thing relatively simple. The bridesmaids carried gypsophilia bouquets, which was also used to decorate the gazebo where they said "I do" and on the tables in the marquee. "We hired some props for the festival day including garden games, a lemonade stand, a sweet cart and a bouncy castle! We also had hay bales for seating on both days. They were a nice rustic and relaxed touch. We made most of the signs ourself with blackboard paint."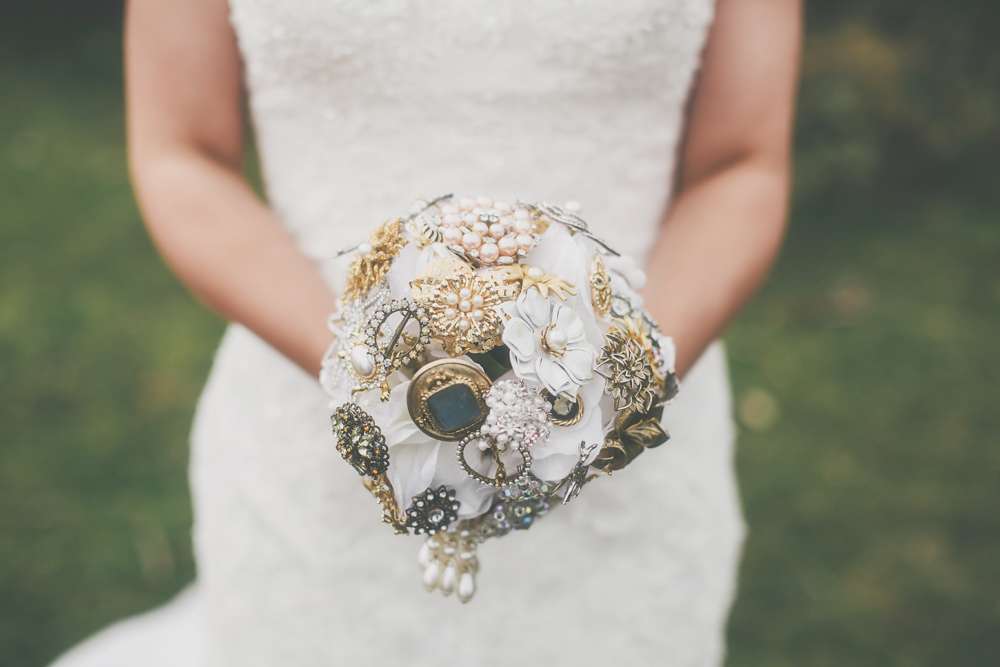 "Our biggest expense was obviously hiring the venue for the entire week. Also the fact that we catered all the food and most drinks over the two days. But having the venue all week and a weekend wedding was EXACTLY what we wanted. The fact that we got to spend a whole week there and enjoy the area was brilliant. We would definitely recommend making sure your venue is exactly what you want and if you can drag the wedding out then DO IT!"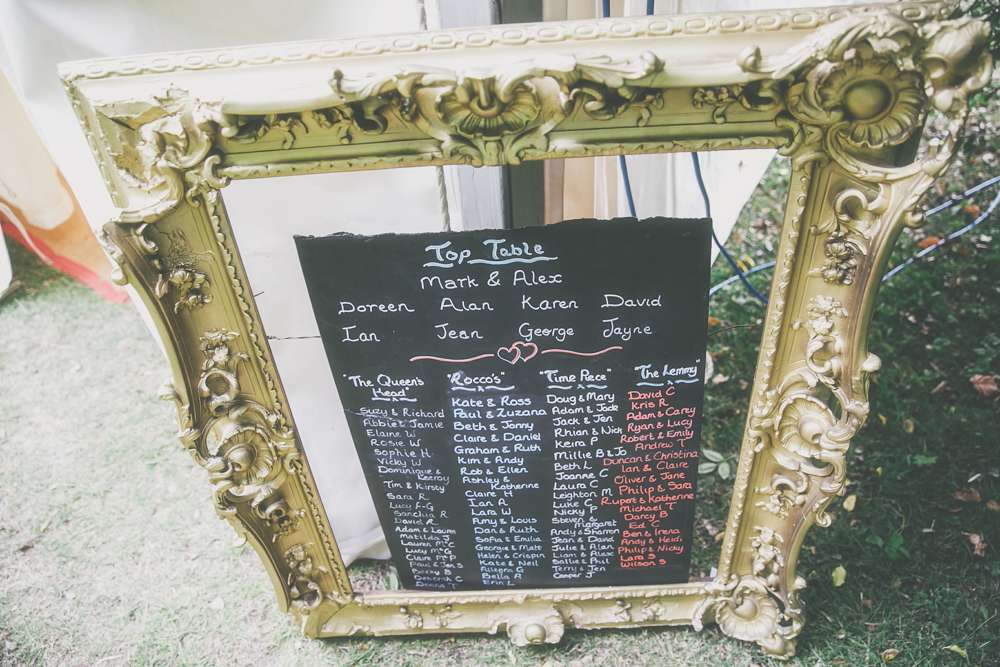 "However we saved money by entering as many wedding competitions as possible!! I've never been a competition enterer, but decided to do it and ended up winning a lot of thing. We won wedding fair tickets, a vintage photo wall for the photo booth and money off our photography! I also got my dress and shoes from sample sales and we used eBay a lot."
"I have a lot of advice for other couples planning a wedding", the bride concluded. "Relax and don't sweat the small stuff; use sample sales, car boots and charity shops; DIY is fun but you need to have a lot of patience to do it, and get wedding insurance! We had someone booked to do our marquee and catering and he cancelled on us on the Friday morning saying he had ceased trading! We have since found out it is not the first time that he has done this and are currently taking this through court to try and get our hard earned cash back! So make sure you have insurance in case something like this happens to you, and try to get recommendations for your suppliers!"