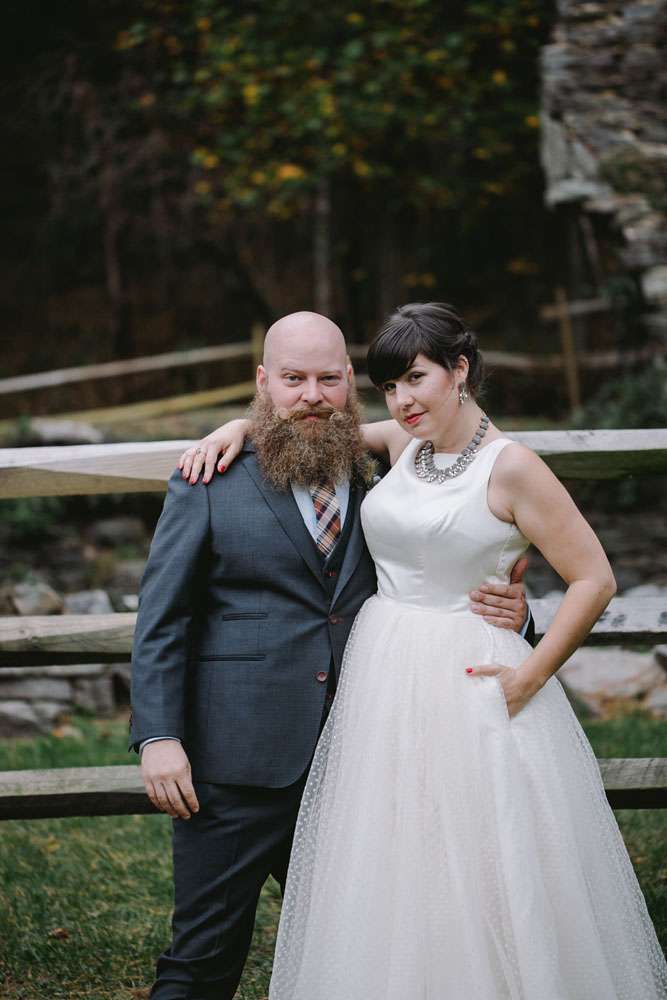 Rachael and Rob wanted to get away from the city for their wedding. So they rented a camp ground, just outside of  Philadelphia where they could say "I do" and stay all weekend with their friends and family.
"We live in the heart of Philadelphia and wanted to find a place that all our friends and family could get away from the city of Brotherly Love while sharing in their Union of Love", wrote Rachael. " Maple Treehouse Camp on the Appalachian Trail in western Maryland proved just the place, offering an escape of fun where guests could spend the weekend celebrating. Since we have both lived all over before settling in Philly, we wanted to be able to spend more than a few hours with those special friends who made the journey. Friends travelled from all parts of the country to bunk together in tree houses, cabins, and in their own tents or campers."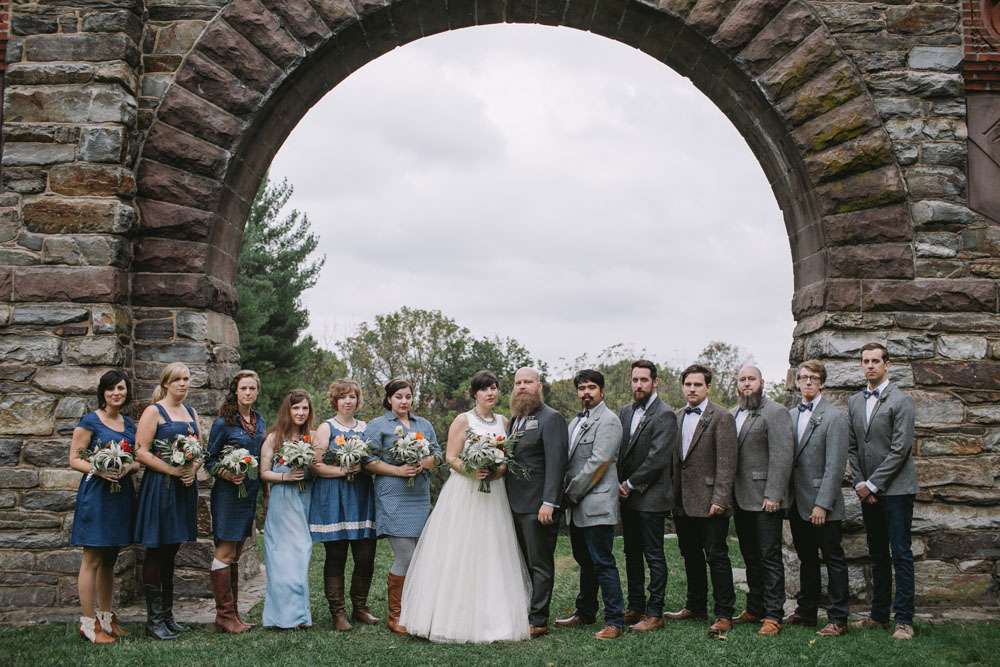 "The whole wedding was really community inspired! Since our relationship started with community and travelling adventure, we thought it perfect to find a place where all of our friends and family could get away from the city and everyday lives to find a little R & R and celebrate the love of R & R! The whole wedding came together with the community stepping up into different roles but also making sure they were able to have fun and not."
"Upon arrival each was greeted by a 'camp counsellor' at the welcome table with a cabin assignment, a hand-crafted watercolor camp map, and a field guide with fun for the weekend.  The whole affair, with the exception of the local organic farmer/pig roaster, Bev Egglesteine, was put on by family and friends. Dogs and kids were welcome with most wearing bow ties!"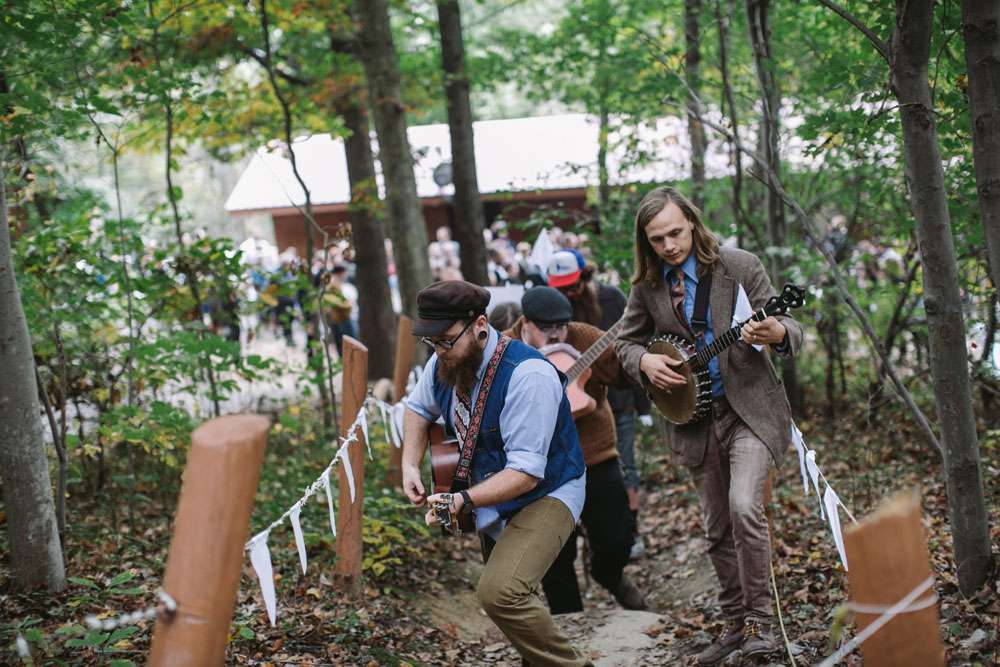 "The groomsmen hauled picnic tables from camp sites to an open field for dinner while our mom's ran behind dressing the tables in vintage linens from my hometown, and apothecary jars gathered on our various road trips.  Friends also coordinated food and music, took photos, officiated the ceremony, wrote the recipe for and baked the cake, assembled the bouquets, did hair and make up as well as bartending. Every bit of the weekend was touched by someone who knew and loved us.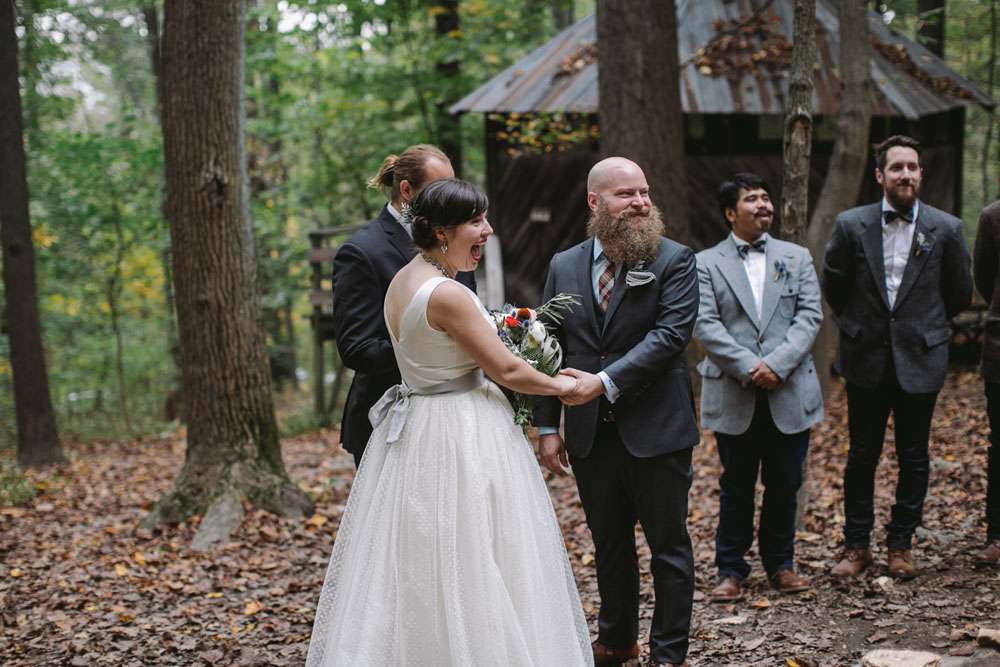 "For the ceremony, we waited in separate tree houses and watched as guests paraded up the trail playing instruments and singing 'God Only Knows'," she continued. "That song is especially important as Rob had used it when he flash-mob proposed to me, 7 months earlier! Descending from our tree houses, we joined waiting friends and family gathered around a fire. The ceremony was special and unique with us shouting their vows to each other under the canopy of trees. The ceremony was followed by another parade downhill, which this time we led."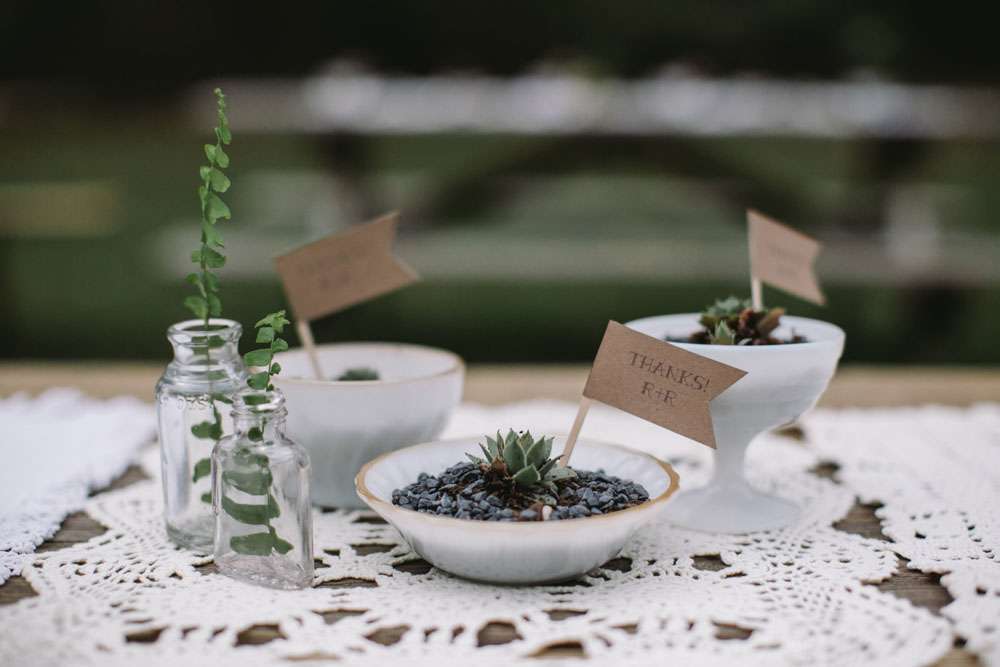 "At the bottom of the mountain waited drinks and charcuterie cured by Bev.  We all had fun and a great time with the pig roast, dancing, cake, and more bonfires.  After dancing the night away, we stole into the woods to their honeymoon suite: a hobbit hole nestled into the hill we had exchanged vows on just hours before.  The next morning with mugs of coffee, we wandered the camp sharing breakfast over fires with all of our friends, starting our new life together."