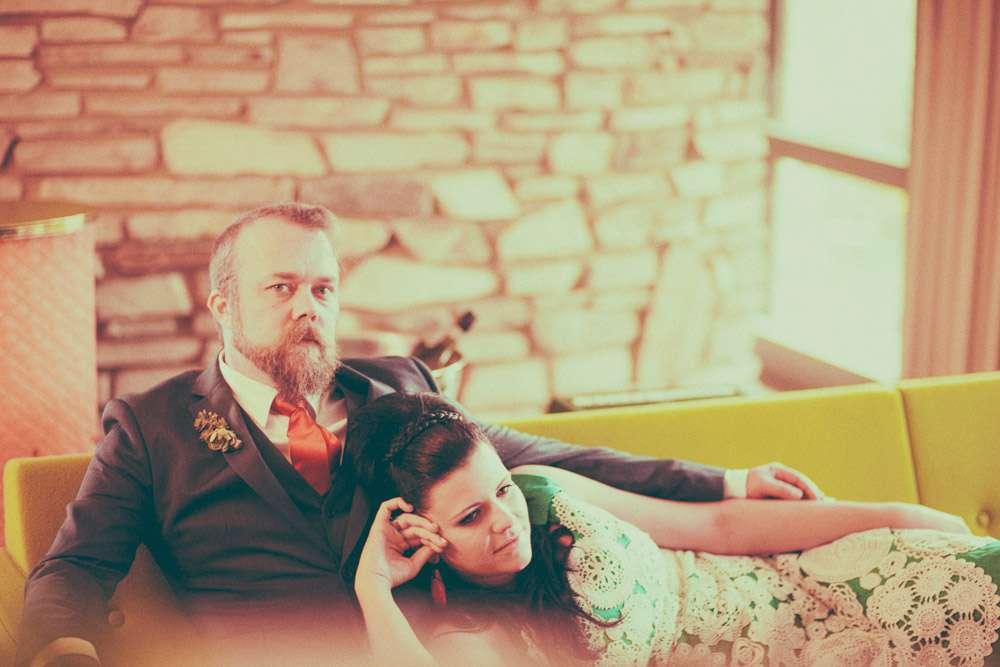 The creativity of the weddings I get to feature never fails to astound me. I know I say this a lot but my readers are, without a doubt, the coolest people on the planet. Today's wedding does nothing to dissuade me from this fact. There is not one thing that I don't think is perfect about this, and weirdly, even the post-ceremony rain storm adds an extra layer of cool. The fact that all the guests worked together to move everything inside while Ben and Ang were off having their portraits done just shows how much love surrounds these two.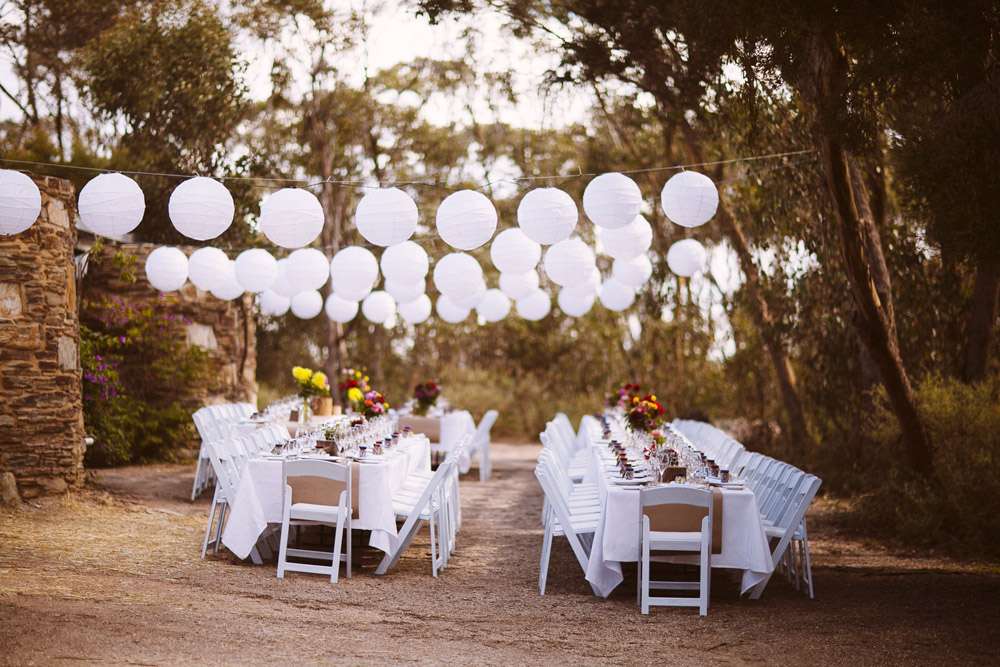 "The weather was perfect for the ceremony – if anything, hot!" explained Ang. "But then suddenly a freak rainstorm came and torrential rain ruined our outside wedding dream. Prior to the rain, the outdoor tables looked amazing and it was so sad to see everybody's hard work setting up go to waste so quickly but it was also amazing to see our family and friends pull together and bring everything inside and set it up again. Our MC and Ben's best woman (he didn't have a best man) coordinated everything. From getting plates dried, table and chairs moved – they got it all done! At one point my Dad said to everyone 'I need you all to grab your plates and cutlery and bring it inside'… and everyone just did. We were blissfully unaware as we were elsewhere having our photos taken at this point!"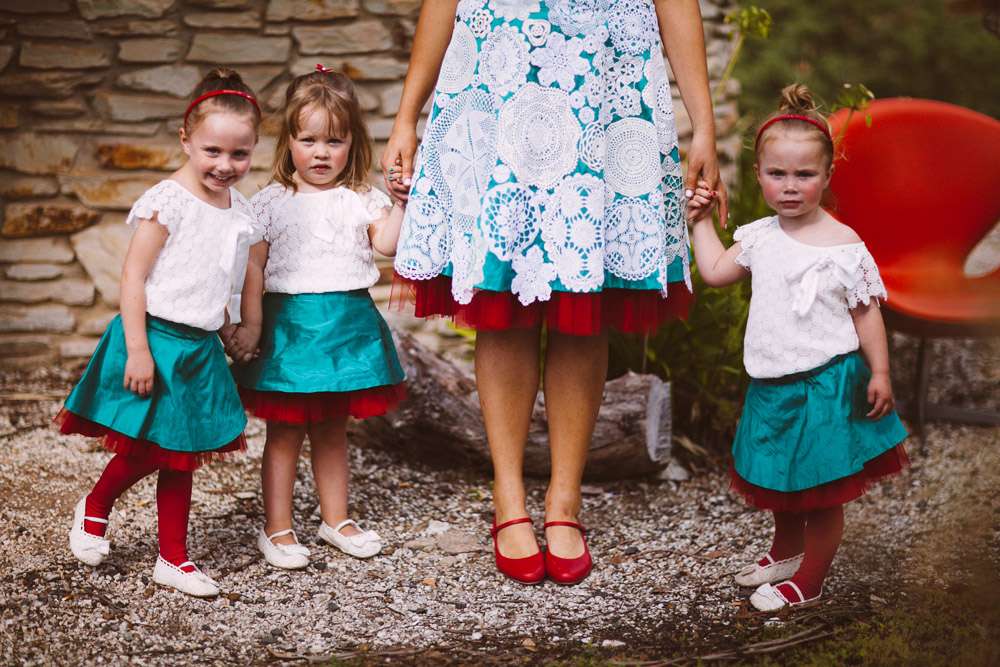 "We tried to avoid the old trap of 'oh but no one will like it' and really just decided to go with things we liked", Ang continued when I asked about the wedding theme. "This way nothing felt forced of fake and was more enjoyable for us. It was our day to share who we are and were becoming with our family and friends. It was made easier early on that we found a venue, Boyd Baker House, that was a really good reflection of us both, with the great 60s architecture, all the vintage furniture and the wonderful bush setting. We also got a real bargain on our accommodation because we could stay overnight afterwards, the price of which was built into the hire fee."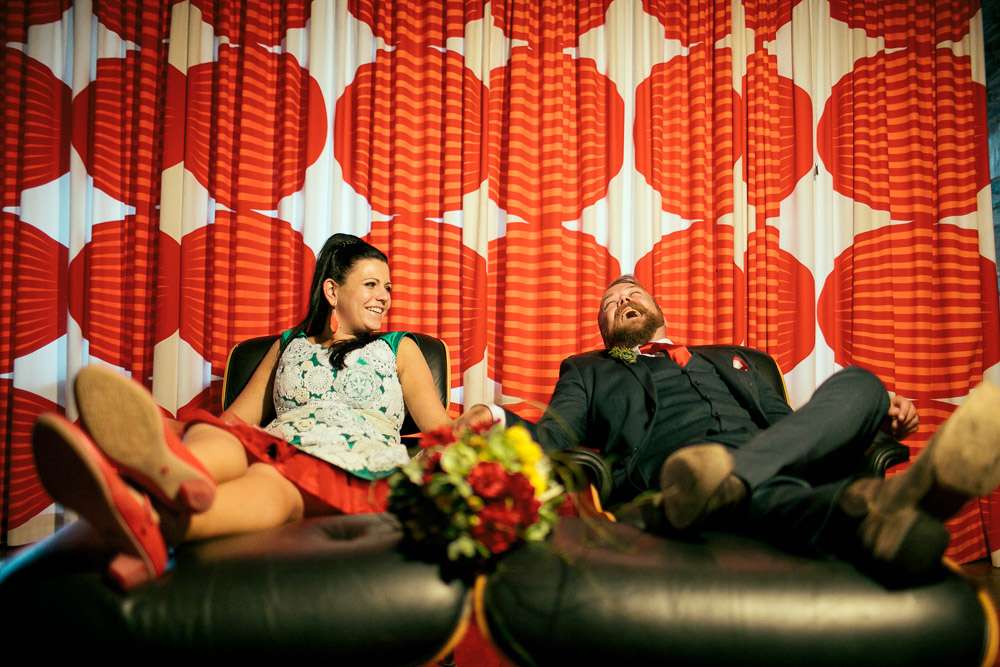 "We also saved heaps on money the flowers. I was so, so lucky to have my friend Lisa from Gisborne Cottage Flowers created all the flowers for the tables and bouquets. She was amazing! I showed her my dress colours and said all I wanted was succulents in my bouquet and contrasting colours and left the rest to her. She suggested random jars on the tables, which I collected as well as the old doilies to tie in the decorations with my dress. I particularly loved Ben's succulent boutonniere, it looked great."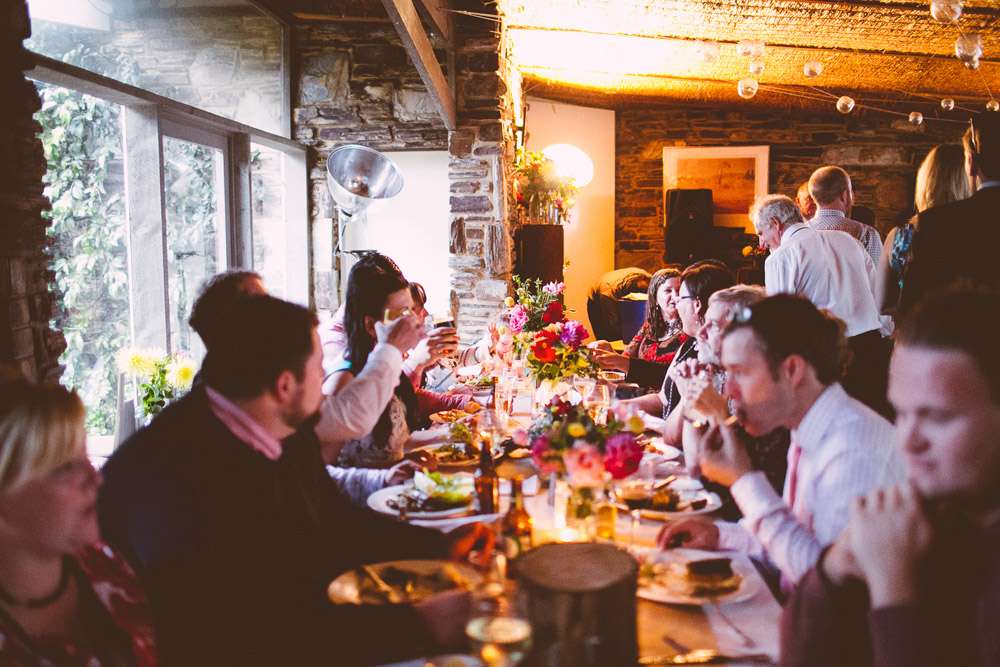 Oh yes, can we just stop for one moment and appreciate Ang's amazing teal doily wedding dress? I don't think I've ever seen something so unique and darn right awesome. Ang came up with the design herself and crocheted various doily patterns with the help of friends  and family. She also sourced some from second hand and vintage shops. They were then all put together and the dress was made by Nicole Steiner from For Weddings and a Formal.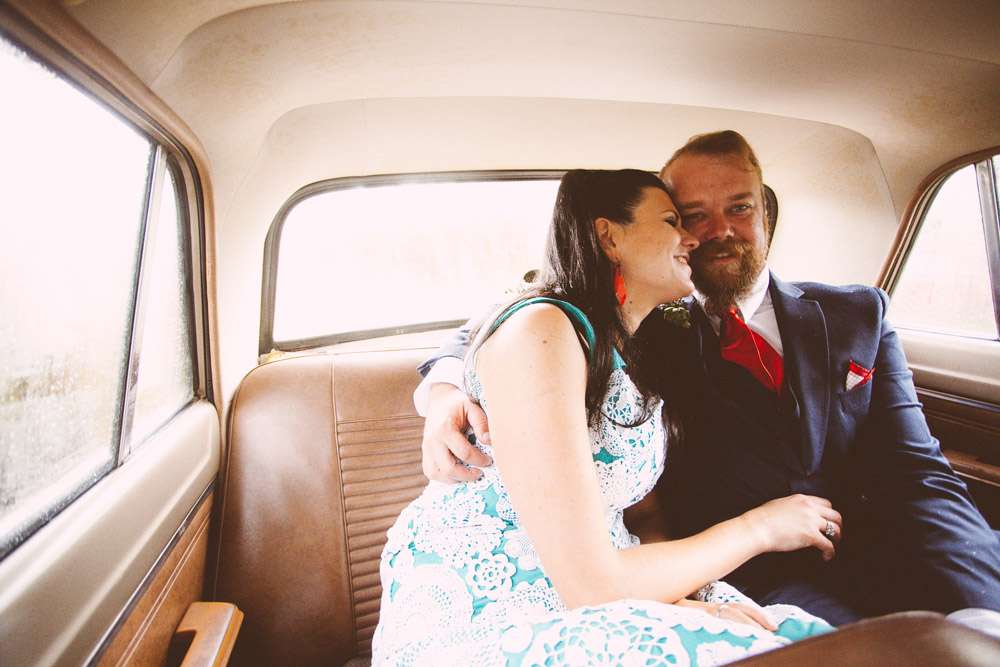 "My dress was a bargain. I didn't want a white wedding dress and I knew I wanted something short with doilies. Going to a dressmaker saved me a lot of money in comparison to what some of my friends spent on their wedding dresses. Nicole was great and put the dress together exactly the way I wanted. I also got to crochet some of the doilies myself but was helped by a family friend and my Mum. I was also given a lot of vintage dollies from special people such as my Nana, Grandma and good friend's mother. It made the dress really special. I wasn't sure what colour to have my dress right away but I knew I wanted my accessories in red – because I found the best camper shoes and I had to wear them. I took my brother, who was one of my bridesmaids, along to see Nicole because he has a great eye. I was tossing up between a dark blue and the teal colour and he said 'go with the teal, its your wedding your need to stand out!' he was right and it was perfect."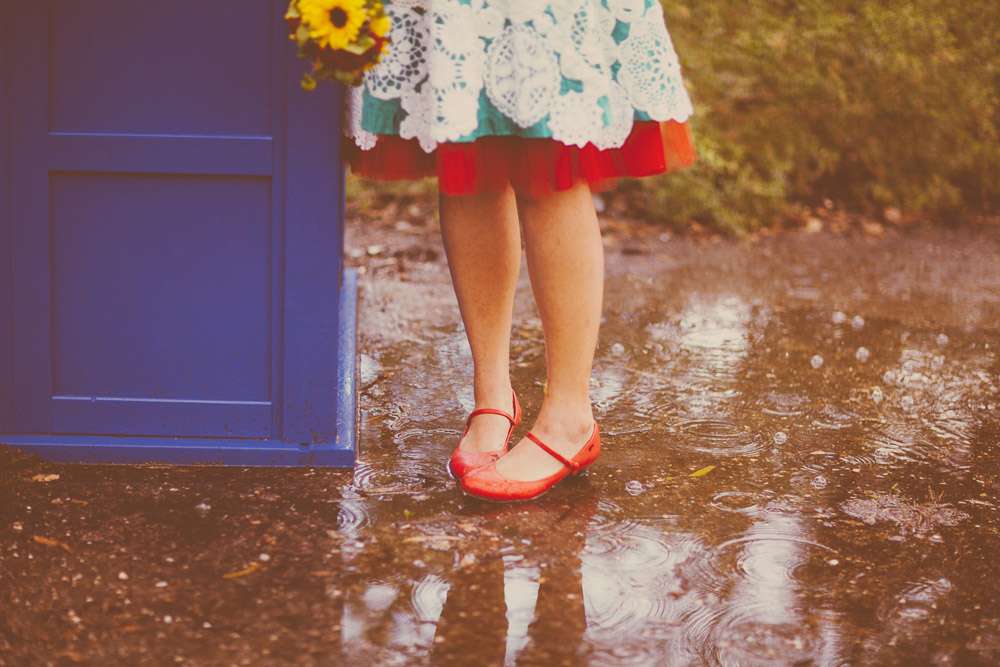 "We found a celebrant we both really liked at a previous wedding we attended which really lightened the formal aspect of the day and got everyone laughing", Ang continued. "My Dad also built me a real life sized T.A.R.D.I.S. from Doctor Who because we are both fans and thought it would be a fun addition to the wedding, just for the hell of it. Everyone loved it and getting their photo taken around it with a Polaroid camera. The camera was a great hit all night with heaps of fun photos being taken."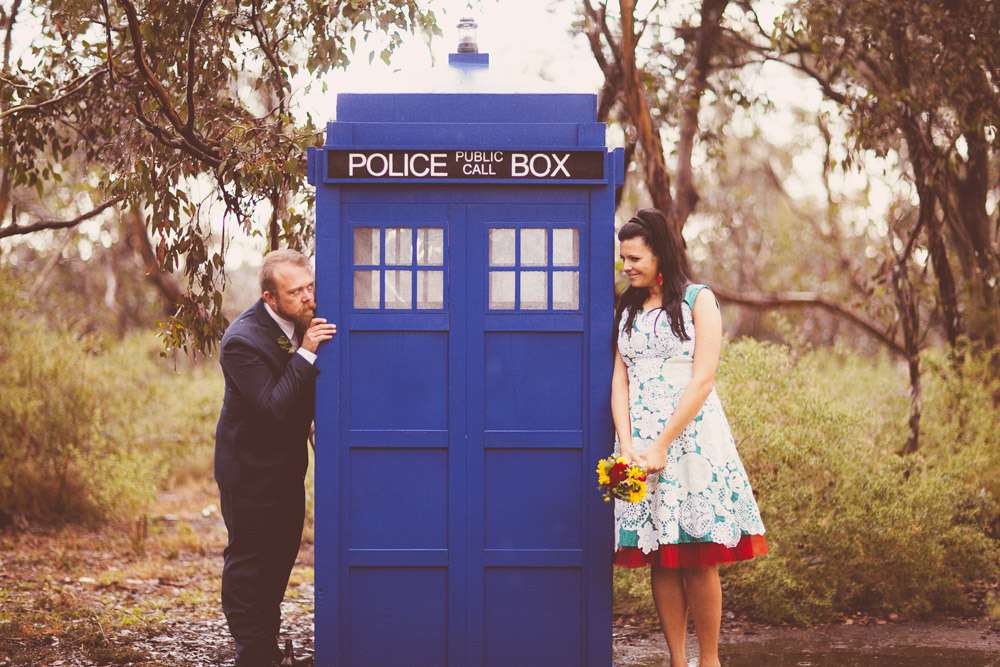 "In retrospect we might have planned to do the reception indoors", she concluded. "The weather was too unpredictable. We also would have had the photographers stay for longer until the dancing started to get some more shots. We wanted great photographs to remember the day and we for just that. We are so thrilled with our wedding photos!"